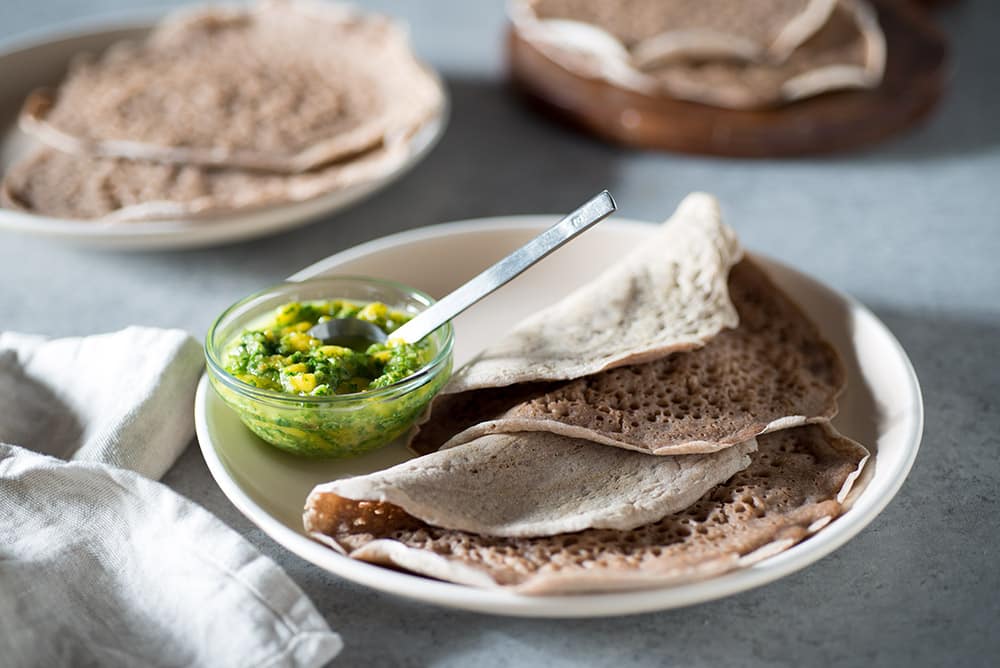 If you've ever eaten at an Ethiopian restaurant, chances are you had injera. The super-thin, spongy and deliciously tangy flatbread is a staple of Ethiopian cuisine and always on the menu. For me, the handful of times that I've had injera have actually been the highlight of the meal; I don't remember what else I had but I do remember the bread, and I remember that it was delicious every time.
Luckily I recently found out that it's actually quite easy to make injera at home, you need only few ingredients that are widely available and you also need a bit of patience because injera batter takes about two days to get ready. The reason for that is that it needs to ferment in order to develop its signature tanginess, similar to a sourdough starter. But of course, the fermentation process is completely hands-off, so there's actually very little work involved.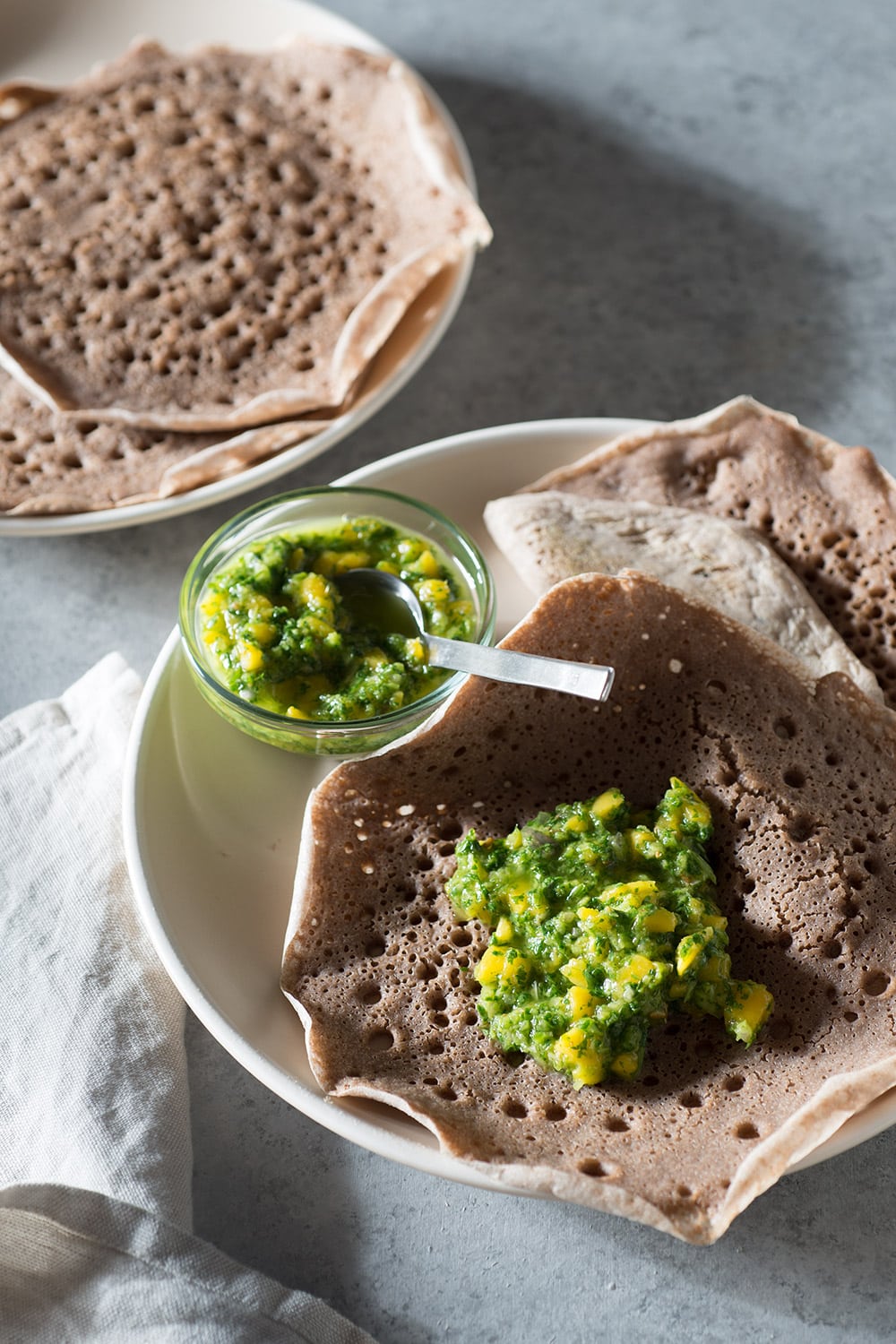 Injera is baked in a hot pan on the stovetop, similar to a pancake, and what gives the bread its chocolate mousse-like color is its main ingredient: teff flour. Teff flour is a dark brown powder made from – you guessed it – teff, which is a grass native to Ethiopia and Eritrea. I had never heard of teff before I looked into making injera and thought it must be an obscure ingredient, but to my surprise I actually found it on the shelf in my local grocery store along with the more common flours.
I closely adapted this injera recipe from Food Network; basically the only modification I made to the ingredient list was to make my own self–rising flour from all-purpose, baking powder and salt. The recipe worked flawlessly and the only opportunity for slip-ups that I found was to leave the batter too thick. Thick batter makes thick bread and that doesn't taste good at all! You have to add enough water to get a truly runny consistency that can easily spread around the pan into a bread that's as thin as a crepe.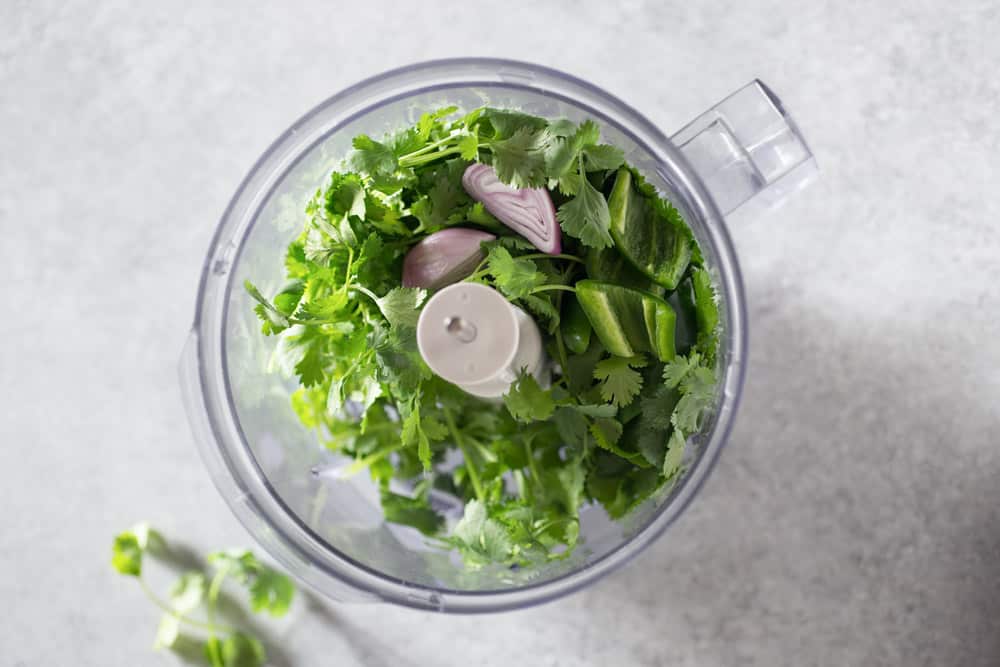 So how do you eat injera? My suggestion is to top it with a flavorful cilantro mango chutney that's spicy and fruity and bursting with fresh herb flavor. You can roll the injera up around it and just eat it with your hands.
This recipe makes about 25 injera, which is easily enough to feed a family of six. If you don't want or need that much you can cut the recipe in half, it works just as well but you will need to measure out 1/16 of a teaspoon of yeast, so having at least a ⅛ teaspoon measure that you can fill half is essential.
Recipe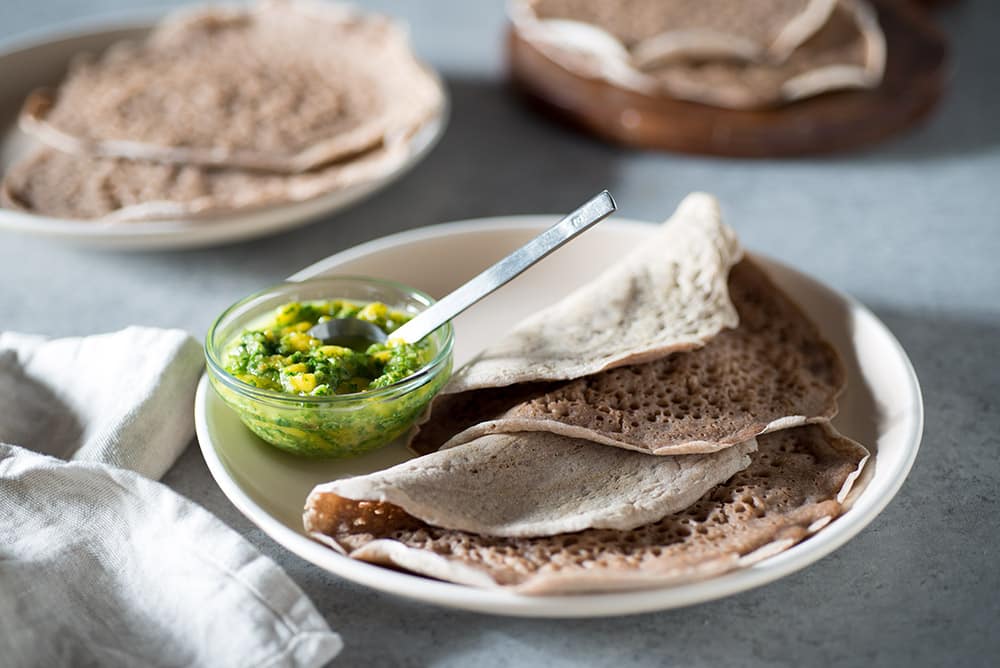 Ingredients
For the cilantro mango chutney:
4

teaspoons

freshly grated ginger

4

small shallots

roughly chopped

4

cups

packed cilantro leaves with tender stems

2

jalapeño peppers

ribs and seeds removed, roughly chopped

1

teaspoon

ground cumin

1

teaspoon

ground coriander

½ to ¾

cup

canola oil

depending on how thick you want the chutney

Salt to taste

Flesh of 1 ripe mango

diced
Instructions
For the injera:
Whisk teff flour and yeast together in a large glass bowl. Add two cups of lukewarm water and whisk the mixture until it is completely smooth.

Cover the bowl with plastic wrap and let it sit at room temperature for 42 hours.

Take a look at the batter and see whether it looks shiny on top (it may actually have a bit of water sitting on top). If it doesn't look shiny yet, let it sit up to 6 hours longer.

Once the surface of the batter looks shiny, gently shake the bowl. You should see a few bubbles rising to the top. If you see bubbles, the batter is ready for the next step.

In a separate bowl, whisk together the all-purpose flour, the baking powder and the salt.

Add the flour mix to the batter.

Whisk up to 1 cup of water into the batter, a little bit at a time, until the dough is completely smooth. (I added the whole cup). Your goal is to get a thin and pourable consistency that will easily spread when swirled around in a pan.

Cover the batter again with plastic wrap and let sit at room temperature for another hour.

Take a look at the batter again see how thick it is. If it doesn't run easily off a spoon, whisk in more water. It's very important that the batter is really thin because you want the bread to be very thin as well (so thin that you can easily see through it). The bread will not taste good at all when it is too thick!

Set a large wire rack next to you, then heat a large nonstick skillet to which you have a lid over medium heat for 3 minutes. Pour ¼ cup of batter into the skillet and immediately spread it around by swirling the pan.

You will start to see the bread cook from the outer rim to the center and the edges of the bread will start to peel away from the pan. When the bread is cooked about half-way to the center, put the lid on the pan and keep it there for about 1 minute. This will steam the top of the bread.

Remove the lid, take the injera out of the pan with a rubber spatula and cool on the wire rack.

Repeat the cooking process with the remaining batter.
For the cilantro mango chutney:
Put everything except for the mango into a food processor and process.

Stir the mango into the chutney.
Notes
Please note that the batter will have to sit for up to 48 hours before it is ready to use.
Nutrition
Serving:
4
g
Calories:
98
kcal
Carbohydrates:
12
g
Protein:
2
g
Fat:
5
g
Saturated Fat:
1
g
Polyunsaturated Fat:
1
g
Monounsaturated Fat:
3
g
Trans Fat:
1
g
Sodium:
76
mg
Potassium:
39
mg
Fiber:
2
g
Sugar:
1
g
Vitamin A:
186
IU
Vitamin C:
2
mg
Calcium:
35
mg
Iron:
1
mg
Craving more veg-friendly recipes?
Shop our collection of vegetarian and vegan cookbooks, including our new Vegan Thanksgiving and Vegan Christmas cookbooks!