Celebrate grilling season with these delicious grilled veggies, served over couscous with a sweet and tangy orange-balsamic dressing.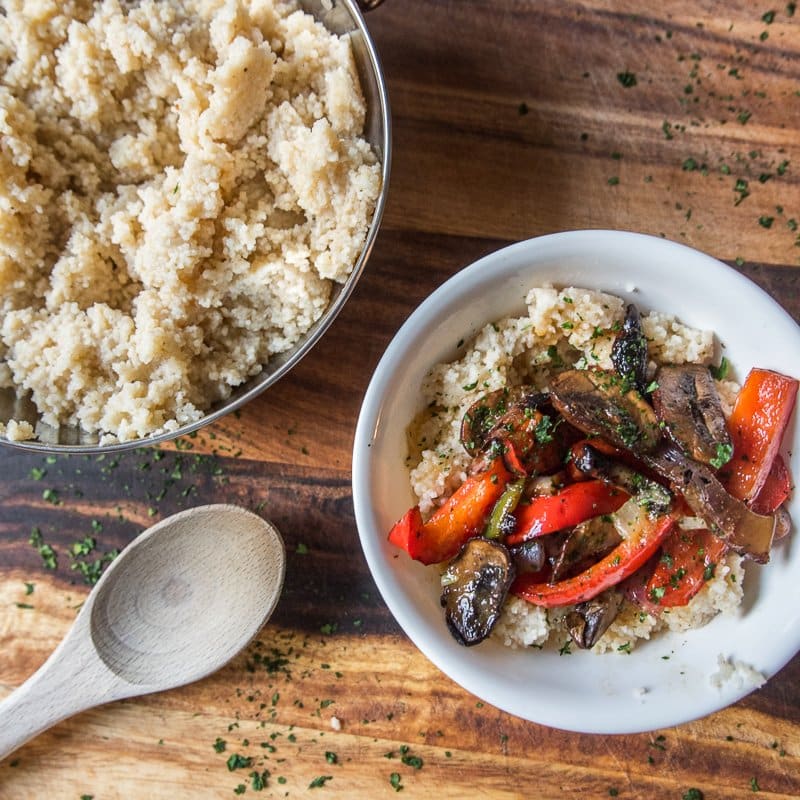 It's almost Fall here in Georgia, which means it's perfect grilling weather. I love eating outside on the deck at this time of year - something we can't do all that much during our blazingly hot Atlanta summers. These grilled veggies and couscous are my go-to recipe whenever we invite friends over to grill. It's a great vegetarian (and vegan) meal all on its own, or it can be a side dish to whatever your non-veggie friends are cooking up. I've never once had any leftovers!
Couscous is an interesting ingredient - it's sort of half pasta and half grain - made from durum wheat semolina. It's a traditional North African dish, usually served with stew on top. But it's also incredibly versatile. The soft, fluffy texture is a perfect match for the grilled veggies in this recipe. It's also a great base for dishes like stuffed peppers or my Chermoula Mushrooms.
There is also something called pearled couscous (or "Israeli couscous"). This is actually a type of pasta, which is extruded from a dough, formed into tiny balls, and toasted. It's pretty delicious as well and you could also give it a try. It has a much coarser and nuttier texture. But for this recipe, I used the traditional couscous, which is very light and fluffy when prepared.
Let's Make Grilled Veggies and Couscous!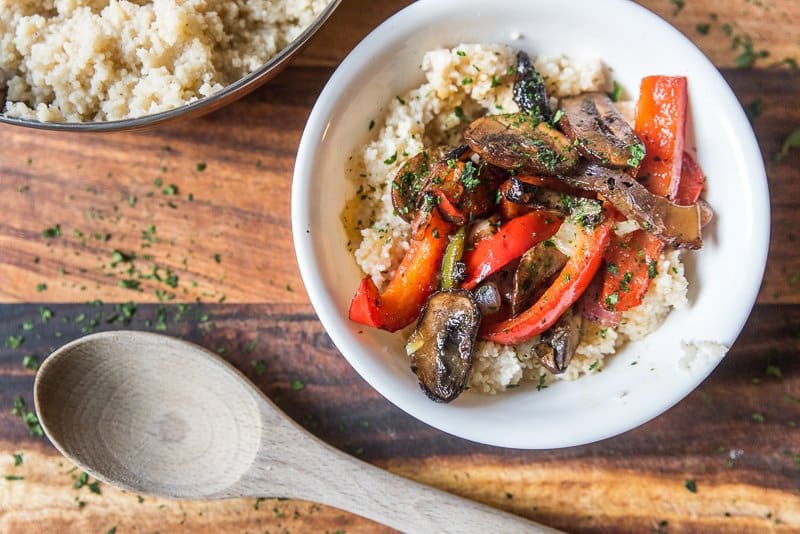 This is a super easy recipe. The first thing to do is get the couscous cooking. Regardless of the directions on the box, I always make mine with twice as much water as couscous. So for one cup of couscous, I would use two cups of water. Boil the water, add a big drizzle of olive oil and a sprinkle of salt. And when it comes to a boil - toss in your couscous, stir, cover, and take it off the heat. Then I just set the pot aside, and it will be finished when my grilled veggies are ready! I love low maintenance ingredients.
Next, I move on to the sauce. The orange-balsamic dressing is really the key to this recipe. It takes this dish from mundane to seriously delicious. I start off cooking some shallots in a small saucepan. When they are nice and toasted, add the orange juice and let it come up to a boil. Then I let that cook until it reduces, which really concentrates the citrus flavors. And when it's almost done, I stir in the balsamic vinegar.
The key here is to use a really flavorful balsamic vinegar, to get the most punch from the sauce. Mia Bella is an amazing balsamic vinegar that comes straight from Italy! If you want something more moderately priced - the Kirkland brand has great flavor and is a real bargain. Set the sauce aside while you grill the veggies.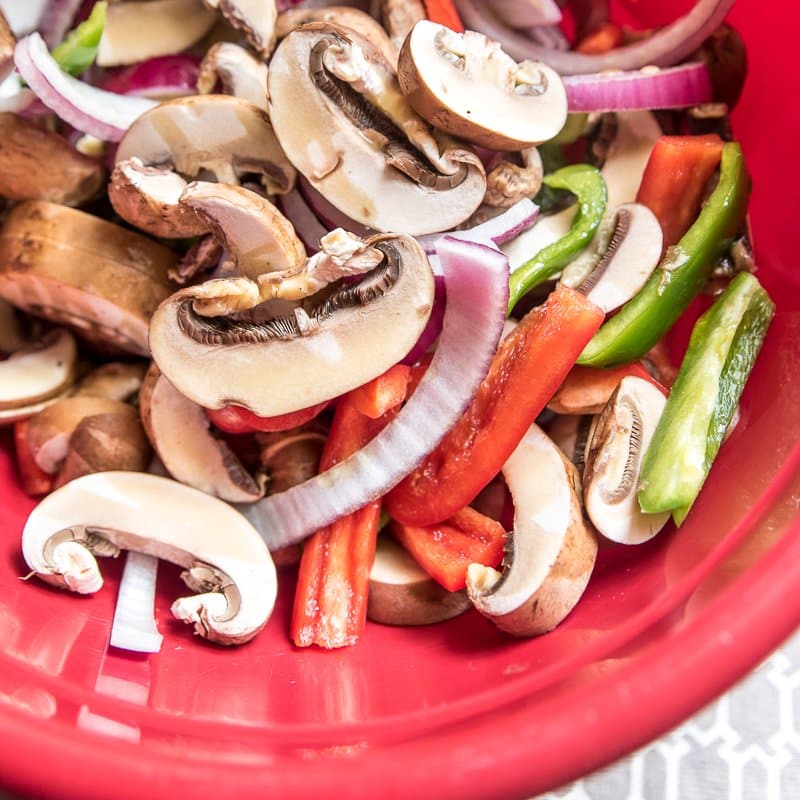 You can use any kind of vegetables you like in this recipe. I typically use bell peppers, onions, asparagus, and mushrooms - mostly because these all hold up really well on a hot grill. Shiitake mushrooms are particularly good on the barbecue, but I use sliced baby portobellos when the shiitakes are hard to find. I toss everything in olive oil and balsamic vinegar, and throw it all on the grill in a huge grill basket. Using a grill basket, or something similar, is essential for grilled veggies. So you don't lose all the little vegetable pieces into the flames!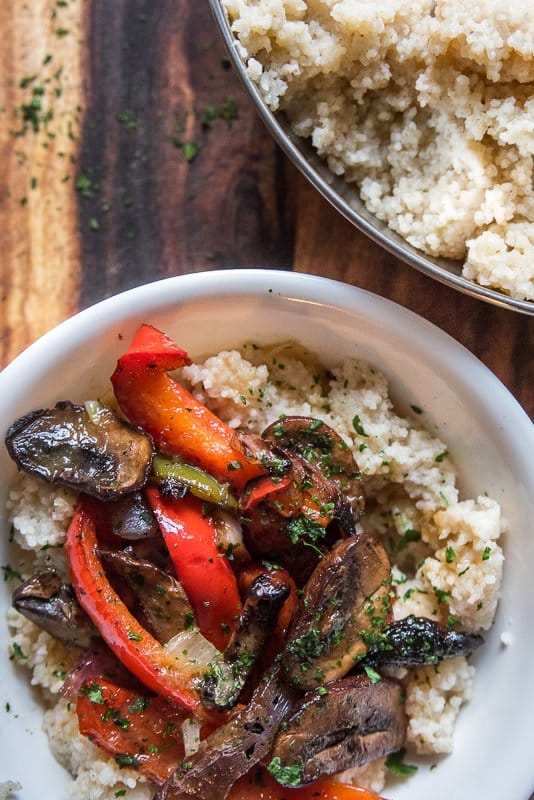 Want more delicious recipes?
Subscribe to the Delicious Everyday newsletter. I'll let you know when we have new recipes cooking! And as a thank you for signing up, I'll also send you my FREE Vegetarian Pantry Guide, that will teach you how to stock your kitchen for delicious meatless meals.
Recipe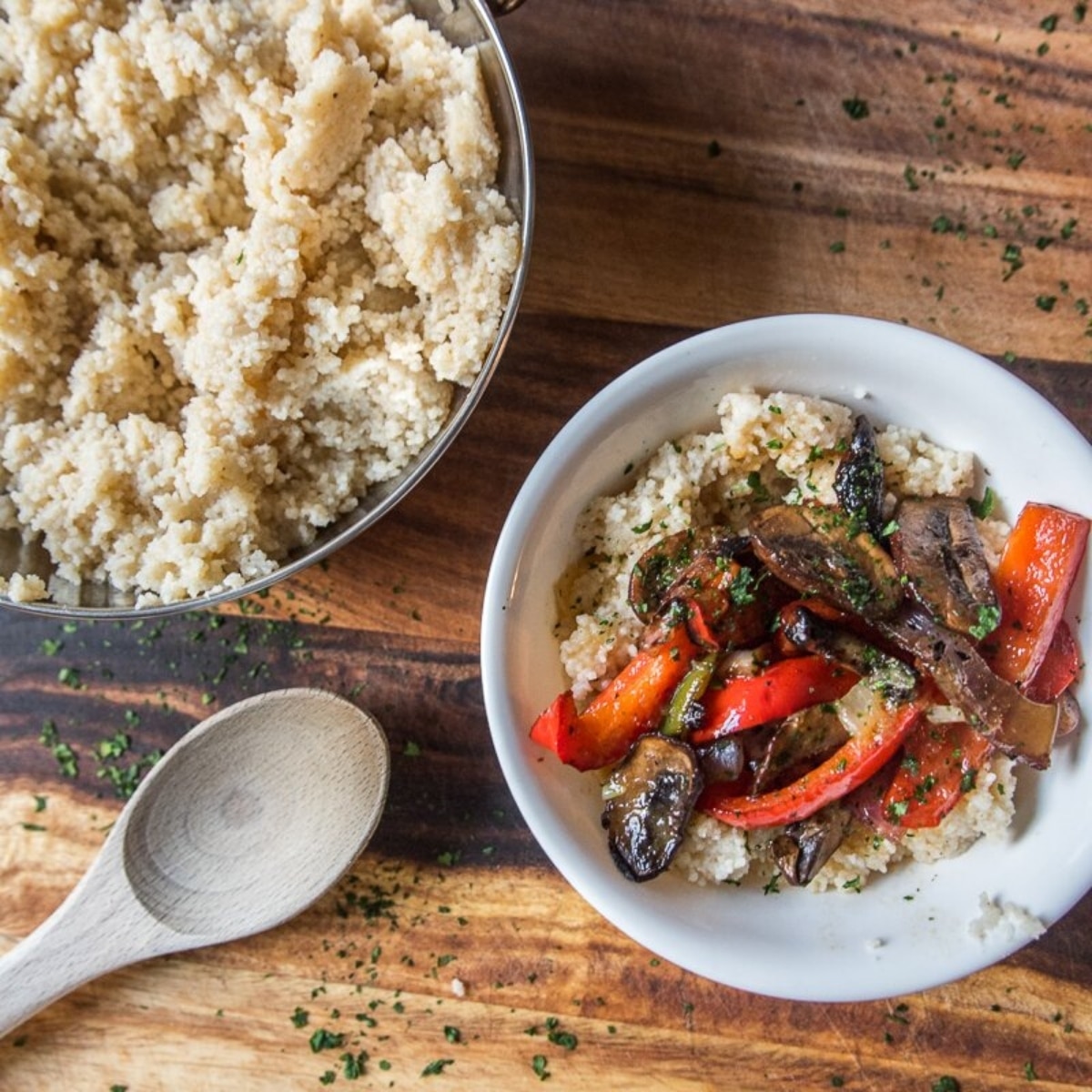 Ingredients
1

cup

couscous

2

cups

water

½

lb

asparagus

washed and trimmed

2

red bell peppers

1

red onion

8

oz

mushrooms (shiitake or baby portobello)

washed and sliced

1 ½

cups

orange juice

⅓

cup

balsamic vinegar

1

shallot

peeled and minced

cilantro

for garnish
Instructions
Bring water to a boil over medium heat, in a large pot.

Add a drizzle of olive oil and pinch of salt to the water.


Add couscous to boiling water. Stir and cover pot. Remove from heat and set aside.

In a small saucepan, heat a drizzle of olive oil over medium heat.

Add shallots and cook until slightly browned.

Add orange juice, and bring to a boil. Reduce heat and simmer until reduced by about ⅓ (approximately 10 minutes).

Stir in 3 tbsp of the balsamic vinegar. Season with salt and pepper. Set aside.

Slice red bell peppers and onions into 1" thick strips.

Combine all veggies in a large mixing bowl. Drizzle with olive oil and the remaining balsamic vinegar. Toss to coat.

Grill veggies in a large grill basket, until softened and slightly charred. Should take about 5-10 minutes.

Remove cover from couscous and use a fork to stir - it should result in a fluffy texture.

Serve the grilled veggies over the couscous with a spoonful of orange-balsamic sauce.

Garnish with cilantro, if desired.
Nutrition
Calories:
268
kcal
Carbohydrates:
56
g
Protein:
8
g
Sodium:
21
mg
Potassium:
582
mg
Fiber:
5
g
Sugar:
16
g
Vitamin A:
2480
IU
Vitamin C:
128.2
mg
Calcium:
54
mg
Iron:
2.4
mg
Craving more veg-friendly recipes?
Shop our collection of vegetarian and vegan cookbooks, including our new Vegan Thanksgiving and Vegan Christmas cookbooks!