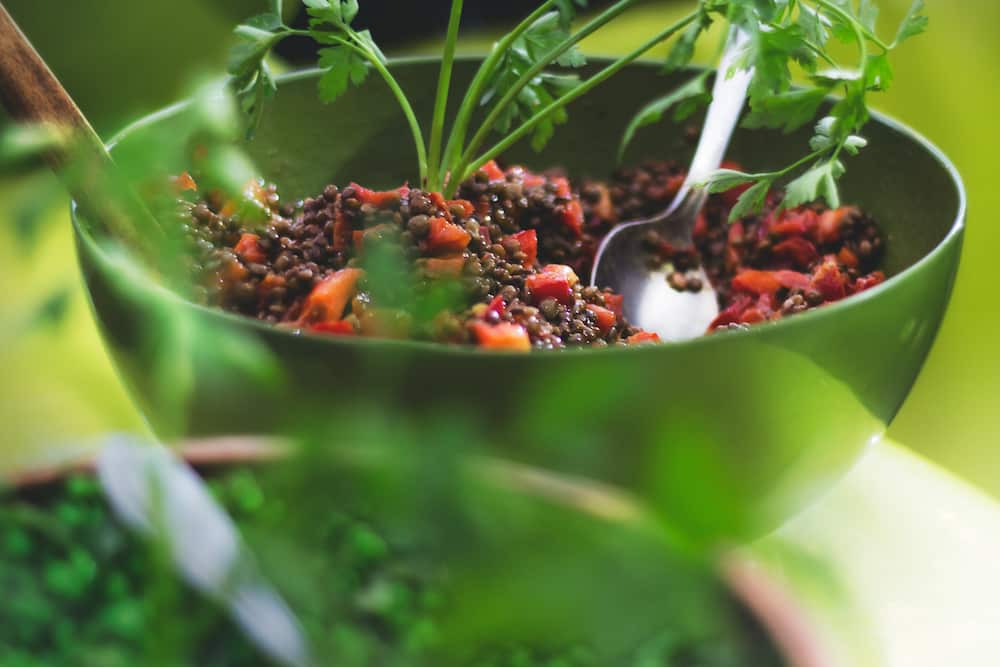 There is an unfortunate stigma attached to vegetarian food that it can be bland or lacking in flavor depth. The offenders are usually those that do not appreciate raw flavors, and want to cover them at any cost. It is easy to get stuck in a rut of doing raw or steamed preparations because of time restrictions or energy limitations at the end of a busy day. There are easy ways to bump up the flavor of your dishes without having to be a master chef or committing excessive time. These six tips will make your everyday dining more enjoyable, as well as impress those dinner party guests, with very little extra effort on your part.
Heat
Heat is not for everyone, but, for those who like to bring the heat, fresh and dried chilies are a great way to kick up the flavor of your dishes. No spice rack is complete without crushed dried chilies or cayenne pepper. Fresh chilies are a great way to add more complex flavors and heat. Remember, the smaller the chili the higher the heat, and the majority of the fire is in the white membranes inside. A seeded jalapeño with the membrane removed can add a lot of flavor with hardly any discernible heat. You can add a pinch to spice up a boring Thursday, or make the sweat roll with a heavy handed addition. This is a great way to elevate the flavor of your dishes with minimal effort.
Spices
Many people are intimidated by the selection of exotic spices that can be found at the local market. It is okay to get brave and grab something new the next time you are in the spice isle. Some easy spices to play with are ginger, cumin, curries (try Garam Masala), smoked paprika, or nutmeg. These spices will elevate the flavor of your dishes while adding an element of the exotic to your table.
Herbs
If you are a vegetarian that is not using herbs in your cooking, then you are missing out on a great source of flavor. Dried herbs are great to add early in the cooking process to add depth, and fresh herbs are a great way to add fresh flavor bump to the end of the cooking process. Even a quick garnish of chopped cilantro or parsley can make a big difference in the flavor of your dishes.
Garlic
One of the things that makes restaurant cooking stand out from home cooking is the use of garlic. This simple ingredient (fresh or granulated) can make a huge difference in a plain tasting dish or a richly flavored one.
Salt
This seems like an obvious tip, but the use of salt is another thing that sets restaurant cooks apart from the home cook. Salt is a flavor enhancer, and using it can really bring the flavors of your dish together in a way that nothing else can.
Caramelization
This, more than anything, can increase the depth of flavor of your dish. To achieve caramelization requires a little more patience, but the rewards will be worth the effort. This is letting the sugars of the ingredients come out and brown on the pan. Caramelization requires oil, salt, a sauté pan, and patience. Remember, there is a fine line between caramelization and burning, and it is a good idea to keep water on hand to occasionally deglaze and cool the cooking surface to prevent burning. Deglazing will release sugars to coat the everything in the pan, and increase the delicious browning. Caramelization will add a depth of flavor that will wow any skeptic, and make you look like a gourmet veteran.