Cook your egg into a bagel hole and voila! A much simpler and faster way to get the perfect breakfast on the table. Easy to make, delicious, and all your family will love it.
The combination of egg, cheese, and bagel is really a must! This special little bagel is far from being a small flat sandwich of the week. It's only a few ingredients, but it's REALLY good! I wanted to lick my plate at the end 😉
Prep time: 15 min
Cook time: 5 min
Total time: 20 min
Servings: 12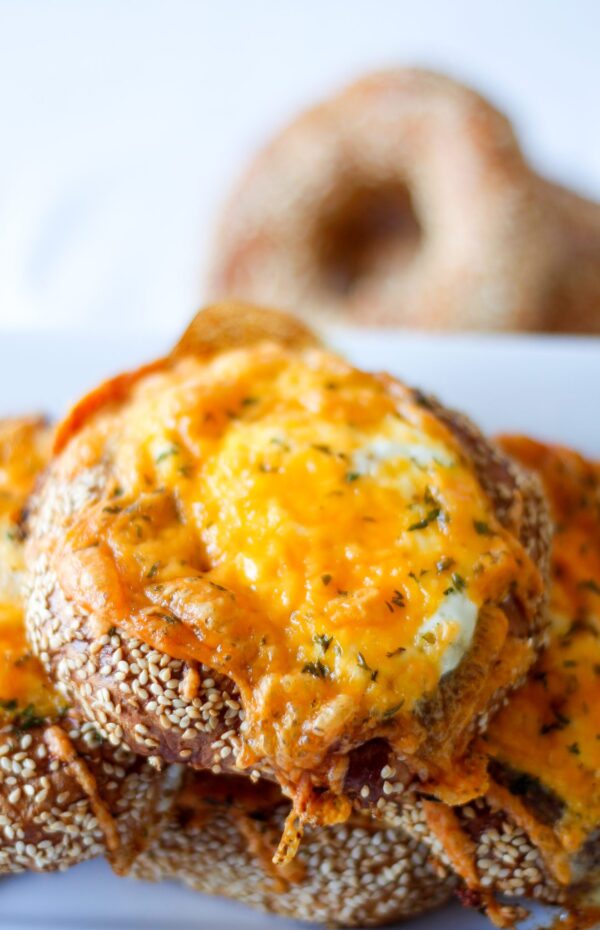 Ingredients
2 teaspoons dried onion powder
2 teaspoons dried garlic powder
1 teaspoon salt
¼ teaspoon freshly ground black pepper
6 sesame bagels, split in half
2 teaspoons unsalted butter
6 eggs
½ cup cheddar cheese
½ teaspoon dry oregano
Instructions
Preheat oven to 375°.
Using a 1½- to 2-inch round cutter, cut a larger, more uniform hole in the center of the bagel.
Put butter on every bagel & put each half on a baking pan
Gently crack 1 egg in the hole of the bagel. Sprinkle onion powder, garlic powder, salt, pepper, cheddar cheese, and dry oregano over the center of the egg.
Place pan in the oven & bake at 375° for 10 to 15 minutes or until the white is set and the yolk is slightly runny.
Serve immediately.