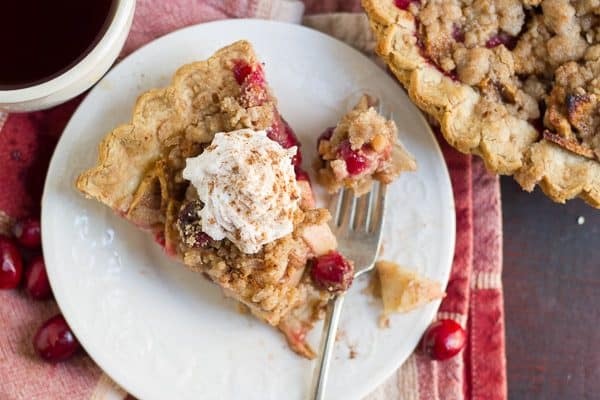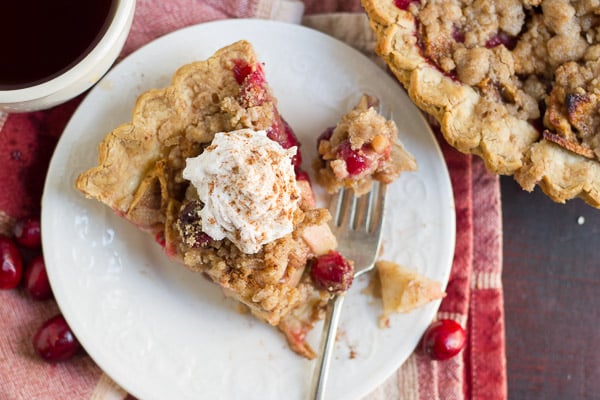 At my family's holiday celebrations, there are usually as many pies as there are people. Everyone shows up with a pie. Not that I mind! Around the holidays I'm okay with splurging, and have no problem heading home with a plateful of pie slices in an assortment of flavors.
We have our favorites, and can generally expect the usual pumpkin, apple, and pecan, which are all delicious. So I know that if I'm going to introduce something new into the mix, it better be pretty darn incredible. That's where this pie comes in.
For starters, I made the crust from scratch. I'm usually too lazy to do that, but my mom does it, and her pies always end up being the favorites of the bunch. She told me a while back that her recipe involves nothing but flour, water and Crisco All-Vegetable Shortening, so those are the ingredients I went with. The whole process took a bit of patience, but it was so worth it. The flaky pastry crust totally made the pie. I loved this crust, but you could also make this pie with my coconut oil pie crust using Crisco Organic Coconut Oil.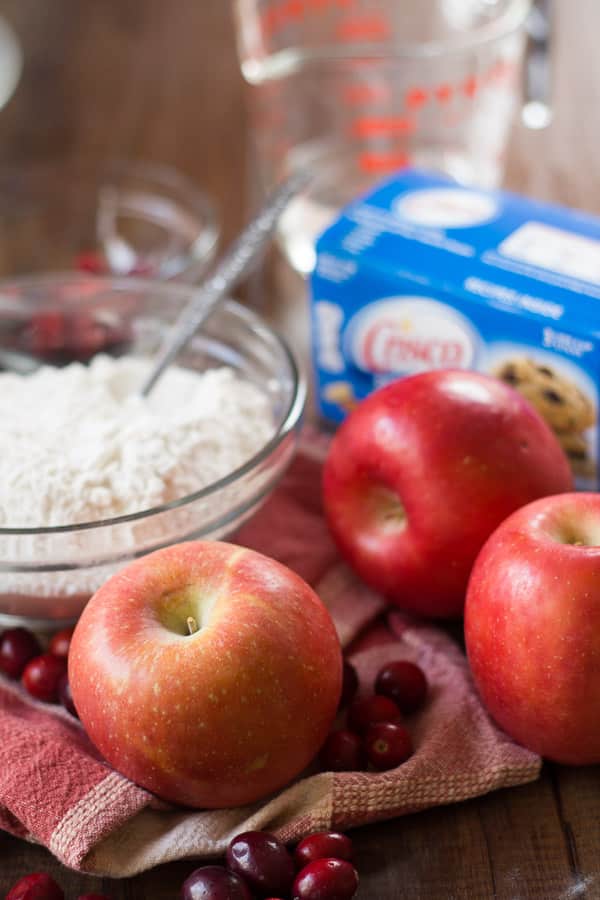 Then there's the filling. Apple pie is great, but why not take it up a notch? I love the flavor of chai tea, so I used that as my inspiration. Chai spices are actually pretty close to what you might normally find in an apple pie, but with the mellowing addition of some vanilla and cardamom. I also threw in some cranberries for a little tartness to offset the sweetness of the apples. Make sure you use a sweet variety of apple for this one, like Fuji or Pink Lady. As much as I love Granny Smiths, using them in this recipe might result in something that's a little too tart, which could totally overpower the spices. I topped everything off with a layer of crumb topping, for some added texture and a burst of sweetness in every bite.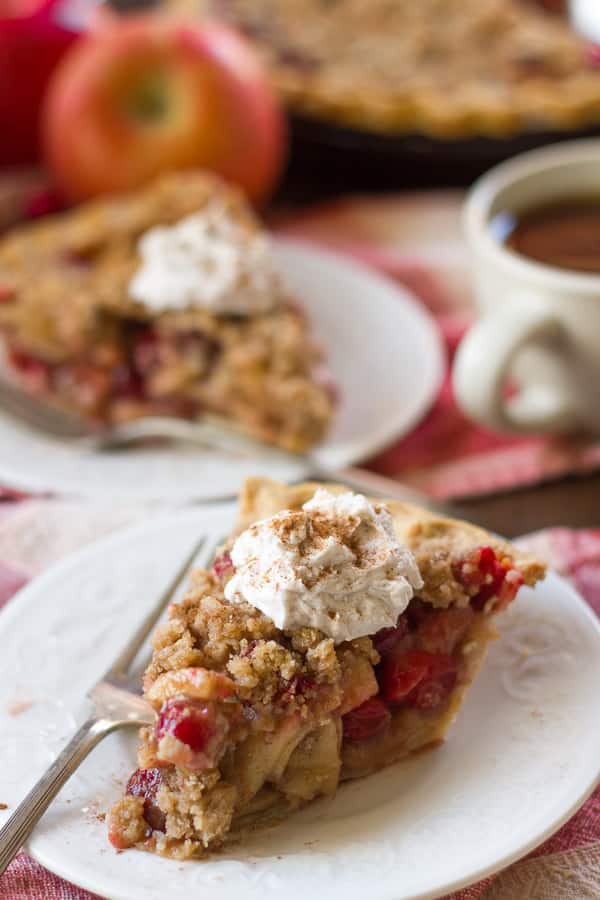 My chai-spiced cranberry apple pie turned out to be an all-time favorite. I think it'll turn some heads this year.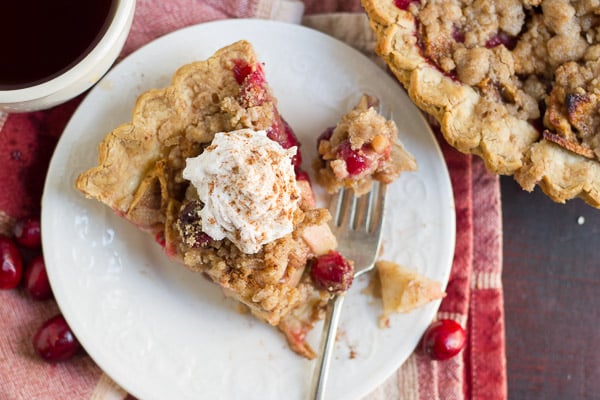 Ingredients
For the crust:
1 ½

cups

all-purpose flour

¾

teaspoon

salt

¾

cup

¾ stick Crisco All-Vegetable Shortening, chilled

3-6

tablespoons

ice cold water
For the filling:
1 ½

pounds

apples

peeled and thinly sliced (3 to 4 medium apples, choose a sweet variety like Gala or Pink Lady)

2

cups

fresh cranberries

⅓

cup

brown sugar

3

tablespoons

all-purpose flour

1

tablespoon

lemon juice

2

teaspoons

vanilla extract

2

teaspoons

ground cinnamon

1

teaspoon

powdered ginger

½

teaspoon

ground cloves

½

teaspoon

ground cardamom

¼

teaspoon

salt
For the crumble topping:
⅓

cup

all-purpose flour

¼

cup

brown sugar

1

teaspoon

ground cinnamon

¼

teaspoon

salt

3

tablespoons

Crisco All-Vegetable Shortening
Instructions
Begin by making the crust. Stir flour and salt together in a medium mixing bowl. Add the shortening to the bowl, and cut it into the flour mixture using a pastry cutter or a couple of knives, until the mixture resembles fine crumbs. Add cold water, a tablespoon at a time, stirring between each addition, just until a dough forms. Shape the dough into a ball and wrap in plastic. Place it into the refrigerator to chill while you prepare the filling.

Make the filling by placing all ingredients into a large mixing bowl. Stir with a large spoon until ingredients are uniformly mixed and all apple slices are coated in spice mixture.

Preheat the oven to 400°F.

Coat a work surface with flour, then turn the dough onto the floured surface. Use a lightly floured rolling pin to roll the dough into a circle, about 14 inches in diameter. Carefully place the dough into a 9 inch pie plate, covering the edges of the plate. Trim any excess dough, then use a fork or your fingers to create scallops in the upper edge of the dough.

Place the filling into the crust, distributing relatively evenly. It will form a bit of a dome.

Make the crumble topping by stirring flour, brown sugar, cinnamon and salt together in a small bowl. Add vegetable shortening to the bowl, and cut it in with a fork or a couple of knives, until the mixture is crumbly. Spread in an even layer over the filling.

Bake for about 30 minutes, or until the crust and crumble topping begin to brown. Lower heat to 350°F and cover the pie with foil. Bake for about 20 minutes more, or until the filling becomes bubbly. Remove the pie from the oven and transfer to a cooling rack to cool. Serve with ice cream or

coconut whipped cream

.
Nutrition
Calories:
450
kcal
Carbohydrates:
56
g
Protein:
4
g
Fat:
25
g
Saturated Fat:
6
g
Polyunsaturated Fat:
7
g
Monounsaturated Fat:
10
g
Trans Fat:
3
g
Sodium:
372
mg
Potassium:
180
mg
Fiber:
5
g
Sugar:
26
g
Vitamin A:
64
IU
Vitamin C:
8
mg
Calcium:
35
mg
Iron:
2
mg