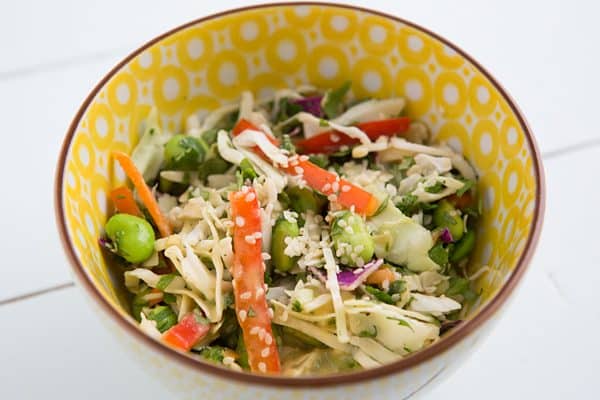 The best part of Asian cuisine is that it's vegetarian-friendly. In fact, some of the best Asian recipes are the best vegetarian Asian recipes. The second best part is that the delicious dishes are seemingly endless. Here are 10 of the best vegetarian Asian recipes online that you can make right in your own kitchen.
Perhaps one of the best Asian dishes of all is red curry. This recipe hits on all the traditional flavors of curry and makes it super easy to clean up because it uses only one pot for the whole process. The recipe calls for tofu, but you could easily make a swap for meatier veggies instead.
The key to this recipe is the spicy orange sauce. Everything else is really up to you. Vegan Richa does a great job of breaking down the sauce into a totally manageable recipe. Cook with veggies, mix with rice or drink it by the cup full. The possibilities are really endless.
No Asian recipe list would be complete without a lettuce wrap, and boy is this a delicious one. The tofu in this recipe is creatively used to give a unique texture to the filling so that you hardly notice that you're eating it at all. The killer flavor comes from all of the fresh herbs that are added through the process.
You can't forget about the fried rice. This classic dish is a satisfying recipe that is quick, easy, and pleasing to everyone. It works well as a side to any of the other recipes on this list or as a dish on its own, piled high and veggie-filled.
For the especially ambitious, here is an excellent recipe for veggie pot stickers. The ingredients are easy to find and the steps are surprisingly simple. Everyone loves pot stickers and so this recipe is sure to be a crowd-pleaser.
The key to this recipe is the dressing, which is a delicious blend of garlic, green onions, soy sauce, rice vinegar, brown sugar, lime juice and red pepper flakes. This gets mixed with tofu cubes, vermicelli rice noodles, sesame oil, carrots and a few other ingredients for a delicious dish.  The great part is that it is easy and takes hardly any time to prepare.
Lentils are a totally adaptable ingredient that work well with virtually any recipe. They are also loaded with protein and fiber, making them a super healthy option. The sauce is easy to prepare and the possibilities for the veggies are endless. This serves as another great recipe to have on hand for busy nights.
Another fun, easy recipe for the books is found here with this peanut udon noodle dish. It is approachable in technique and full of easy-to-find ingredients. Plus, the peanut and soy combination is absolutely delicious.
A tropical spin on a classic stir fry dish makes this recipe a fun one to mix up. Pineapple juice is used to make the sauce, which gives it a sweet depth of flavor. Give it a try the next time you make stir fry!
This totally sophisticated dish is actually one that even an amateur can make in a snap! Surprise your loved ones, or even yourself, by whipping up this mee goreng with veggies.
There are so many options when it comes to vegetarian Asian dishes but this round up brings some of the best together. Give a few of these a try in the coming weeks and let us know which are your favorites.