Sweet and savory butternut squash curry brings together traditional Indian spices with iconic Thai red curry for an incredible fusion of flavors.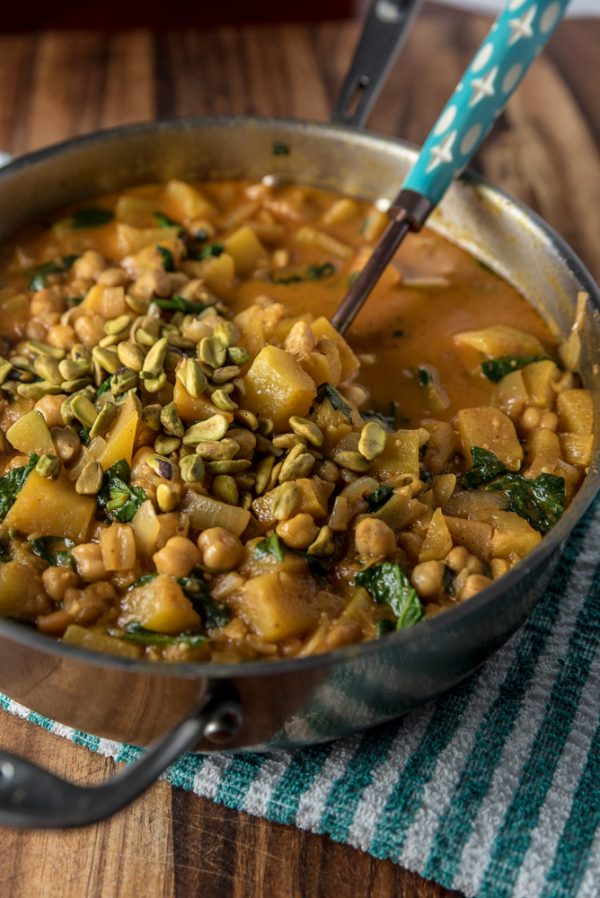 Indian and Thai are two of my absolute favorite cuisines! As a vegetarian, I am always in search of flavorful ingredients and unique combinations of spices that can add a punch to otherwise routine veggies. I tried to bring that sense of adventure into this butternut squash curry.
Being married to an Indian husband has really increased my appreciation for Indian dishes. I've come to realize that Indian cuisine extends well beyond the traditional Paneer Makhani and naan bread. (Not that there's anything wrong with that - I definitely get my share!)
There is a whole world of Indian food that can dramatically from region to region within India, but all marked by some classic Indian flavors such as coriander, curry powder, or garam masala. Food is always the major attraction when we go to visit my husband's family in India!
I just love experimenting with all of the flavors to create dishes like my Sweet Potato Curry Puffs or Golden Vegetable Curry.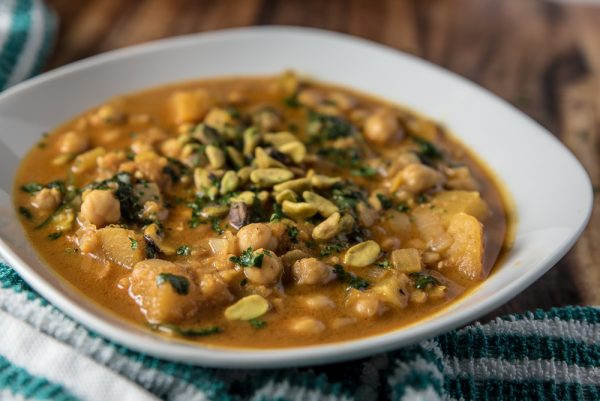 My other major food crush is Thai cuisine. I was lucky enough to spend my honeymoon in Thailand - spending some time in the cultural hub of Chiang Mai, and more time island hopping in Krabi. And the country is absolutely gorgeous. Unique landscapes are everywhere, and I've never seen water so crystal clear in my life. And, oh my gosh, the food. Talk about a vegetarian's dream- tons of veggie based curries, loaded with coconut milk and local spices.
Now curry is a common dish in both Indian and Thai cuisine, but there are some distinct differences. Thai curries tend to be based in coconut milk and heavily flavored with ginger and lemongrass. Indian curries, on the other hand, tend to be tomato based and spiced with coriander, curry powder, or cinnamon. But I love them. I mean, how do you even choose? So for this butternut squash curry, I've brought the best of both worlds together.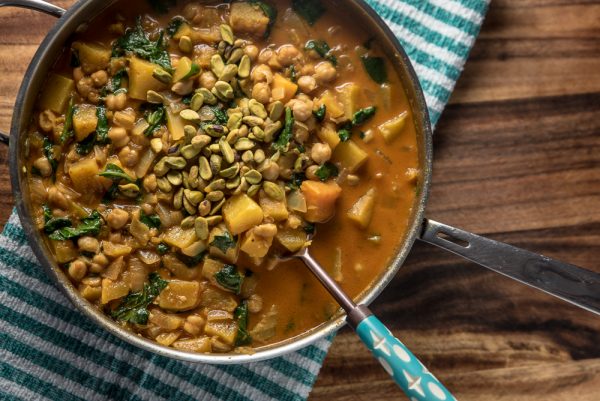 Let's make Butternut Squash Curry!
I decided to use butternut squash as the main ingredient in my curry, because it lends itself well to both Indian and Thai flavors. Plus, it's pretty. I always look for the pre-cut butternut squash in the grocery store. Cutting and de-seeding the squash is quite a chore, and it's worth a few bucks to let the grocery store do this for me.
I started off by tossing my butternut squash in a bit of curry powder, salt, and pepper. I roasted it in the oven for about 15 minutes, which is enough to get it tender but not quite fully cooked. It will cook the rest of the way in the curry itself.
I enlisted a little assistant tonight - he just loves to "help" with the cooking. Don't worry, that's a butter knife and no fingers were lost in the making of this recipe. 🙂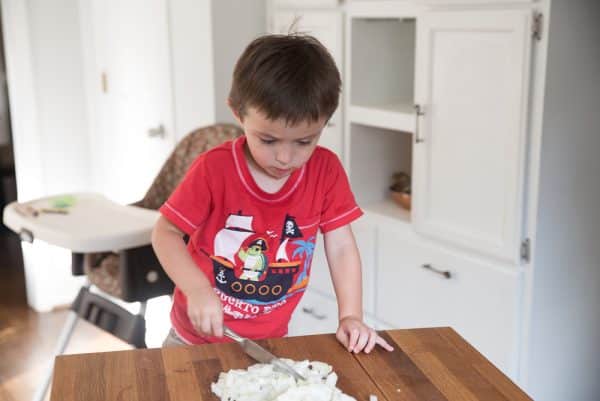 Then I sauteed some garlic and onion on the stovetop, with a little bit of ginger paste and lemongrass paste, to start adding some of the Thai flavors to the dish. You can definitely use fresh ginger and lemongrass, but lemongrass can be hard to find. I like to keep the pastes in my fridge because they last longer - it's convenient when you want to whip something up and don't have the fresh stuff on hand.
Next, I added two cans of coconut milk. You can use the lower fat version if you prefer, but I think you get a better consistency from the regular kind. Once that was mixed up, I added in some garam masala, which may be the single most iconic Indian spice.
Garam masala is really just a blend of several other spices. It typically includes cloves, cinnamon, peppercorns, cardamom, nutmeg, coriander, and cumin. If you want to make your own, this recipe from Epicurious is a pretty good one. I usually save myself the trouble, and just purchase a high quality blend. I personally like this one from Laxmi.
Once everything comes up to a light boil, you can add in the butternut squash and let the curry simmer until the squash is cooked and all the flavors are blended together. Just a few minute before it was finished, I added in the red curry paste.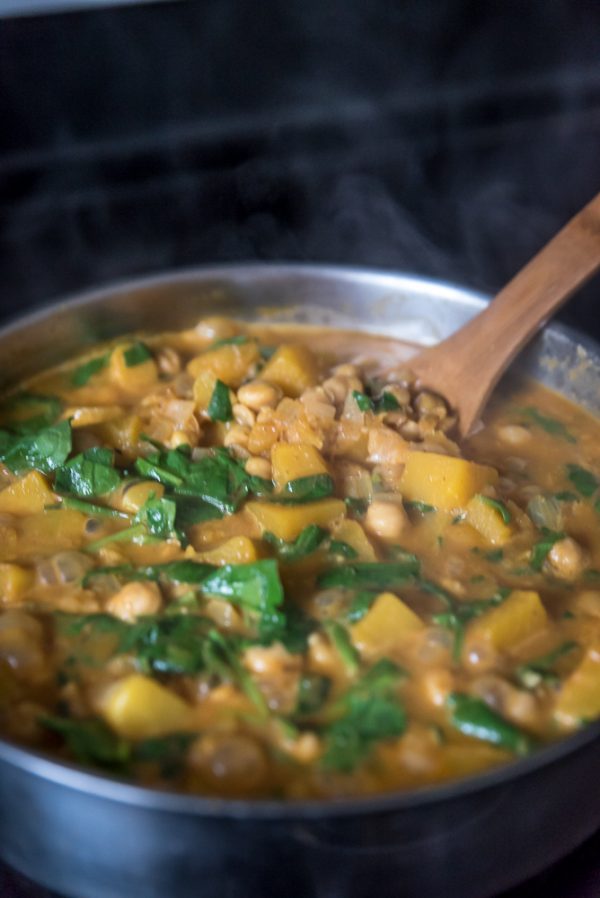 This is taking us back towards Thai cuisine again! I just love red curry and knew the flavors would be a great match for the squash. The red curry paste adds just the right bit of sweetness and spice to this dish, and it really makes it a true fusion of two cuisines.
I stirred in some fresh baby spinach, mostly to add a little color to an otherwise very orange dish. It looks gorgeous and adds a little extra nutritional punch to the butternut squash curry. You can garnish the curry in lots of different ways. I chose to top it with toasted pistachios, and it was delicious. But peanuts would work well, or even a dollop of plain yogurt.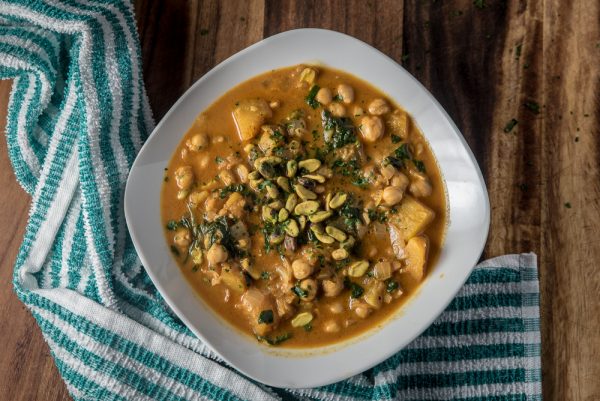 did you make this recipe?
I'd love to see! Share your photo on Instagram and use the hashtag #deliciouseveryday for a chance to be featured or share it on my Facebook page. 
And don't forget to follow Oh My Veggies on Pinterest, Facebook and Instagram for all of the latest news and competitions.
want more delicious recipes?
Subscribe to the Delicious Everyday weekly newsletter. It's FREE! And as a thank you for signing up, I'll also send you my guide to pantry essentials for delicious everyday meals.
Recipe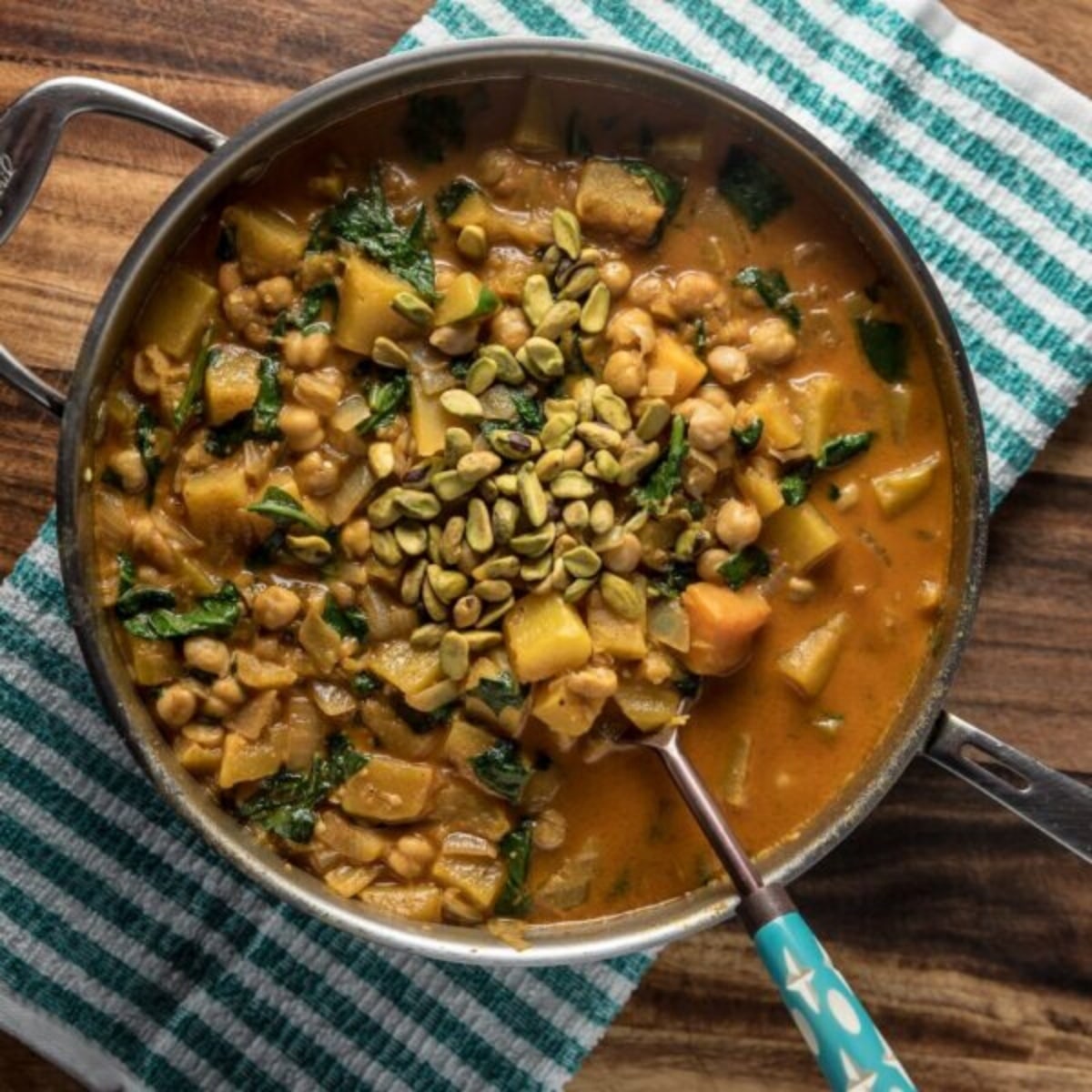 Instructions
Preheat oven to 350 degrees,

On a large baking sheet, toss butternut squash with a drizzle of olive oil, curry powder, salt, and pepper. Roast in oven for 15 minutes, until slightly softened but not quite finished. Set aside.

In a deep pan, heat a drizzle of olive oil. Add the onions, and cook for 3-5 minutes until softened.

Add the garlic, ginger paste, and lemongrass paste. Cook for 1-2 minutes longer.

Add the vegetable broth and garam masala, and bring to a simmer.

Add the butternut squash and chickpease

Stir in the coconut milk and red chili paste. Cook over low heat for 10-15 minutes longer, or until squash is tender.

Serve curry topped with pistachios and cilantro.
Nutrition
Calories:
503
kcal
Carbohydrates:
40
g
Protein:
12
g
Fat:
35
g
Saturated Fat:
26
g
Sodium:
342
mg
Potassium:
956
mg
Fiber:
9
g
Sugar:
7
g
Vitamin A:
9080
IU
Vitamin C:
21.3
mg
Calcium:
131
mg
Iron:
8.7
mg
Craving more veg-friendly recipes?
Shop our collection of vegetarian and vegan cookbooks, including our new Vegan Thanksgiving and Vegan Christmas cookbooks!