These vegetarian tempeh tacos are packed with protein and loaded with flavor from spicy buffalo sauce and tangy blue cheese. Perfect for a party or family night- no one will ever miss the meat!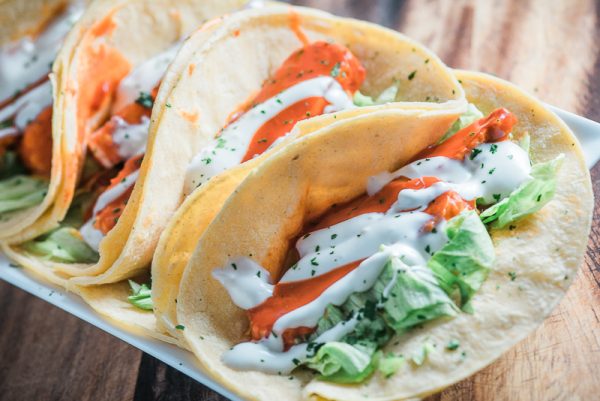 While you're here, be sure to grab our FREE 5-Day Meatless Meal Plan. It's packed with tasty recipes to make vegetarian cooking easy and delicious!
Looking for your next #tacotuesday recipe? Look no further! These buffalo tempeh tacos are one of my favorite new vegetarian creations.
They were a huge hit with my family this past weekend, including my meat-eating husband.
I have always been a taco lover. One of my go-to spreads for entertaining is a taco bar, where we place out tortillas and all the fixings and let everyone make up their own crazy taco creations. It's so much fun!
So when I went looking for a quick meal idea one night, I spotted a half-full pack of tortillas in the back of the fridge and knew I could invent some kind of taco for dinner.
We have been trying to be a bit more health conscious these days, so I wanted something that would pack a big protein punch. So naturally, I went for the tempeh.
Tempeh is a fantastic part of a vegetarian or vegan diet. It's loaded with healthy protein, yet relatively low in carbs.
Tempeh is made from fermented soybeans, and is alleged to be one of the healthiest foods in the world.
It is typically much less processed than other soy-based products, and the fermentation helps to increase the digestibility and nutrient absorption.
And did I mention that it tastes delicious? Tempeh can be used in all kinds of recipes, and absorbs the flavors of whatever it is cooked in.
It's similar in that regard to tofu, but it has a much more satisfying texture and flavor.
You can find tempeh in most grocery stores these days - it will be refrigerated and is usually near the produce.
While you're here, be sure to grab our FREE 5-Day Meatless Meal Plan. It's packed with tasty recipes to make vegetarian cooking easy and delicious!
Let's make Buffalo Tempeh Tacos!
This whole tempeh taco recipe can be prepared in about 20 minutes - does it get any simpler than that?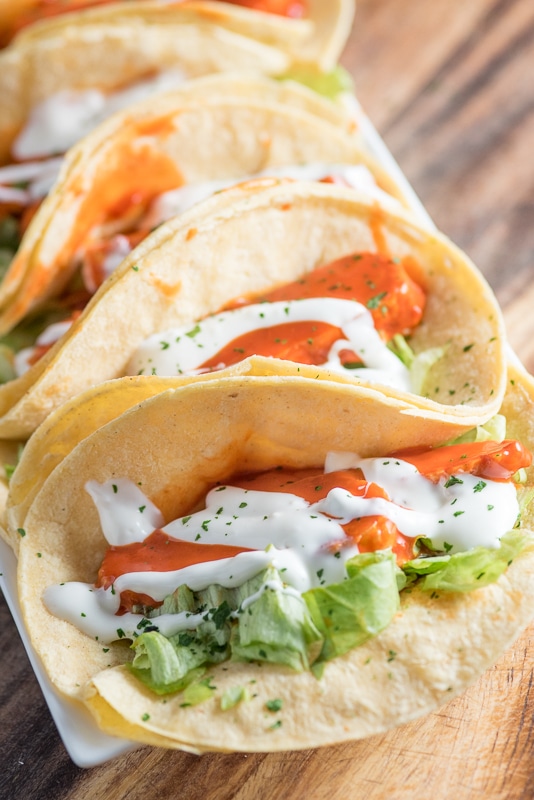 Start off by slicing the tempeh into ¼" thick slices. Don't worry about getting it perfect.
In general, you want nice thin slices so that they can absorb more of the sauce. Spread out the tempeh on a large baking sheet in a single layer.
Then you smother everything in buffalo sauce! I was in a hurry, so I used store bought sauce. Frank's brand sauces are kind of amazing - so I usually don't go through the trouble of making my own. But if you are really feeling ambitious, try out this homemade buffalo sauce recipe.
Then you simply bake the tempeh in the oven for about 15 minutes. While that is cooking, you can heat up your tortillas.
You can either do this on the stovetop, by heating them in a dry pan over low heat.
Or you can do it the easier way - in the microwave! I place about 5 tortillas in between two damp paper towels and microwave for 15 seconds.
When the tempeh is ready, you are ready to assemble your tacos! Layer each tortilla with some buffalo tempeh, fresh lettuce, and then drizzle everything in blue cheese dressing. Sprinkle everything with cilantro, and enjoy!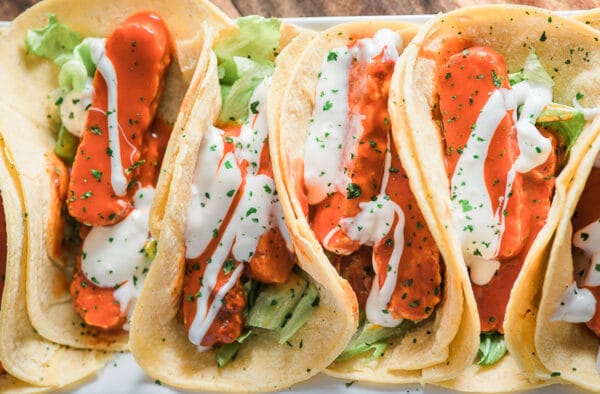 Oh, and if you want to make this totally vegan, there are a couple options. You can leave off the blue cheese dressing entirely.
If you do this, I would suggest replacing it with a dollop of vegan coconut yogurt or something similar. You need something to balance out all of the spice in the buffalo sauce.
Alternatively, you can try your hand at making this vegan blue cheese dressing. Let me know how it goes! And be sure to check out these other vegan taco recipes too!
While you're here, be sure to grab our FREE 5-Day Meatless Meal Plan. It's packed with tasty recipes to make vegetarian cooking easy and delicious!
Recipe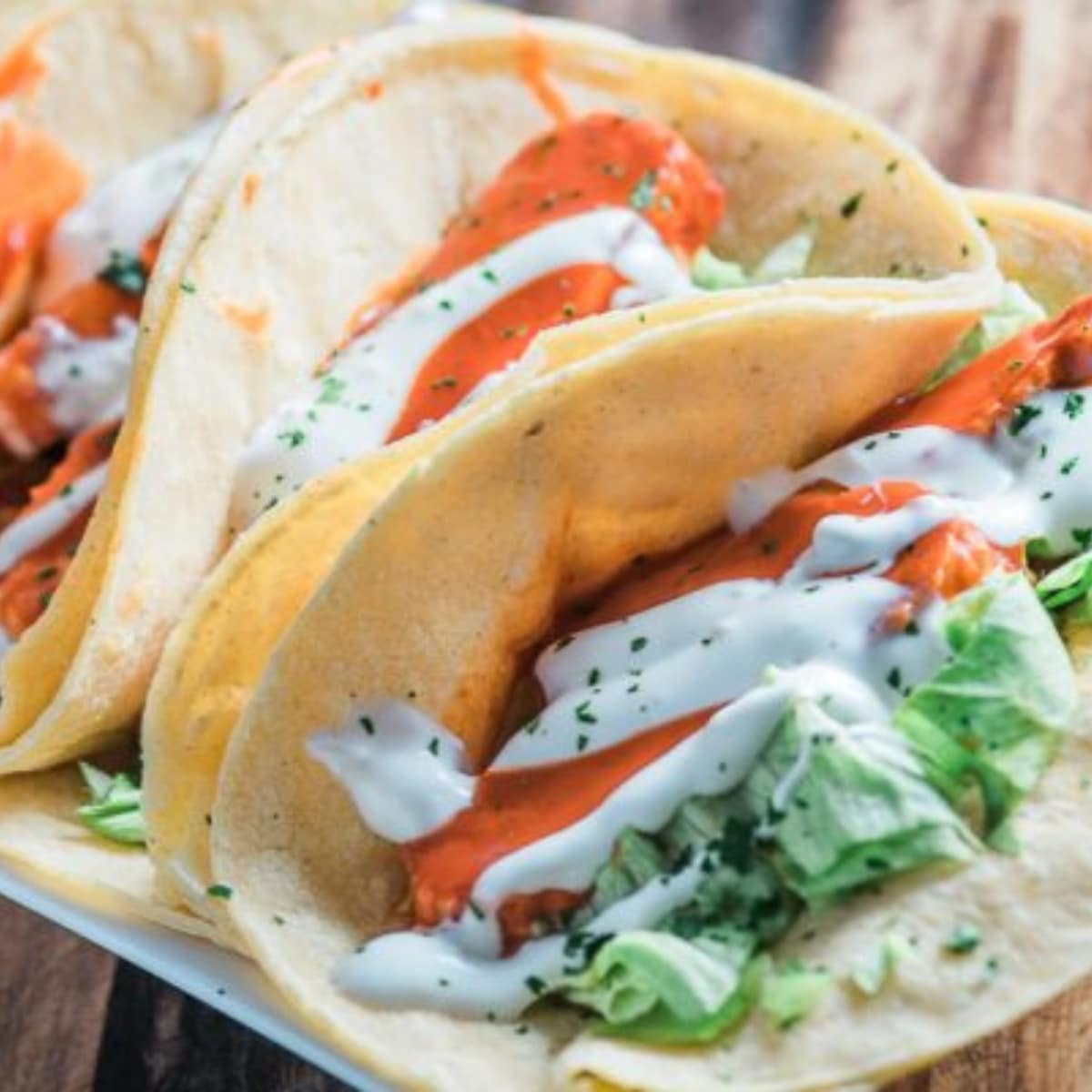 Ingredients
6

oz

tempeh

6

tortillas

corn or flour

¼

cup

blue cheese dressing

½

cup

lettuce

washed and chopped

½

cup

buffalo sauce

1

tbsp

cilantro

chopped, fresh or freeze dried
Instructions
Preheat oven to 375 degrees.

Slice tempeh into ¼" thick slices, and spread in a single layer on prepared baking sheet.

Toss tempeh in buffalo sauce, coating all sides. Make sure to spread the pieces back out into a single layer.

Bake tempeh for 15 minutes.

While tempeh is cooking, heat tortillas. Place stack of tortillas between two damp paper towels, and microwave for 15 seconds or until warm.

When tempeh is done, assemble the tacos. Top each tortilla with buffalo tempeh, and lettuce. Drizzle with blue cheese dressing, and sprinkle cilantro on top.
Nutrition
Calories:
311
kcal
Carbohydrates:
37
g
Protein:
16
g
Fat:
11
g
Saturated Fat:
2
g
Sodium:
1836
mg
Potassium:
342
mg
Fiber:
1
g
Sugar:
3
g
Vitamin A:
60
IU
Vitamin C:
0.3
mg
Calcium:
145
mg
Iron:
3.6
mg
Craving more veg-friendly recipes?
Shop our collection of vegetarian and vegan cookbooks, including our new Vegan Thanksgiving and Vegan Christmas cookbooks!