This Blueberry-Watermelon Breakfast Cocktail is the perfect morning treat. Loaded with flavor from watermelon juice, blueberries, and fresh lime. I can't think of a tastier way to rehydrate after an early workout!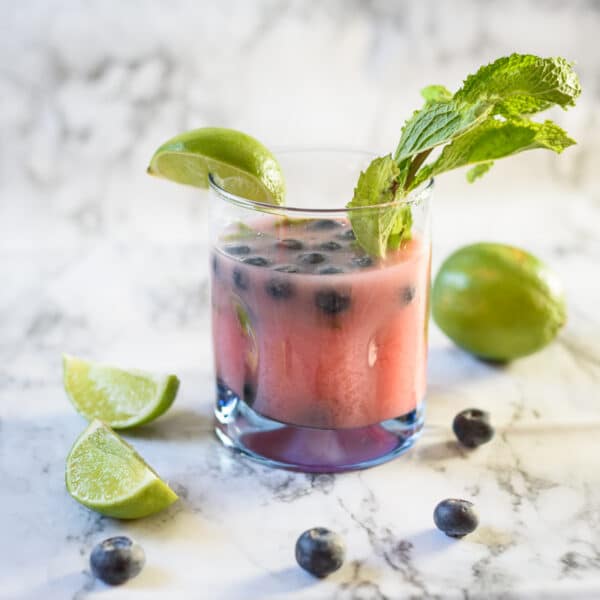 This is a sponsored post written by me on behalf of Tsamma Juice. All opinions are entirely my own.
Well, it's that time of year again. The time when we all hit the gym hard – for about three weeks. And then return to our usual, lazy selves.
Well, not this year.
I have always led a reasonably healthful lifestyle. We eat well, to be sure. But I am always conscious that my family is eating real, whole foods and getting enough exercise. I've run in several half marathons around the country– from the Fox Cities Half Marathon in Wisconsin to the Wine Country Half Marathon in Oregon. They are both incredibly fun, but it's hard to beat a race with wine at the end!
But all that said, I admit that life as a working mom of a toddler has caught up to me recently, and my workout routine has taken a definite back seat.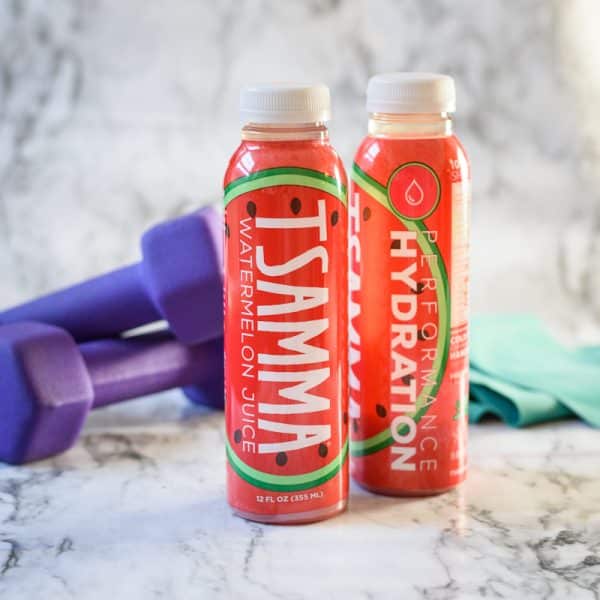 So I was especially excited when Tsamma Watermelon Juice reached out to me about creating a recipe. I knew I could create an amazing breakfast cocktail, that would be the perfect fit for my morning routine and give me a little extra motivation to get out of bed and into my running shoes!
Really, a breakfast cocktail?
Yes, indeed a breakfast cocktail. Don't worry – there's no alcohol in it. Although if you try that, you should let me know how it goes!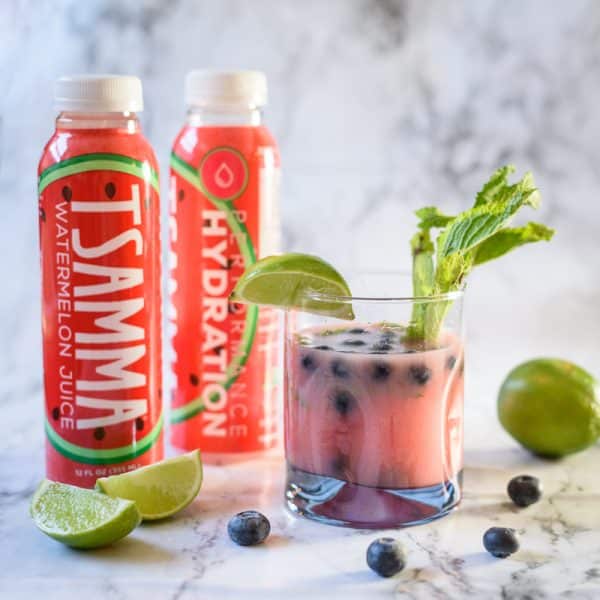 I call it a cocktail because it really feels like you are treating yourself to something special. That beautiful pink color is just gorgeous, and the aroma of fresh mint and lime is sure to perk you right up in the morning. It's exactly what I needed for a little extra motivation.
What is watermelon juice?
Tsamma Watermelon Juice is such a cool brand. By the way, it's pronounced "SAH-MAH."
It's the perfect option for a post-workout drink, because it's scientifically proven to aid in rapid rehydration and athletic recovery. It sure tastes better than any sports drink I've tried. The University of Alabama's football team is even using it as a post-game drink – so it must work!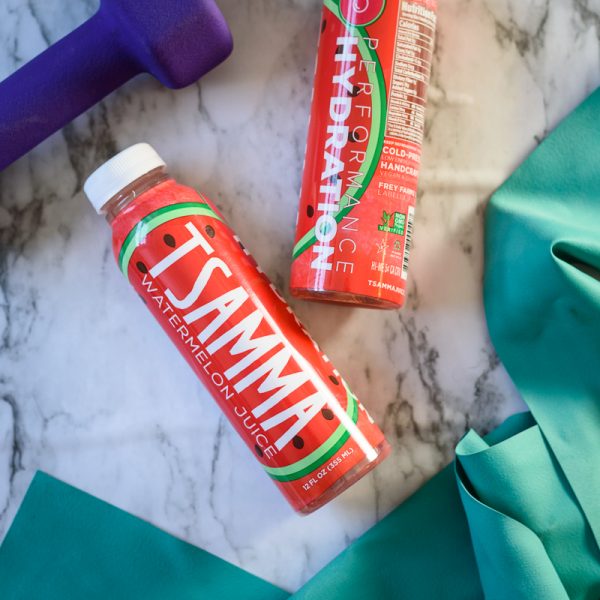 Watermelons are a nutritional gold mine! They contain Vitamins A, B, and C which are essential for healthy skin, proper immune function, and increased metabolism. Plus watermelons contain 4 times the amount of lycopene as tomatoes – that's a powerful antioxidant!
Tsamma Juice is a 100% woman-owned business– isn't that cool? It was founded by Sarah Frey in 2014, and the juice is still made and bottled by Frey Farms' watermelon farmers. I love this.
So where can You find Tsamma Watermelon Juice?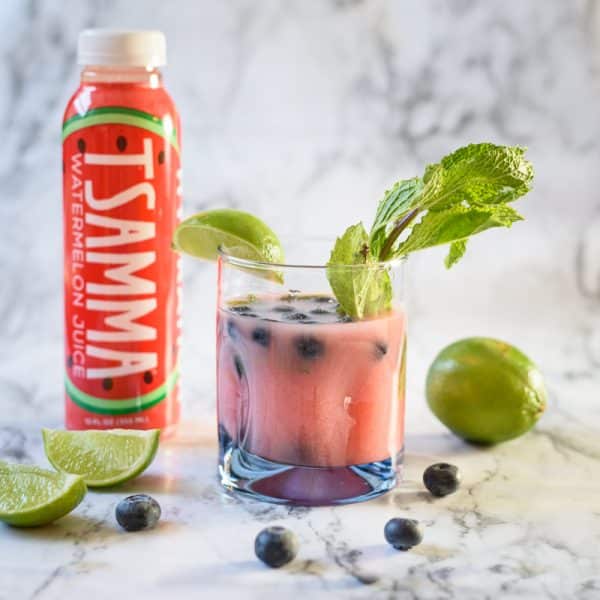 I found Tsamma Watermelon Juice at Publix, where it's available in the produce section. They even have a Tsamma Watermelon Juice + Coconut Water Blend that sounds divine. I am definitely trying that one next!
In fact, from January 27th – February 25th, there will be a $1 off coupon in the Publix weekly ad. You can also grab that coupon online here. It's the perfect time to give it a try!
Let's make the Blueberry-Watermelon Breakfast Cocktail!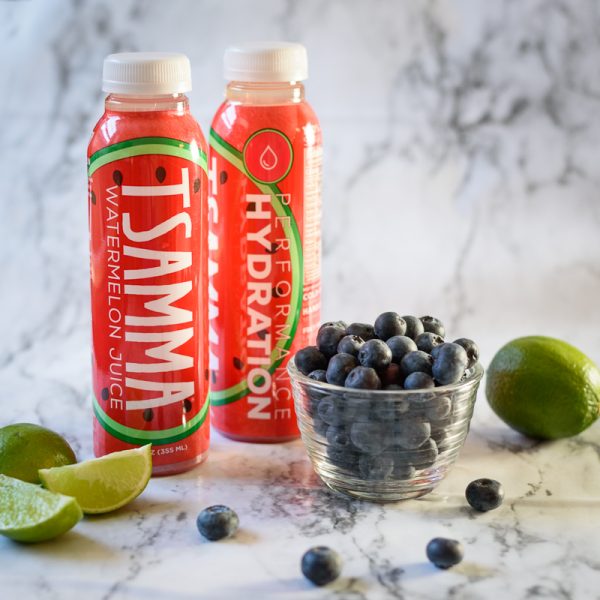 Since I am drinking this breakfast cocktail after my morning exercise routine, I need to keep the recipe fast and simple to prepare. This should only take two minutes – tops!
Start off by putting a bit of mint and fresh blueberries in the bottom of a tall glass. Use a muddler to smush around the mint and blueberries just a bit. This releases all the yummy flavor!
If you don't have a muddler, just use the handle of a wooden spoon. No special equipment needed here.
Add in the Tsamma Watermelon Juice and gently stir to combine all the flavors. Add a squeeze of fresh lime – and drink up!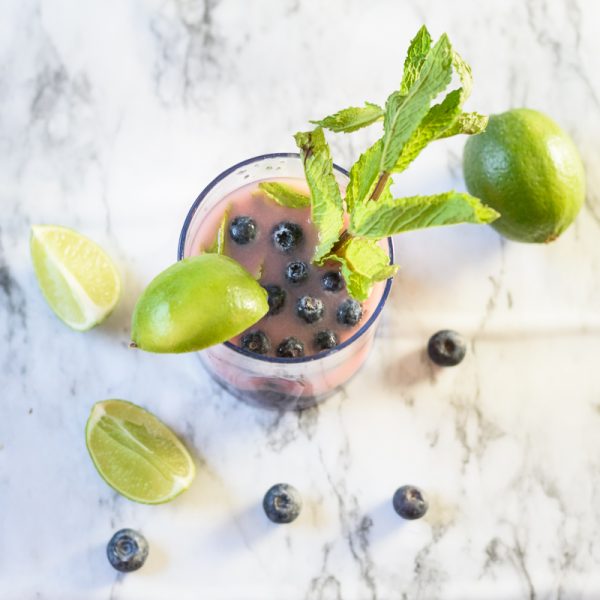 Recipe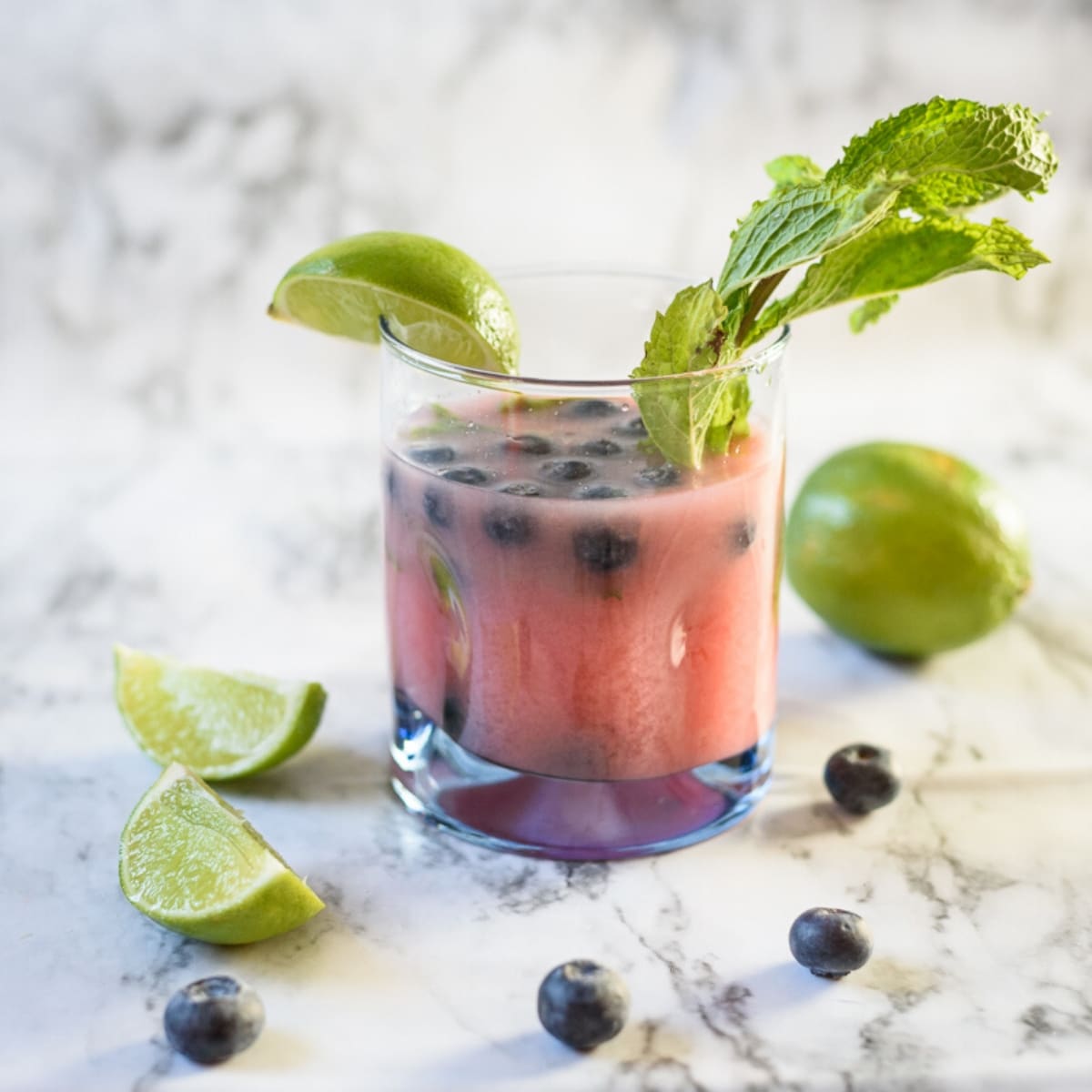 Ingredients
1

bottle

Tsamma Watermelon Juice

¼

cup

blueberries, fresh

1

lime

sliced into 4 wedges

¼

cup

mint

fresh leaves
Instructions
This recipe will make two breakfast cocktails. If you are making just one, simply cut it in half and save the rest of your Tsamma Watermelon Juice for later!

Place the mint leaves and fresh blueberries in the bottom of two large drinking glasses.

Gently muddle the mint and blueberries to release the flavors. If you don't have a muddler, just use the handle of a wooden spoon.

Shake the Tsamma Watermelon Juice well, then divide evenly into the two glasses.

Squeeze the juice from one lime wedge into each glass. Gently stir to combine.

Garnish with extra mint sprigs and lime wedges, if desired.
Nutrition
Calories:
24
kcal
Carbohydrates:
7
g
Sodium:
2
mg
Potassium:
66
mg
Fiber:
1
g
Sugar:
2
g
Vitamin A:
240
IU
Vitamin C:
13.4
mg
Calcium:
25
mg
Iron:
0.5
mg
Craving more veg-friendly recipes?
Shop our collection of vegetarian and vegan cookbooks, including our new Vegan Thanksgiving and Vegan Christmas cookbooks!
Want more delicious recipes?
Subscribe to the Delicious Everyday weekly newsletter. You will get my complimentary guide to vegetarian pantry essentials, and you'll never miss another recipe!