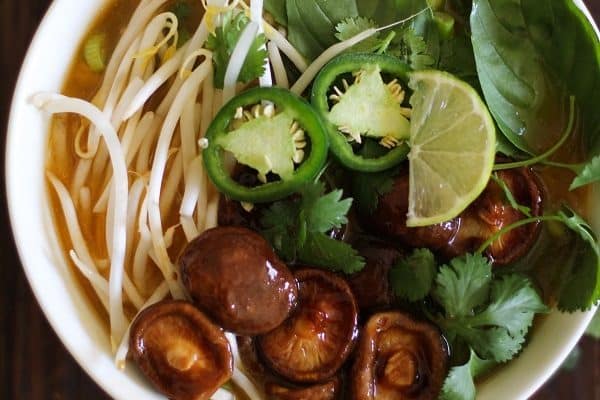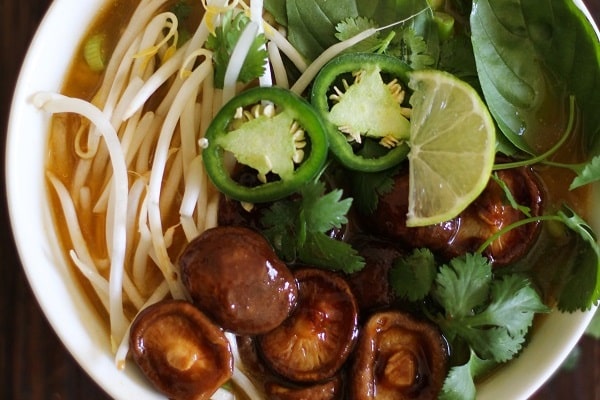 With more than twenty standard recipe variations, a traditional vegetarian 
pho
 recipe is a Vietnamese broth-based noodle soup which can be prepared with a wide assortment of vegetables, noodles, herbs and seasonings according to chef preference. Although ingredients fluctuate, most vegetarian pho creations typically include some arrangement of ginger, star anise, rice noodles, 
green onion
, watercress, bean sprouts, lemon/lime wedges, thai basil, and/or hoisin sauce. And while it sounds like a complicated dish, it's really quite simple. If you've got thirty minutes (give or take a few extra on some recipes), you've got time to make a delicious 
vegetarian pho
 recipe! Let's take a look at some examples of a vegetarian pho recipe, and what some of the experts have done with their veggie pho dishes.
This simple vegan pho recipe includes crispy pan-fried tofu, shiitake mushrooms and spicy jalapeno slices - with a dash of srirachi to boot! Serve this up in deep, wide bowls and refill as needed!
Roasted spaghetti squash, soy sauce and brown sugar make this version sweet and tangy. Garnish with a fresh lime wedge for guests to squeeze on at time of serving.
Inspired by the spring season, this creation utilizes an assortment of seasonal leafy greens, fresh-picked asparagus spears and sliced red chili - outstanding!
Make things colorful with this fall pho. Just a little fresh pumpkin and butternut squash, traditional pho spices and coconut milk create just the right flavor blend for a perfect autumn dish!
This creation uses Shirataki tofu noodles, which are both vegan and gluten-free - to give it a healthier constitution. They boil up in a super easy two minutes and are excellent in many types of dishes or noodle soups, especially Asian-inspired.
Add some carrots, coriander, grated garlic, fresh chopped cilantro and a cinnamon stick for this savory sort. As always, a pretty spoon and serving bowl makes all the difference when showing off colorful foods.
Get ready for some heavy herbs and spices! Vietnamese basil and mint, whole peppercorns, cassia bark, star anise, lemongrass, fresh ginger root, tamari and whole cloves make this rich concoction our most fragrant and savory of all.
This incredible vegan pho recipe puts a new twist on the classic Vietnamese noodle soup. It's bursting with flavor, and simple to prepare in just 30 minutes. Plus, it's 100% vegan, vegetarian, and gluten-free!