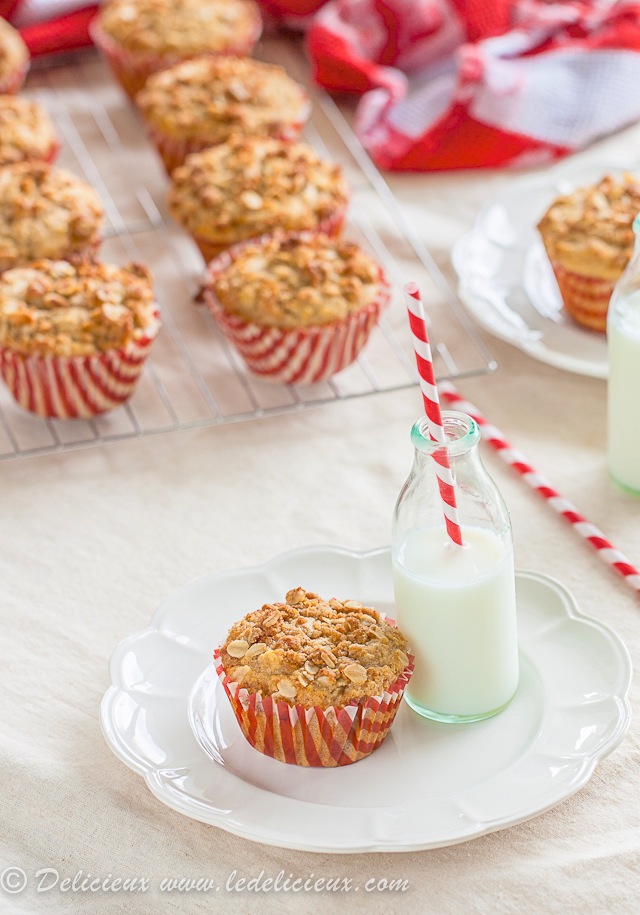 My fiance is a member of the Australian Army, and not long after we met he was deployed overseas for 6 months. As a partner of any member of the serving military knows, and in fact the members themselves, being apart for that period of time is difficult. Communication is sporadic at best, and whenever you read about something happening in the news where they are deployed you worry until you hear from your loved one again. As a result you make the most of what little communication you have.
So while Troy was deployed I decided to send him care parcels of baking.  I loved putting together those parcels. I'd spend hours researching recipes that could survive the journey, which could be anywhere up to a couple of weeks before they arrived at their destination depending on what was going on in the area at the time. I would also go shopping and buy magazines, dvd's, snack foods and other bits and pieces to add to the parcels. Little did I know that each parcel I sent over would not only become a hit with him but with others too who were serving over there with him at the time. In fact, whenever he received a parcel news would spread quickly and people would come to see what delicious treats I'd baked to send over.  Troy would gladly share my baking, in fact I think he got a kick out of it, and would gladly ration out biscuits or pieces of fruit cake.
While I sent parcels of baking Troy sent me a bunch of flowers each fortnight, and each bunch would include a note counting down how many weeks or days we had to go until we could be together again. Each flower delivery was huge, in fact so big that when I picked them up from my office reception to carry them back to my desk they would tower over me! And much like the baking I sent to Troy news of my latest flower deliveries spread through the office like wildfire with all the women coming to my office to see.
As hard as it was to be apart I think about how much harder it would have been for previous generations to cope when their loved ones were at war. What must it have been like back in 1915 when Australians were conscripted and sent off to war? There were no telephones that enabled you to call your loved ones back home and let them know you were ok. There were no emails either. The only method of communication was handwritten letters, which could take months or even years to eventually reach home.
And so tomorrow we commemorate ANZAC Day, which marks the anniversary of the first major military action fought by Australian and New Zealand forces during World War I and the landing at Gallipoli on April 25 1915. It is an important national day of remembrance in Australia and New Zealand for all of those who have given their lives in military service. While we now commemorate ANZAC day on April 25 the first ANZAC day was actually on 30 April 1915, when the first news of the landing reached New Zealand, where an impromptue half-day holiday was declared and services were held. It wasn't until 1916 that April 25 was officially recognised as ANZAC day. And while the early ANZAC day services focused on the landing at Gallipoli today's services serve as a time to remember and honour all service men and women who have served in the military.
Much like I did while Troy was deployed, fiances and wives of troops serving in World War I baked batches of the now infamous ANZAC biscuits. ANZAC biscuits became popular because they travelled well and did not spoil easily, but I don't think they would have become half as popular as they are if not for the fact that they are delicious too.
While I've baked a couple of batches of ANZAC biscuits to take to the dawn service at Troy's army unit tomorrow I also wanted to try an ANZAC cake because according to history the first published ANZAC recipe was in fact a cake and not a biscuit. Without access to the original recipe, this is what I came up with - Banana ANZAC muffins. I also wanted to make it a bit healthier than the sugar laden biscuit, so this version is sugar free too!
So, on April 25, it's appropriate we remember those who have served and given their lives, but also those who continue to serve and their partners and families back home.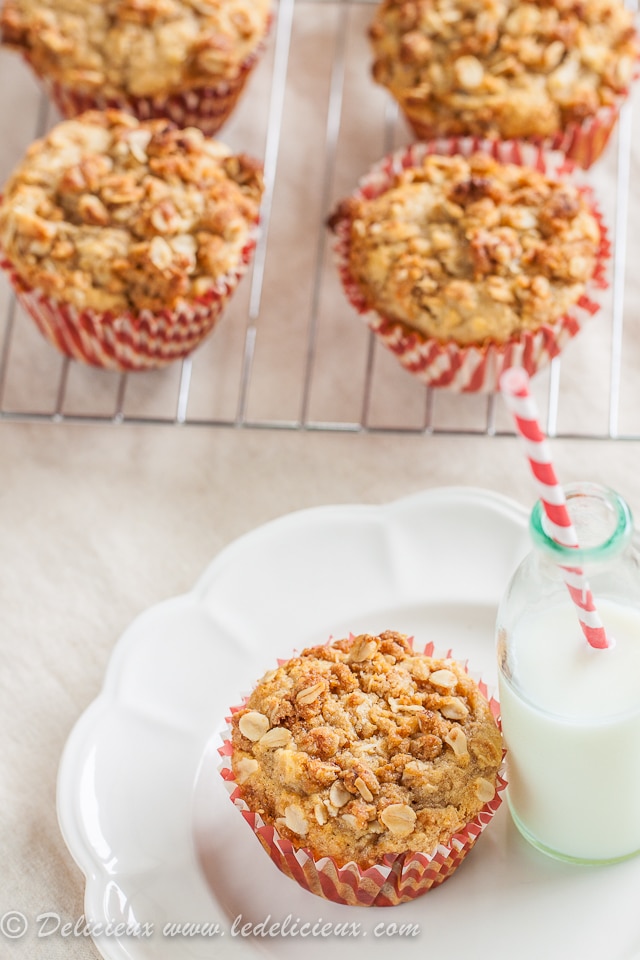 Recipe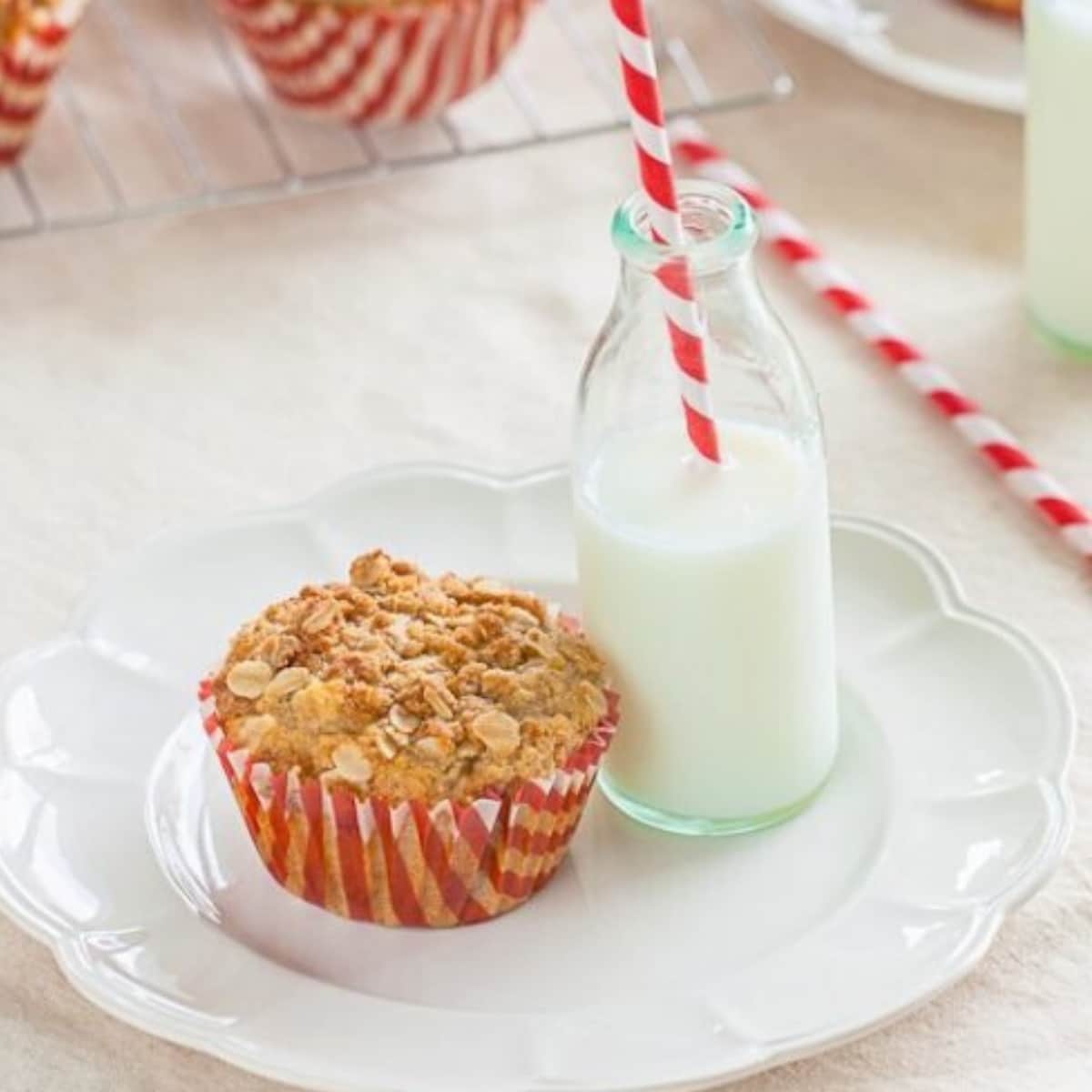 Ingredients
2

cups

of wholemeal flour

1

tsp

of ground cinnamon

¼

tsp

of ground nutmeg

½

tsp

of ground ginger

1

egg

beaten

⅔

cup

of brown rice syrup

2

teaspoons

of baking powder

½

teaspoon

of baking soda

100

ml

of vegetable oil

1

cup

of buttermilk

3

bananas

mashed

ANZAC CRUMBLE TOPPING

⅓

cup

of plain flour

2

tbs

of brown rice syrup

⅓

cup

of rolled oats

¼

desiccated coconut

30

g

of butter

melted
Instructions
Preheat the oven to 190 degrees celsius (375 Fahrenheit) and line a muffin tin with liners.

Start by making the crumble mixture. In a small bowl combine the flour, brown rice syrup, oats, coconut and melted butter. Stir to combine and set aside while you make the muffins.

Combine the flour, baking soda, baking powder, cinnamon, nutmeg and ginger in a bowl and whisk to combine.

In a large jug combine the egg, buttermilk, oil and brown rice syrup and whisk to combine. Add to the flour, along with the mashed bananas and mix until just combined.

Divide the mixture between the prepared muffin liners, filling them until almost full. Sprinkle the top with the ANZAC topping and bake for 20 minutes or until lightly golden brown.
Notes
If you can't find Brown Rice Syrup you can substitute honey or agave, or indeed sugar. Using brown rice syrup makes these muffins a great sugar free treat.
Nutrition
Calories:
283
kcal
Carbohydrates:
43
g
Protein:
5
g
Fat:
12
g
Saturated Fat:
8
g
Cholesterol:
21
mg
Sodium:
107
mg
Potassium:
289
mg
Fiber:
3
g
Sugar:
18
g
Vitamin A:
135
IU
Vitamin C:
2.6
mg
Calcium:
81
mg
Iron:
1.2
mg
Craving more veg-friendly recipes?
Shop our collection of vegetarian and vegan cookbooks, including our new Vegan Thanksgiving and Vegan Christmas cookbooks!