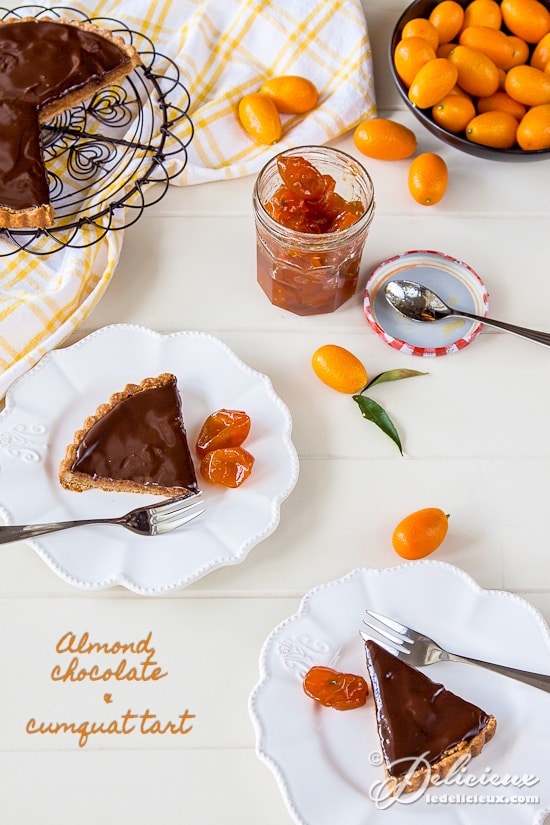 Cumquats. I'd never cooked with them before, let alone eaten one, and it was this fact that intrigued me enough to purchase a bountiful bag of them recently from my local supermarket. You see, whenever I see fruit or vegetables I've never tried before I just have to buy them. I love trying new things. Some of my discoveries are successful, others not so much.
With my bag of cumquats sitting on the kitchen bench I began to wonder what to do with them. They sat there for a couple of days while I tossed around ideas, but then I decided to turn to Google, not being overly familiar with cumquats. When I Googled cumquat recipes and stumbled across a recipe for an almond, chocolate and cumquat tart with candied cumquats by the wonderful Maggie Beer I knew I had to try it. Not least because of the combination of citrus and chocolate, which is my all time favourite flavour combination, but because all of Maggie's recipes are fabulous.
Starting with Maggie's infamous sour cream pastry the tart is then topped with a mixture of ground almonds, butter, cinnamon and cumquat syrup and zest, and baked until golden. This is then topped with a dark chocolate glaze. The combination is divine, with the almond mixture reducing the overall sweetness and richness of the tart.
If you have left over candied cumquats they are a wonderful accompaniment to a cheese platter.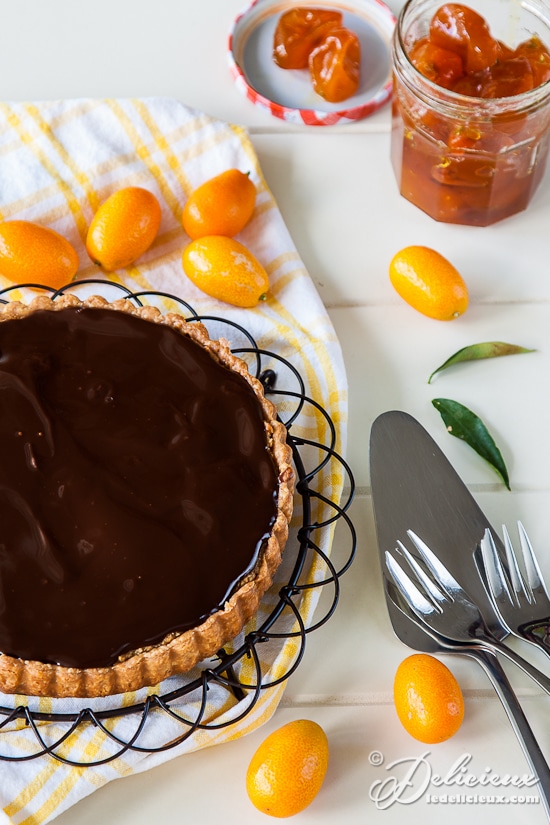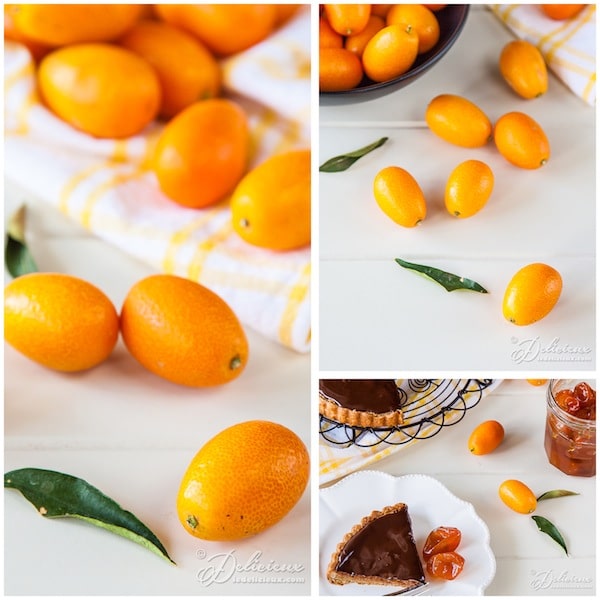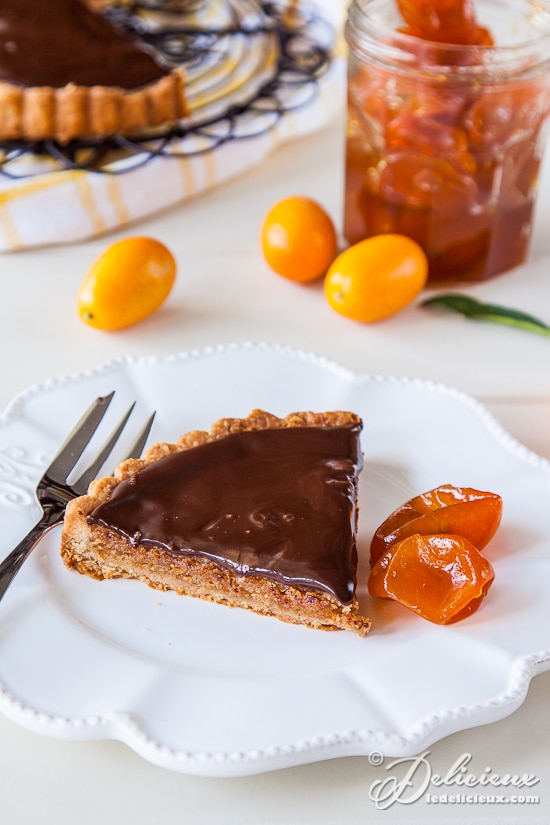 Recipe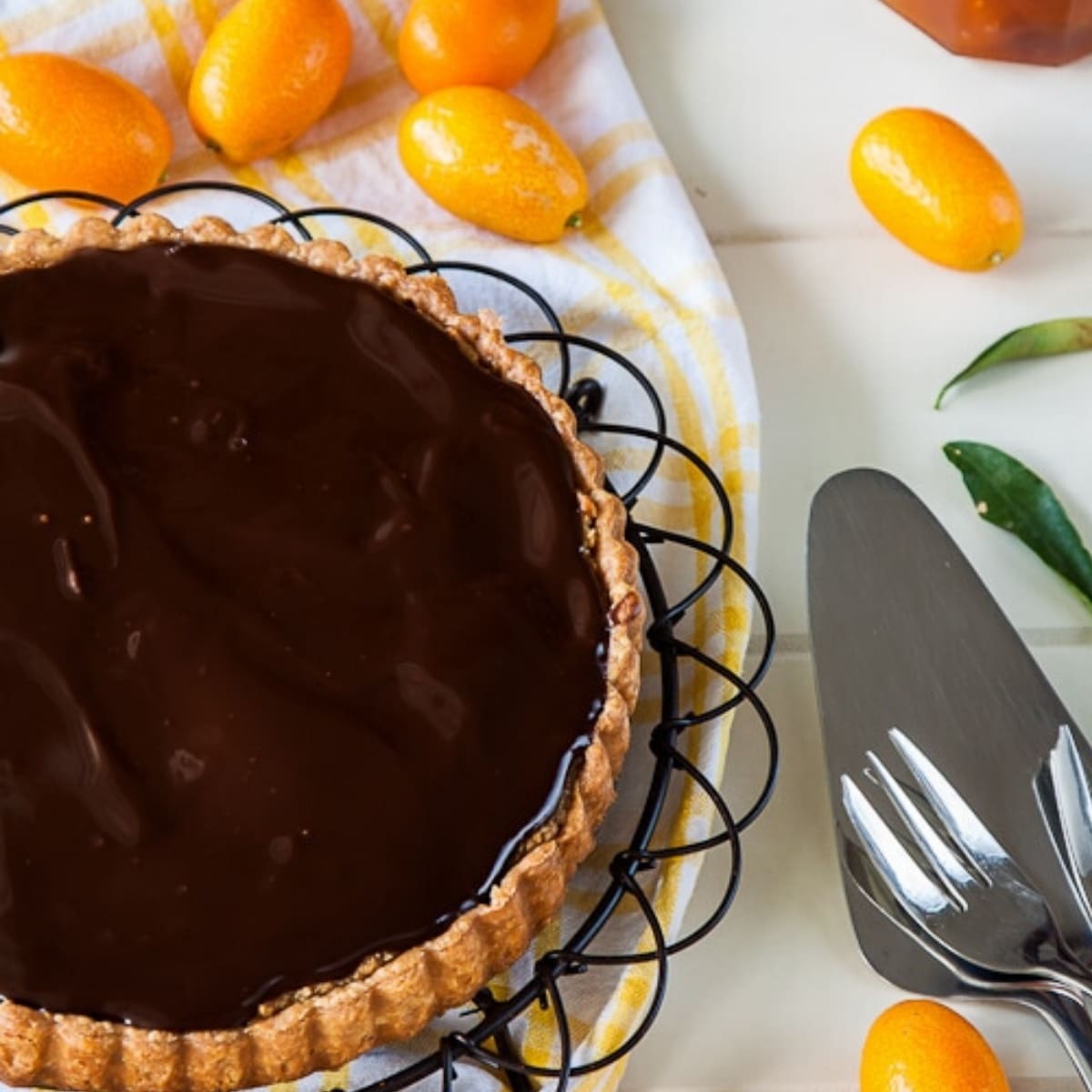 Ingredients
SOUR CREAM PASTRY:

125

ml

sour cream

250

g

plain flour

200

g

unsalted butter chilled

chopped into cubes

CANDIED CUMQUATS:

500

ml

orange juice

1 cup

400

g

caster sugar

1 cup

1

kg

cumquats

2 pounds

ALMOND & CUMQUAT FILLING:

265

g

almond meal

2 ¼ cups, ground almonds

1

tsp

cumquat zest

1

tsp

ground cinnamon

125

ml

syrup from the candied cumquats

½ cup

120

g

unsalted butter

softened, 1 stick

CHOCOLATE GLAZE:

175

g

70% cocoa chocolate

roughly chopped, 6 ounces

¼

cup

cream

50

g

unsalted butter

½ stick

1 ½

tsp

syrup from the candied cumquats
Instructions
Begin by making the pastry. Place the butter and flour in a food processor and pulse until the mixture resembles fine breadcrumbs. Add the sour cream and pulse until the mixture starts to come together and form a ball. Wrap the dough in plastic wrap and refrigerate for 30 minutes.

For the candied cumquats place the orange juice and castor sugar in a large saucepan and stir to dissolve the sugar. Bring to a boil and add the cumquats. Return to a boil and simmer until the syrup is thick and the cumquats have collapsed and appear slightly translucent. Remove from the heat and allow to cool.

Preheat the oven to 200 celsius (390 Fahrenheit) and roll out the sour cream pastry until approximately 3mm thick. Line a 22cm loose bottomed tart tin with the pastry and trim the excess. Refrigerate for 30 minutes before lining with foil, and filling with dried beans or pastry weights. Bake it for 10 to 15 minutes or until the pastry starts to dry. Remove the foil and beans and return the pastry case to the oven for a further 10 minutes to ensure the pastry is crisp. Place on a wire rack to cool.

Reduce the oven temperature to 175 celsius (350 Fahrenheit) and place the ground almonds, cinnamon and cumquat zest in a large bow. Stir to combine before adding the cumquat syrup and the butter. Pat the almond mixture into the tart base and bake the tart for 30 minutes, or until golden. Place on a wire rack and cool completely.

To make the chocolate glaze, bring a saucepan of water to a boil and turn the heat off. Place the chocolate, cream, butter and syrup in a bowl and place over the saucepan and stir until melted and smooth. Poor over the top of the tart and spread evenly with an offset spatula.
Nutrition
Calories:
839
kcal
Carbohydrates:
96
g
Protein:
14
g
Fat:
51
g
Saturated Fat:
24
g
Cholesterol:
94
mg
Sodium:
31
mg
Potassium:
606
mg
Fiber:
16
g
Sugar:
55
g
Vitamin A:
1480
IU
Vitamin C:
69.2
mg
Calcium:
178
mg
Iron:
5.6
mg
Craving more veg-friendly recipes?
Shop our collection of vegetarian and vegan cookbooks, including our new Vegan Thanksgiving and Vegan Christmas cookbooks!