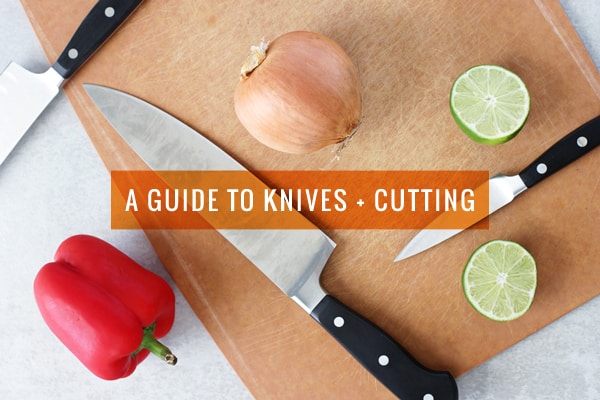 A good set of knives will be your best friend in the kitchen. I never realized quite how much of a difference they could make until I received a set as a wedding gift. Life changing! Suddenly, I was able to chop up vegetables so much easier and the process was just more enjoyable overall.
There are a ton of different options out there when it comes to knives. Today we are going to cover the basics: those that typically come in a starter set (or one step up) and are the ones that you'll use frequently in your kitchen.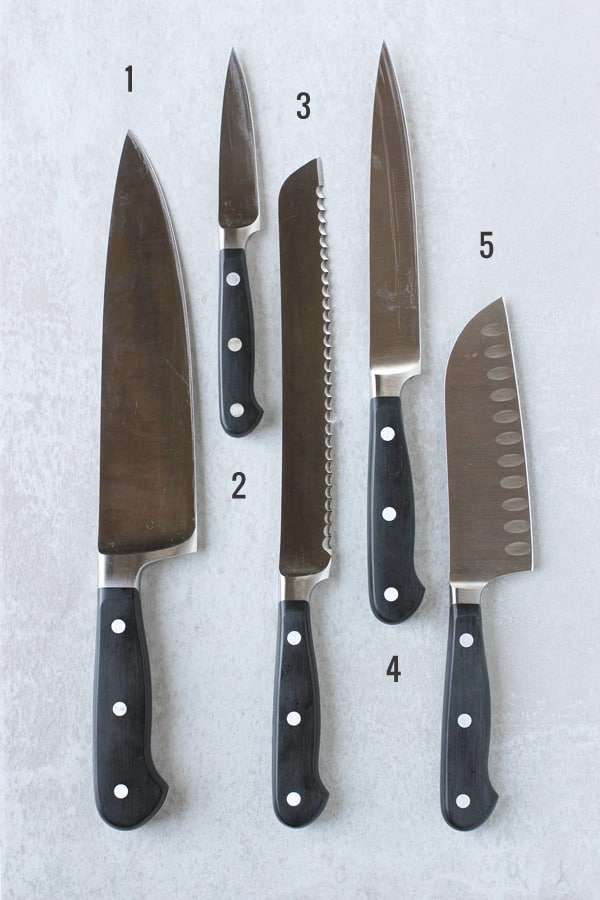 1. Chef's Knife
A chef's knife is an all-purpose kitchen workhorse. It's great for so many different uses - chopping, slicing, dicing and mincing. It really can handle just about any larger kitchen task.
They are on the bigger end of the size spectrum when it comes to knives, so I especially love to use mine when I'm working with larger, sturdier produce, like butternut or spaghetti squash. A chef's knife is strong enough that it won't wobble when you are cutting through something that is tougher and requires a little more muscle.
Chef's knives do come in different sizes, so if you are not buying one in a set, you can get one that feels best in your hand.
Since chef's knives are on the larger side, I often find myself reaching for something else, like a paring knife, when I'm working with something small, like fruit, and don't feel comfortable with such a large knife.
2. Paring Knife
Which leads us to paring knives. Paring knives are wonderful for small, short and/or more precise tasks, like peeling, trimming and slicing small foods (like fruit).
This is the knife I always reach for when I'm cutting something in my hand and not on a surface, like peeling citrus fruit.
You'll go for this knife when you need to focus more on a small detail or when a larger knife would just make the job harder and be too cumbersome.
3. Serrated/Bread Knife
A serrated knife has a scalloped edge and gives you very smooth, clean slices. It's perfect for slicing bread or soft, juicy fruits and vegetables. You only really want to use this knife for some sort of slicing duty - it's not meant for chopping or peeling.
I love to reach for mine for tomatoes - it slices through them incredibly well. I also use mine for baked goods, like banana bread. It produces very few crumbs and slices through cakes and loaves easily. You can also use it to level cakes before frosting, where you need a knife that will be more delicate.
4. Utility Knife
A utility knife is another type of all-purpose knife. You can use it for numerous tasks in the kitchen, like chopping, peeling and slicing.
Utility knives are slightly smaller than chef's knives, so you can turn to this when a chef's knife would be just slightly too large for the task at hand.
5. Santoku Knife
This Japanese-style knife has hollow-edge depressions along the blade, which help to prevent foods from sticking to it. If you look at the picture above, you can see that the cutting edge of the blade is shaped quite differently than the chef's knife.
This knife is a great alternative to a chef's knife and for my own personal preference, is the knife that I reach for probably 90% of the time (I will still go for my chef's knife when I'm cutting something hard, like butternut squash).
It's perfect for chopping, slicing, dicing and mincing. If you had to choose one knife to invest in for your kitchen, this would be my pick.
Knife Care Tips
Having well-sharpened knives is key in any kitchen, but how fast they will dull down will depend on how often you use them. You can sharpen them at home yourself with the right tools or you can bring them to a store to have them sharpened professionally.
You'll also want to be sure to protect your knives when not in use, either storing them in a knife block or in a place where nothing is going to hit the blades. Don't throw them in a drawer!
Finally, I make sure to wash all my knives by hand with soap and water. Putting them in the dishwasher can really dull the blades, and possibly damage them as well. This helps keep them in the best shape for as long as possible.