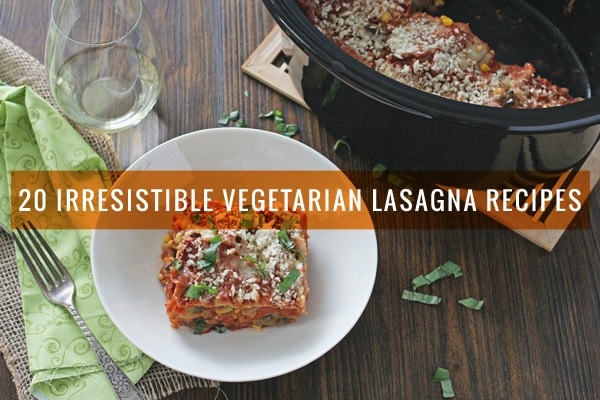 I was going to add the word "simply" to the title of this post, but I thought you'd appreciate me not getting Robert Palmer stuck in your head today. But back on topic: lasagna recipes. More specially, vegetarian lasagna recipes. Lots of restaurants have lasagnas filled with cheese or spinach, but if you want to get creative with your veggie lasagnas, you're probably going to have to make them at home. And if you're going to make your lasagna at home, these 20 vegetarian lasagna recipes are the perfect inspiration.
Creamy Mushroom and Kale Lasagna
Cashews -- what can't they do?! Here, they're whipped up into a rich, creamy alfredo sauce for layering in a vegan lasagna.
Freezer-Friendly Pesto Lasagna Roll-Ups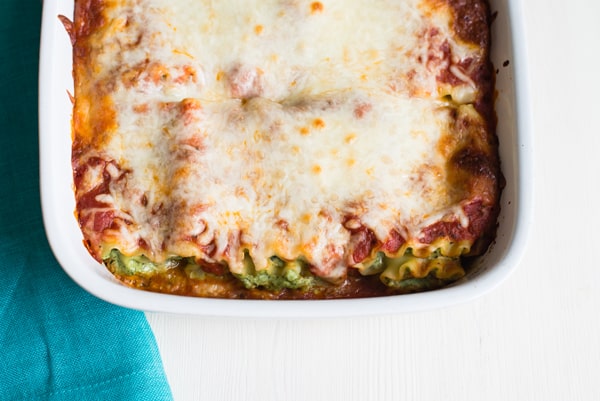 A make-and-freezer dinner from The Oh My Veggies Guide to Freezer Cooking.
Roasted Ratatouille Lasagna
Roasting vegetables adds depth of flavor to this ratatouille lasagna from Eats Well with Others.
White Mushroom Lasagna
We love this lasagna from The View From Great Island because it can be assembled in advance and heated later -- or even frozen!
Mini Vegetable Lasagnas
Little personal lasagnas made with pesto and vegetables -- so fancy!
Poblano, Corn and Zucchini Lasagna
The Food Charlatan brings us this summery, Mexican-inspired lasagna.
Vegan Stroganoff Lasagna
There's no beef in this stroganoff! Recipe Renovator replaces the tomato sauce with a creamy vegan stroganoff.
Spinach Artichoke Lasagna Roll-Ups
Spinach and artichokes -- they're delicious in dips and even better in these lasagna rolls from Two Peas and Their Pod.
Slow Cooker Summer Vegetable Lasagna
Lasagna in a slow cooker? Yes you can!
Summer Vegetable Skillet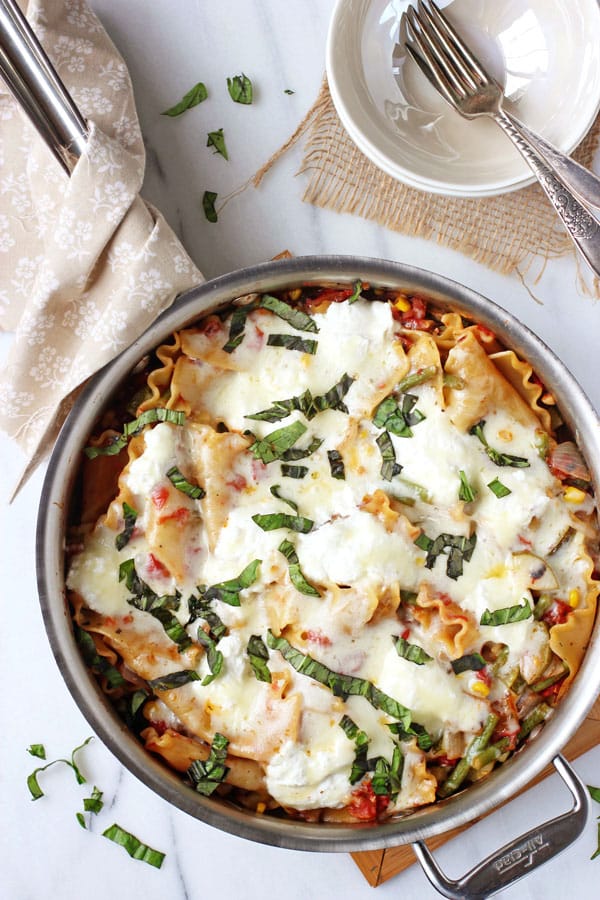 A one-pan lasagna cooked entirely on the stove and filled with summer produce like fresh corn, zucchini and green beans.
Slow Cooker Protein-Packed Pumpkin Lasagna
Tofu and white beans add a healthy boost of protein to this vegan lasagna from Healthy Slow Cooking.
Zucchini Lasagna
Who needs noodles when you can use zucchini?! Oh Sweet Basil shows you how.
Portabella and Spinach Lasagna Roll-Ups
If you've got a hankering for meaty lasagna, this mushroom version might just satisfy that craving.
No-Bake Summer Lasagna
Don't want to bother turning on the oven? No problem! Simple Healthy Kitchen has the perfect solution.
Butternut Squash and Kale Lasagna
With butternut squash and kale, this lasagna from Vanilla and Bean couldn't be any more perfect for winter.
Root Vegetable & Brussels Sprout Lasagna
There are a lot of summer vegetable lasagna recipes, but Cookie Monster Cooking gives root veggies and sprouts some love too.
Cauliflower and Tofu Lasagna with Butternut Squash Sauce
Roasted cauliflower and tofu make an unexpected -- but delicious! -- filling for this meatless lasagna.
Kalamata Garlic Bechamel Lasagna
We're big believers in adding olives to everything we possibly can -- like in this lasagna from Spabettie!
Roasted Squash Lasagna with Fried Sage Leaves
Don't skip the fried sage leaves in this lasagna from Brooklyn Supper -- they're so delicious when paired with winter squash!
Greek Polenta Lasagna
Instead of noodles, polenta is layered with vegetables, cheese and sauce in this Greek-inspired lasagna.