Last year I shared some of my favorite kitchen tools with you, but since then, I have some new favorites so I thought it was time to write another post. Because guess what? I cook a lot! And I'm always on the lookout for kitchen tools that make meal prep a little bit easier without breaking the bank.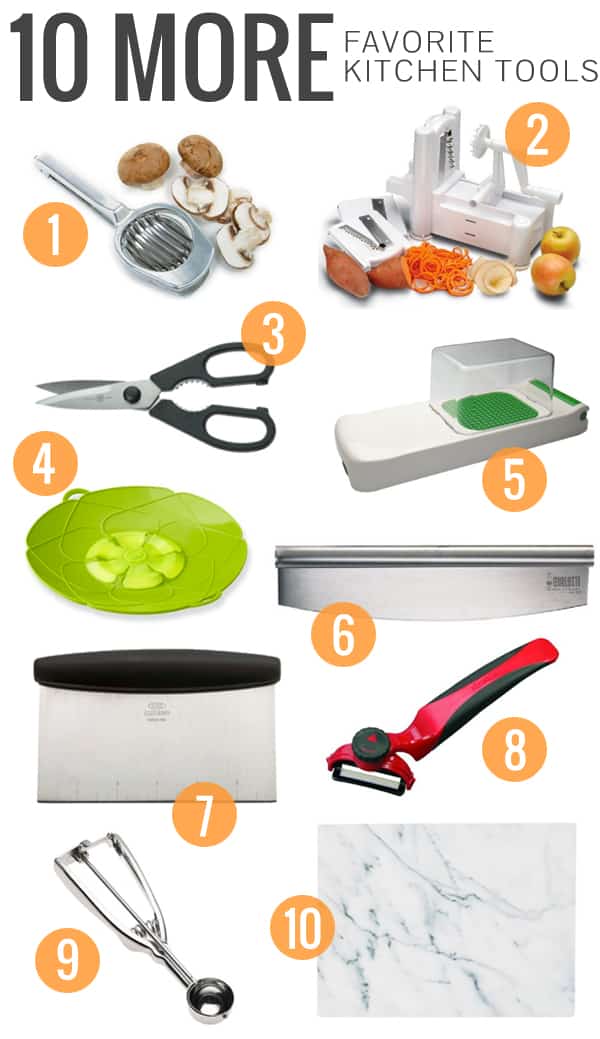 1. Mushroom Slicer
Why I Love It: I bought a cheap egg slicer from IKEA that I thought I could use on mushrooms, but it broke the first time we used it, so I upgraded to this one. Yes, this is a very specific gadget, but if you cook with mushrooms a lot, you will love it for the time it saves you!
Used In: Mushroom and Zucchini Quesadillas with Cilantro Pesto
Buy It: Mushroom & Egg Slicer
, $8.44
2. Spiralizer
Why I Love It: I debated long and hard about this one, but the ability to make zucchini noodles finally won me over. You can also use it to make curly fries. It'll be like Arby's all up in your kitchen!
Used In: Raw Pad Thai
Buy It: Paderno World Cuisine Spiral Vegetable Slicer
, $31.25
3. Kitchen Shears
Why I Love It: My mom used to cut frozen cheese pizza with kitchen shears, but I most often use mine for mincing chives and slicing green onions.
Used In: Trimmed-Down Cheddar & Chive Duchess Potatoes
Buy It: Kitchen Shears
, $19.95
4. Spill Stopper
Why I Love It This is easily my favorite kitchen find of the past year. You know how when you make pasta, the water always boils over? This fits on top of your pot and keeps that from happening. We have a glass cooktop and cleaning up that burnt on starchy water is a nightmare, so this has been well worth the cost.
Used In: Stovetop Pesto Mac
Buy It: Kuhn Rikon Spill Stopper
, $21.99
5. Alligator Dicer
Why I Love It: I've seen these all over the place and even bought one as a wedding gift, but for some reason, I always thought they were a gimmick. But I got one for myself and now I'm a believer. Put the onion in it, slam it down, and boom, you have perfectly diced onions--all the same size, no wonky end pieces!
Used In: Vegetarian Chicken Noodle Soup
Buy It: Alligator Dicer with Collector
, $26.53
6. Pizza Chopper
Why I Love It: I don't think I've used my pizza wheel since buying this. With my wheel, I'd have to roll over the pizza several times and by the time I was finished, the edges of each slice would be completely mangled. This chopper makes it much easier to slice even pieces and it's great for tarts and galettes too.
Used In: Lemon Gremolata Pizza with Cauliflower Crust
Buy It: Bialetti Pizza Chopper
, $9.99
7. Pastry Scraper
Why I Love It: My mom bought me one of these for Christmas a few years back and I had no idea how I'd use it because I never bake pastries. But now it's one of my favorite kitchen tools. Want to cut perfect squares of fudge? Brownies with straight edges? Use a pastry scraper!
Used In: Crazy Delicious Dairy-Free Chocolate Fudge
Buy It: Pastry Scraper
, $9.95
8. Perfect Peeler
Why I Love It: I went through a lot of peelers before finding this one and it's lasted me for more years than I can remember. The blade rotates so it works as both a Y-peeler and a straight peeler.
Used In: Curried Baked Carrot Chips
Buy It: Kyocera Perfect Peeler
, $13.79
9. Cookie Dough Scoops
Why I Love It: I probably bake cookies once or twice a year, but that's not why I love this thing. I use it as a scoop to make truffles, energy bites, and even meatballs. It minimizes the mess on my hands and helps keep things a uniform size.
Used In: Pumpkin Spice Energy Bites
Buy It: Stainless Steel Scoop
, $11.15
10. Marble Pastry Slab
Why I Love It: I completely bought this for photos--I had no intention of actually using it for cooking. But one day I was making calzones and I didn't have enough room to roll them out anywhere in the kitchen, so I decided to put my marble pastry slab on the kitchen floor and use that instead. The dough rolled out perfectly with less flour and less sticking than usual and clean up is so easy. This is now my preferred work surface in my kitchen.
Used In: Brussels Sprout and Grape Galette
Buy It:Marble Pastry Slab
, $25.89
Do you have any kitchen tools that you can't live without? Tell me about them!
Disclosure: Yes, the links in this post are affiliate links! That means if you were to make a purchase, I would get a small percentage of the sales price. This helps me keep Oh My Veggies up and running.