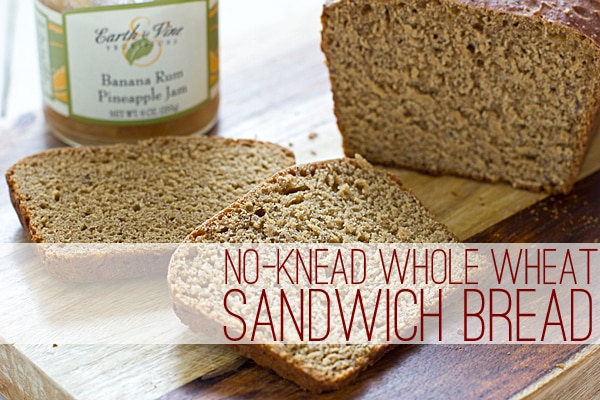 If you've never made your own whole wheat sandwich bread before, don't be intimidated—it's easy! This no-knead recipe is a great one to start out with.
Disclaimer
This is not a post meant to shame you into making your own whole wheat sandwich bread. Because I am not one of those bloggers. You know, the kind that make you feel like a terrible human being because you're not making your own almond milk from almonds you grew yourself, maintaining your own bee hives in your backyard, trekking into the woods to harvest wild morel mushrooms every spring? Yeah, that's not me. I mean, if you want to be an urban beekeeper, that's totally cool. But I'm way too lazy for that sort of thing. Plus, bees make me nervous. They sting, yo.
So please know that I'm not posting this because I think you should be making all your bread yourself. This was just a fun project that I wanted to do for a while and I thought I'd share it.
Conquering My Fear of Bread
If you read a lot of food blogs, perhaps you've seen me commenting on other people's bread posts taking about how baking with yeast scares me. (So if you're keeping track, I'm scared of bees and yeast. Someday I'll tell you about how I'm scared of fishing poles. Someday...) My last attempt to use yeast was in pizza crust and it ended up being tough and weird. Like a frisbee made with flour. I kind of swore off yeast after that, but once I started blogging, I realized that I needed to conquer this fear.
I set out to find a bread recipe that was both crazy easy and fairly healthy and this No-Knead 100% Whole Wheat Bread recipe from King Arthur Flour fit the bill. I tweaked it a little bit by using olive oil instead of butter or vegetable oil and I added some ground flax too. And it really is easy, you guys. You just: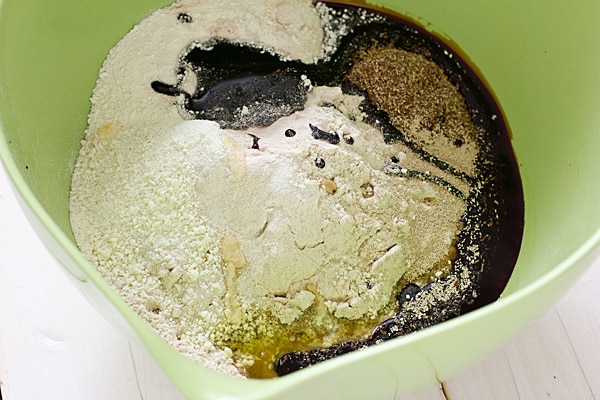 Mix all the ingredients in a bowl.
Transfer the dough to a bread pan, cover it with plastic wrap, and let it rise. Make sure you listen to the directions and put it in a warm place. It really does make a difference.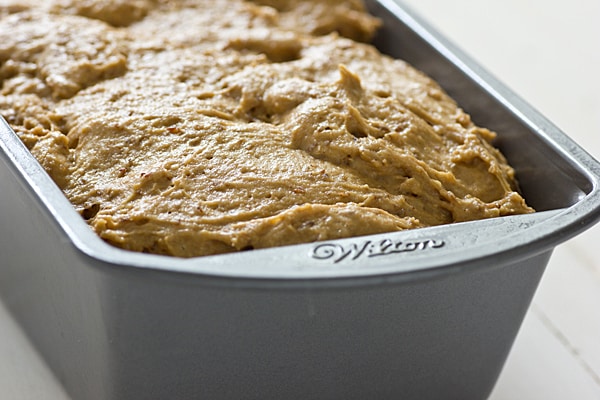 Look! It's rising!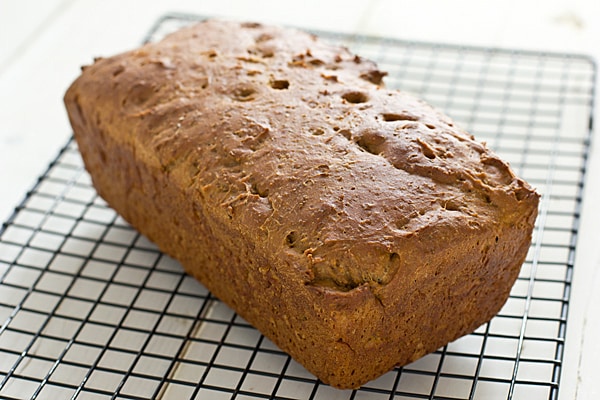 Then you bake it and cool it on a wire rack. Fine, it doesn't look perfect, but I'll take it. I'll take it!
The Result
It's a little bit moister and denser than store-bought whole wheat sandwich bread, but we really enjoyed it. Chris was particularly enamored with it and for that reason alone, I know I'll probably be making this again. But will I only eat homemade bread from now on? Heck no. Buying bread is convenient. That said, you should try baking it at least once. It's easier than you think, it's delicious, and if you have a fear of baking with yeast, this recipe is a good one to start out with.
Recipe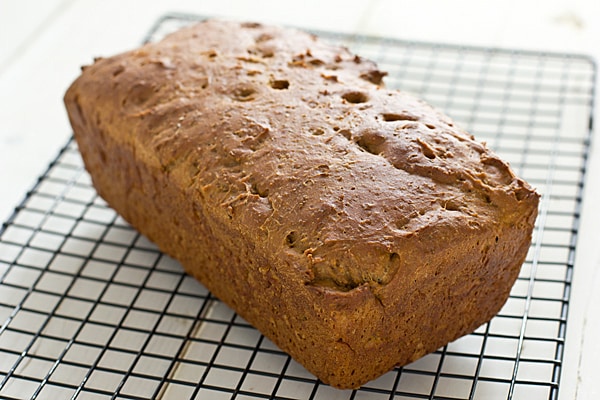 Ingredients
1

cup

lukewarm water

¼

cup

freshly-squeezed orange juice

¼

cup

olive oil

3

tbsp

molasses

2

tsp

instant yeast

¼

cup

nonfat dry milk

1 ¼

tsp

salt

3

cup

white whole wheat flour

2

tbsp

ground flaxseeds

optional
Instructions
Combine all ingredients in a large bowl. Using a hand mixer, beat on high speed for about 3 minutes. Dough will be sticky and thick—don't panic! It's supposed to be like that.

Spray an 8 ½ x 4 ½-inch loaf pan with an

oil mister

or cooking spray. This bread is sticky, so you need to make sure the whole pan is thoroughly coated with oil. Transfer the dough to the loaf pan, cover with lightly greased plastic wrap, and let bread rise for 60–90 minutes. The bread will rise to (or just above) the rim of the pan when it's ready.

Preheat oven to 350°F. Remove plastic wrap from bread and bake for 40–45 minutes, tenting with aluminum foil after 20 minutes. When the bread is golden brown on top and an

instant-read thermometer

inserted into the center reads 190–195°F, the bread is done.

Remove from oven and cool for 5 minutes, then remove bread from pan and continue to cool on a wire rack. Once bread is completely cool, it can be sliced. I prefer slicing the loaf as we use it rather than slicing the whole thing at once.
Notes
Total time doesn't include time required for dough to rise.
Nutrition
Calories:
2147
kcal
Carbohydrates:
334
g
Protein:
72
g
Fat:
68
g
Saturated Fat:
8
g
Polyunsaturated Fat:
10
g
Monounsaturated Fat:
42
g
Cholesterol:
6
mg
Sodium:
3130
mg
Potassium:
2317
mg
Fiber:
46
g
Sugar:
67
g
Vitamin A:
821
IU
Vitamin C:
33
mg
Calcium:
824
mg
Iron:
13
mg
Craving more veg-friendly recipes?
Shop our collection of vegetarian and vegan cookbooks, including our new Vegan Thanksgiving and Vegan Christmas cookbooks!