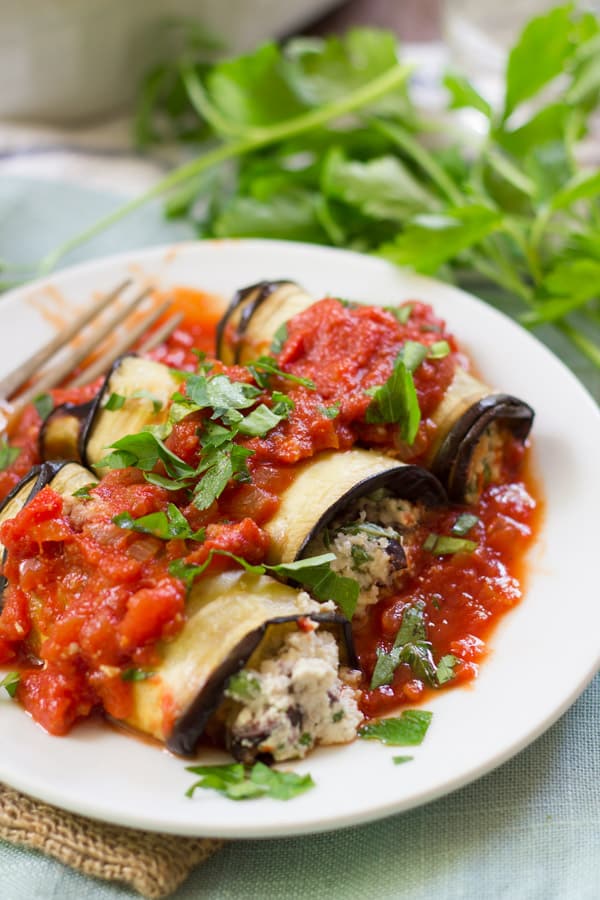 As a vegetarian, eggplant has many-a-times been my saving grace. Back in the nineties when I was afraid of tofu, and veggie burgers were nowhere to be found, there was always eggplant. Eggplant makes a wicked delicious meatless main course, and bonus: non-vegetarians are generally down with eggplant too. The only problem with eggplant, I discovered when I started cooking it up myself, is that so many eggplant-based dishes are fried, and eggplant can suck up a heck of a lot of oil. During my first home-cooking eggplant Parm experience I watched my own hand in dismay as it repeatedly tipped the bottle of olive oil again and again.
So whenever I discover a new eggplant cooking technique that doesn't involve buckets of oil, I'm immediately on board. Eggplant involtini is my new favorite such method.
How's the whole eggplant involtini thing work? Basically, you brush eggplant strips with just a bit of olive oil, bake until tender, then roll it up with fillings and bake it up again, this time in some flavorful sauce. Because the eggplant is sliced thin, it gets plenty tender during baking, and then it soaks up the sauce and some of the moisture from your fillings, so you still get that tender-melt-in your mouth eggplant texture, even without all the oil.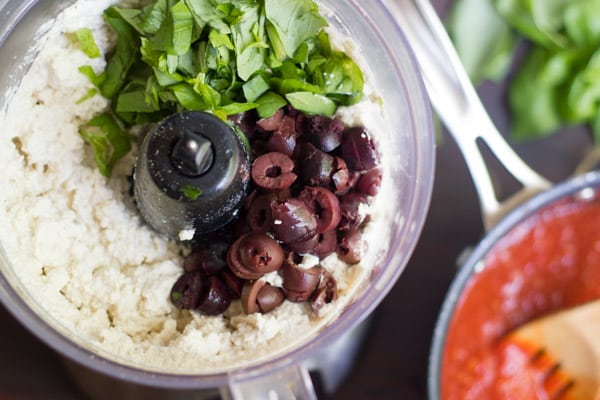 There are a lot of ways to do the whole eggplant roll and bake thing, but most versions involve some type of cheesy filling and tomato sauce. Since cheese is out for me these days, I created a vegan ricotta using tofu and raw cashews. The base is similar to the one I used in last year's vegan manicotti, but the flavor is totally different, thanks to a few tweaks. Since we're still in the summer season, and fresh herbs abound, I seasoned this vegan ricotta up with fresh basil. I also sweetened it up just a tad, to give a nice contrast to some salty Kalamata olives that I threw in there. The tomato sauce is really simple, and I kicked it up with some spicy harissa sauce, to give the dish even more flavor contrast. Between the sweet and salty filling, and the spicy sauce, there's a lot of flavor going on in this dish. It turned out to be one of my favorites as of late, and I don't think anybody is going to miss the frying or the dairy when they taste it.
Recipe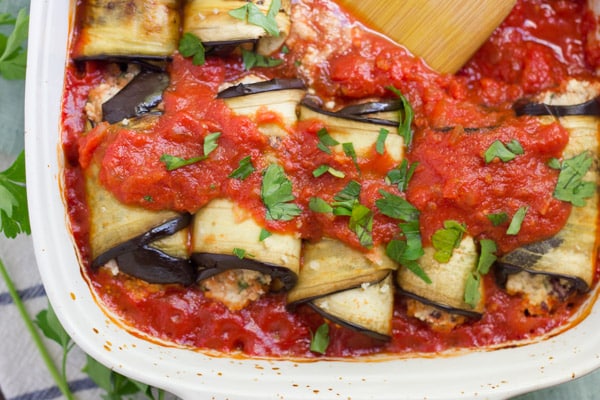 Ingredients
Instructions
Prepare the eggplant:
Preheat oven to 400°F. Line 2 baking sheets with parchment paper. Cut the top off of the eggplant, and then cut the rest lengthwise into ¼-inch thick slices--you want the slices as long and wide as possible. Lightly brush both sides of each slice with oil, and then arrange them in a single layer on the prepared baking sheets. Bake until the slices are pliable and have just begun to brown, about 12 minutes. Remove the baking sheets from the oven and transfer them to a cooling rack.
Make the harissa tomato sauce:
While the eggplant bakes, coat the bottom of a medium saucepan with olive oil, and place it over medium heat. When the oil is hot, add the onion. Sauté until the onion is soft and translucent, about 5 minutes. Add the garlic and sauté about 1 minute more, until fragrant. Add tomato the puree, tomato paste, harissa, and maple syrup.

Bring the sauce to a simmer, then lower the heat and simmer, stirring occasionally, for about 15 minutes, just until the sauce has thickened up a bit. Remove from heat and season with salt and pepper to taste.
Make the vegan ricotta filling:
Place cashews, onion, garlic, milk, lemon juice and maple syrup into the bowl of a food processor fitted with an S-blade. Process until smooth, stopping to scrape down the sides of bowl as needed. Add the tofu and pulse until the mixture takes on a chunky, ricotta-like texture. Add the basil and Kalamata olives and pulse again, just until they're evenly incorporated into the mixture. Season with salt and pepper to taste.
Make the vegan eggplant involtini:
Pour the sauce into the bottom of a 9x13 inch baking dish, reserving about 1 cup for serving. Place an eggplant slab on a clean work surface, extending away from you, with the wider end closest to you. Spoon 2 to 3 tablespoons of vegan ricotta filling onto the eggplant slab, about a half inch from the end closest to you, then sprinkle the filling with about a teaspoon of panko breadcrumbs. Roll the end of the eggplant slab over the filings, then away from you. Place the eggplant roll into your baking dish, seam side down. Repeat until all the eggplant and fillings are used.

Place the baking dish into the oven (which should still be at 400°F) and bake for about 20 minutes, until the sauce is bubbly. Remove from the oven and allow to sit for a few minutes before serving.

Top with the reserved sauce and divide onto plates, then serve.
Notes
Prep time does not include soaking time for the cashews.
If your eggplant has been hanging around for a few days or shows some browning when you cut it open, you may need to salt it to remove the bitterness. Arrange eggplant slices in a colander and sprinkle generously with salt. Allow to sit for about 30 minutes, then rinse well, pat dry and proceed with the recipe.
Feel free to use your jarred sauce for a quicker version of this dish, but if you can, I really recommend finding a very basic sauce and adding some harissa, or at least red pepper flakes, as the spicy flavor goes really nicely with the ricotta. You'll need about 2 ½ cups of whatever sauce you go with.
Nutrition
Calories:
406
kcal
Carbohydrates:
35
g
Protein:
14
g
Fat:
26
g
Saturated Fat:
4
g
Polyunsaturated Fat:
5
g
Monounsaturated Fat:
15
g
Sodium:
465
mg
Potassium:
809
mg
Fiber:
7
g
Sugar:
15
g
Vitamin A:
617
IU
Vitamin C:
14
mg
Calcium:
117
mg
Iron:
4
mg
Craving more veg-friendly recipes?
Shop our collection of vegetarian and vegan cookbooks, including our new Vegan Thanksgiving and Vegan Christmas cookbooks!