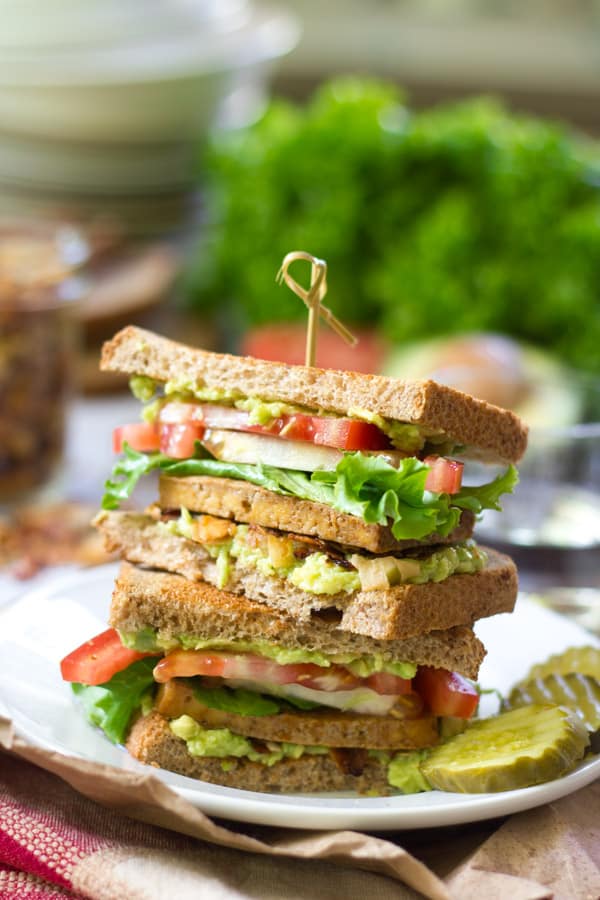 I've never considered myself a picky eater, just someone who likes good food. I never had any real food aversions, except, you know, meat, but other than that, I'm down with just about anything. It just has to be good! When it comes to sandwiches, I like all the things piled on. I was probably a total pain to pack lunches for as a kid. (I know I am as an adult!)
So when I find something tasty and packable, I'm totally down. Club sandwiches, by default, involve maybe not all the things, but what I consider to be just the amount needed to make a really good sandwich. The problem is, most of those things that get piled onto a conventional club don't jive with my diet these days. Fortunately, making vegan swaps for all of them was easy.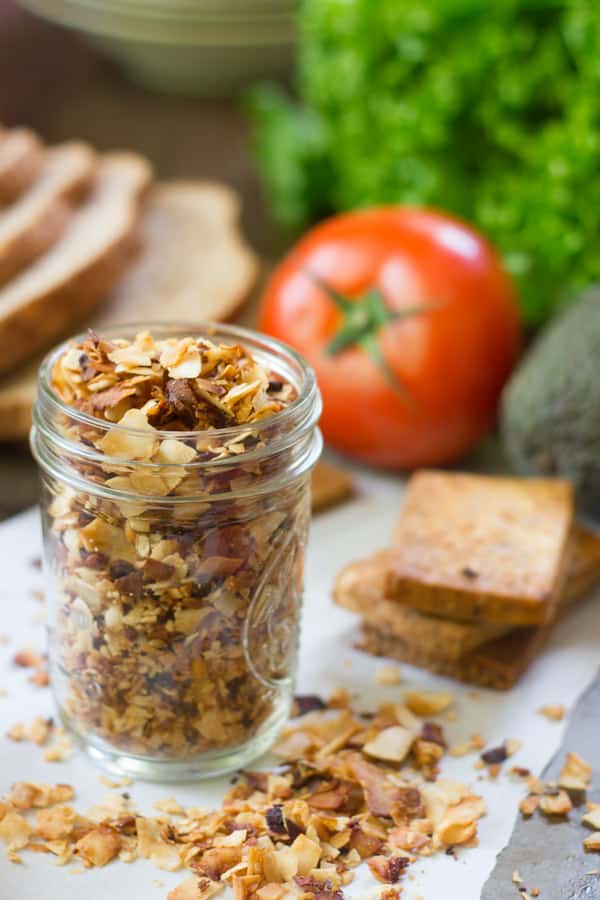 In addition to your typical toasted bread, lettuce and tomato, I subbed savory baked tofu for the turkey you'd normally find in a club sandwich, and coconut bacon for bacon. I'm all about experimenting with different variations on baked tofu, and this version, with just a bit of maple syrup, cumin, garlic and paprika, was one of my favorites to date. I'll probably be making it again and throwing it on a salad (note to self: there's another tasty packable lunch idea). Coconut bacon, in case you haven't tried it, is nothing short of amazing. It's crunchy, savory, satisfying, and totally vegan, getting most of its flavor from a liquid smoke-based marinade. (For more on that, check out this post on how to make your own vegan bacon.) I also slathered the bread in a smashed avocado mixture in place of mayo. You can take a shortcut and use vegan mayo instead if you want, but what I really like about the avocado is that the little bits of coconut bacon stick right to it, so you don't end up with a mess of coconut bacon in your lunch box.
Recipe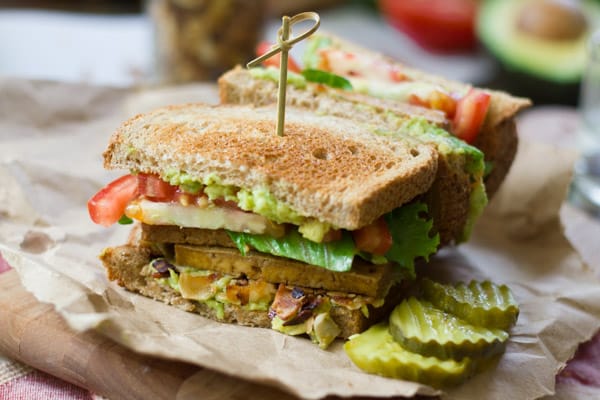 Ingredients
Instructions
To make the baked tofu:
Slice tofu in half, width-wise, so you have two small blocks, then slice each block in fourths, thickness-wise, so you have eight thin slabs. Stir maple syrup, soy sauce, apple cider vinegar, garlic, paprika, cumin, and black pepper together in a shallow dish. Add tofu slabs to the dish and spoon some of the maple syrup mixture over them. Allow to marinade for at least 30 minutes at room temperature.

Preheat oven to 350°F and line a baking sheet with parchment paper. Arrange tofu slabs on parchment, reserving any excess marinade. Bake 20 minutes, then gently flip and spoon any reserved marinade over tofu slabs. Bake 20 minutes more, until tofu begins to darken and most of the marinade has cooked off.
To make the coconut bacon:
Line a baking sheet with parchment paper.

Stir soy sauce, maple syrup, liquid smoke and apple cider vinegar together in a small bowl. Add coconut and stir until fully coated with the soy sauce mixture.

Spread coconut on parchment-lined baking sheet. Place in the oven with tofu and bake until browned throughout, about 15 minutes, gently flipping every 5 minutes or so and watching carefully to avoid burning.

Remove from the oven and transfer to a cooling rack. Allow to cool completely.
To make the sandwiches:
Place avocado into a small bowl. Add lemon juice and mash with a fork. Season with salt to taste.

Spread avocado mixture onto toast, then sprinkle with coconut bacon. Divide toast slices into pairs, then stuff with baked tofu, lettuce leaves and sliced tomato. Serve with dill pickle slices.
Notes
Prep time includes marinating time for the tofu.
Nutrition
Calories:
583
kcal
Carbohydrates:
56
g
Protein:
22
g
Fat:
33
g
Saturated Fat:
18
g
Polyunsaturated Fat:
4
g
Monounsaturated Fat:
8
g
Trans Fat:
1
g
Sodium:
1373
mg
Potassium:
1058
mg
Fiber:
12
g
Sugar:
18
g
Vitamin A:
3748
IU
Vitamin C:
20
mg
Calcium:
235
mg
Iron:
6
mg
Craving more veg-friendly recipes?
Shop our collection of vegetarian and vegan cookbooks, including our new Vegan Thanksgiving and Vegan Christmas cookbooks!