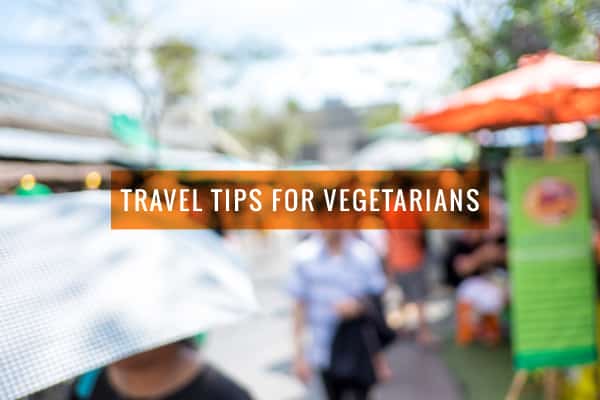 Few things suck the joy out of traveling faster than dealing with dietary restrictions. This can be especially problematic if you're traveling to a place that isn't exactly vegetarian friendly—the whole point of going on vacation is to relax, so stressing out about where, what and when you'll be able to eat sort of puts a damper on the whole "leisure" thing. Keep these handy travel tips in your back pocket, though, and minimize your chances of relying on house salads and French fries (or gas-station snacks) wherever you go this summer.
Plan Ahead
Like, really plan ahead. Sure, we'd all love to live super spontaneously—especially while traveling—but some recon ahead of time means you can avoid endless restaurant research and indecisiveness while you're enjoying your vacation. Ask friends and check sites like Yelp, Urban Spoon and Happy Cow (which lets you search based on 100% vegan/vegetarian or "veg-friendly") for recommended restaurants, then plot the addresses of those that look interesting on a Google Map before you go. Simply pull up your pre-plotted Google Map map (or one of the apps) on your smartphone when you're on the road; you'll see which of your choices are near you, and your GPS will get you there. Apps like VegOut and Vegman can also help.
Dining Out on the Road
It's 2015, and vegetarianism is widespread enough that most restaurants have a pretty good grasp. Especially in larger cities, many places will accommodate you by making substitutions or even letting you go off-menu, as long as you're polite. (Which we hope you are anyway!) Ask your server if there's a vegetarian alternative to certain menu items, or if you can make an entree out of some veg-friendly sides. (If the restaurant is going out of its way to accommodate you, thank them by tipping accordingly and writing a complimentary review online.) Ethnic restaurants like Indian, Middle Eastern and Mexican tend to have a lot to choose from, and you'll be surprised how many cities have at least one vegan or vegetarian cafe.
In smaller towns or foreign countries, "vegetarian" or "vegan" doesn't always ring the same bell, so make sure to ask (again, politely) whether soups have chicken stock, if a salad has bacon bits or if the toast comes buttered. If you're traveling by car for an extended period of time or spending a lot of time in airports, fast food or chain restaurants will probably be inevitable, so make sure to consult Munchyy Menus or the Vegan XPress app for a guide to vegetarian and vegan fast food menu items.
Pack Snacks—and Meals, If You Have To
If you're road-tripping, the second most important way to plan ahead—besides making an awesome road trip mix, of course—is to pack your own snacks, or even meals. Fill a cooler with ice packs, cheese and crackers, sandwich fixins, yogurt, pre-made quinoa salad, veggies and hummus, fruit, and other items that will keep your tank full on the road. Even if your cooler only lasts you a day or two, that's one or two days' worth of food you didn't have to buy from a gas station.
When I stay in hotels, I usually pack a couple of Thai Kitchen Rice Noodle Bowls 
(just add hot water) in case of food-mergency; I also try to book a hotel that offers refrigerators so I can keep perishables in my room. Even if you don't have access to a fridge, a stash of protein or granola bars, nuts, apples and almond butter packets will ensure you always have something to eat.
Map the Nearest Natural Foods Store
I worked in co-ops forever, so (nerd alert) I always make a point of visiting a town's natural foods co-ops when I visit. In smaller cities where there isn't a Whole Foods or Trader Joe's, this is probably your best bet for finding a wide variety of ready-to-eat vegetarian and vegan options, as well as convenience foods and staples you might need if you're staying someplace where you can cook. (I've tracked down tahini and tempeh in the woods of Michigan's Upper Peninsula, so have faith!) Make sure to map out where the supermarkets are where you're staying—or keep an eye out when you're passing through—so you can stock up on snacks or even throw together a DIY dinner in a pinch...even if it ends up being peanut butter and jelly.
If You're Traveling Out of the Country
Firstly, jealous! Secondly, is language going to be an issue? If you don't speak it, learn how to politely ask if there's butter in a sauce, where there's a grocery store nearby and if there's a veggie plate available. Depending where you're heading, vegetarians and vegans may or may not be ubiquitous, thus plates of plain steamed veggies, bread, desserts and/or salads might be the only vegetarian options. So study the local cuisine before you leave and have a few go-to dishes in mind. Be prepared to ask a lot of questions, to try new foods, to become a pro at creating makeshift meals in your hotel room and, quite possibly, to eat the same thing every day for a while.
What are your tried-and-true vegetarian travel tips? Let us know in the comments below. Bon voyage!
Market photo via Shutterstock