For our family, it's important to keep weeknight meals fast and easy - otherwise, the temptation to grab the keys, hop in the car, and head to the nearest restaurant is too much. So most of the time, our dinners are one-dish, complete meals that can be served up in a bowl.
Another priority around here? Easy, still-delicious leftovers for lunch the next day (and/or, better yet, we can freeze what's left for an even easier weeknight dinner down the road).
For this meal plan, I went with recipes that, for the most part, meet these criteria. It also includes several ingredients that can span more than one meal, so perishable items are less likely to go to waste. It's all about getting the most bang for our buck (and our time!).
Here's this week's menu:
Monday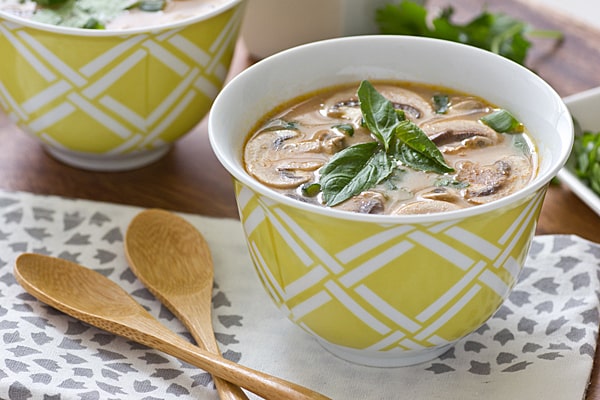 Thai Red Curry Soup from Oh My Veggies // This recipe is so simple, but so satisfying! Mushrooms and cubes of tofu swim in a spicy/creamy/sweet broth. I could eat it every single day. It takes only about 25 minutes from start to finish - perfect for busy weeknights.
Tuesday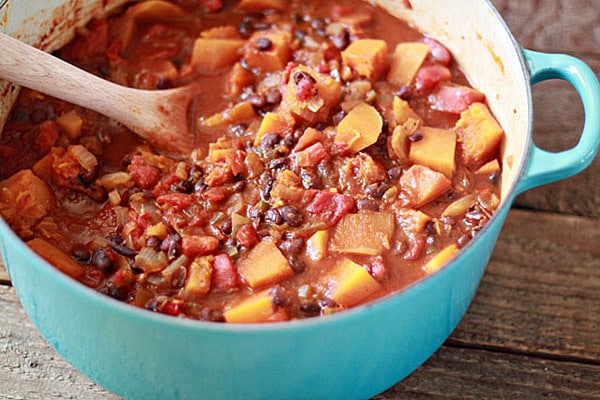 Butternut Squash & Black Bean Chili from Dishing Up The Dirt // This recipe results in a big, huge, wonderful vat of comforting chili, packed to the brim with butternut squash. If you love squash, this one-pot meal is for you! Serve over brown rice, if desired, and top individual servings with cilantro, a tangy dollop of Greek yogurt, and a squeeze of fresh lime.
Wednesday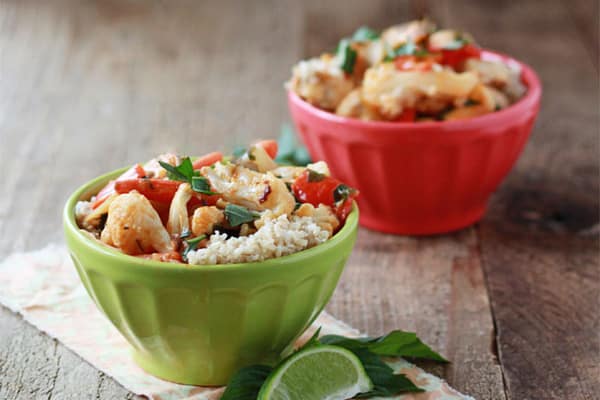 Roasted Winter Vegetables in Thai Red Curry from Kitchen Treaty // Kiersten's Thai Red Curry soup has me on a Thai red curry kick. I can't stop! And because you have to pick up a jar of red curry paste anyway, why not put it to good use in another dinner, too? This satisfying dish boasts roasted parsnips, cauliflower, sweet potatoes, and more, with instructions on adding chicken to the meat-eaters' portions if you happen to have to have a carnivorous loved one or two dining with you.
Thursday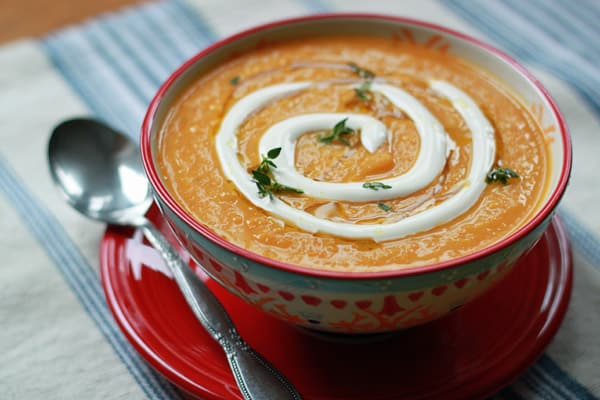 Roasted Vegetable Soup from A Calculated Whisk // I. Love. This soup. It's so simple, but a good splash of white wine makes all the difference. We found this made a satisfying dinner as-is, but a loaf of crusty bread and maybe even a green salad would complement it nicely, too.
Friday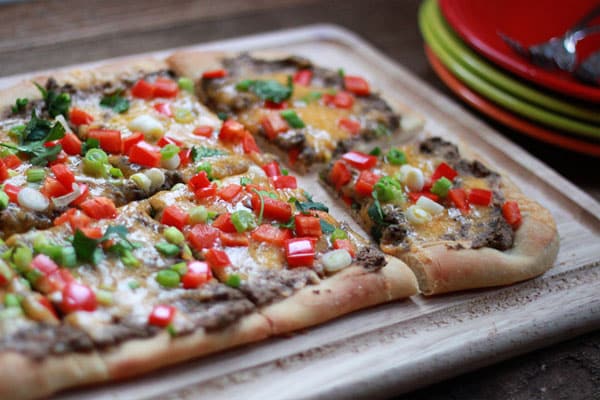 Mexican Black Bean Pizza from Better Homes & Gardens // A pureed black bean mixture as the base, cheddar cheese, chopped red bell pepper and scallions and ... done. Super simple and perfect for Friday pizza night.
Tips for This Week's Plan
If you opt for dried black beans, cook up a pot over the weekend. Save four cups for Tuesday's chili, and then freeze the remaining beans for Friday's pizza.
If you're making brown rice for Tuesday's chili, double the batch so you're ready for Wednesday's curry.
When roasting veggies for Wednesday's recipe, set up a second baking sheet with all of your vegetables for Thursday's soup, too. Let the roasted veggies cool, refrigerate in an airtight container, and pull them out for dinner the next night.
The grocery list calls for creme fraiche, Greek yogurt, and sour cream. They're not exact matches, but most of the time, these ingredients can be fairly interchangeable, so you may want to think about purchasing a large container of one instead of all three.
If you can find Thai basil for the red curry recipes, get it! But since that's not available everywhere, regular basil works just fine.
The chili recipe calls for grapeseed oil or your oil of choice. I used olive oil, and opted not to add grapeseed oil to the grocery list. If you prefer it, you may wish to add that ingredient to your shopping list.
Personally, I think every single one of these recipes would be mighty fine with a nice, dry-ish Chardonnay. Get one you love - you only need ½ cup for the roasted vegetable soup. The rest is all for you!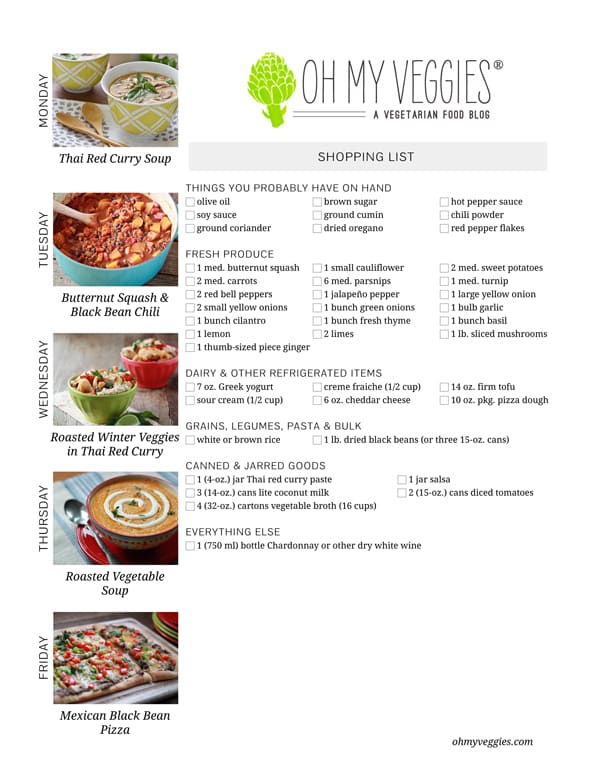 Click here for a printable version of this week's meatless meal plan and shopping list, then click on the links above to print out each recipe. Now you're set for the week!