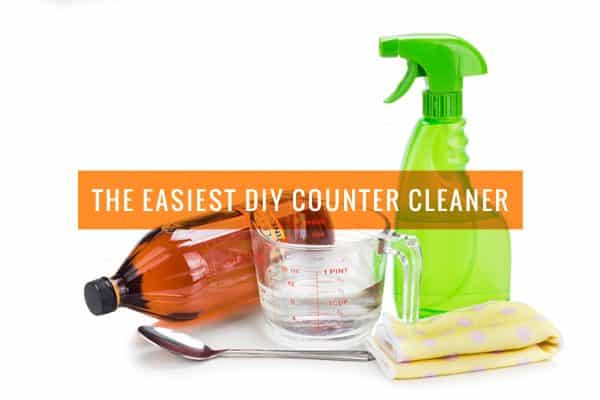 When I was pregnant with my daughter, I took a class at the hospital on creating a safe home for babies—childproofing, switching out harsh chemical cleaning supplies for nontoxic alternatives, that sort of thing. The nurse teaching the class recommended using vodka as a natural kitchen counter cleaner. While I've yet to try that, her recommendation to switch out traditional cleaning products with safer alternatives stuck with me and I found a counter cleaner that's even cheaper than vodka and just as effective—and I bet you already have it on hand.
White vinegar! And a little water too. The exact formula is:
1 cup of distilled white vinegar + 1 cup of water
That's it! You can add a few drops of any essential oil you have on hand too if you like (just be sure to shake the bottle before you use the spray, since oil and water don't mix). I use these glass bottles for my homemade cleaners—they are the best I've found, but any bottle with a spray nozzle will do.
Vinegar is an acid, which makes it perfect for cutting through the grease and gunk that can accumulate on kitchen counters. It's also a natural deodorizer and disinfectant. As I've transitioned to homemade cleaning products, I've found that vinegar is the ingredient I use the most. (Here are more ideas for using vinegar as a cleaning agent.)
I know what you may be thinking—doesn't cleaning your kitchen with vinegar make it smell bad? No! This spray has equal parts vinegar and water, so it has a light vinegar scent, but it's not that bad and what little smell there is dissipates quickly. I also add a few drops of essential oils—this is optional, but it helps cut the vinegar smell and depending on the oils you use, it can add even more antibacterial properties to the spray. I'm currently using a combination of tea tree oil and bergamot, both of which kill germs. Alternately, you can make infused vinegars with a variety of ingredients to add some natural scent to your cleaner.
This spray is best for your daily kitchen counter wipe-down—it sanitizes your counters and degreases, but it's not a heavy-duty scrub, so if you have a big mess on your hands, I'd recommend something else. Also note that there are differing opinions on whether vinegar can or should be used on natural stone countertops, as acid can etch the finish on stone. I've used this counter cleaner on quartz counters without any etching; I believe this is because the vinegar is diluted, but if you have granite, marble, or quartz countertops, you may want to use an alternative cleaner.
Here are some of my other favorite nontoxic kitchen cleaners from one of my favorite websites, Hello Glow:
Coffee Ground Garbage Disposal Deodorizers
Homemade Cleaning Wipes
Wood Surface Cleaner
Baking Soda Scouring Powder
Nontoxic Oven Cleaner
Herb-Infused Dish Soap
Refrigerator Disinfectant + Deodorant
Vinegar and cleaning supplies image via Shutterstock