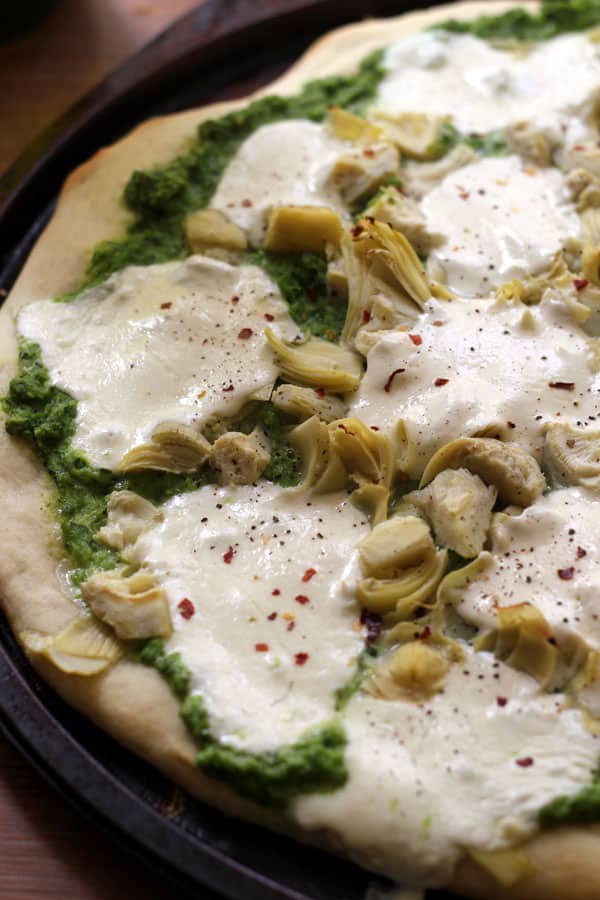 I grew up in a Pizza Fridays family. It was actually pretty ingenious on my parents' part because at the end of a long workweek who wants to put a ton of thought and effort into what to make for dinner?! Not anyone I know. About 20% of the time, this meant ordering in from one of our favorite local pizzerias, but the other 80%, dinner was a homemade pizza smorgasbord.
One of the perks of making pizza at home is that you can throw whatever crazy toppings you want on it! While my parents always insisted on one pie being dedicated to the classic tomato, basil, and mozzarella combo, they gave us almost free reign over what went on the rest of the pies.  To this day, one of my favorite pastimes is opening the refrigerator and figuring out a way to turn whatever is in there into a pizza, and I like to think it started with these childhood homemade pizza nights.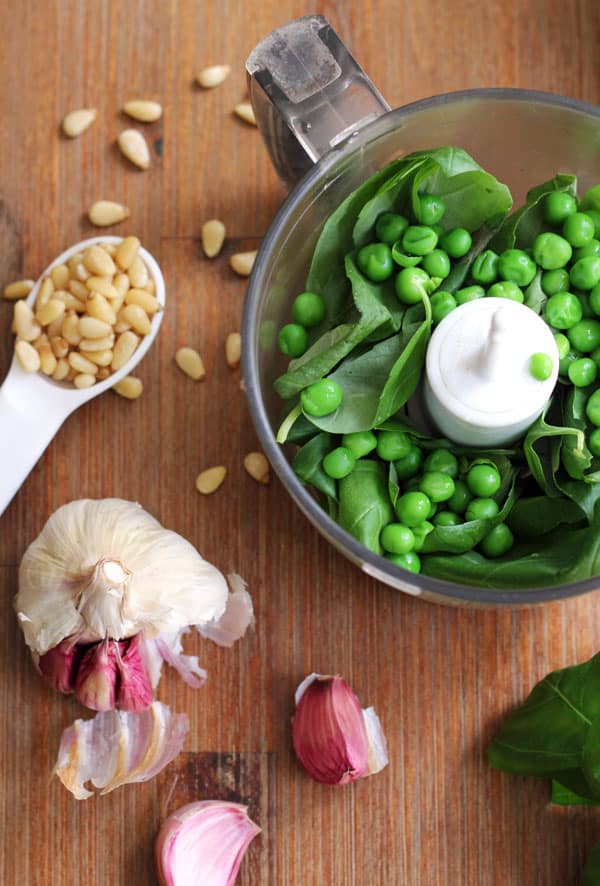 My topping choices can get pretty funky, but luckily my husband will eat pretty much anything if it's on a pizza crust. That's why I wasn't afraid when I took everything green from my fridge and turned it into this lemony pea pesto, artichoke hearts, and mozzarella pie. I'm pretty sure that in any other context, he would have taken one look at these ingredients and declared them "too green" for him, but on a pizza they were totally acceptable! I can't claim to understand his logic, but I'll take it.
This pizza is a true celebration of everything I love about spring: it's fresh, fabulous, and covered in cheese - what is there not to love? The vibrant lemony pea pesto acts as the sauce, adding a hint of sweetness to every bite, while the artichoke hearts add just the right amount of tang to counterbalance it. Finally, the mozzarella is the glue that holds it all together. I used frozen peas for this because I find that they're more tasty than any fresh peas you can get in a supermarket, but if you have access to fresh-from-the-farm peas, then by all means use them and just blanch them for a minute or so before adding them into the pesto. As for the pizza dough, most grocery stores now carry pretty good quality frozen dough (just make sure to thaw it before using!), or you can inquire at your local pizzeria as to whether they'll sell you any of their raw dough. Of course, you can also always make it from scratch, though this does add about 2 (mostly hands off) hours to the prep time. This is my favorite pizza dough recipe, in case you choose to go that route.
Recipe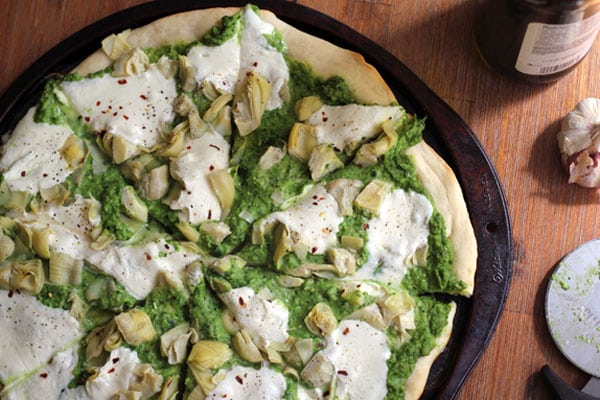 Ingredients
For the lemony pea pesto
For the pizza
Olive oil

for greasing the pan

1

pound

pizza dough

storebought or homemade

1

14-ounce can artichoke hearts, drained and coarsely chopped

¾

pound

fresh mozzarella

thinly sliced

Red pepper flakes and black pepper

to taste
Instructions
Preheat oven to 500ºF.

While the oven is heating, prepare the pesto. Bring a medium pot of water to a boil. Add the peas to the pot and cook for 5 minutes or until bright green and heated through. Drain and rinse with cold water.

In the bowl of a food processor, pulse the peas, basil, garlic, and pine nuts together until they are minced. Stream in the olive oil while the food processor is still running and puree until creamy and well-combined. Add the parmesan cheese and lemon juice to the food processor bowl and pulse until they're fully incorporated. Season to taste with salt.

Grease a 14-inch round pizza pan with a light layer of olive oil. Using your hands or a rolling pin, pat the pizza dough into a 12- to 14-inch circle on the pan. Spread the pea pesto over the dough in an even layer, leaving a 1-inch border for the crust. Sprinkle evenly with the artichoke hearts and the mozzarella slices. Place the pan in the oven and bake for 10-12 minutes, or until the bottom starts to look golden brown. Remove the pizza from the oven and sprinkle with red pepper flakes and black pepper, to taste. Let rest for 5 minutes before slicing.
Notes
Feel free to substitute your favorite spring veggies for the artichoke hearts. Asparagus and roasted red peppers would also be great here!
Nutrition
Serving:
1
-2 slices
Calories:
2921
kcal
Carbohydrates:
280
g
Protein:
142
g
Fat:
141
g
Saturated Fat:
58
g
Polyunsaturated Fat:
17
g
Monounsaturated Fat:
49
g
Cholesterol:
291
mg
Sodium:
5819
mg
Potassium:
1363
mg
Fiber:
26
g
Sugar:
52
g
Vitamin A:
6621
IU
Vitamin C:
149
mg
Calcium:
2146
mg
Iron:
21
mg
Craving more veg-friendly recipes?
Shop our collection of vegetarian and vegan cookbooks, including our new Vegan Thanksgiving and Vegan Christmas cookbooks!