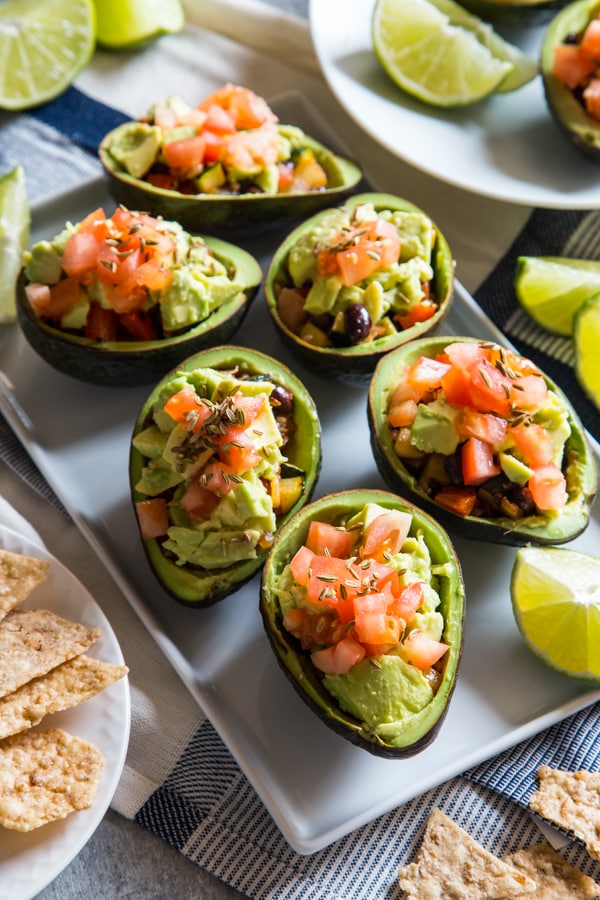 Recipe photos by Emily Caruso
Last month I was lucky to be one of a handful of food bloggers invited out to Lundberg Family Farms' organic rice operation in Richvale, California—just outside of Chico—for their fall harvest. I was super excited, not just because the prospect of going to sunny California right as Minnesota was getting cold was extemely inviting (which it was), but because I've loved Lundberg since I was a 15-year-old vegetarian health-food nerd working at my local food co-op. They were at the forefront of organic farming, and have been able to evolve with current trends (they're venturing into quinoa production, and these Sweet Dreams chocolate-covered rice cakes are definitely the snack of the future) while maintaining a solid, dependable family-owned line of rice products. I mean, who doesn't love a Lundberg rice cake? I also love that their products are all gluten-free and sustainably grown, so it was fun and educational to see firsthand how this all goes down.
Check out the photos I took while there—unfortunately I didn't have my camera on our tour of the plant where all the rice cakes, rice mixes and other products are made and packaged. The process of making rice cakes is surprisingly fascinating: just a little heat and pressure! Needless to say, this place smells amazing.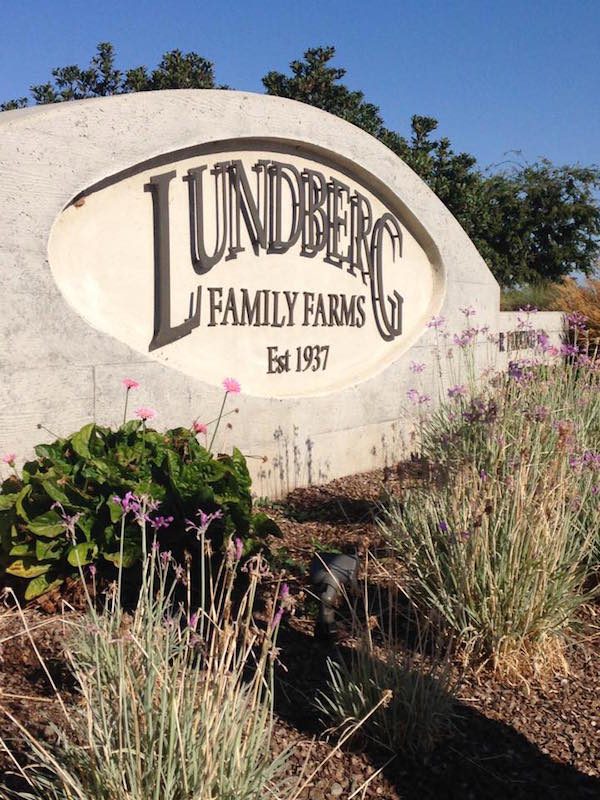 Lundberg Family Farms in Richvale, California
Lundberg Family Farms in Richvale, California
The air at the Lundberg offices smells like cinnamon toast. Cinnamon toast!!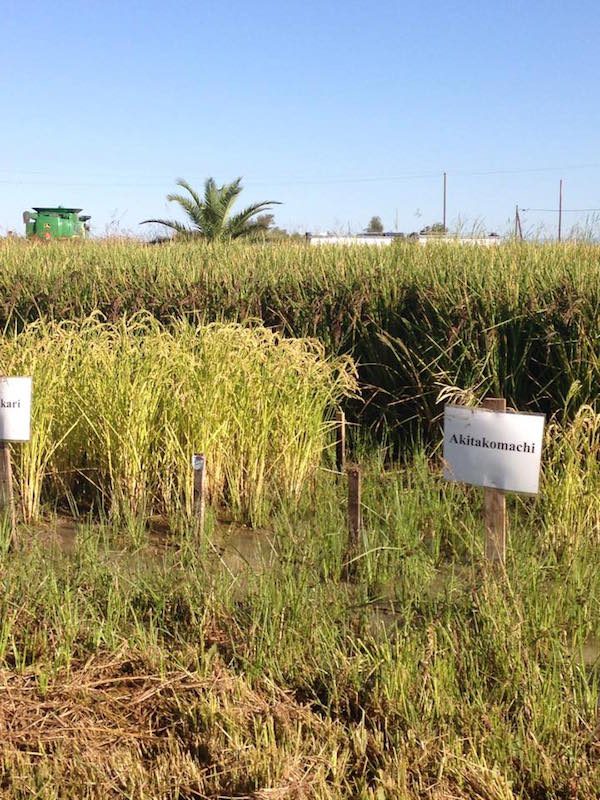 This nursery near the office is set up so people can get a snapshot of how each variety of rice is faring without trekking all the way out to the fields.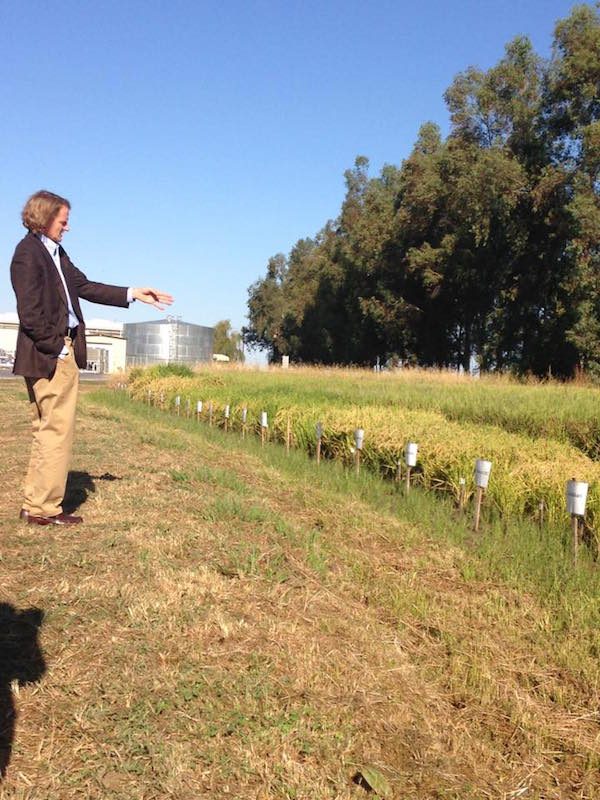 Grant Lundberg knows his rice! Here he's explaining Lundberg's 17+ varieties, including the proprietary Wehani (named after the four Lundberg brothers who founded the farm in 1937).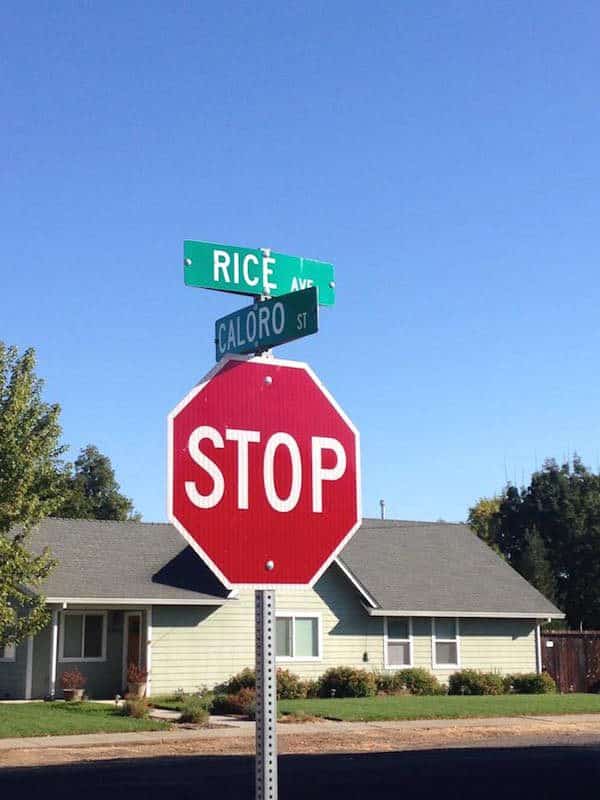 The farm sits right next to the adorable tiny town of Richvale, which takes up only a few blocks. Here is the aptly named Rice Avenue.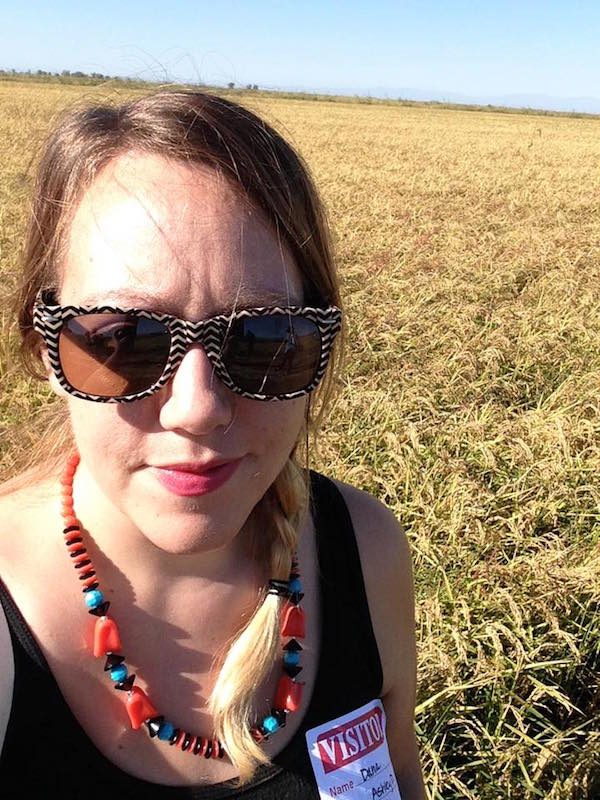 We arrived in the fields right as the sushi rice was being harvested, and we even got to ride in the harvesters! Here's some video I took of the harvesting process: http://bit.ly/1hXNrln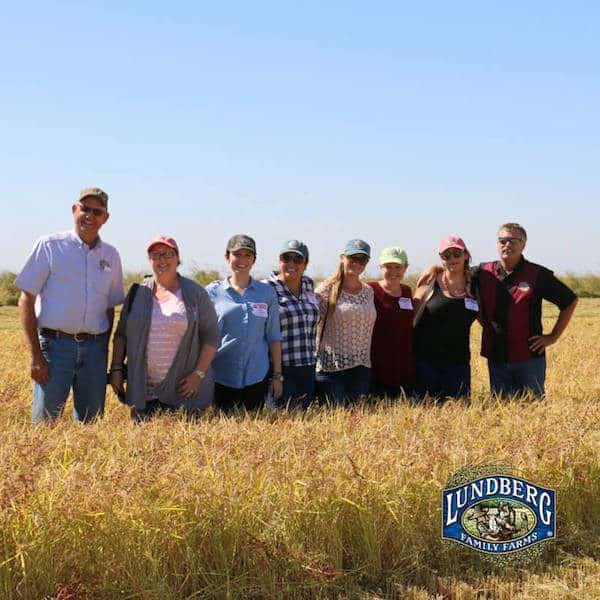 Here we all are with our guides in one of Lundberg's many rice fields! (This is the only time you'll ever see me wear a hat, btw.)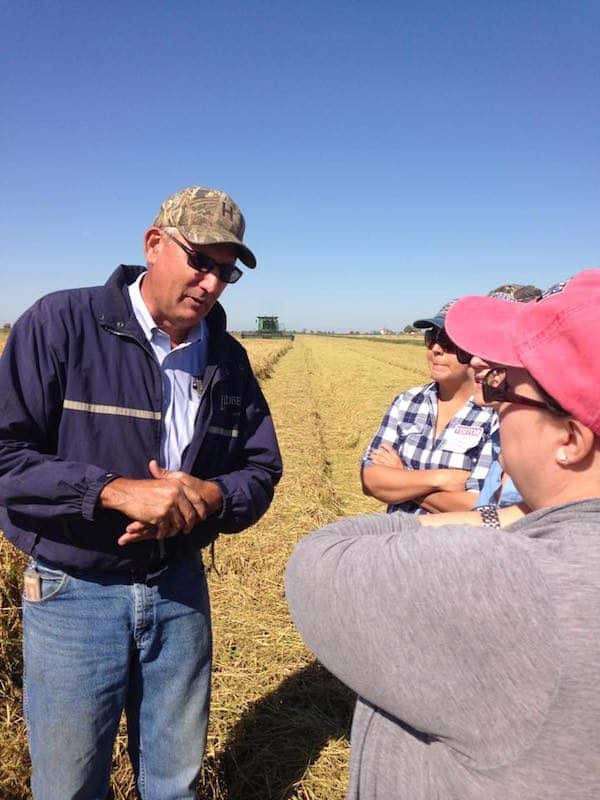 You can see one of the harvesters in the background—all the fields are certified organic and the entire facility is gluten-free.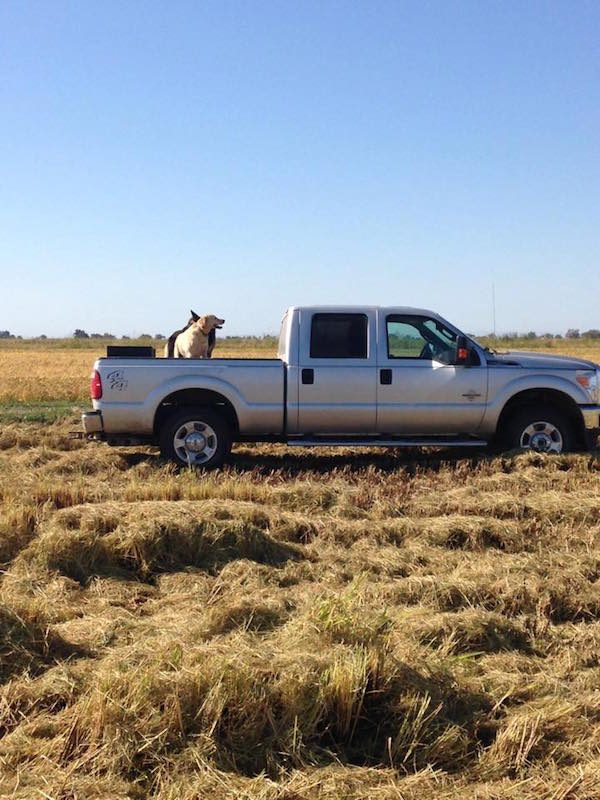 Farm dogs! They pretty much watch their owners work and occasionally get thrown treats. Not a bad life.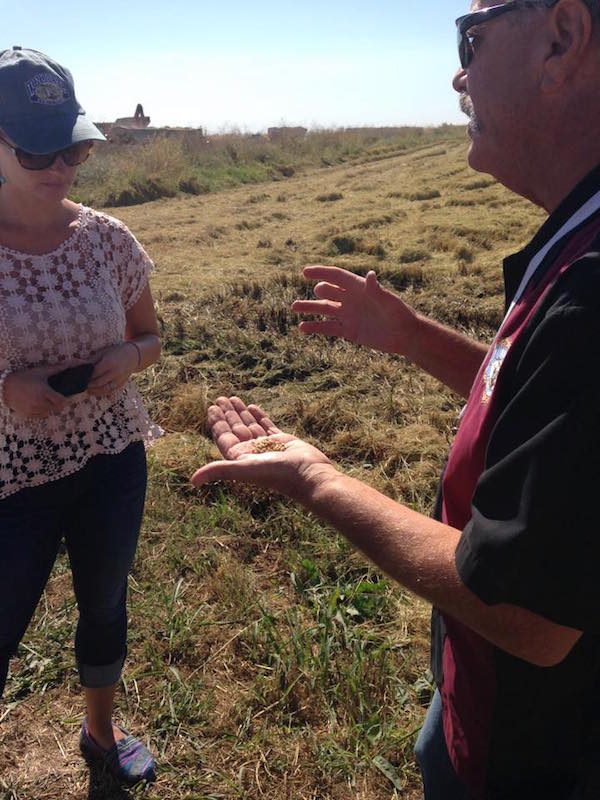 Lance, one of Lundberg's grower experts, is explaining grain length and rice milling to Nicole of Foodie Loves Fitness. Did you know there are 7 microscopic layers of bran on a grain of brown rice? (And that's where all the healthy stuff is.)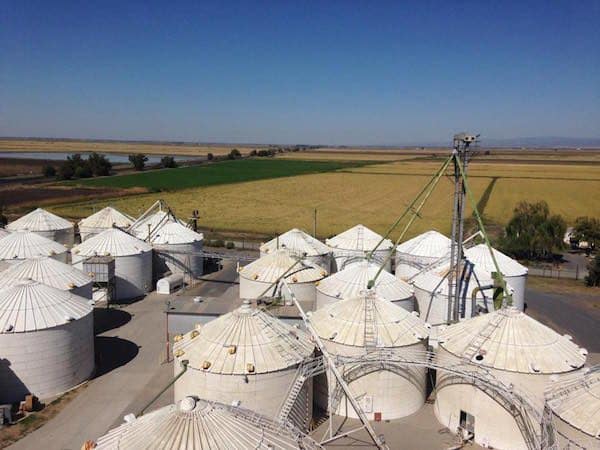 The view from the top of one of the rice-storage silos, where you can see the entire farm. This was one of the more exhausting stair climbs I've ever done, but worth it!
The tour culminated in a friendly cook-off between food blogger teams in the Lundberg test kitchens. Nicole from the awesome vegetarian health-food blog Foodie Loves Fitness and I teamed up to create a dish using avocados and Lundberg products. We knew that guac and rice chips would be way too obvious, so after some brainstorming Nicole came up with the genius idea to scoop out avocados and fill them with a black pearl rice-based mixture.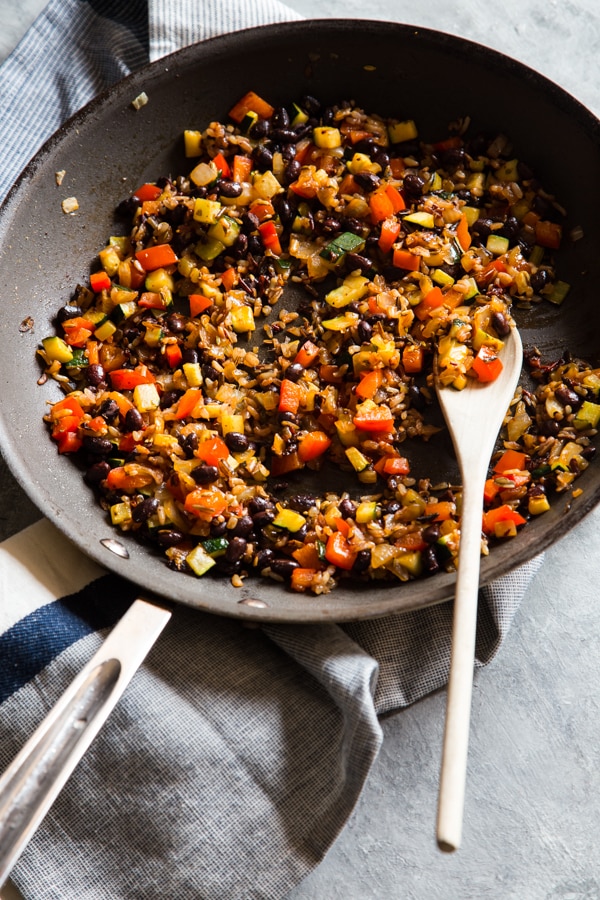 Thus these super-simple avocado cups were born. We took second place in the competition, and our Lundberg judges really liked how the rice, veggies and beans didn't get mushy and how the toasted cumin and coarse salt added contrast and crunch. We intentionally kept the filling pretty dry; the tomatoes, avocado and oil add just enough moisture without making everything too wet.
We picked the black pearl rice because of its earthy flavor and interesting color, but you could use your favorite rice or other grain. Feel free to mix up the beans and veggies, too. Just don't skip the drizzle of avocado oil, cumin seeds and coarse salt! I love my beans and rice smoky and a little spicier, so I tweaked the recipe a bit from the one Nicole and I made at the farm. You can adjust the smoky and spicy elements to your taste, though. You could even add more chipotle peppers or some jalapeños to kick things up a notch.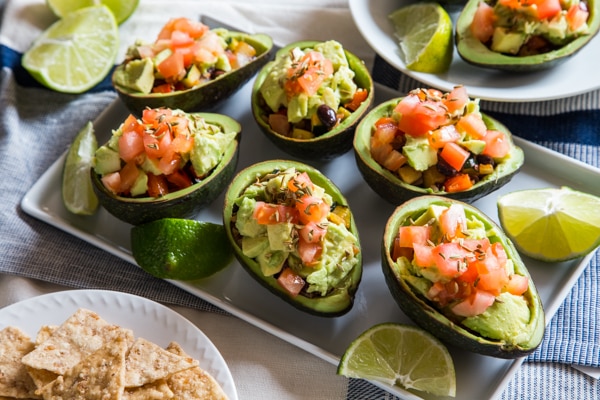 Ingredients
1

tablespoon

cumin seeds

4

small to medium avocados

2

tablespoons

avocado oil

divided

¼

medium onion

diced

½

small zucchini

chopped

Pinch

of sea salt

½

small bell pepper

any color, chopped

¼

teaspoon

dried oregano

¼

teaspoon

paprika or smoked paprika

½

cup

black beans

drained

½

cup

rice or another grain

cooked al dente (we used Lundberg Family Farms' black pearl rice)

1

chipotle pepper in adobo sauce

chopped + ½ tablespoon of adobo sauce from can

1

medium tomato

diced

2-3

pinches

of coarse salt for garnish

we used a smoked habanero Himalayan salt

1-2

small lime

cut into wedges, for garnish

Cilantro for garnish

optional

Tortilla or rice chips for serving

optional - we used Lundberg Family Farms Sea Salt rice chips
Instructions
Heat a small, heavy-bottom skillet over medium heat. Add the cumin seeds and toast, stirring frequently, until they're fragrant and just turning golden-brown. This may take anywhere from 45 seconds to 3 minutes depending on the pan and your stove. Make sure to watch the seeds carefully so they don't burn (a little smoke is normal). Set the cumin seeds aside.

Cut the avocados in half, removing the pits. Using a small knife, carefully scoop out the flesh from the middle of each avocado half, leaving a little bit of avocado around the sides. You may need a small spoon to help lift the avocado flesh out of the skin.

Arrange the avocado "shells" on a serving plate, and cover them with an upside-down mixing bowl or plastic wrap. Set aside.

Place the avocado flesh on a cutting board and dice gently, being careful not to mash. Set the diced avocado flesh aside and cover it with plastic wrap or an upside-down mixing bowl to prevent browning.

Heat 1 tablespoon of oil in a large skillet over medium-high heat. Sauté the onion until soft and beginning to brown, 3 to 5 minutes. Add zucchini and pinch of sea salt into the pan and sauté until the zucchini just browns, about 3 minutes. Add the bell pepper and sauté until slightly soft, about 3 minutes. Add the oregano, paprika, beans, rice, chipotle pepper and adobo sauce, and half of the toasted cumin seeds to the pan, stir and adjust heat to low, cooking until heated through. (If the pan gets too dry, add a little water or a squeeze of lime juice.)

Spoon about 1 tablespoon of the rice mixture into each of the 8 avocado shells, until the mixture is about level with the top of the shell (you might have extra rice). Top each shell with about 1 tablespoon of diced avocado, then sprinkle with tomato until they're all filled just above the shell.

Drizzle the avocado cups evenly with the remaining avocado oil, then sprinkle them with the remaining cumin seeds and coarse salt to taste. Garnish with cilantro if desired, and serve alongside lime wedges that can be squeezed onto the cups and chips for scooping (optional).
Notes
You can make this recipe less smoky by using regular paprika (not smoked) and omitting or decreasing the amount of chipotle pepper and adobo sauce. We used a smoked Himalayan sea salt to garnish, but regular coarse salt will work just fine.
Toasted cumin seeds adds a deeper, earthier flavor than ground cumin—and a little bit of crunch at the end!
Nutrition
Serving:
2
g
Calories:
527
kcal
Carbohydrates:
47
g
Protein:
9
g
Fat:
37
g
Saturated Fat:
5
g
Polyunsaturated Fat:
5
g
Monounsaturated Fat:
25
g
Sodium:
264
mg
Potassium:
1302
mg
Fiber:
18
g
Sugar:
4
g
Vitamin A:
1292
IU
Vitamin C:
54
mg
Calcium:
68
mg
Iron:
3
mg