Salted caramel is encased in chocolate pastry and topped with a gooey chocolate topping. This salted caramel chocolate tart is the ultimate in decadent.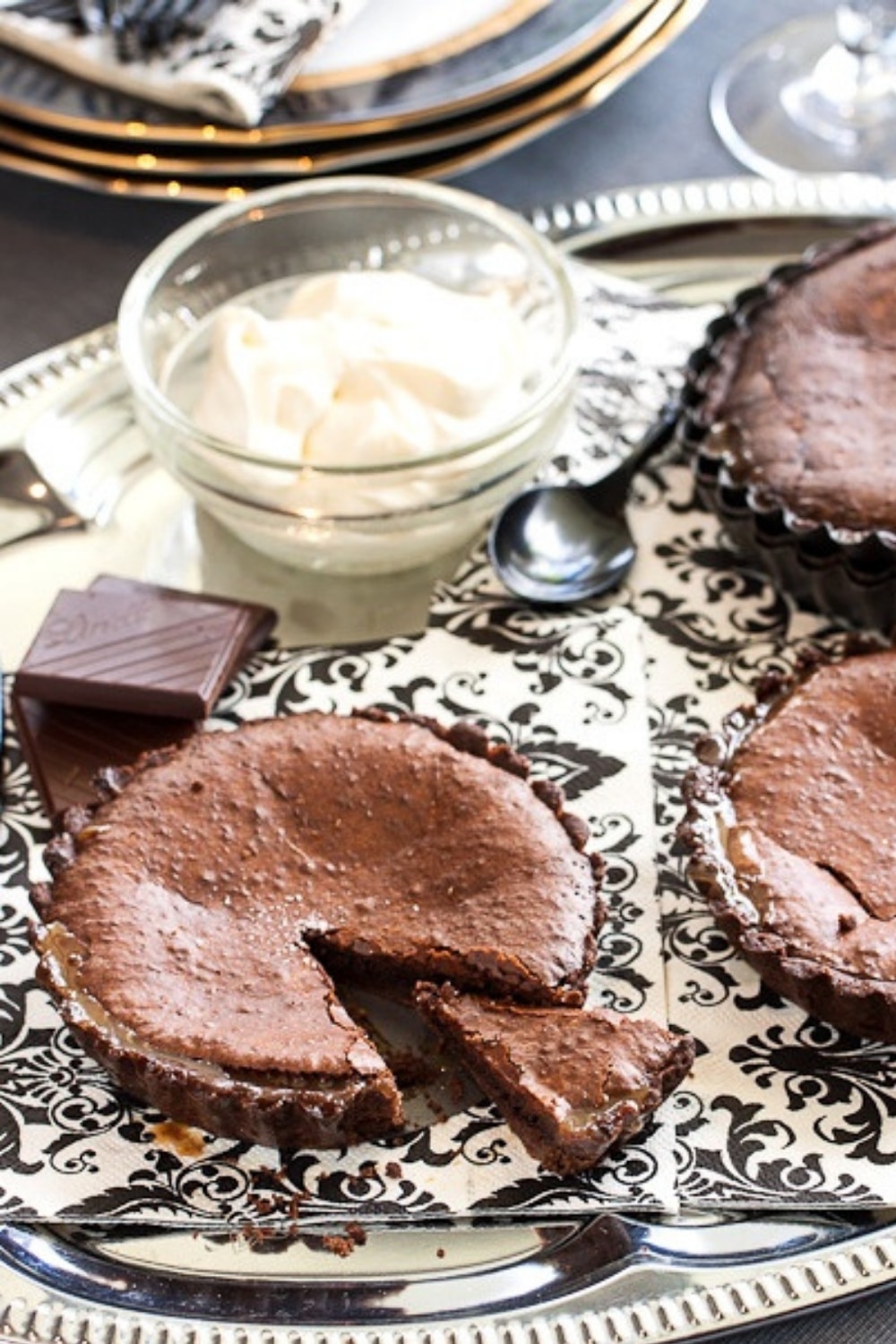 I know cakes are the usual birthday fare, and as much as I love cakes I didn't actually feel like a cake for my birthday today. I had my eye on the Salted Caramel Chocolate Tart recipe in Rachel Allen's [amazon_link id="0007309031" target="_blank" ]Entertaining at Home[/amazon_link] for some time but had put off making it. Mainly because my fiance doesn't like salted caramel and there is no point making such a decadent recipe just for me, however with it being my birthday I decided if you can't make exactly what you want and stop worrying about everyone else on your birthday when can you? So here today is my take on Rachel Allen's Salted Caramel Chocolate Tart.
I only made a couple of slight changes to Rachel Allen's recipe. Firstly I decided to make mini tarts. I love miniature foods, and well, it seems all the more decadent to me to be able to eat a whole mini tart than a slice of a bigger tart.
Secondly, I decided to go with a chocolate shortbread base, and for this, I used the ultra reliable Dorie Greenspan's recipe from Baking. What I love about this tart base is that no rolling is required. Simply press into the tart tin and freeze for 30 minutes before baking and you have an ultra crumbly chocolatey base.
As much as I wanted to wait until today for my first bite of these tarts I just couldn't. The allure of salted caramel is far too strong for me to resist, and I was telling myself I was taste testing them to make sure they would be ok for today, and indeed they are more than ok. Delicious, decadent, and ultra rich.  Sadly despite my lustful thoughts of demolishing a whole mini tart, I was outdone and could not conquer it all in sitting.  That didn't stop my fiance, though, despite his protestations of not liking salted caramel. 🙂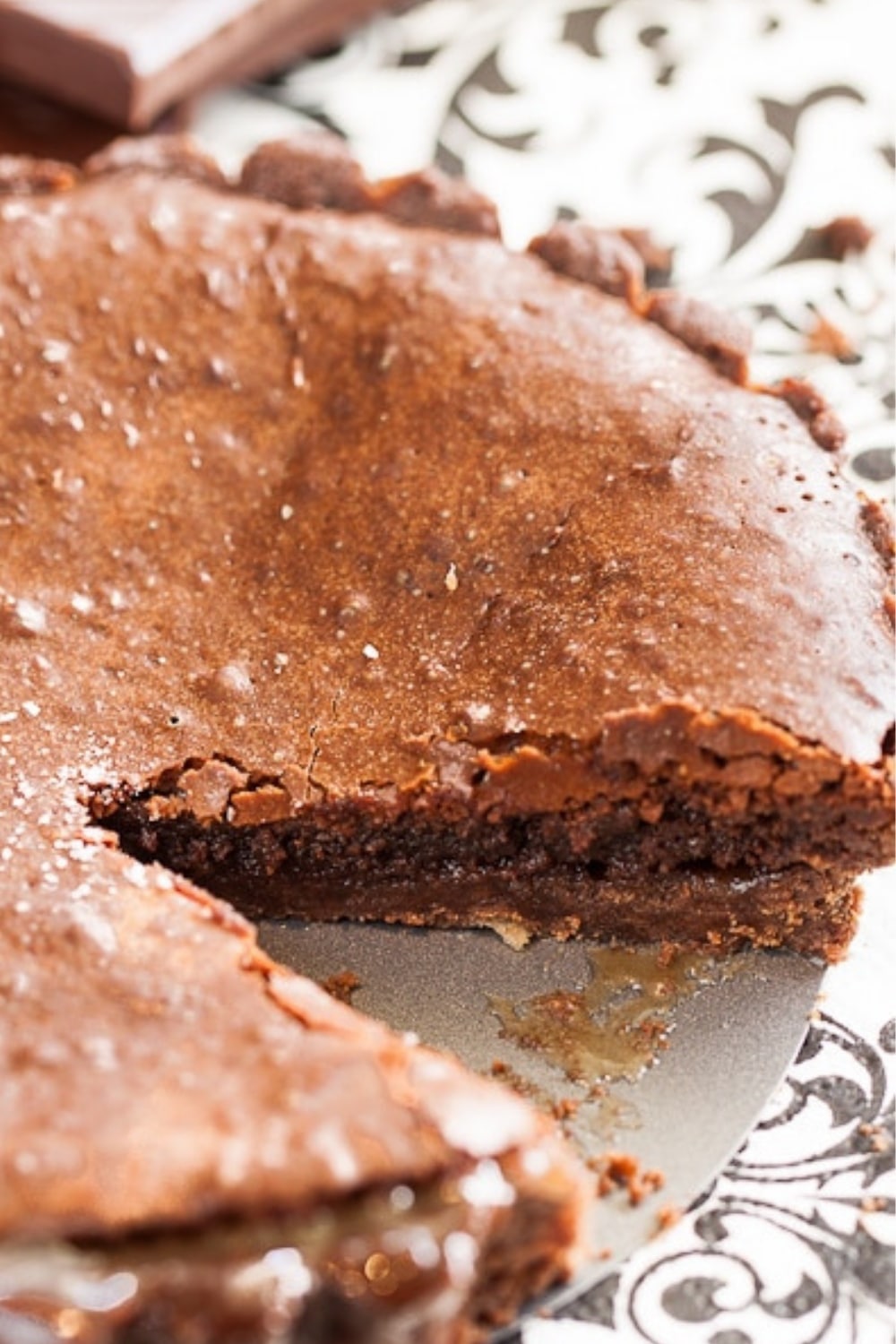 While I didn't make an actual cake to celebrate my birthday today, I will be making one this weekend because my parents are coming to visit on Sunday, for a week, and I haven't actually spent any time with them around my birthday since I was 18 years old. So I thought a belated birthday cake would be the perfect thing to celebrate the occasion.
I have to say I've also been a little bit spoiled today by my fiance, as he does every birthday in fact. I still remember my first birthday we spent together. I happened to mention that we had a silly family tradition when my brother and I were little of having Fruit Loops for breakfast on our birthday. While I won't say my parents were strict with our food, my brother and I weren't allowed sugary cereals for breakfast, except twice a year - on our birthdays and Christmas - and for each occasion we would choose the most sugar laden cereal we knew of, being Froot Loops.  I'd completely forgotten I'd told my fiance this fact, but low and behold, when my birthday came around he had organised a box of Froot Loops. At the time I couldn't stop laughing as I thought it was so funny he remembered.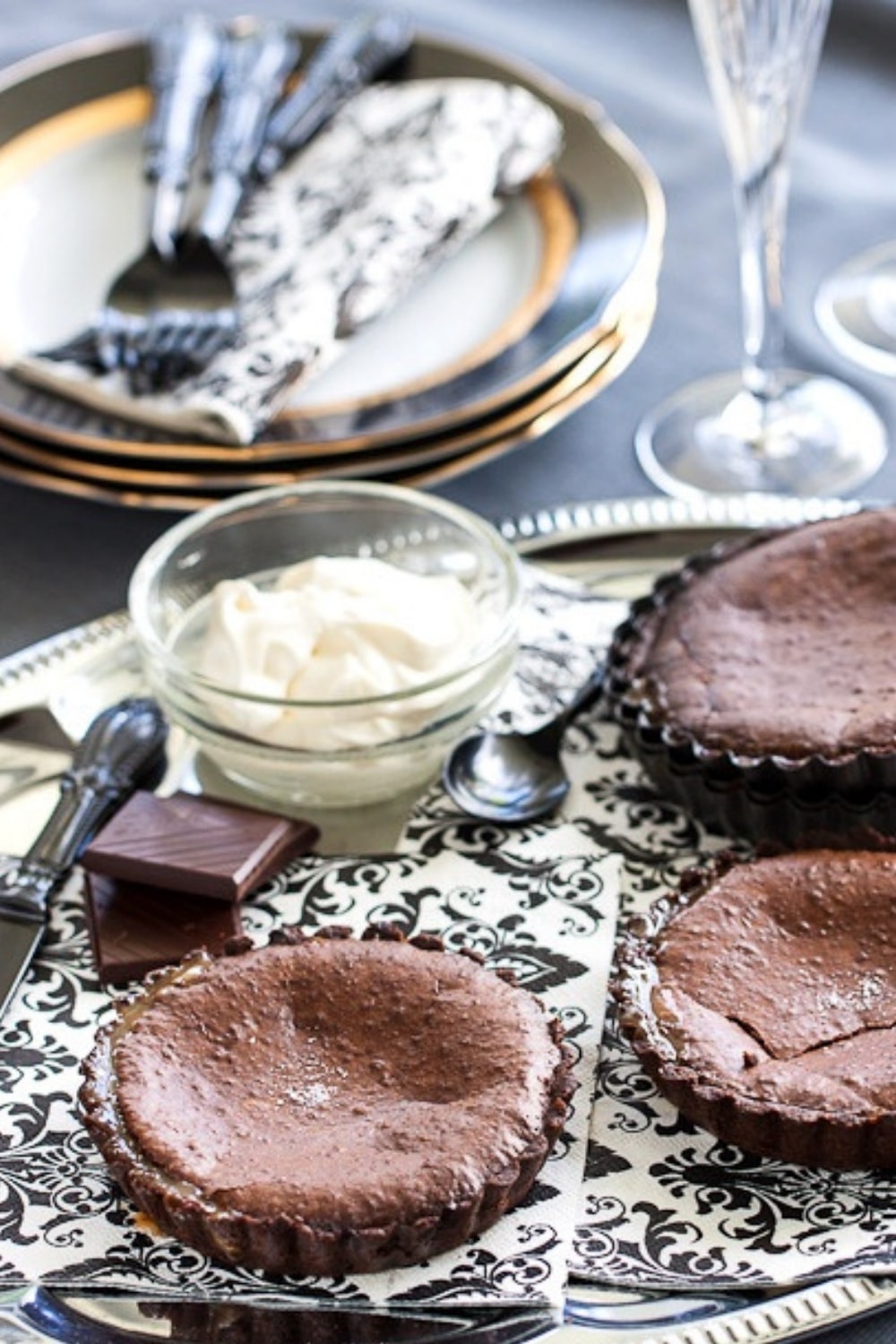 Firstly for my birthday today he gave me the most adorable dress I'd had my eye on for quite some time (which I will be wearing out to dinner tonight) and the most adorable card, full of romantic words complete with a puppy with a birthday cupcake on his head on the front. I was also spoiled with his special pancakes for breakfast. He doesn't cook often, which he attributes to the blog, but when he does it always feels so special.
While the Fruit Loops tradition has gone by the wayside, now each birthday is celebrated with champagne, and my fiance cooking breakfast, along with a dinner out because apparently I'm not allowed to cook dinner on my birthday.
So tell me, do you have any silly or not so silly birthday traditions?
Recipe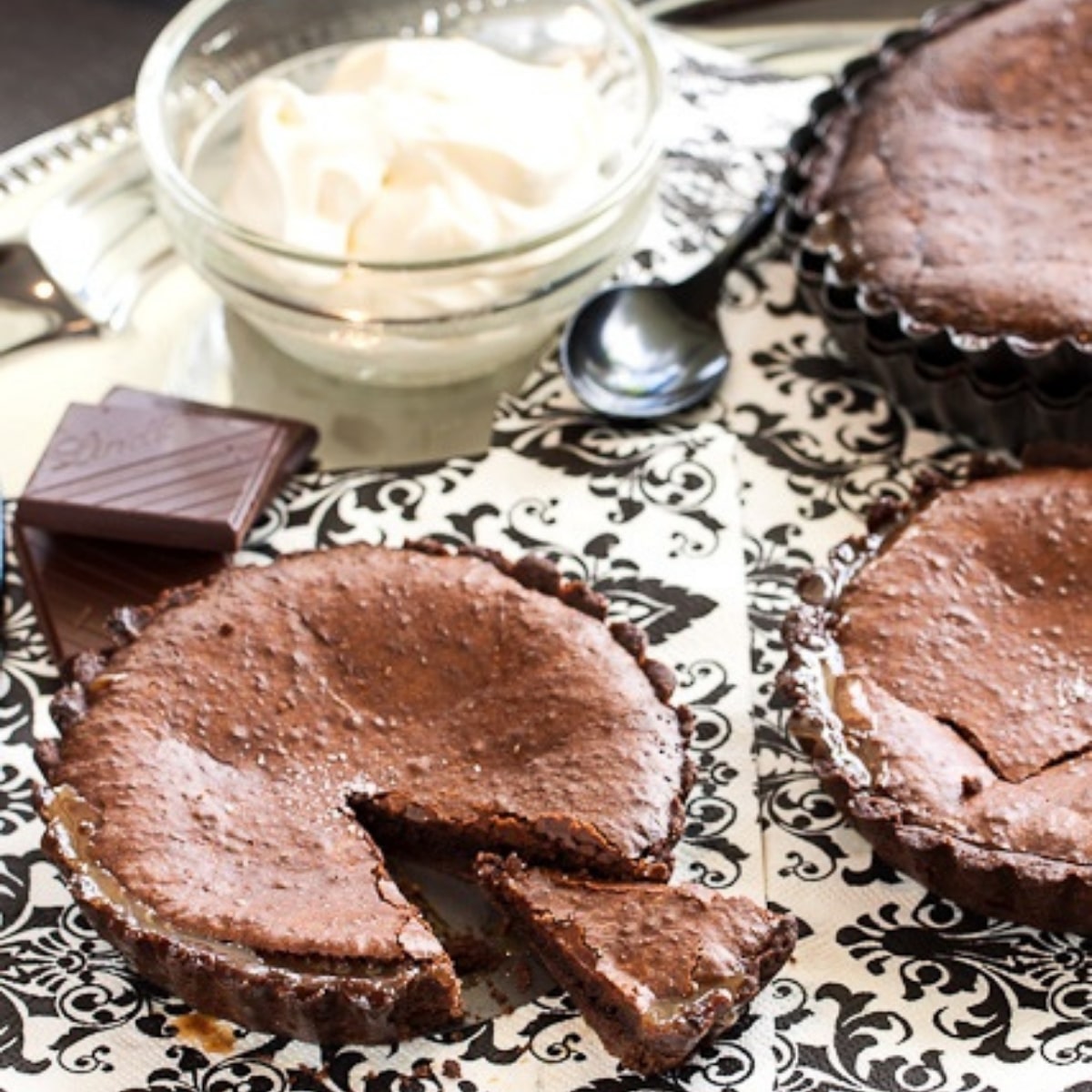 Ingredients
CHOCOLATE SHORTBREAD TART DOUGH:

1 ¼

cups

of plain

all purpose flour

¼

cup

of cocoa powder

¼

cup

of icing sugar

confectioners

¼

tsp

of salt

128

g

of cold unsalted butter

cut into small pieces

1

large egg yolk

SALTED CARAMEL:

225

g

of caster sugar

75

ml

of water

100

g

of butter

100

ml

of cream

1

tsp

heaped of sea salt flakes

CHOCOLATE LAYER:

100

g

of caster sugar

2

eggs

2

egg yolks

250

g

of 70% cocoa chocolate

broken into pieces

150

g

of butter

cut into cubes
Instructions
To make the tart dough, combine the flour, cocoa, salt and sugar in the bowl of a food processor and pulse a few times to combine. Add the butter and pulse until the butter resembles the size of peas. Stir the egg yolk to break it up and add a little bit of the egg yolk and pulse to combine. Repeat until all of the egg yolk is added. Then process the dough in 10 second bursts until the dough forms clumps. Turn out the dough and knead lightly to incorporate the remaining dry ingredients, where necessary.

Press the dough into a 23cm (9 inch) deep loose bottomed tart tin or 8 mini tart tins. Freeze the tart bases for 30 minutes to 1 hour before baking. When ready to bake preheat the oven to 190 degrees celsius (375 fahrenheit) and line with foil and pie weights and bake for 15 minutes, remove the weights and bake for a further 5 minutes. Set aside to cool while you prepare the filling.

To make the salted caramel place the sugar and water in a medium sized saucepan over a low heat. Stir until the sugar dissolves and then add the butter. Stir until the butter melts and then increase the heat to medium and allow the mixture to cook until it reaches a light toffee colour, around 15 minutes. Add the cream and sea salt, stir to combine and then cook for another 2 to 3 minutes or until the sauce has thickened slightly. Set aside to cool.

Preheat the oven to 180 degrees celsius (350 fahrenheit).

For the chocolate layer, gently melt the chocolate and butter in a bowl over a pan of simmering water. Once melted mix to combine and set aside while you prepare the remainder of the filling. Combine the eggs, egg yolks and sugar in the bowl of an electric mixer fitter with a paddle attachment and whisk until light and creamy. Add a small amount of the chocolate to the mixture and whisk to combine, to temper the eggs and prevent them from curdling, before adding the remaining chocolate. Whisk until smooth.

To assemble the tarts pour the caramel into the base of the tart tin, or divide evenly between the mini tart tins if using, and then top with the chocolate mixture. Place on a baking tray (to stop any overflowing caramel making a mess in your oven) and bake for 20 minutes for the large tart and 10 to 12 minutes for mini tarts. The tart should almost be set with the center still a little wobbly. Allow to cool in the tin before removing to serve.
Nutrition
Calories:
739
kcal
Carbohydrates:
79
g
Protein:
11
g
Fat:
50
g
Saturated Fat:
30
g
Cholesterol:
232
mg
Sodium:
620
mg
Potassium:
572
mg
Fiber:
11
g
Sugar:
44
g
Vitamin A:
1520
IU
Calcium:
81
mg
Iron:
6
mg
Craving more veg-friendly recipes?
Shop our collection of vegetarian and vegan cookbooks, including our new Vegan Thanksgiving and Vegan Christmas cookbooks!