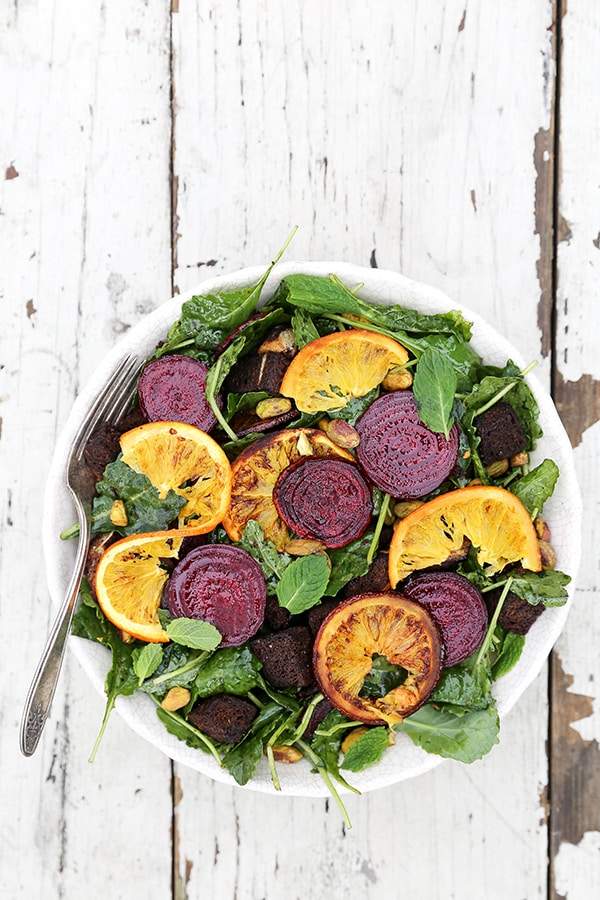 I'm a big lover of salads. And I'm an even bigger lover of BIG salads.
Does that make sense?
I guess what I'm trying to say is that I'm done with wimpy, lifeless salads. I want my salads to be satisfying and filling. Something that after I eat it, I don't automatically think to myself "OK, now what am I going to eat next?".
One of the best ways I know how to create a salad worthy of a main meal is by adding some toasted bread to the mix. Bread really helps to give any salad some much needed bulk. And it increases the "chew factor" as well, which I personally find to be a key component in achieving a feeling of fullness at the end of a meal.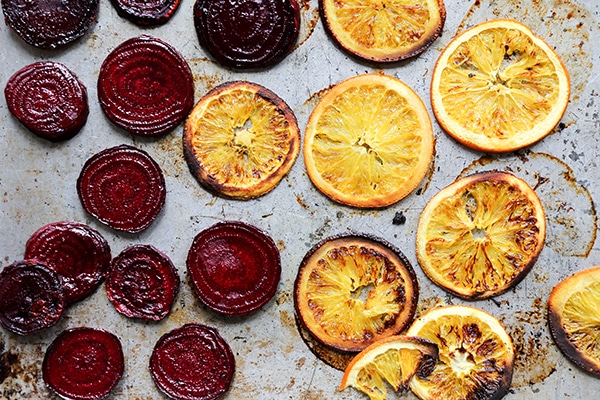 I've made many panzanella salads (aka salads with bread) in my day. But recently, I stumbled upon on a little secret that makes them so much better: rye bread. In the past, I'd always used plain French or Italian bread for my panzanella salads. But now, I'm officially converted. No more plain bread for me! The rye bread (you could also use pumpernickel) provides so much additional flavor to the panzanella salad, that I think once you try it, you'll be hooked as well!
This Roasted Beet and Orange Panzanella Salad is a great "transition" salad that can be enjoyed now or in the cooler months as well. Beets are currently in season. And the baby kale greens and fresh mint leaves keep things feeling bright and springy. While the hearty rye bread and roasted orange slices (yes, you can eat the peel!) give off a bit more of a wintery vibe. It's the perfect recipe to have in your arsenal for all seasons and for any occasion!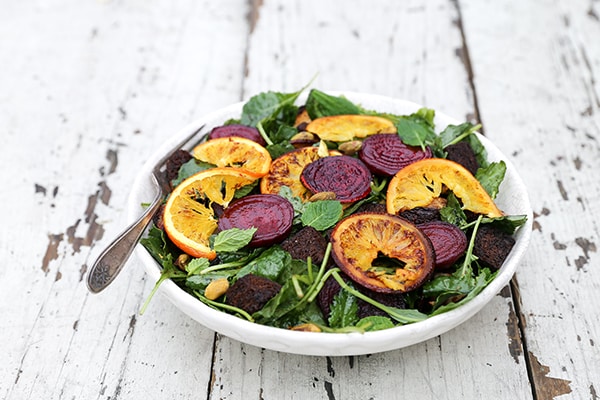 Ingredients
For the salad:
1

medium orange

2

medium beets

trimmed and peeled

2

cups

cubed rye bread

4

tablespoons

extra-virgin olive oil

divided

1/2

teaspoon

salt

divided

1/2

teaspoon

black pepper

divided

3

cup

baby kale

2

tablespoons

fresh mint leaves

torn

2

tablespoons

shelled pistachios
For the dressing:
1

tablespoon

extra-virgin olive oil

1

tablespoon

balsamic vinegar

1

tablespoon

fresh squeezed orange juice

1/4

teaspoon

salt

1/4

teaspoon

black pepper
Instructions
Preheat your oven to 425ºF.

Trim and discard the ends from the orange, then slice the orange into 1/4-inch thick rounds, discarding any seeds that you find. Slice the beets into 1/4-inch thick rounds as well.

Spread the orange slices and beet slices out onto two large rimmed baking sheets, keeping them separate. Drizzle 1 tablespoon of olive oil over the orange slices. Drizzle 1 tablespoon of olive oil over the beet slices and sprinkle the tops with 1/4 teaspoon of the salt and pepper.

In a large bowl, toss the cubed bread with 2 tablespoons of the olive oil and the remaining 1/4 teaspoon of the salt and black pepper. Spread the bread out onto a third large rimmed baking sheet.

Transfer all three baking sheets to your oven. Roast the cubed bread for 15 minutes, until it has started to crisp. Roast the orange slices for 13-15 minutes, until they have started to blacken in some places. Roast the beet slices for 20 minutes, until they have softened slightly. Remove the baking sheets from your oven as the ingredients finish roasting and set them aside to cool. The orange slices will start to stick to their baking sheet as they cool, so transfer them to a clean plate once they have finished roasting.
Make the dressing:
In a small bowl, whisk together all of the ingredients for the dressing. Set aside.
Assemble the salad:
In a large bowl, combine the bread, kale, mint and pistachios with the dressing, tossing until everything is well-coated. Add the orange and beet slices, tossing gently to combine.

Transfer the panzanella salad to serving bowls and enjoy immediately.
Notes
Not all rye bread recipes are vegan. Make sure you check the nutrition labels before purchasing.