Sharp sweet tender pink rhubarb sits atop a thick vanilla bean custard and a brioche base for the most decadent way to kickstart a weekend brunch!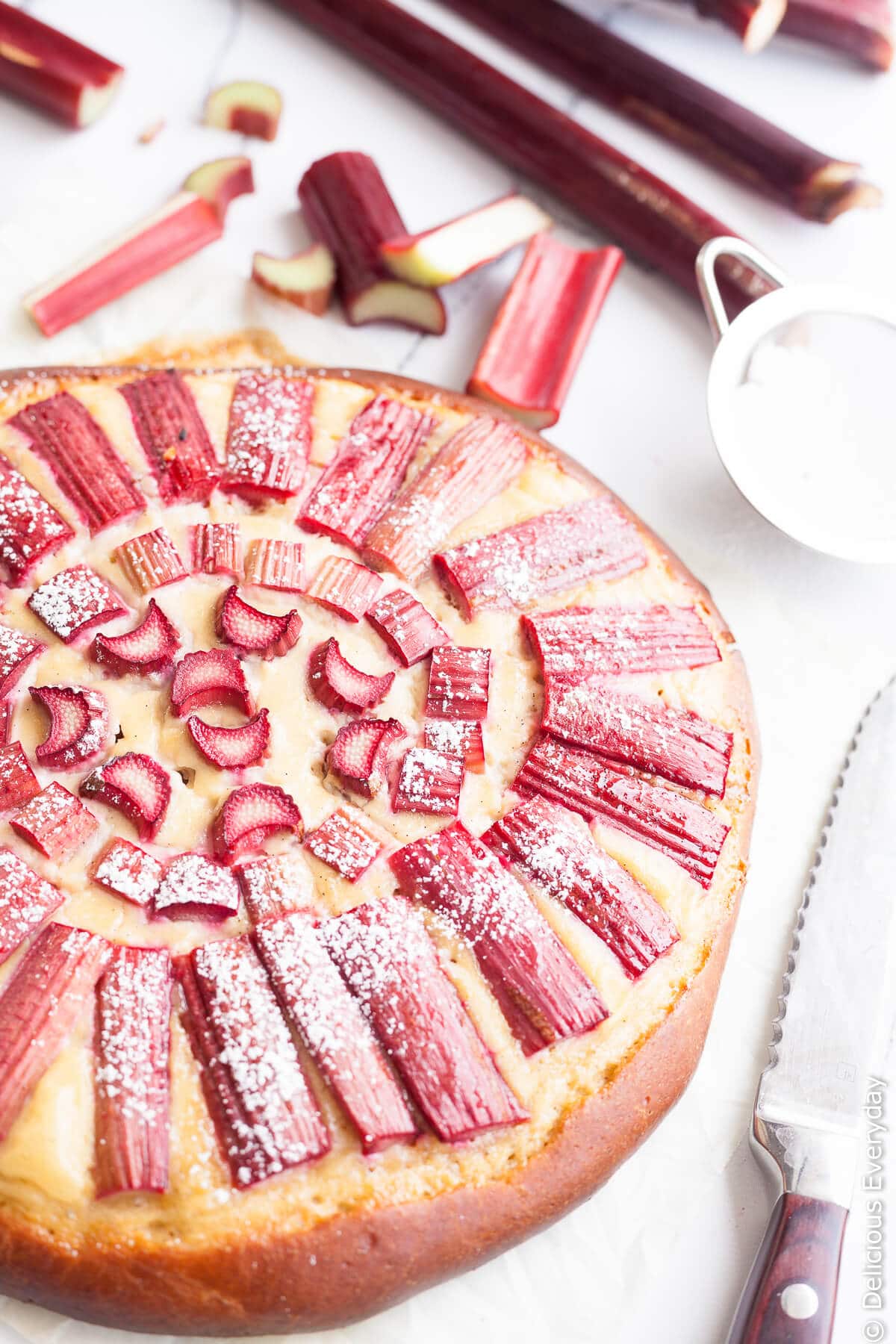 There's something so comforting and relaxing about making bread.
Granted I'm not the type to knead by hand (my hands just aren't up to it) but the process, the smell of yeast working its magic, the patience required of proving is all about slowing down and letting things happen in their own time.
I think that is why I save making bread for the weekend. You have the time to slow down and invest a little more time into creating something extra special to celebrate those all too brief days away from work.
My Rhubarb and Custard Brioche Tart is the perfect way to celebrate the weekend. Rhubarb and custard is a classic combination. And for good reason, custard has a way of taming the bold assertive sharpness of rhubarb.
Rhubarb is one of those polarising vegetables (yes, it's a vegetable, not a fruit, despite the fact we treat it as such in cooking). My husband for one is one of those people who finds its tartness a bit too much. But me, well, I love it. Just as I love an almost mouth-puckeringly zingy lemon tart I can't get enough of rhubarbs refreshing boldness.
Custard though is the perfect way to tame that boldness a little. Here I've gone with a dairy-free custard using cashew milk, given dairy and I are no longer friends these days, however, you can use dairy or any nut milk you like. I like cashew milk because it is much subtler in flavour than almond milk, which I find a little overpowering when making a nut milk based custard.
The brioche dough can be prepared the night before, and left to prove in the refrigerator overnight. As can the custard. Making the process of preparing the tart on the weekend much easier, especially if you are one of those people who likes to ease their way into the day.
Once out of the oven I love the contrast of the shockingly pink rhubarb against the pale custard and golden base.
Serve dusted with icing sugar, and additional custard if you like (this recipe makes more custard than you need just in case you want to add a dollop on top to serve).
So tell me, what is your favourite way to enjoy rhubarb?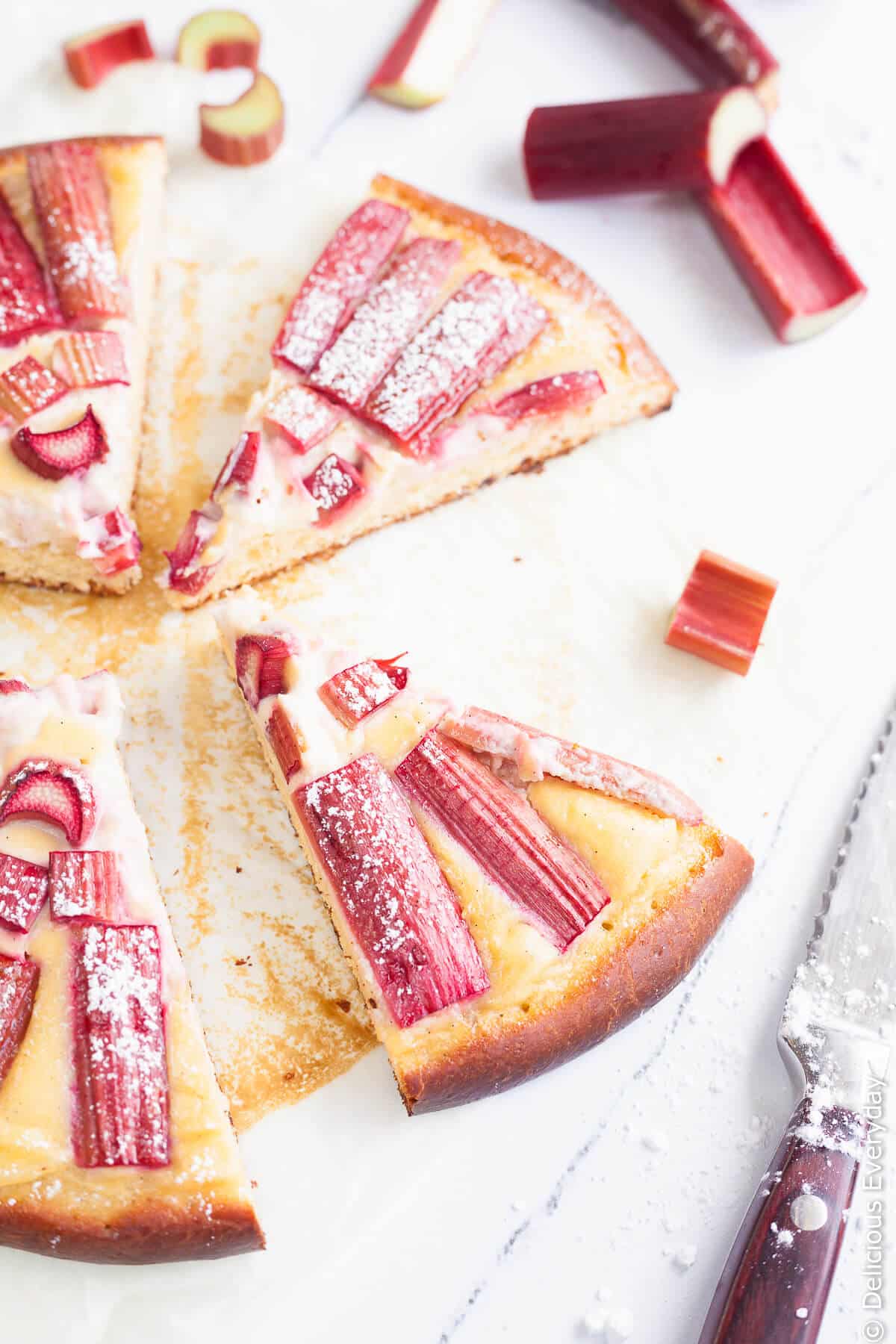 Recipe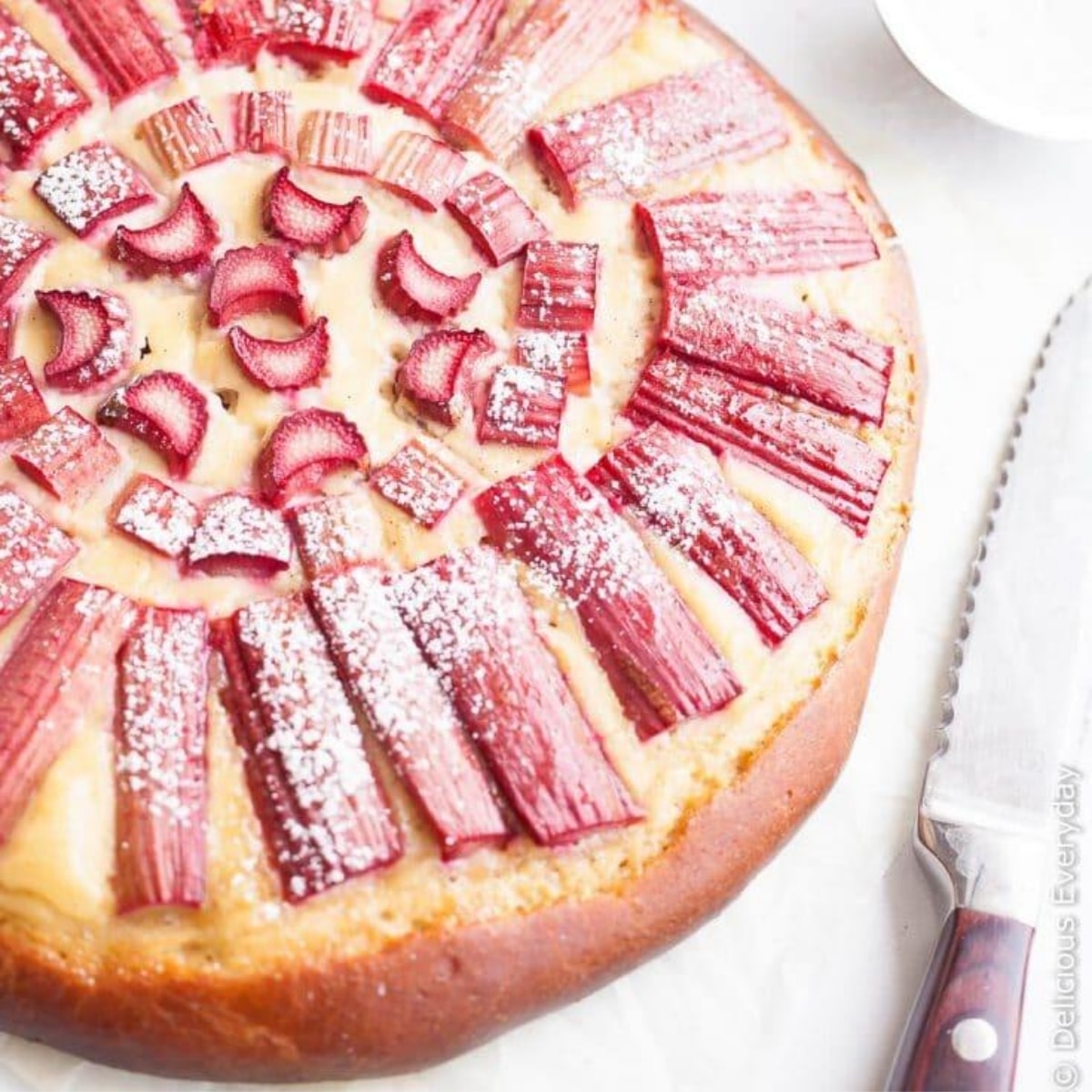 Ingredients
VANILLA CUSTARD:

1

cup

cashew milk

1

tsp

vanilla paste or vanilla extract

2

egg yolks

2

tbs

raw sugar

2

tsp

cornflour

cornstarch

BRIOCHE:

1

tsp

dried yeast

2

tsp

slightly warmed cashew milk

65

g

plain flour

½ cup

30

g

whole wheat spelt flour

⅓ cup

1 ½

tbs

raw sugar

½

tsp

salt

1

egg

40

g

olive oil

3tbs, not extra virgin

3

rhubarb stalks

2

tsp

raw sugar

extra
Instructions
Begin by making the custard. Place the cashew milk and vanilla in a small saucepan over medium heat and bring just to the boil. Place the egg yolks, sugar and cornflour in a heatproof bowl and whisk to combine. Gradually whisk in the milk mixture until combined. Return to the saucepan and place over low heat and whisk for 3 to 5 minutes or until thickened. The mixture should coat the back of a wooden spoon and leave a slight trail when you remove the spoon from the pan and let the custard drop back into the pan. Place into a heatproof bowl and cover with plastic wrap and refrigerate until cool and spreadable.

While the custard is cooling make the brioche. Place the yeast and milk in a small bowl or cup and stir to dissolve yeast. Leave for 5 minutes or until foamy. Add the flour, sugar, eggs, yeast mixture and sea salt to the bowl of a stand mixer fitted with a paddle attachment and mix until the dough comes together. Switch the paddle attachment for a dough hook and knead, gradually adding the olive oil, a tsp at a time, allowing the oil to become fully incorporated before adding more. For a little bit it will look like a hot oily mess, but stick with it, the oil will mix into the dough with a little patience. Knead for 10 minutes or until the dough smooth and elastic. Cover dough with a tea towel and leave in a warm place for 11/2 to 2 hours or until doubled in size.

Knock back the dough and place on a tray covered with baking paper that has been lightly floured. Press down and use your fingers to shape into a rough circle. Lightly brush the top with more oil and cover with a tea towel and leave an hour or until doubled in size. While the dough is rising preheat the oven to 220 celsius (425 Fahrenheit).

When the brioche is ready to be baked spread half the custard over the top of the base, making sure not to go all the way to the edge. Cut into whatever shapes you like, just be sure that the rhubarb is not too thick otherwise it won't cook in time. Toss the rhubarb in the extra sugar and arrange on the brioche base in whatever pattern you desire. Bake for 12 to 18 minutes or until golden. Check after 10 minutes to make sure it isn't browning too much.

Serve dusted with icing sugar and extra custard.
Notes
Feel free to swap the cashew milk with your preferred milk.
Nutrition
Calories:
194
kcal
Carbohydrates:
22
g
Protein:
3
g
Fat:
9
g
Saturated Fat:
1
g
Cholesterol:
92
mg
Sodium:
236
mg
Potassium:
34
mg
Fiber:
1
g
Sugar:
9
g
Vitamin A:
125
IU
Calcium:
12
mg
Iron:
1.1
mg
Craving more veg-friendly recipes?
Shop our collection of vegetarian and vegan cookbooks, including our new Vegan Thanksgiving and Vegan Christmas cookbooks!