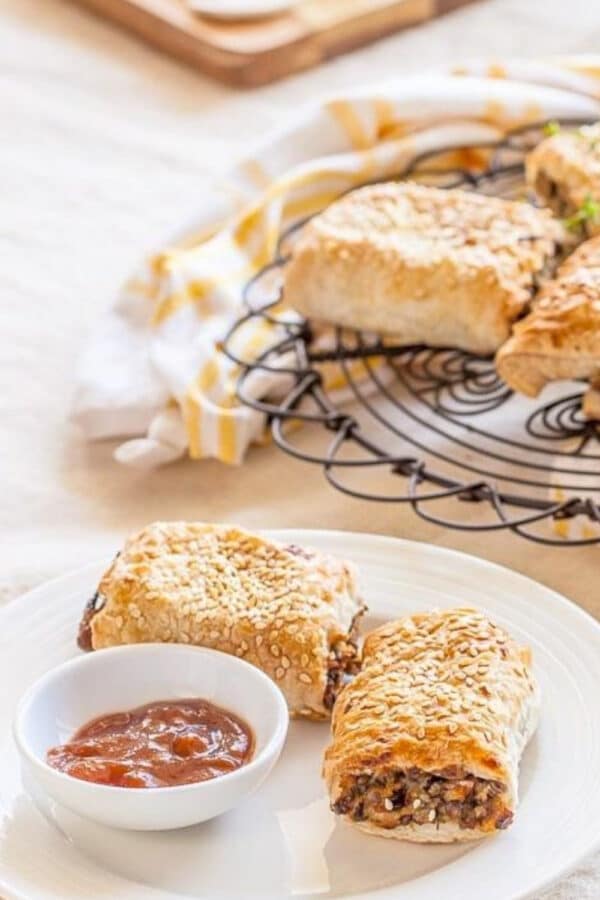 My best friend is coming to visit this weekend and I cannot tell you how excited I am! It came as a complete surprise when she contacted me via text message yesterday to say she is in the country and wanted to fly up to Brisbane so we could have some time together.
It's been a couple of years since we last saw each other, and then it was another couple of years before that, due to the fact she now lives overseas, but we have one of those friendships that when we are together it's like no time at all has passed. There are friends that come in and out of your life, but then, on those rare occasions, there are those wonderful people you meet that you know you will be friends with for life, and she is most definitely one of those friends. Each time we get together we spend hours chatting about everything and nothing, talking about food, cooking, our latest favourite cookbooks, our new favourite shade of red lipstick and fashion. Just as with my fiance, she's one of those people I can be completely myself with.
When we met we bonded over a shared love of clothing by a particular Australian clothing designer called Alannah Hill. From there we discovered other shared loves of which food was yet another. Each time we caught up we would flit from place to place as we enjoyed a progressive dinner of sorts all over Sydney. We'd start at one place for cocktails, then we'd go to a restaurant  for dinner, sometimes somewhere else for dessert and then yet another bar for cocktails afterwards. Yes, those nights were alcohol fuelled but so much fun!
I've mentioned my dear friend before here, recounting the day she delivered handmade truffles to me while I was having a particularly stressful day at work. We always loved giving each other special gifts and would be on the look out for things we knew the other would love. I remember one particular time when I'd come across an adorable necklace with two red crystal cherries on the pendant. I just knew it was for her so I bought it and planned to give it to her the next time I was in Sydney, which I did. When she opened the box and saw the necklace she became tearful and explained that it was absolutely perfectly her and it showed exactly how well we knew one another.
Luckily her husband and my fiance get along fantastically too, so while we catch up while the guys chat about, well, guy things! And no doubt we will all talk about Troy's and my engagement seeing as we got engaged since we last saw our friends. I'm sure there will be drinks to celebrate, and this is where my Mushroom and Lentil Rolls come in. These  vegetarian sausage rolls are the perfect thing to enjoy with a couple of drinks or cocktails while you catch up with friends. You can prepare and cook these vegetarian sausage rolls in advance and simply reheat as your guests arrive. Serve with your favourite sauce or chutney!
Recipe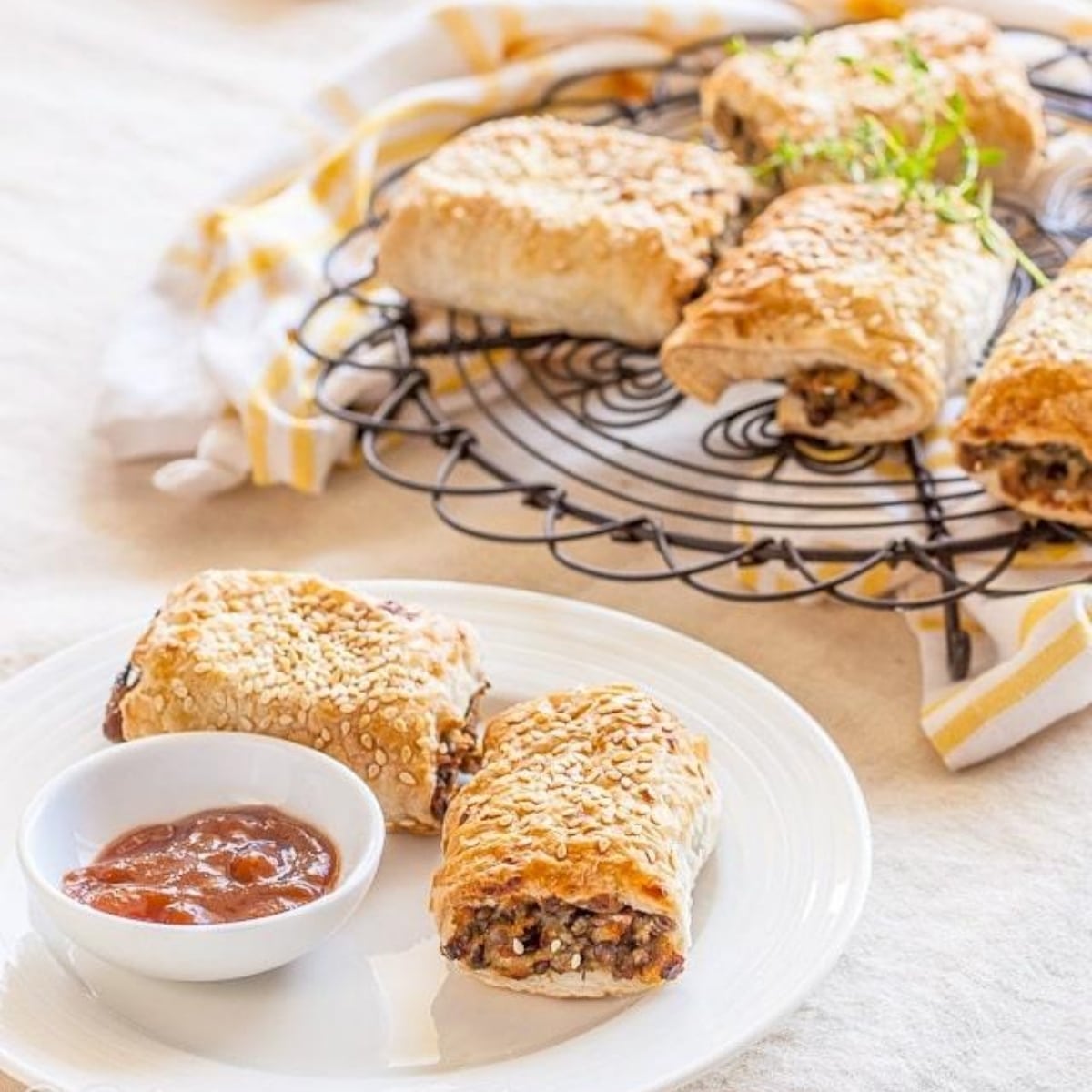 Ingredients
2

sheets of frozen puff pastry

lightly thawed

½

cup

of French lentils

2

cups

of vegetable stock

400

g

of mushrooms

finely chopped

1

onion

peeled and diced

2

stalks of celery

diced

1

carrot

peeled and finely diced

2

cloves

of garlic

minced

1

tbs

of olive oil

1

tbs

of Dijon mustard

¼

cup

of red wine

2

tsp

of freshly picked thyme leaves

2

tbs

of freshly chopped parsley

1

cup

of breadcrumbs

3

eggs

1 beaten for brushing the pastry

2

tsp

of sesame seeds

salt and pepper to taste
Instructions
Begin by cooking the lentils. Place the lentils and vegetable stock in a saucepan and bring to a boil before reducing to a simmer. Simmer for 25 minutes or until the lentils are tender, drain and set aside to cool.

Heat a large frying pan over a medium heat and add the olive oil, onion, celery and carrot and cook until the onion is golden and caramelised. Add the garlic and mushrooms and cook until the mushrooms begin to soften. Add the mustard and red wine and reduce to low and cook for 5 to 10 minutes, or until the liquid has evaporated. Set aside to cool.

Meanwhile preheat the oven to 200 degrees celsius (400 Fahrenheit) and line a tray with baking paper.

In a large bowl combine the lentils, mushroom mixture, thyme, parsley and breadcrumbs. Test for seasoning and add salt and pepper to taste. Add 2 of the eggs and mix until well combined.

Cut the squares of puf pastry in half and place spoonfuls of the mixture down one side. Brush with beaten egg and fold the pastry over into a roll. Use a sharp knife to cut in half and then half again. Repeat with remaining mixture.

Place the rolls on the baking tray, brush the tops with beaten egg and sprinkle with sesame seeds. Bake for 15 to 20 minutes, or until golden.
Nutrition
Calories:
676
kcal
Carbohydrates:
66
g
Protein:
17
g
Fat:
37
g
Saturated Fat:
9
g
Cholesterol:
81
mg
Sodium:
722
mg
Potassium:
559
mg
Fiber:
8
g
Sugar:
5
g
Vitamin A:
2105
IU
Vitamin C:
6.5
mg
Calcium:
82
mg
Iron:
5.3
mg
Craving more veg-friendly recipes?
Shop our collection of vegetarian and vegan cookbooks, including our new Vegan Thanksgiving and Vegan Christmas cookbooks!