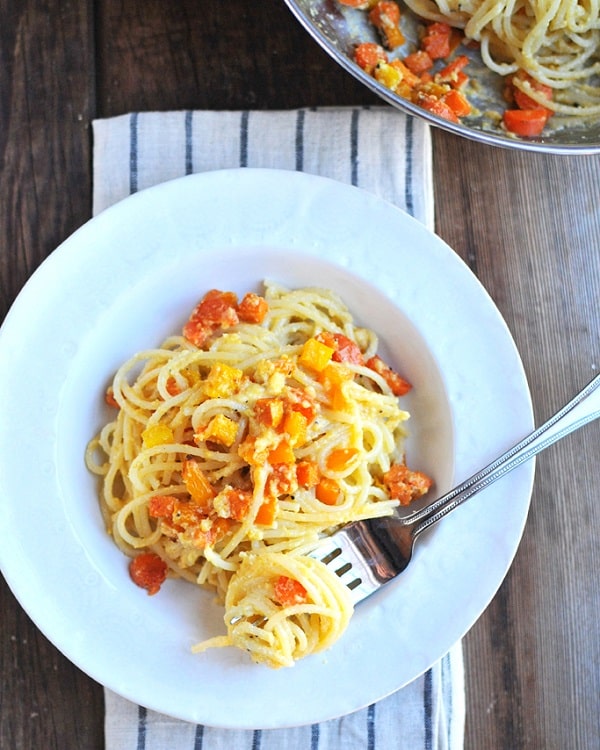 The idea of superfoods can sometimes be super intimidating, at least to me. I tend to associate superfoods with qualities like being expensive, hard to find, and tricky to prepare. So basically, the kind of stuff you might get in a fancy spa meal, but nothing that I might work into a midweek dinner.
Superfood Weeknight Meals, the new book from Kelly Pfeiffer of Nosh and Nourish pretty much throws all that thinking out the window. Those nutritional powerhouse ingredients that we dub superfoods are actually totally accessible, easy to cook with, and downright delicious.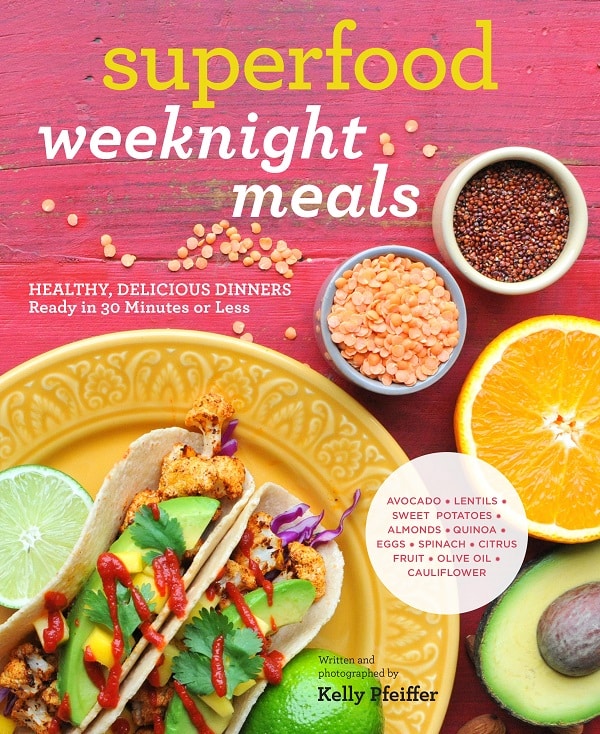 The book is packed with healthy, delicious dinner recipes, each featuring lots of whole, healthy, superfood ingredients. The book includes an entire chapter devoted to Hearty Meatless Mains, and many of the recipes throughout could be easily adapted to be vegetarian. The best part: every recipe comes together in 30 minutes or less!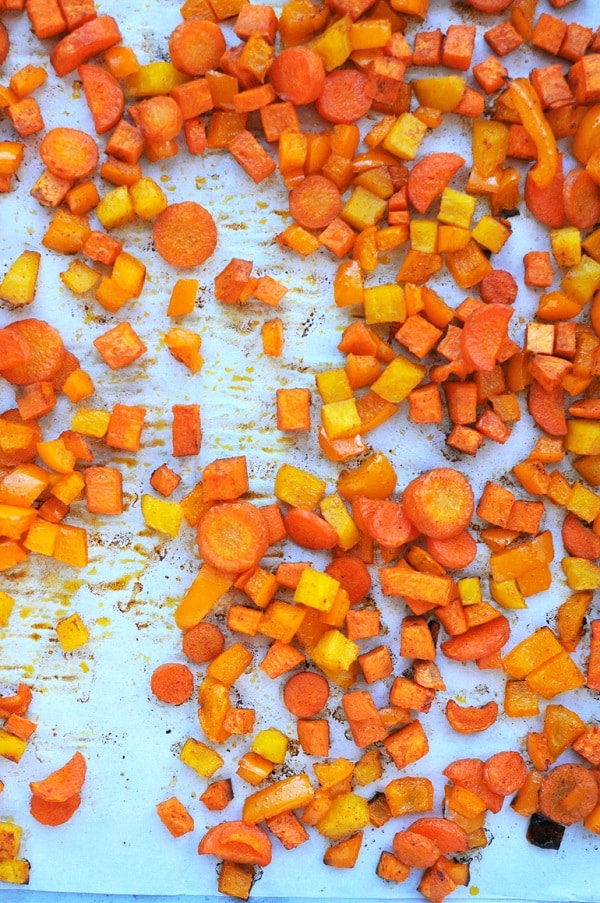 I chose to give the Orange Power Pasta with Cauliflower Alfredo Sauce a try, because (1) I've never had a cauliflower Alfredo, and I was super curious, and (2) the dish is loaded with roasted hearty winter veggies that I love, like carrots, golden beets, and sweet potato. The sauce was creamy and luscious, and the veggies added just the right level of sweetness and hearty texture. If you're looking for a satisfying and healthy mid-winter meal, you can't go wrong with this one.
You can purchase Superfood Weeknight Meals on Amazon.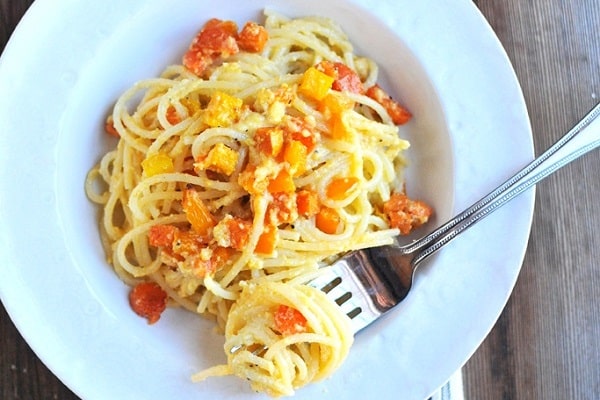 Ingredients
For roasted veggies:
1

carrot

thinly sliced

1

golden beet

cut into ½ inch (1 cm) cubes

1

orange bell pepper

seeded and cut into ½ inch (1 cm) cubes

½

of a sweet potato

cut into ½ inch (1 cm) cubes

1

tablespoon

15 ml extra-virgin olive oil

1

teaspoon

paprika

¼

teaspoon

salt
For cauliflower Alfredo sauce:
16

ounces

455 g spaghetti or your favorite pasta

2

cups

200 g coarsely chopped orange cauliflower or white cauliflower

1

cup

235 ml unsweetened almond milk

¼

cup

½ stick, or 55 g butter

2

tablespoons

28 ml extra virgin olive oil

½

cup

56 g almond flour

½

teaspoon

sea salt

¼

teaspoon

pepper
Instructions
To make the roasted veggies:
Preheat the oven to 425°F (220°C, or gas mark 7). On a parchment paper-lined baking sheet, place the carrot, beet, orange bell pepper, and sweet potato in a single layer. Brush with olive oil and then sprinkle with paprika and sea salt. Bake for 25 minutes.
To make the cauliflower Alfredo sauce:
Boil the pasta according to the package instructions. Drain and set aside.

Meanwhile, in a large glass measuring cup, combine the cauliflower and almond milk. Microwave 4 minutes on high. Using an immersion blender, or in a food processor, purée the cauliflower.

In a large skillet over medium-high heat, melt the butter and olive oil. Stir in the almond flour, sea salt, and pepper. Slowly, about one-third at a time, sir in the puréed cauliflower. Cook for about 5 minutes, stirring continually until the sauce is thickened.

In a large serving bowl, toss together the pasta, cauliflower Alfredo sauce, and roasted veggies. Serve immediately.
Nutrition
Calories:
765
kcal
Carbohydrates:
101
g
Protein:
20
g
Fat:
32
g
Saturated Fat:
10
g
Polyunsaturated Fat:
3
g
Monounsaturated Fat:
11
g
Trans Fat:
1
g
Cholesterol:
31
mg
Sodium:
684
mg
Potassium:
684
mg
Fiber:
9
g
Sugar:
9
g
Vitamin A:
7888
IU
Vitamin C:
66
mg
Calcium:
163
mg
Iron:
3
mg