Light as a feather lemon meringue cupcakes are filled with lemon curd and topped with a gorgeous yellow striped meringue topping for a decadent treat that is hard to beat!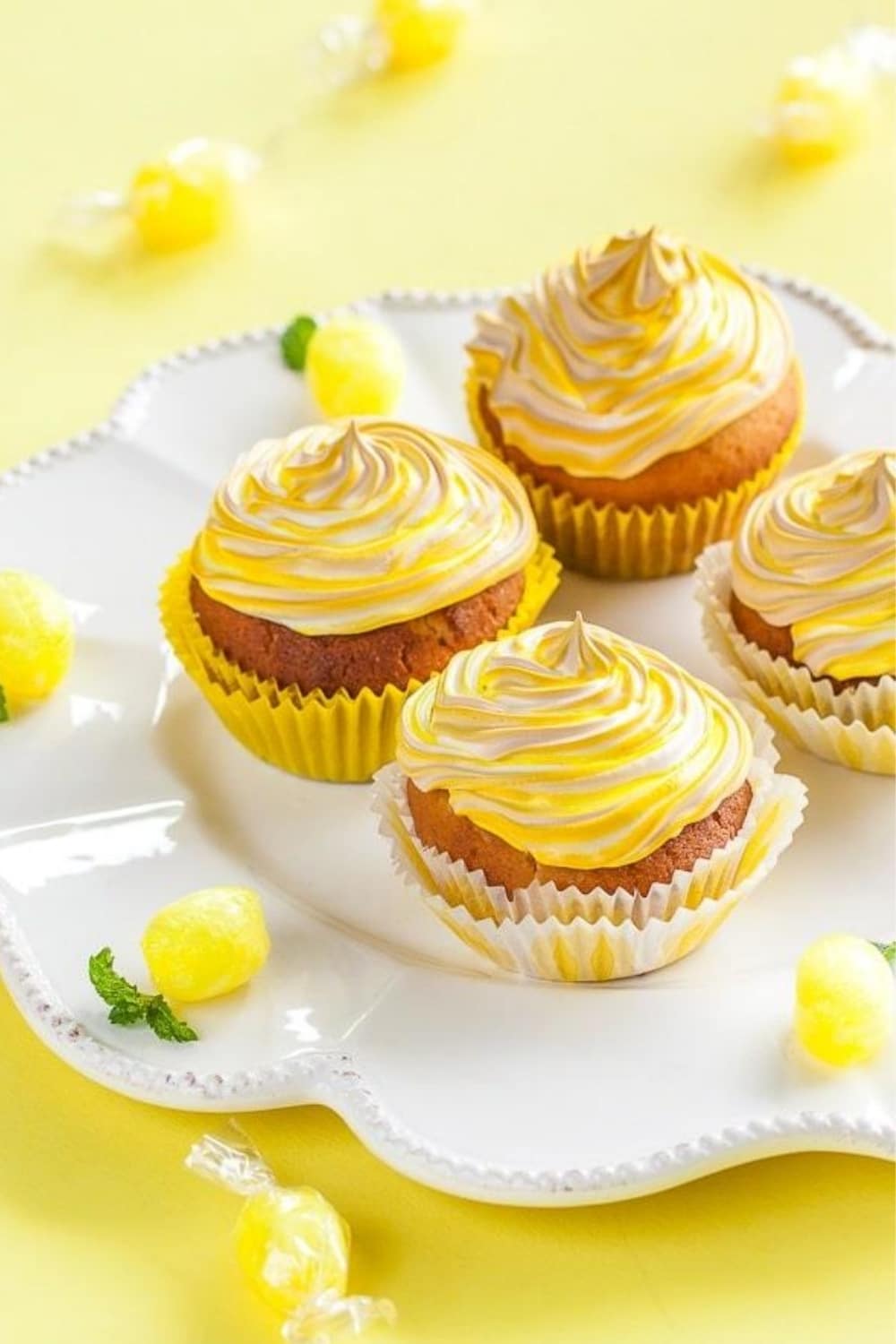 Welcome to this month's Sweet Adventures Blog Hop. As I am sure you all know this month's theme is lemons. We're looking for your best lemon dessert, and while the blog hop kicks off today, you have until April 23 to submit your entry if you're running a little behind.
As soon as we settled on this months theme I began thinking of ideas, but the one idea I kept coming back to was Lemon Meringue Pie.  Lemon Meringue Pie would have to be one of my all-time favourite desserts, and surprisingly I haven't made one for the blog yet.   While I thought about making a pie, I eventually settled on Lemon Meringue Cupcakes.
These Lemon Meringue Cupcakes melt in your mouth and are an absolute explosion of lemony goodness - crumbly soft cake, tangy lemon curd filling and all topped off with a fluffy marshmallow meringue topping. It's a party in your mouth and
It's a party in your mouth and as a result, I have to say, these lemon meringue cupcakes didn't last long in our house.
Speaking of parties, on Friday it was my Grandmothers 75th birthday. Unfortunately living a two and a half hour plane ride away meant we couldn't be together on the day, but I want to dedicate these delicious lemon meringue cupcakes to her and tell you a little about the amazing woman that is my Grandmother.
In the town, I grew up in, and where my Grandparents and parents still live, everyone knows my Grandmother as Nan. When I was little I loved spending time at my Grandparents. My Grandfather would take me on walks down to the river and Nan and I would frequently go to the shops. Everyone knew Nan, so inevitably our trips to the shops would be a social event, and a quick trip could turn into hours due to everyone stopping to talk to Nan. I remember thinking back then how wonderful it was that everyone loved my Nan as much as I did.
Two years ago Nan was diagnosed with breast cancer, and while there is never a good time to be told you have breast cancer, it couldn't have come at a worse time for her and my Grandfather because my Grandfather was going through some rather mysterious health problems of his own. Over a period of a couple of years, he'd been growing confused, with sudden bouts of confusion so bad that he didn't even recognise Nan and insisting he be taken to his wife although she was standing right beside him. Along with this, my once amazingly fit Grandfather had lost the ability to walk without a walking stick, and then eventually a walking frame. Conversations on the phone with him were difficult because sometimes he knew who you were and sometimes he didn't. Parkinson's was diagnosed and then dismissed, along with a number of other diseases. But my Nan took it all in her stride and worked hard to look after my Grandfather. His health went even further downhill when he suffered an extremely bad case of shingles, which lead to him being hospitalised, and the shingles only lead to his confusion and motor skills getting worse and worse. Only my Nan's presence seemed to calm him.
It was at this time my Nan discovered a lump and was diagnosed with breast cancer. After some rather agressive surgery she started chemotherapy and then radiation treatment, and immediately after each treatment she went straight to see my Grandfather in hospital and would spend the rest of the day with him making sure he was ok. Undergoing chemotherapy and radiation therapy is enough to knock most people around, even people half my Nan's age, but she soldiered on and focused all of her thoughts, energy and attention on my Grandfather and putting his needs first.
It was hard on both of them, with my Grandfather stuck in hospital for a couple of months and my Nan going through cancer treatments, and it was made all the more difficult because sometimes my Grandfather was so confused he forgot Nan was sick and wondered why she wasn't there with him when she was having her cancer treatments. They were also both heartbroken they couldn't be at home together and I remember one particular conversation I had on the phone with my Nan where she told me about sitting in the sun outside the hospital with my Grandfather and holding his hand. I remember thinking at the time how wonderful to still be so in love after 60 years together, and how I hope my fiance and I will be the same.
While this process was hard on both my Nan and Grandfather, a lot of  help was forthcoming.  Both from my parents, my aunts and uncles, as well as meals and casseroles magically appearing at the door from people in the town who had heard Nan was sick.
During all of this my Grandfather was lucky to be seen by a specialist who was conducting a medical trial on patients suffering symptoms similar to what he was suffering. The premise of the trial was that patients weren't suffering a disease such as Parkinsons or Dementia, but the cause was fluid on the brain, causing the confusion and the loss of motor control. After several tests the specialists diagnosis was confirmed, and my Grandfather had an operation to relieve the fluid, and over the course of the last 2 years has somewhat returned to his old self, with only the occasional bouts of confusion but with no further need for a walking frame.
However now it's my Nan that needs the walking frame. All the chemotherapy and radiation has left it's toll on her body, wreaking havoc with her arthritis. This is in addition to several infections that have plagued her since her initial breast cancer surgery.  The most recent of which landed her in hospital in the week leading up to her birthday. She knew that her doctor had wanted her to go to hospital to undergo treatment for the recurrent infections for some time but didn't want to leave my Grandfather alone, however eventually the decision was made for her when an ambulance had to be called last week.  Stubbornness is a family trait we both share.
Thankfully Nan was released from hospital the day before her birthday and got to spend her birthday at home and is recovering well from her infection.  I've always thought my Nan was pretty special, but the strength, courage and determination that she's continued to show through everything has never ceased to amaze me.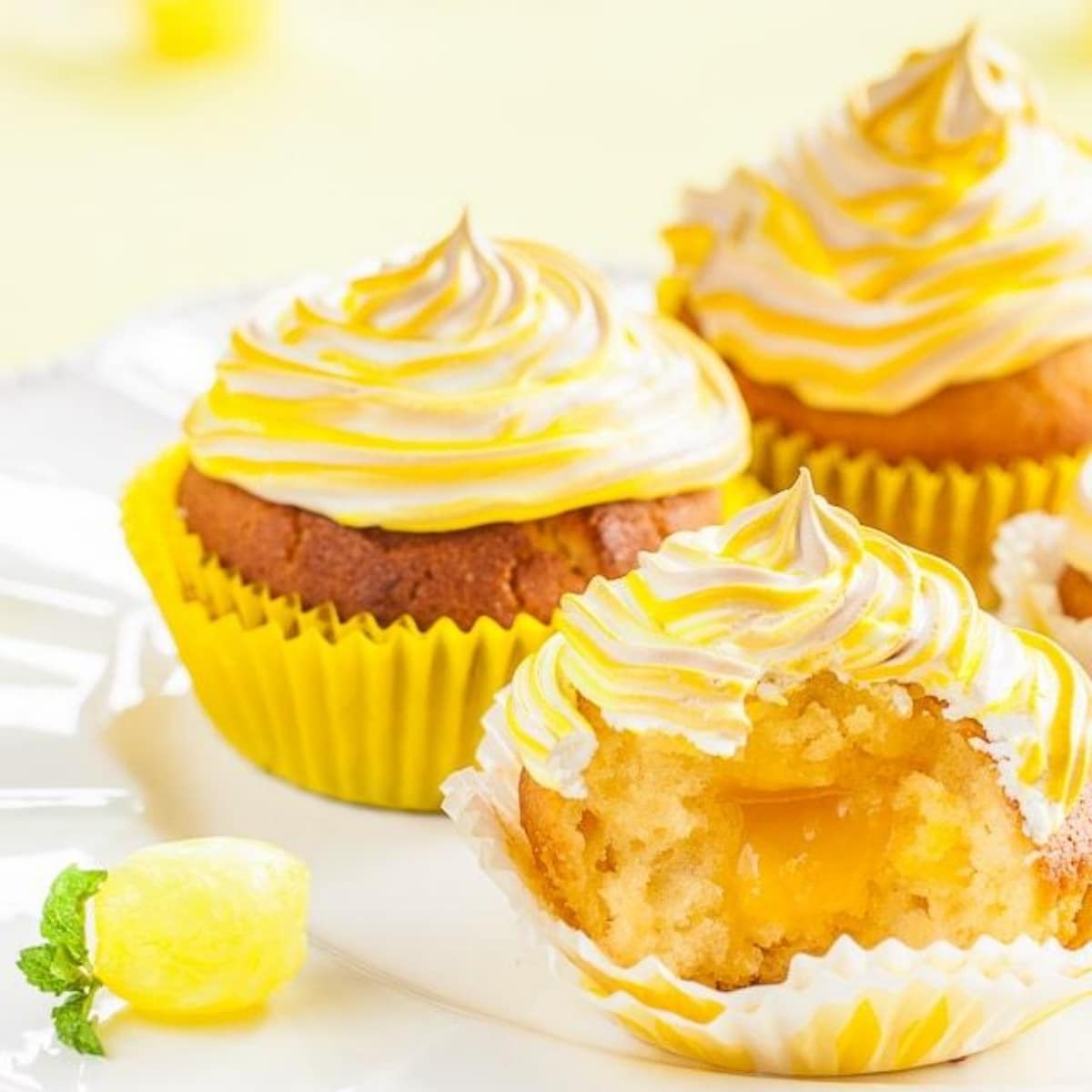 Recipe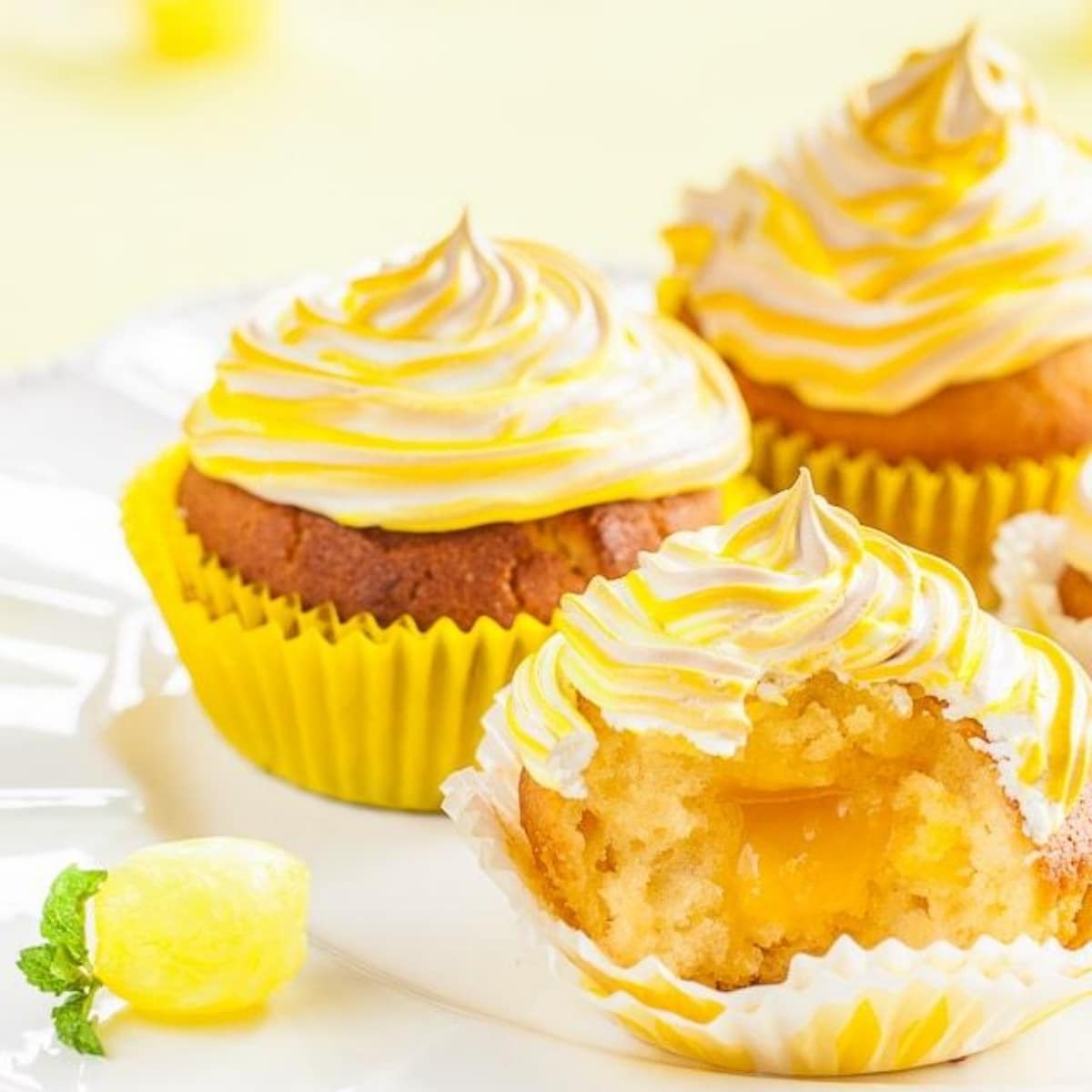 Ingredients
230

g

plain flour

200

g

caster sugar

1

teaspoon

baking powder

½

teaspoon

bicarbonate of soda

175

g

soft unsalted butter

2

large eggs

2

teaspoons

finely grated lemon zest

150

ml

Greek yoghurt

LEMON CURD

1

egg

plus 1 egg yolk

90

g

caster sugar

40

g

butter

Zest and juice of 1 lemon

MERINGUE TOPPING

2

egg whites

½

cup

of sugar

1

tablespoon

of freshly squeezed lemon juice

Yellow gel food colouring

optional
Instructions
Preheat the oven to 180 degrees Celsius (350 Fahrenheit) and line a 12 hole muffin tin with paper cupcake liners. Remove the butter and eggs from the refrigerator and allow them to come to room temperature before making the cupcakes.

Place all the ingredients into the bowl of a food processor and process until you have a smooth, thick batter. Divide the batter between the cupcake liners. Bake for 15 to 20 minutes or until cooked and remove from the tray and place on a wire wrack to cool.

To make the lemon curd place the egg, egg yolk and sugar in a saucepan and whisk until smooth. Add the butter, juice and zest and place over a medium low heat. Whisk until thickened, this will take between 5 to 10 minutes. The mixture will be ready when you can see a slight trail from the whisk in the mixture. It will thicken further when refrigerated. Refrigerate overnight.

Cut a circle in the top of each cupcake and scoop out some of the cupcake from the center and fill with lemon curd. Trim the circle you removed earlier and then replace on the cupcake. Repeat with each cupcake.

Preheat the oven to 160 degrees celsius.

To make the meringue topping, place a saucepan of water over a medium heat and bring to a simmer. Place the bowl of a mixer over the heat and add the eggs, lemon juice and sugar and whisk by hand until the sugar is dissolved. Remove from the heat and attach to a stand mixer and whisk at a medium speed for 10 minutes, or until thick and glossy and stiff peaks form.

Prepare a piping bag and paint stripes of food colouring along the piping bag (you can use a small paint brush or cotton tip for this) and fill with the meringue mixture. Pipe the mixture on top of the cupcakes and bake for 5 to 7 minutes, or until firm and lightly golden. Alternatively use a hand held torch.
Nutrition
Calories:
352
kcal
Carbohydrates:
48
g
Protein:
5
g
Fat:
16
g
Saturated Fat:
9
g
Cholesterol:
80
mg
Sodium:
101
mg
Potassium:
81
mg
Sugar:
33
g
Vitamin A:
515
IU
Vitamin C:
0.9
mg
Calcium:
42
mg
Iron:
1.1
mg
Craving more veg-friendly recipes?
Shop our collection of vegetarian and vegan cookbooks, including our new Vegan Thanksgiving and Vegan Christmas cookbooks!