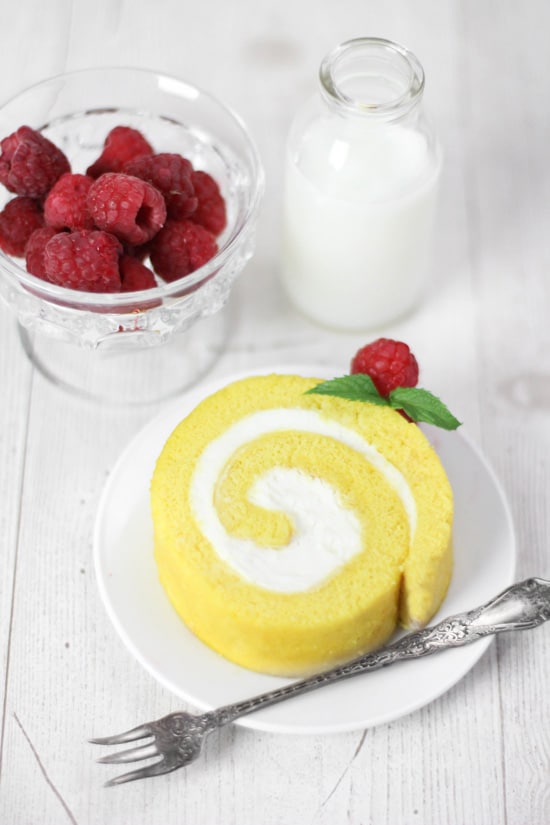 I am so excited to welcome the amazingly talented Heather from SprinkleBakes to Delicious Everyday today. I stumbled onto Heather's beautiful blog a year ago and I was immediately addicted. Each of her creations appears more amazing than the last, and it is a sweet tooth's heaven.  Just check out her beautiful Pink Vanilla Pocky Cake and her beautiful Jane Austen cake as perfect examples of delicious sugary heaven.
Heather has also recently released her first book, [amazon_link id="1402786360" target="_blank" ]SprinkleBakes: Dessert Recipes to Inspire Your Inner Artist[/amazon_link] which is as beautiful as it is inspiring. My copy arrived last week and I've found it difficult to put down as not only is it filled with beautiful and delicious creations, it's also filled with lots of tips to ensure your success when recreating her recipes.
[amazon_image id="1402786360" link="true" target="_blank" size="large" ]SprinkleBakes: Dessert Recipes to Inspire Your Inner Artist[/amazon_image]
So let's kick things off with an interview with Heather before she shares her delicious Lemon Cream Roulade.
Jennifer: What inspired you to start SprinkleBakes?  
Heather: I was an artist looking for a new medium.  I was having a serious case of artist's block so I decided to try baking.  I loved it and wanted to share my creations with a wider audience than just my friends and family.
Jennifer: You come a very creative background, being an accomplished painter and photographer, what impact do you think that has on your baking and creativity with your recipes?
Heather: In my book I quote Marshall McLuhan "Art is anything you can get away with".  I feel the same way about dessert.  I'm willing to try anything, even if it is frowned upon by conventional pastry chefs.
Jennifer: What inspires you when you create a recipe? Is it a particular flavour, ingredient or your vision of the end result?
Heather: All of those things!  But  I usually have a vision or theme. The best example of that would be my Portrait of Poe cake in red velvet. 
Jennifer: My favourite of all your delicious recipes is the Seven Sins Chocolate Cake. Do you have a particular favourite?  
Heather: That cake may be my new favorite, but I'm a sucker for homemade confetti cakes like the one I made for my blog's 1st birthday.
Jennifer: You've recently released your first book, SprinkleBakes: Dessert Recipes to Inspire Your Inner Artist. Did you ever think you'd one day be writing a cookbook?  
Heather: No!  I'd always figured I'd have a creative job -working in galleries, creating installations and paintings- but my baking has completely changed the course of my career.  
Jennifer: How did you celebrate the release of your book?  
Heather: Now that you ask, I'm not sure I've celebrated the occasion properly!  I remember being really nervous and excited the day it was released, but the response from my readers was nothing short of an outpouring of love.  That was a gift to me.  That was my party.
Jennifer: What has been the most rewarding aspect of blogging?  
Heather: That's difficult to answer!  I love connecting with other food bloggers and learning from them.  Being creatively fulfilled is high on the list too. 
Thank you Heather for guest posting today, and now onto your beautiful and delicious Lemon Cream Roulade!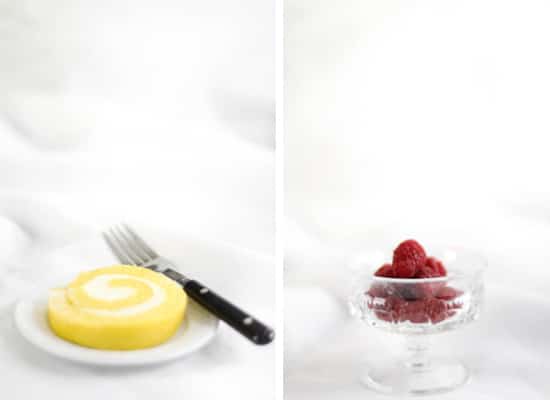 Cake rolls are, hands down,  my favorite dessert to make. Blame the mesmerizing swirl, but they are just as delicious as they are pretty. I've always wanted to make a lemon version and my pink velvet recipe adapted nicely into a bright-tasting, lemon cream-filled cake.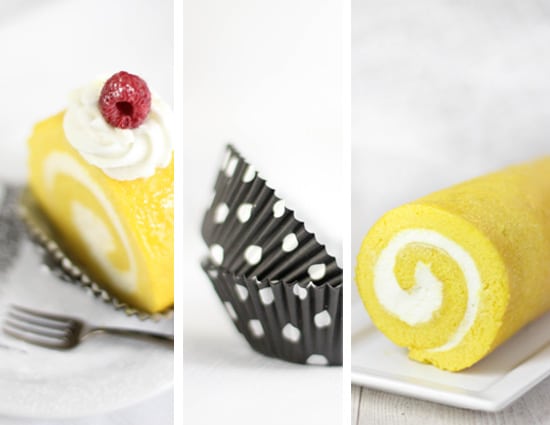 Making a cake roulade isn't as difficult as it looks, but if you're new to the task you can view my video full of visual cues here.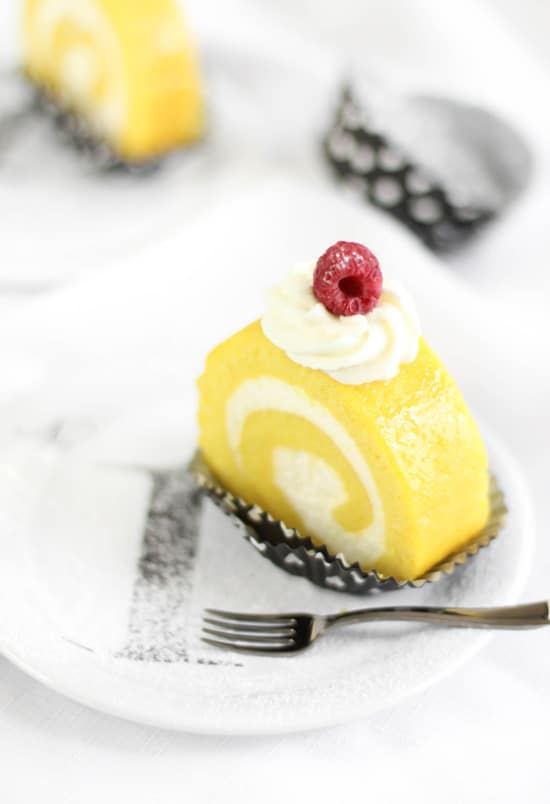 Recipe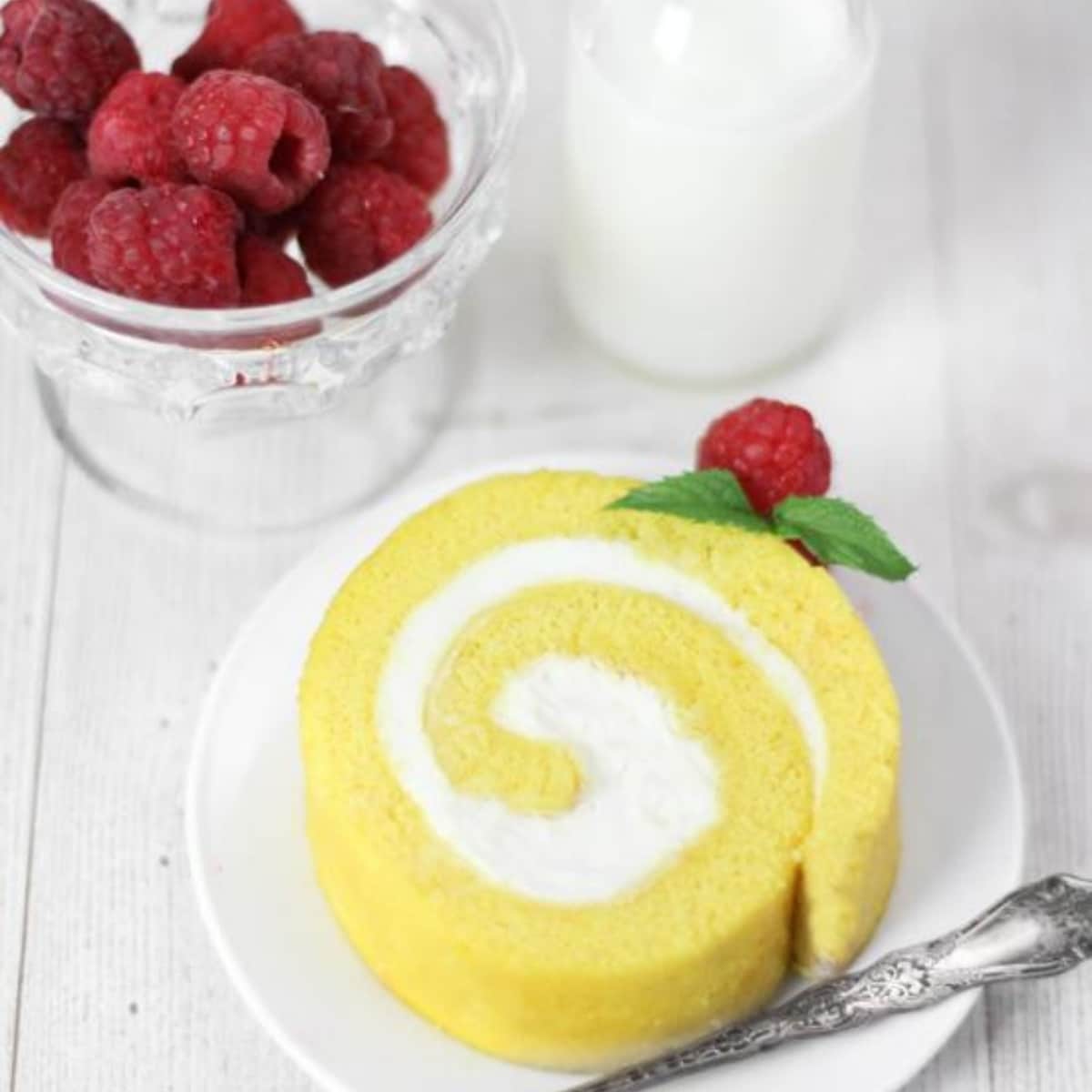 Instructions
Preheat oven to 350 degrees. Grease a 9x13 jelly-roll pan with white vegetable shortening and line with parchment; grease parchment paper.

In a large bowl, beat eggs with a hand mixer for 5 full minutes - set a timer for accuracy. Properly whipped eggs will lighten in color considerably and have the appearance of yellow cake batter.

With the mixer still running, slowly add sugar and oil to the whipped eggs. Next, add buttermilk, lemon extract and food coloring (add food coloring a little at a time until desired color is achieved).

Sift together flour, baking powder and salt. Slowly add to the liquid ingredients. Mix until well combined.

Pour batter into prepared pan and tilt pan to distribute batter evenly.

Sprinkle a cotton tea towel with powdered sugar and rub sugar into the towel with your hands. Terry-cloth towels and towels with texture (such as waffle pattern) are NOT ideal for making cake rolls.

Bake for 12-15 minutes. Check at 12 minutes. Cake is done when it springs back when pressed with fingers.

When cake is baked turn it out onto the tea towel - do this without delay! Peel off parchment and immediately roll cake into the tea towel, beginning at the narrow end. Roll tightly and as evenly as possible. Place rolled cake on a wire rack seam-side down and let cool completely.

Pour heavy whipping cream into a large bowl and beat on high speed with an electric mixer. Gradually add in half the granulated sugar and beat until soft peaks form. Add the cream cheese and beat again, gradually adding the rest of the granulated sugar. Add extract and beat until stiff peaks form.

Carefully unwrap/unroll cake, allowing the most tightly rolled end to curl slightly. Frost inside with lemon cream and roll cake tightly. Cut into pieces with a serrated knife and serve.

Slices look pretty when garnished with sweetened whipped cream, mint sprigs and raspberries.
Nutrition
Calories:
276
kcal
Carbohydrates:
44
g
Protein:
5
g
Fat:
8
g
Saturated Fat:
3
g
Cholesterol:
97
mg
Sodium:
227
mg
Potassium:
134
mg
Sugar:
31
g
Vitamin A:
310
IU
Calcium:
60
mg
Iron:
1.2
mg
Craving more veg-friendly recipes?
Shop our collection of vegetarian and vegan cookbooks, including our new Vegan Thanksgiving and Vegan Christmas cookbooks!