Butter flavored with herbs and spices is just about the easiest thing you can make, but it sure takes corn-on-the-cob to the next level!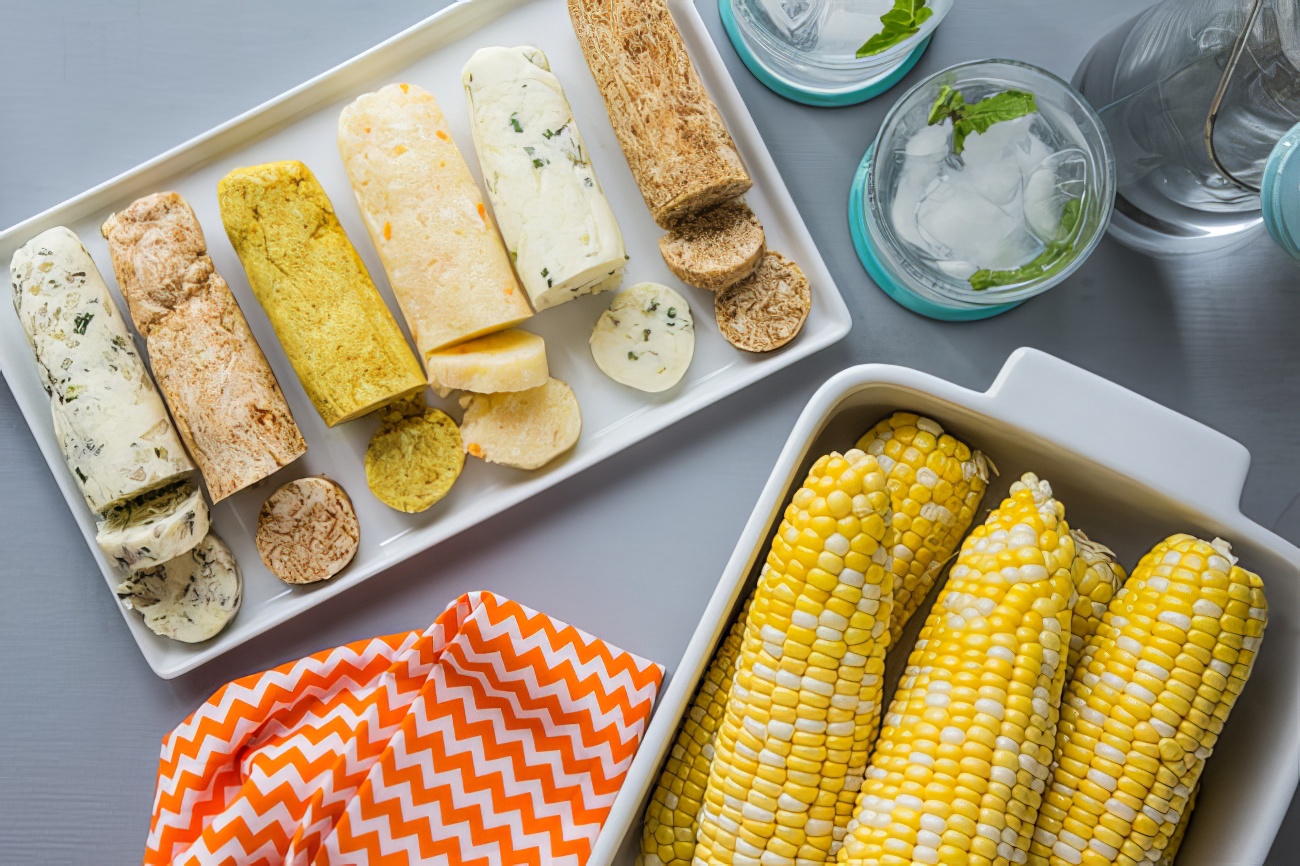 Jump to:
A few years ago, my family joined a local CSA. I had been wanting to join for a quite some time and I was excited about the challenge of cooking with whatever vegetables arrived in our weekly box.
We came across some new-to-us veggies that have now become regulars in our cooking rotation. Who knew that kohlrabi was so delicious? Last year, the CSA season started and was clipping along just fine, for a few weeks at least. But then the corn started.
Oh, the corn.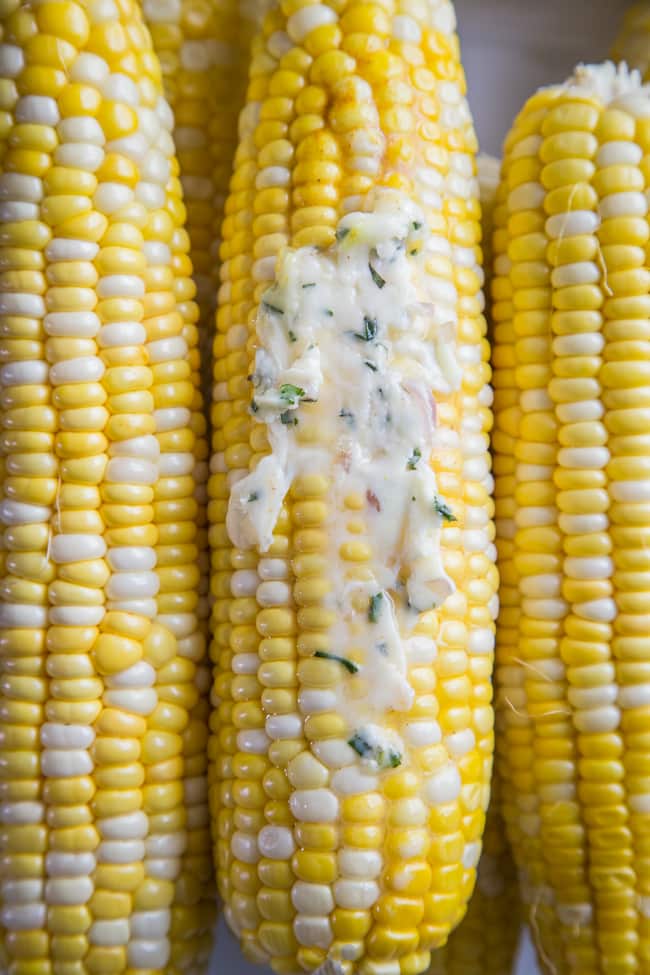 We began receiving six ears of corn a week, along with all of the other vegetables, for about ten weeks straight. That's a heck of a lot of corn.
Especially when it is just the three of us and the kid eats about a half an ear at a time. At first, we kept up with it by making salads and even baking a few batches of homemade cornbread. Even with the attempted variety, we quickly became anti-corn
The pile of uneaten corn grew in the fridge and I basically panicked and ignored it. Not the most productive use of the corn, I assure you.
With our CSA starting this week, I've got my game face on. I will not allow the corn to sneak up on me again and what I don't use right away, I'll freeze. Pinky promise.
There are some nights, however, that I don't want to commit to a full-blown recipe. I want to be able to prepare a few simple items for dinner and call it a night. That's where my compound butter plan comes into play.
Have you ever made compound butter? It sounds so fancy, but seriously, it's just flavored butter. That's right. Butter that you mix a few seasonings or ingredients into. The butter becomes a vehicle for whatever flavors you're in the mood for.
Better yet, you can make a few different types and freeze it to have on hand for whenever you need to add a little interest to your otherwise basic corn-on-the-cob or other roasted veggies. Compound butters can be made sweet or savory and used on all sorts of things: French toast, baked potatoes and of course, corn.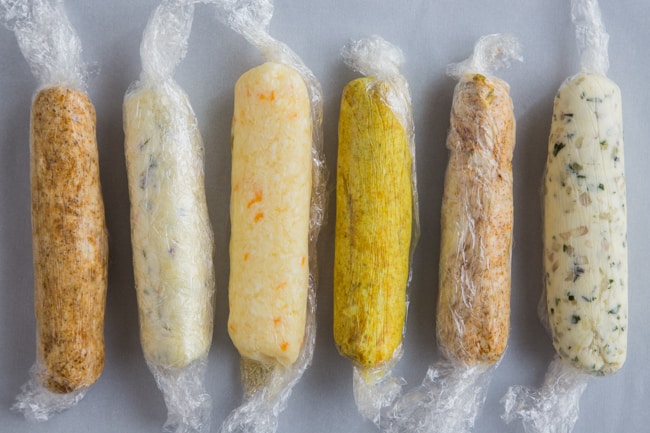 How to Make Compound Butter (It's Easy!)
Soften the Butter
For compound butter, you need to start with a softened butter. For each flavor, I use one stick of unsalted butter. To soften, you can place it on the counter overnight or pull it out of the fridge an hour or two before you want to make your compound butter.
I also have a "soften" button for butter on my microwave that I use in a pinch. Just be sure not to melt the butter.
Choose the Flavors
You can add just about any type of spice or herb to your compound butter. Raid your pantry for your favorite seasonings and dried spices. This is also a good way to use up some of the fresh herbs from your garden. Just be sure to chop any fresh ingredients (garlic, shallot, herbs) very small so that they mix nicely into the butter.
Think about the flavor pairings that you like and give it a try. The possibilities are endless.
By starting with unsalted butter, you can control the amount of salt in your final butter. I add about ½ teaspoon of salt per stick, but feel free to adjust that up or down according to your tastes.
Mix it Up
There are a few ways you can mix your compound butter. You can simply mash it up with a fork (my preferred method) or pop it into the food processor and give it a whirl.
When making more than one flavor at a time, I find it annoying to have to clean my food processor in between flavors, so that is why I typically go with fork mixing. But go with your gut on this one.
Chill
You can definitely serve the compound butter soft and spreadable after it's freshly made. However, I prefer to form it into logs with plastic wrap and pop it into the refrigerator. Just spread a piece of plastic wrap out and scoop the softened butter mixture on top.
Use the edges of the plastic wrap to fold over the butter and then use your hands to form it into a skinny log. Twist the ends and chill until firm.
The butters will last for 5 days in the fridge or up to about 6 months in the freezer.
To freeze, slice the log into small discs and place them into a freezer bag. Be sure to label the bag with the flavor of the compound butter and the date for future reference. Frozen compound butter can be used straight out of the freezer. Just pop it onto some hot corn and it will melt beautifully.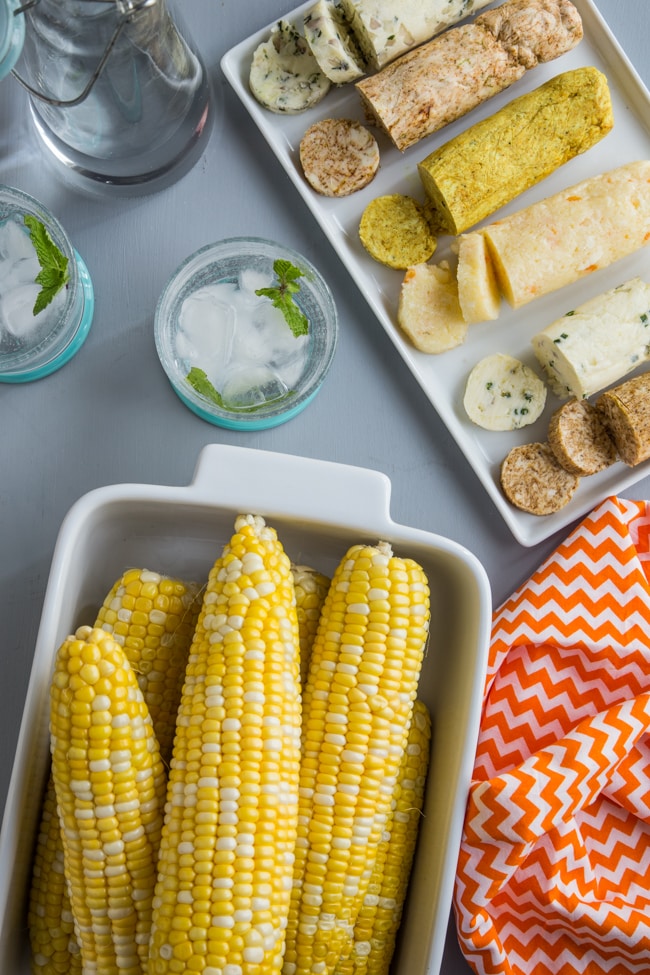 Flavor Combinations
You can mix together any number of combinations. Here are my favorite six compound butter flavors:
Chili Lime
1 stick unsalted butter, softened
zest of one small lime
¾ teaspoon chipotle chili powder
½ teaspoon kosher salt
Tarragon Shallot
1 stick unsalted butter, softened
2 tablespoons shallot, minced
1 tablespoon fresh tarragon, minced
½ teaspoon kosher salt
Honey Habanero
1 stick unsalted butter, softened
1-2 habanero peppers, seeds and ribs removed, minced
1 Tablespoon honey
½ teaspoon kosher salt
Indian Spice
1 stick unsalted butter, softened
1 teaspoon turmeric
1 teaspoon ground ginger
1 teaspoon ground cumin
½ teaspoon ground coriander
½ teaspoon cayenne pepper
¼ teaspoon cracked black pepper
½ teaspoon kosher salt
Old Bay (or Chesapeake Bay)
1 stick unsalted butter, softened
2 teaspoons Old Bay seasoning
1 teaspoon lemon zest
½ teaspoon kosher salt
Garlic Chive
1 stick unsalted butter, softened
1 clove garlic, minced
1 Tablespoon chives, minced
1 teaspoon lemon zest
½ teaspoon kosher salt
Have you ever made compound butter? What are your favorite flavor combinations?
Recipe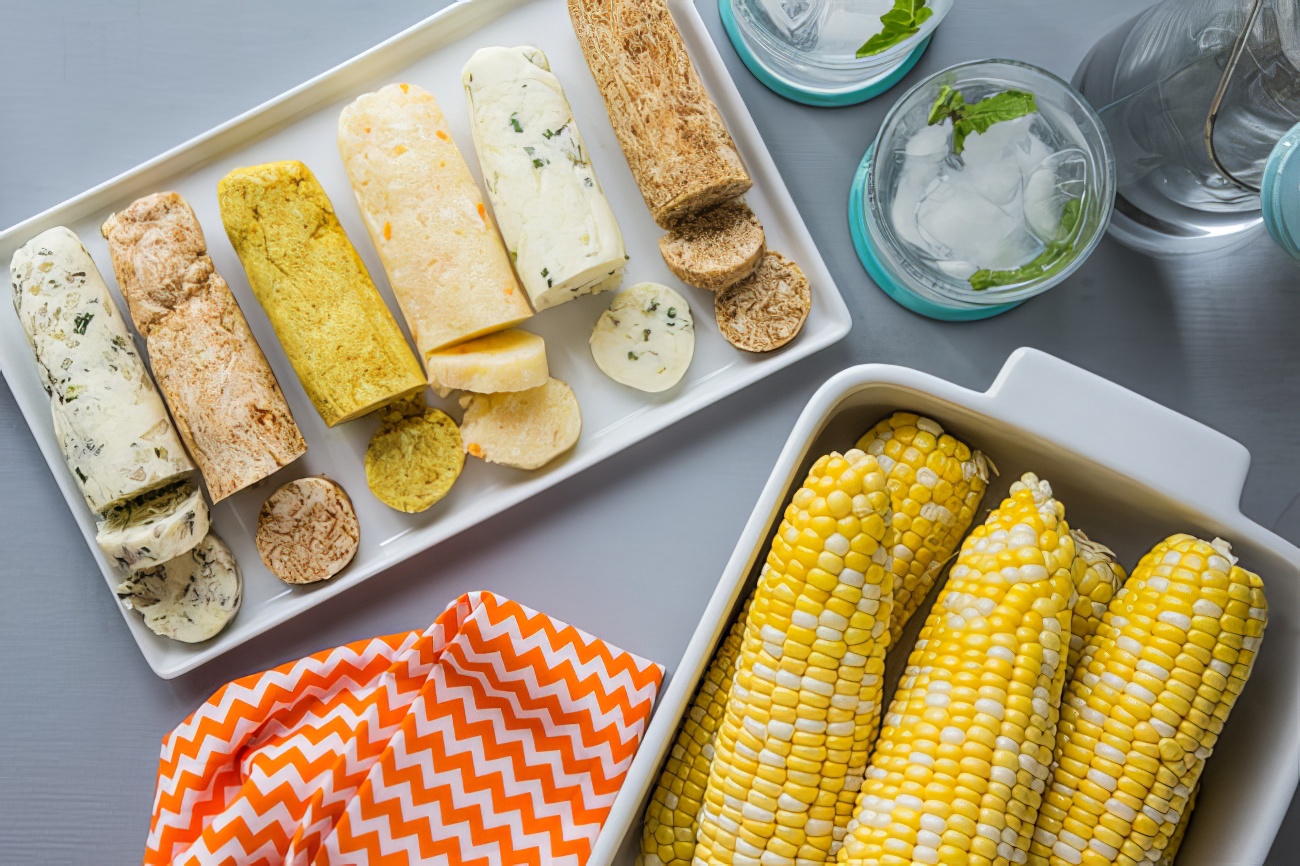 Ingredients
Instructions
Start with one stick of butter that has been softened to room temperature. You can soften the butter by leaving it on the counter overnight or removing it from the fridge 1-2 hours before using.

Choose your flavor from the list above. Place the softened butter on a clean work surface - I like to lay down a piece of wax paper for easier cleanup.

Mix the ingredients for your preferred flavor into the softened butter. You can simply use a fork to mash the salt, herbs, seasonings, and butter together.

The butter can be served soft at this point. Or you can choose to chill it. To chill - lay out a piece of plastic wrap, scoop the softened butter mixture onto it, and form the butter into a log shape. Wrap the plastic wrap around the butter log and chill in the refrigerator.
Notes
The compound butter will last for 5 days in the fridge or up to 6 months in the freezer. To freeze, slice the chilled butter log into discs, freeze them on a baking sheet, and store the frozen discs into a freezer bag.
Nutrition facts are per tablespoon. 
Nutrition
Calories:
102
kcal
Carbohydrates:
0.01
g
Protein:
0.1
g
Fat:
11
g
Saturated Fat:
7
g
Polyunsaturated Fat:
0.4
g
Monounsaturated Fat:
3
g
Trans Fat:
0.5
g
Cholesterol:
30
mg
Sodium:
2
mg
Potassium:
3
mg
Sugar:
0.01
g
Vitamin A:
354
IU
Calcium:
3
mg
Iron:
0.003
mg
Craving more veg-friendly recipes?
Shop our collection of vegetarian and vegan cookbooks, including our new Vegan Thanksgiving and Vegan Christmas cookbooks!