We've found a few simple recipes for you to try from among the countless different ginger tea variations available. These 8 great ginger tea recipes are sure to refresh your health and your life!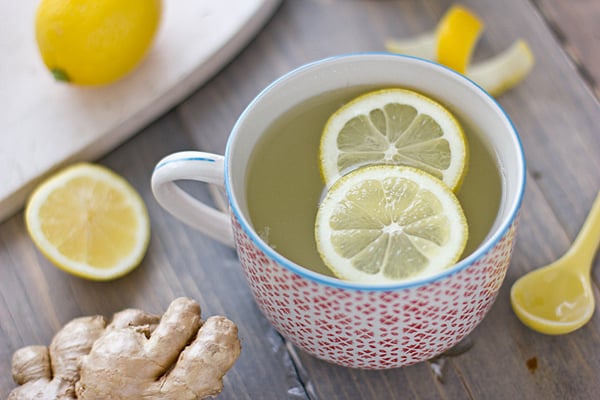 Nothing wakes up the senses more than an aromatic, spicy slice of fresh ginger! This versatile root is often found in Asian and Indian cuisine and grated, ground, pickled, candied, and dried into numerous other dishes worldwide.
The most refreshing use of ginger by far, however, has to be the highly beneficial and delicious ginger tea! Ginger tea can be made a variety of ways and served either hot or cold. Just remember to choose high quality ginger root with smooth skin and only add other ingredients if fresh whenever possible. Enjoy!
Ginger & Mint Sun Tea
If you've never made sun tea before, now is the time to try! Ginger & Mint Sun Tea is a summer favorite that requires hot sunlight for several hours, a little fresh mint, and some fresh crushed ginger root. Let it steep, let it cool, add some ice, and serve it up! This tea is super easy to make and extra refreshing. Enjoy it while sunbathing or sip some under the shade of your favorite tree!
Turmeric Ginger Tea
Said to boost immunity (which can help you fight the common cold and ease a cough), Turmeric Ginger Tea is a comfort for those feeling a bit under the weather. Be careful when using turmeric as it can easily stain your clothing or anything else it touches—including your fingers!
Ginger Morning Tonic
This Ginger Morning Tonic gets you ready to rock in the morning! Serve this piping hot health tea with a dash of cayenne. You know you won't fall back asleep after a few sips of this detoxifying blend!
Lemon Ginger Tea
The easiest tea on this list yet, Lemon Ginger Tea is just fresh lemon and fresh ginger mixed together! This delightful tea is a must for anyone who is congested or just needing a quick pick-me-up.
Cardamom Cinnamon Turmeric Iced Tea
Vegan, gluten-free, and soy-free, this divine Cardamom Cinnamon Turmeric Iced Tea is made by first brewing up the tea and then pouring turmeric 'milk' over it. To help you out, there is a step-by-step guide with pictures included.
Adrak Tulsi Chai (Ginger Holy Basil Tisane)
Also known as holy basil tea, tulsi chai is full of antioxidants believed to support a healthy metabolism. Drink this freshly made Adrak Tulsi Chai on an empty stomach for best results.
3-Ingredient Ginger Latte
Although not technically a "tea", this 3-Ingredient Ginger Latte is fully vegan, gluten-free, uber tasty, and can easily replace your morning java. You'll need a whole cup of fresh ginger for this one!
Golden Milk
You have to make this Golden Milk! Mix the blend in a saucepan with ground ginger and turmeric (used for its anti-inflammatory properties!) and sip slowly. This recipe's creator also shares a quicker replacement recipe for those who don't have a lot of time to spend stirring at the stove.