Sheet pans are having a moment, and we are here for it. Once a kitchen tool relegated to holiday cookie baking, they're finally getting the due they deserve when it comes to being the star of The Big Show: Dinner.
Veggie lovers have long known the beauty of a tray of roasted vegetables. Imagine the deep flavors of caramelized carrots, the crispy/creamy contrasts of roast potatoes, the hearty, stick-to-your-bones goodness of roast squash and cabbage. If you've found yourself in a dinnertime rut (and short on time and patience), Raquel Pelzel's new cookbook, Sheet Pan Suppers Meatless is here to bring a little joy back into your life.
The book boasts "100 surprising vegetarian meals straight from the oven," and believe us when we tell you that it delivers. Whether you're looking for something to start your day (like the Slab Quiche with Spinach, Goat Cheese, and Caramelized Onions, shared below for you to try at home), or something savory to serve at a tailgate (looking at you, Chili Nachos), Sheet Pan Suppers Meatless has you covered.
The recipes in the book also lend themselves nicely to composed dishes, changing the way you can approach everything from soups and salads to desserts. Each recipe comes with suggested pairings that complement the flavor profiles, making meal planning a breeze. The dishes are simple enough to qualify for weeknight meals but elegant enough to make you look like a star at your next dinner party. (especially the I Can't Believe It's Mushroom Risotto, which is precisely what your Mother-in-Law will be saying if you serve this to her over the holidays-- in a good way.)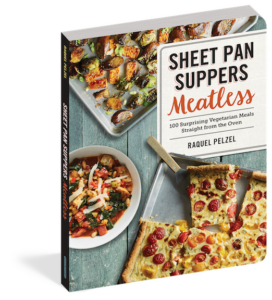 You'll also become a better and more intuitive cook with the tips and tricks Pelzel has tucked into the margins and sidebars, covering everything from how to get the best grate on your ginger to mastering the perfect cauliflower rice texture. Working your way through the book, you'll find that your confidence in the kitchen will grow, your dirty dishes will lessen, and your winter menus will be immune to the cold-weather doldrums. What more could you ask for?
A giveaway, of course. Our friends at Workman Publishing are sponsoring a contest to win a copy of sheet pan suppers, a Sur la Table baking tray, and a Kate Spade cookbook oven mitt. Head over to this post and fill out the form for your chance to enter, and let us know what you think of the Slab Quiche with Spinach, Goat Cheese, and Caramelized Onions. (We're dying to know if you loved it as much as we did.)