Whip up a batch of these Cauliflower Nuggets for an easy lunch, snack, or appetizer. Here is a healthy cauliflower nugget recipe that is extra crispy—perfect for dipping in your favorite sauce.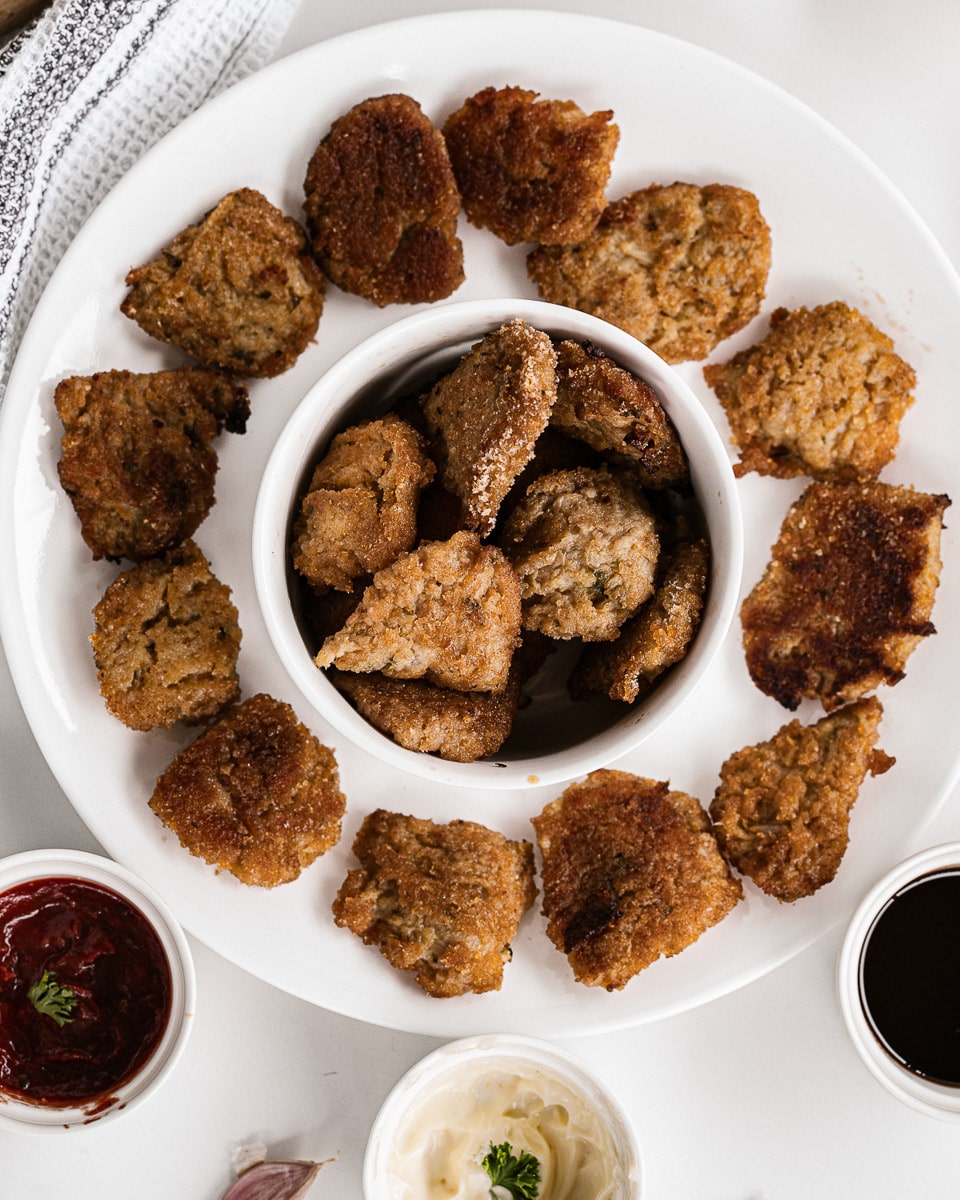 Breadcrumbs, spices, flour, and cauliflower form together to make these nuggets that you bake to crispy perfection. These nuggets pair great with veggie burgers and homemade fries.
These Cauliflower Nuggets Are...
Vegetarian 
Gluten-free 
Easy to make 
Freezable
Storable for leftovers 
Kid-friendly 
How to Make Cauliflower Nuggets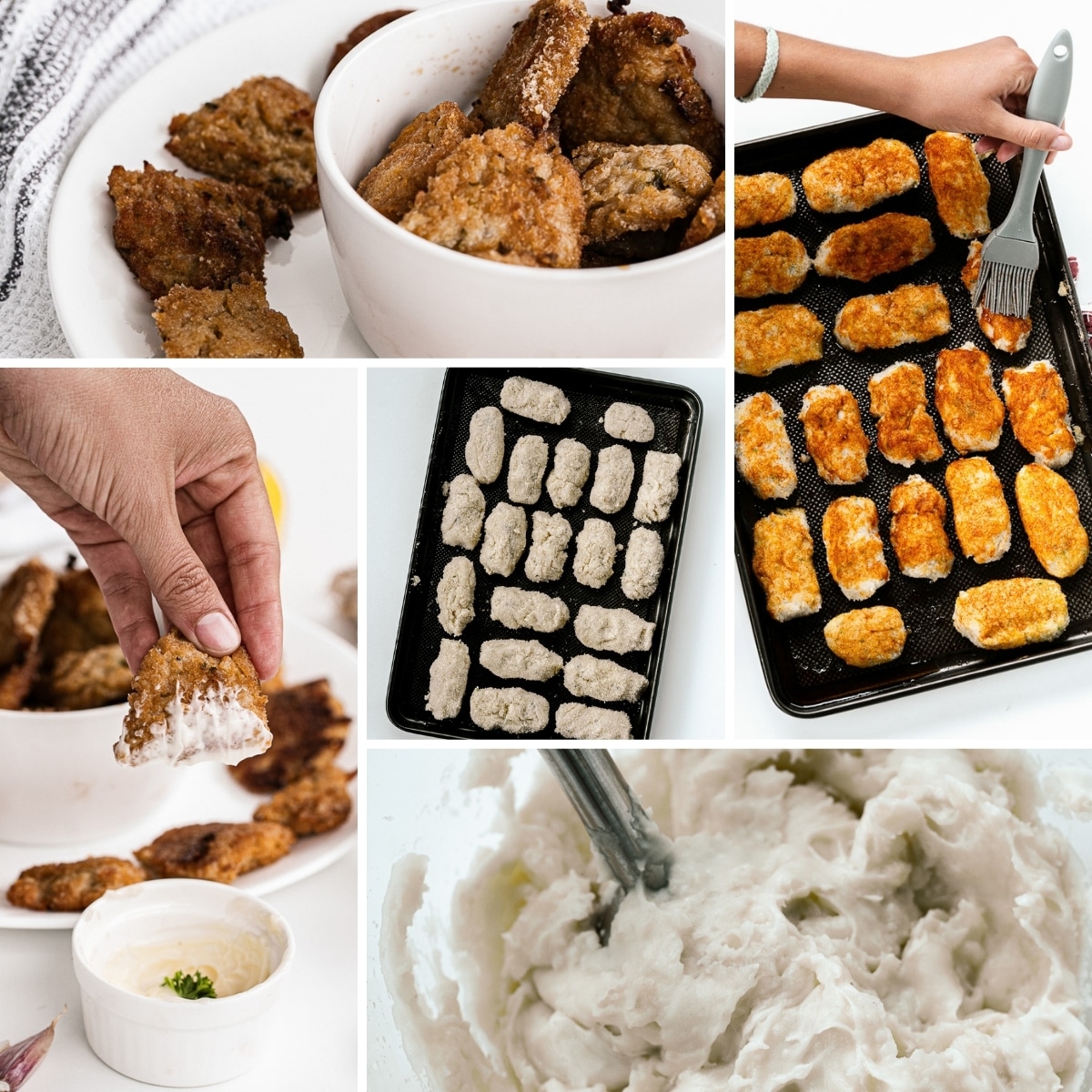 Spray the baking sheet with cooking spray and preheat your oven. 
Then dice the cauliflower, place in a steamer basket, and cook till tender. 
Combine cauliflower, flour, parsley, salt, baking powder, and garlic powder in a food processor.
Form cauliflower mixture into nugget shapes, and dredge in breadcrumbs. 
Place nuggets on baking pan, brush with oil mixture, and bake as directed. 
Once crispy, remove from the tray and serve. 
Full directions for these easy Cauliflower Nuggets are in the printable recipe card below. 
Tips & Tricks for Cauliflower Nuggets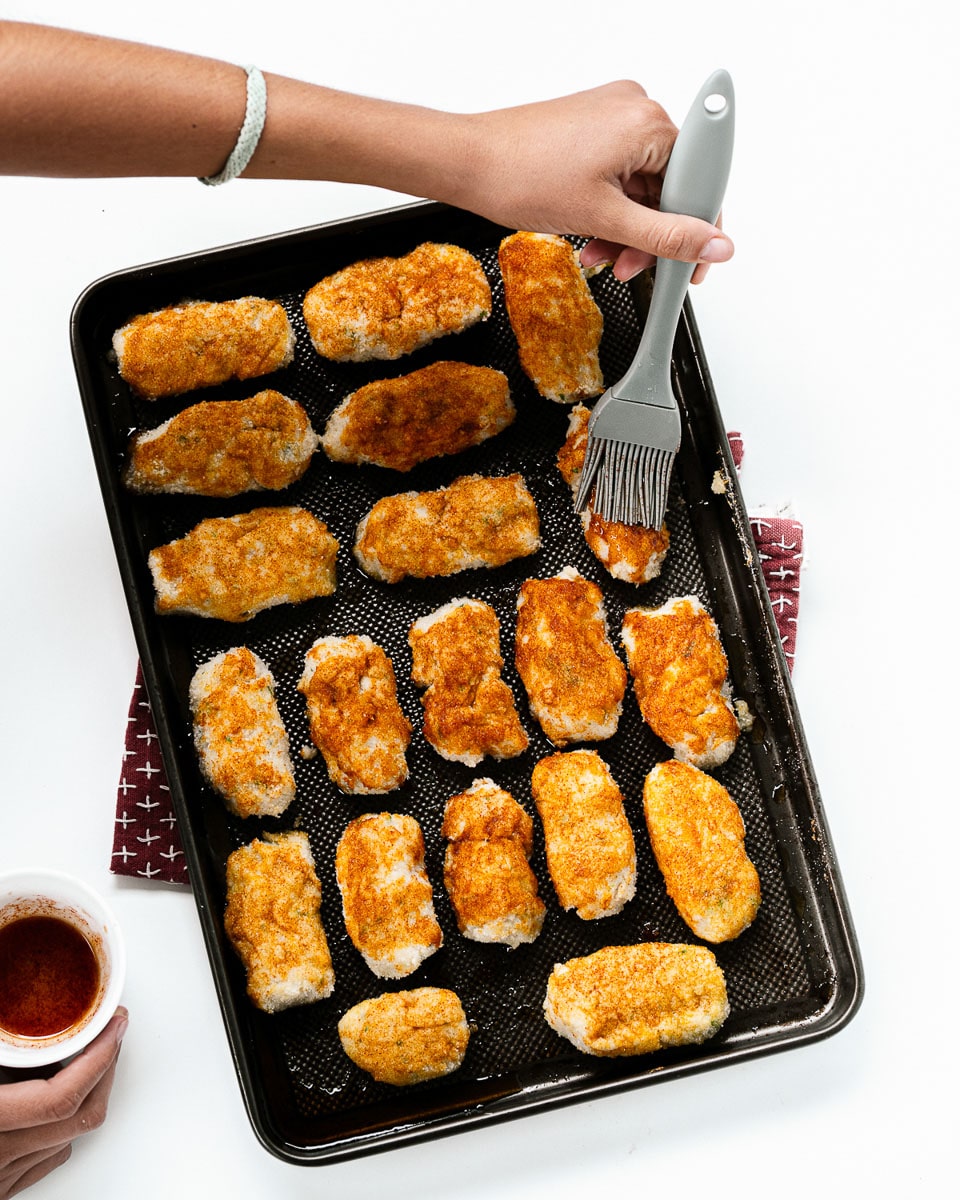 Work the Cauliflower Mixture
After mixing up your nugget mixture in the food processor, the mixture will be very wet. But the longer it sits out, the harder it will get—but it will still remain moist. Wait to form the mixture into nuggets until mixture's temperature has cooled down.
Cookie Scoop
Use a cookie scoop—or even a measuring cup—to scoop up the cauliflower mixture. This will help you to form evenly sized nuggets. Having nuggets of similar size will help you get an even cook on the nuggets. 
Air Fryer
I baked these nuggets in the oven, but you can also air fry them. Place the nuggets on your air fryer tray, then fry at 350°F for 5 minutes, flip, and cook another 5–10 minutes or until crispy. 
Variations To Cauliflower Nuggets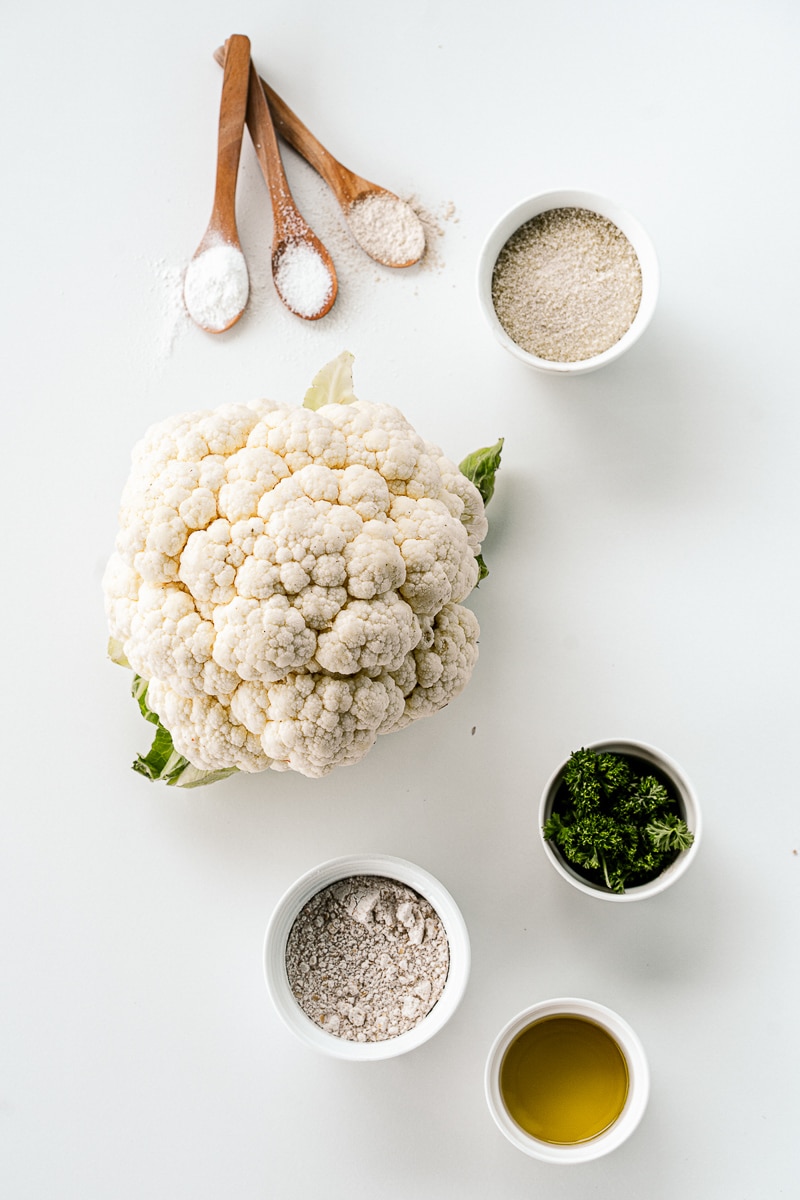 Add Cheese
Consider adding cheese into your cauliflower mixture. Parmesan is a great cheese to try—or even mozzarella! I recommend adding ¼–⅓ cup of parmesan cheese.
Spices
Add in different spices to alter the flavor. You could also try adding in some hot sauce for a buffalo-style cauliflower nugget bite. 
Cauliflower Nuggets FAQs
How to store leftover Cauliflower Nuggets? 
These nuggets can be stored in an airtight container for up to 1 week in the fridge. Just place your nuggets in a Tupperware or sealable bag.
Can you freeze Cauliflower Nuggets? 
You can either freeze the nuggets raw or after they've been cooked. 
Freezing raw nuggets: Simply form and flash freeze raw nuggets on a cookie sheet for an hour. Then place the frozen nuggets in a container and store in the freezer for 3–4 months. When you're ready to cook them, heat the oven to the same temperature, and add some extra minutes for baking. 
Freezing cooked nuggets: Place cooked nuggets in a container and freeze for up to 3–4 months. To reheat nuggets, simply warm up in the microwave—or in the oven for a crispier texture. 
Can I use cauliflower rice to replace a head of cauliflower?
Want to skip some prep? Put some cauliflower rice in the food processor to replace the cooked cauliflower. Mix and assemble nuggets as you would. 
Recipe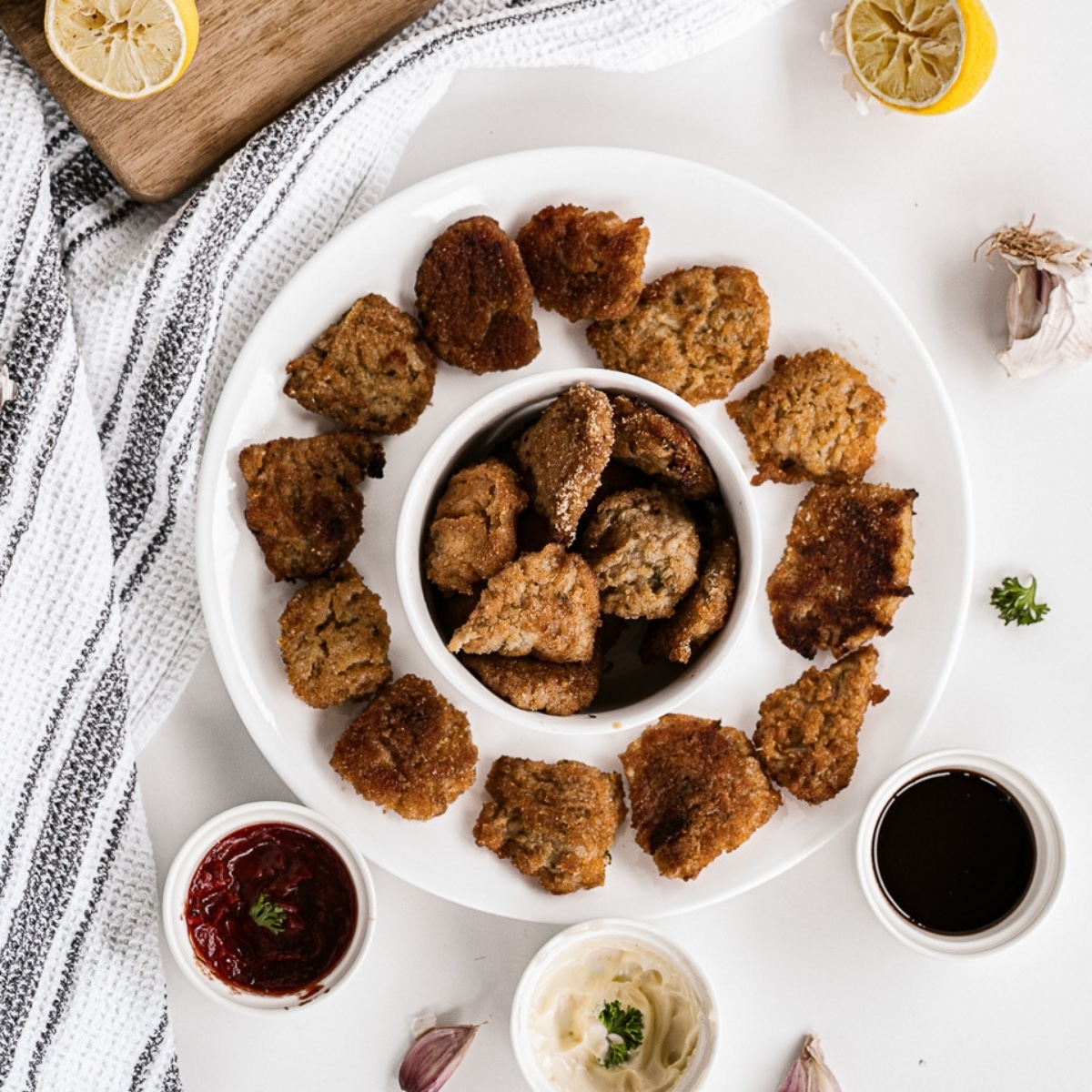 Instructions
Spray a baking sheet lightly with cooking spray.

Chop the cauliflower head into florets. Set a steamer basket over a large pot with a lid. Fill the pot with enough water to reach just below the basket. Add the cauliflower into the steamer basket. Bring the water to a boil. Reduce water to a simmer, cover pot, and let the cauliflower cook for 10–15 minutes, until fork tender.

In a food processor, combine the cauliflower, flour, parsley, salt, baking powder, and garlic powder.

Allow the mixture to cool for a bit. It will harden up but remain moist.

Pour the breadcrumbs into a small bowl.

Using your hands, shape the cauliflower mixture into nuggets (small ones work best). Roll each nugget in the breadcrumbs.

Spread the nuggets on the baking sheet, leaving one inch of space between them—they will spread a little as they bake.

Optional: Whisk 1 tbsp of olive oil with 1 tsp of smoked paprika and brush over the top of the nuggets.

Bake nuggets for 15 minutes on each side (total 30 minutes), or until their edges begin to brown.
Notes
Keep these nuggets in the fridge—in a covered, airtight container—for up to one week.
Nutrition
Calories:
279
kcal
Carbohydrates:
46
g
Protein:
9
g
Fat:
7
g
Saturated Fat:
1
g
Sodium:
826
mg
Potassium:
646
mg
Fiber:
5
g
Sugar:
5
g
Vitamin A:
562
IU
Vitamin C:
74
mg
Calcium:
135
mg
Iron:
3
mg
Craving more veg-friendly recipes?
Shop our collection of vegetarian and vegan cookbooks, including our new Vegan Thanksgiving and Vegan Christmas cookbooks!