why we love everyday detox
Maybe you equate "detoxing" with "starving," but Megan Gilmore of Detoxinista is all about food. As in, real food that you want to eat that just happens to be really good for you. Any detox-focused book that dares to put pizza on its cover is A-OK with us, and one that includes several chocolate recipes is even better. Everyday Detox does both of those things, and features healthier spins on other comfort foods like broccoli-cheese soup and Ranch dressing. The recipes are focused on bettering digestion through ideal food combinations, and each includes a handy key to whether it's vegan, gluten free, etc. The photos are stunning, and really showcase just how simple the recipes are. This is detox food we can totally get behind!
about everyday detox
In this healthy guide to detoxing naturally, nutritionist and blogger Megan Gilmore shares 100
delicious recipes that will help readers
lose weight, improve digestion, sleep better, and feel
great
, featuring recipes for every meal of the day. While most diets and cleanses have all-or-nothing
rules that encourage unhealthy cycles of intense restriction followed by inevitable bingeing,
Everyday
Detox
is a healthy guide to detoxing naturally.
Because the recipes were developed with digestion mechanics in mind, detoxers won't feel bloated or
uncomfortable after eating. And
crowd-pleasing recipes
—such as Banana Coconut Muffins,
Chocolate Chia Shake, Broccoli Cheese Soup, Mediterranean Chopped Salad,
Cauliflower Flatbread Pizza, and Peppermint Fudge Bars—are packed with
all-natural, whole-foods ingredients designed to stave off feelings of
deprivation. With helpful information on how to
stock your detox-friendly
kitchen
, plus a handy food-combining cheat sheet that demystifies this
cutting-edge health principle,
Everyday Detox
makes it easy to start eating
this way today.
Megan Gilmore is the founder of Detoxinista.com, a certified holistic health
counselor, and a new mom. She trained at the Institute for Integrative Nutrition
and with clinical nutritionist and detox expert Natalia Rose on detox counseling.
Everyday Detox Pre-Order Bonus
Through June 2nd, if you pre-order Everyday Detox, you'll get a bonus:
A recipe e-book filled with seven exclusive recipes that can't be found anywhere else– not in the cookbook or on the blog
A week's worth of free streaming workouts from Physique 57
Cauliflower Flatbread Pizza Recipe
Traditional pizza can be a digestive disaster, since it usually combines a starchy crust with gluey cheese, but this cauliflower version digests seamlessly and is just as satisfying. The key to getting a truly flatbreadlike crust is wringing out the cauliflower thoroughly, removing as much moisture as possible. You'll be amazed at the dry texture of this low-carb and protein-rich alternative, which can be enjoyed with your favorite pizza toppings or used as a flatbread for sandwiches. Because this process can be a bit labor-intensive, you may want to double or triple this recipe and freeze the extras for a quick pizza night in the future.
Recipe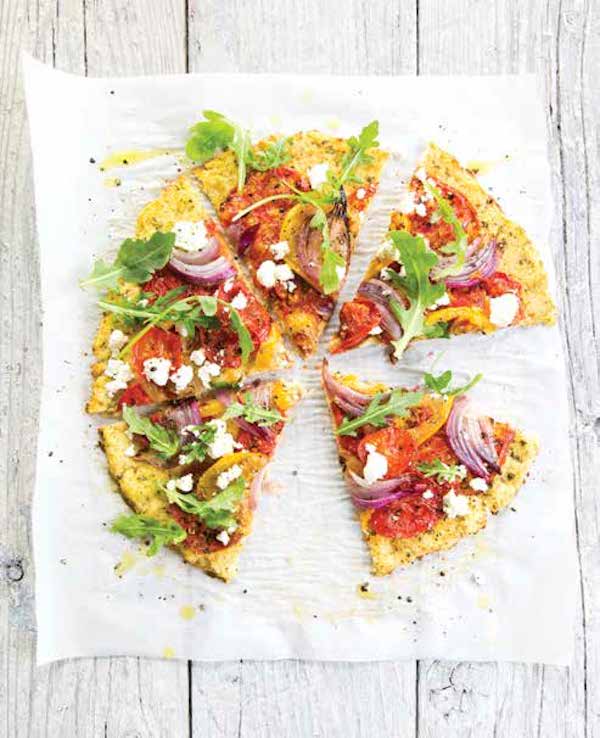 Servings:
2
to 4 servings
Ingredients
2

pounds

frozen cauliflower florets

thawed

1

egg

lightly beaten

½

cup

chèvre

soft goat cheese

2

teaspoons

dried oregano

1

teaspoon

dried basil

½

teaspoon

sea salt
Instructions
Preheat the oven to 400ºF and line a baking sheet with parchment paper.

In a large food processor fitted with an "S" blade, pulse the cauliflower florets several times, until a ricelike consistency is achieved. Pour the cauliflower into the center of a thin dish towel, then twist it up and use your hands to firmly wring out moisture. Quite a lot of liquid should be released, leaving you with a dry lump of cauliflower pulp.

Place the cauliflower pulp in a large mixing bowl and mix in the egg, chèvre, oregano, basil, and salt, stirring well to create a uniform mixture.

Transfer the cauliflower mixture to the baking sheet and use your hands to press the crust firmly into a large circular or rectangular crust, about ¼ inch thick. Be sure to pack the cauliflower mixture together firmly and evenly, leaving no thin spots where the crust may crack.

Bake for 30 minutes, until the top is dry and golden, then carefully flip the crust over and bake for another 10 minutes. Use immediately as a pizza crust or allow the flatbread to cool and slice it to use as sandwich bread.

To complete the pizza, add your favorite sauce and toppings and then bake for another 10 minutes at 400ºF, until the topping are heated thoroughly. Slice and serve hot.
Nutrition
Calories:
301
kcal
Carbohydrates:
24
g
Protein:
22
g
Fat:
15
g
Saturated Fat:
9
g
Polyunsaturated Fat:
1
g
Monounsaturated Fat:
4
g
Trans Fat:
1
g
Cholesterol:
108
mg
Sodium:
958
mg
Potassium:
1440
mg
Fiber:
10
g
Sugar:
9
g
Vitamin A:
743
IU
Vitamin C:
219
mg
Calcium:
235
mg
Iron:
5
mg
Craving more veg-friendly recipes?
Shop our collection of vegetarian and vegan cookbooks, including our new Vegan Thanksgiving and Vegan Christmas cookbooks!