Yes! It just takes a few creative substitutions to make an incredible batch of vegan brownies.
A perfect brownie is dense, soft, and fudgy. Traditional brownie recipes use ingredients like eggs and butter to emulsify and bind, giving brownies their dense texture. Those ingredients are not vegan-friendly!
So we have to make a few simple swaps! (Or skip right over to my own vegan brownie recipe here.)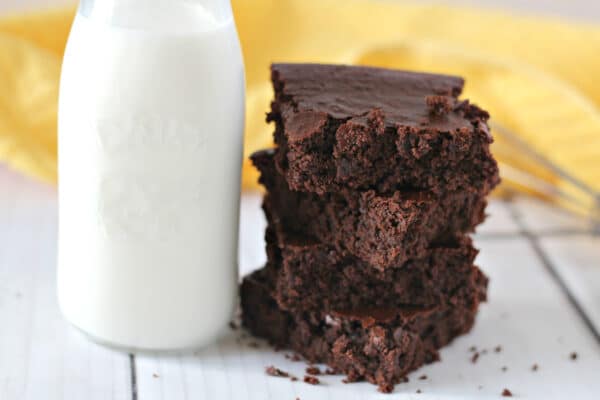 Vegan Egg Substitute for Brownies
There are tons of vegan friendly options for replacing eggs.
If you are trying to replace the moisture from eggs - try applesauce! That's my personal favorite, which I use in my vegan brownies. It's slightly sweet and gives baked goods a really rich texture. Substitute ⅓ cup of applesauce for each egg in the recipe.
If you need the "sticky factor" of an egg, try making a flax egg instead. A flax egg is simply 1 tbsp of ground flax seed mixed together with ⅓ cup of water. It has a consistency that is similar to a beaten egg. That's the trick to vegan-izing my olive oil brownies.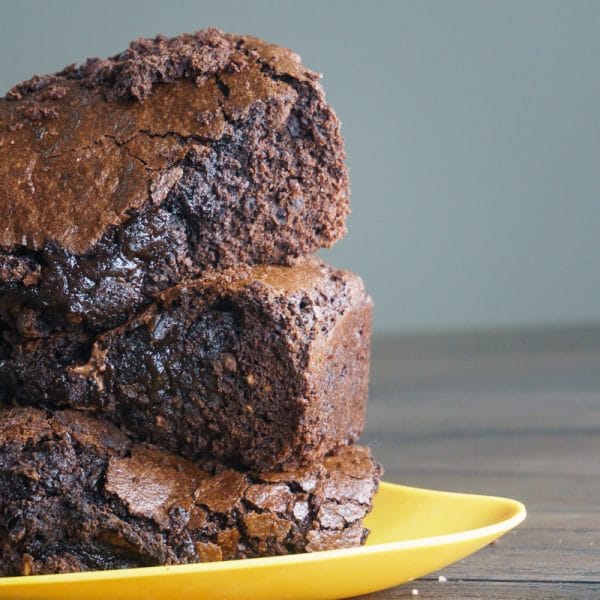 Vegan Butter Substitute for Brownies
The easiest replacement for butter in a brownie recipe is oil! You can use just about any oil that you prefer. I love to use coconut oil, with it's fresh slightly coconut-y flavor.
But you can also use a regular vegetable oil or even olive oil. In fact, olive oil brownies are a popular treat - they come out incredibly rich and moist!
Vegan Milk Substitute for Brownies
Some brownie recipes will call for milk. And if you come across that - just swap it for your favorite dairy free milk. I like to use almond milk, which has a pretty neutral flavor and doesn't change the taste of the brownies too much!
Use Vegan Cocoa Powder
Skip the recipes that call for melting milk chocolate - those are not vegan friendly! Instead, look for recipes that call for cocoa powder or raw cacao.
Cacao is the plant that produces the cocoa bean, which is what we make chocolate from. And of course, it's a plant, so it's naturally vegan. Milk chocolate has added ingredients (like milk obviously), which is why vegans stick to dark chocolate.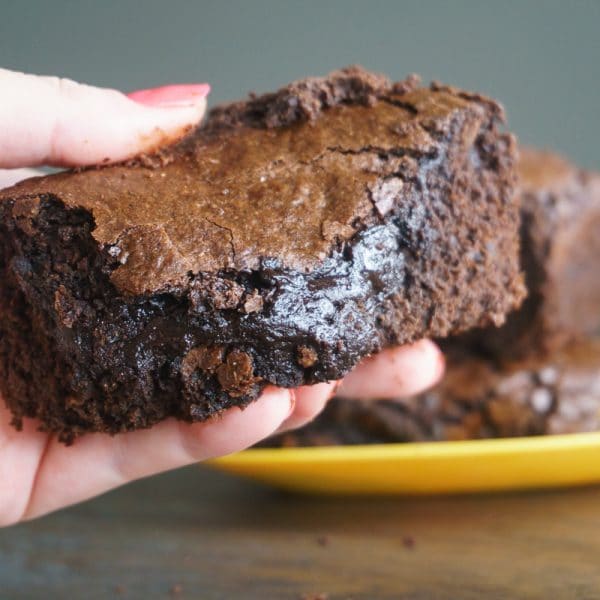 So there you have it! With a bit of creativity, and a little bit of brownie science, you can have incredible homemade vegan brownies. Happy cooking.