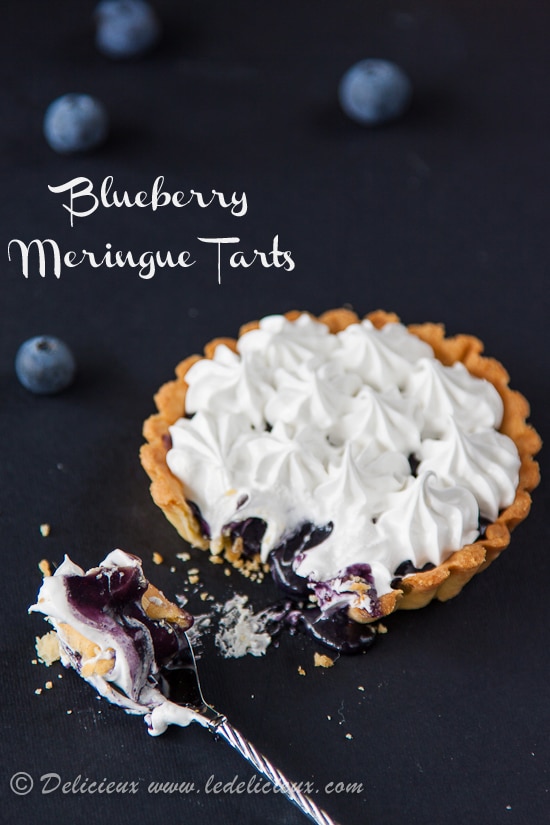 I've been going a little bit nuts at the green grocer lately, making the most of the summer bounty of fruit. So with 4 punnetts of blueberries in the refrigerator I knew I had to do something with them other than enjoy them in my lunch time bowl of yoghurt and make blueberry cake.
One of my all time favourite desserts is lemon meringue pie, so I thought why not try Blueberry Meringue Tarts.
These gorgeous little tarts are filled with a blue black blueberry curd which is oh so pretty. Italian meringue tops the blueberry meringue tarts, making for a sweet marshmallowy and snow white topping that contrasts beautifully with the dark as night blueberry curd filling.
As for the base, I actually tried a coconut oil tart base before coming back to my old faithful recipe as my coconut oil tart bases shrunk drastically on baking. I guess the heat and humidity here in Brisbane at the moment weren't necessarily helping either. I also found that while the coconut oil tart bases were crisp when they came out the oven they soon went soft. So it was my old faithful pastry to the rescue, which isn't necessarily a bad thing. Anyone have a really great coconut oil pastry recipe they recommend?
So take a break from lemon meringue pies and try these blueberry meringue tarts. And despite appearances they are nowhere near as difficult as you might think.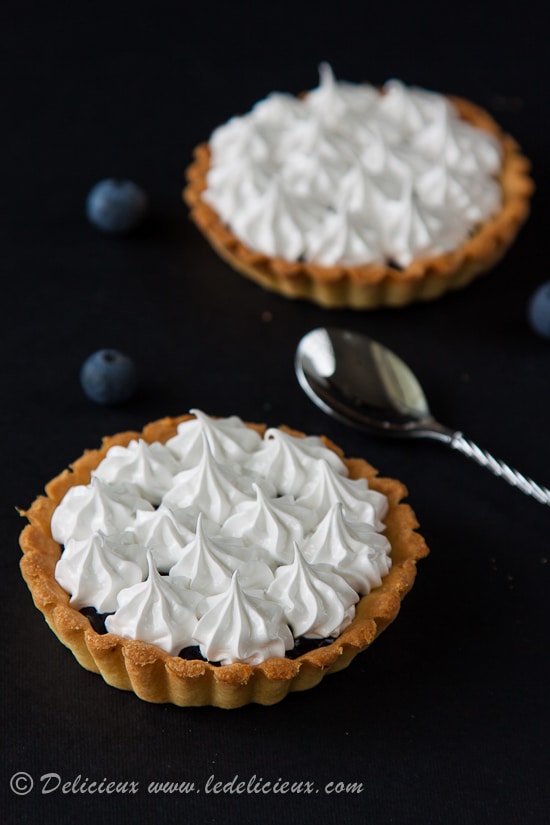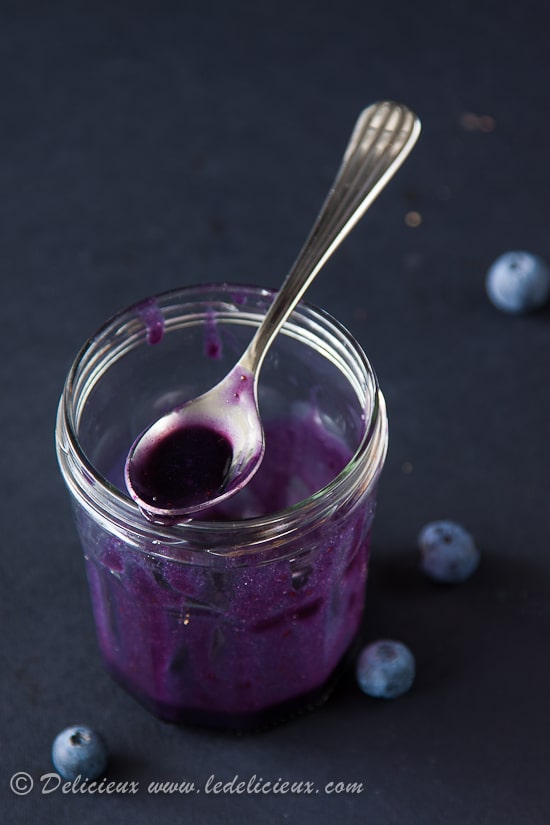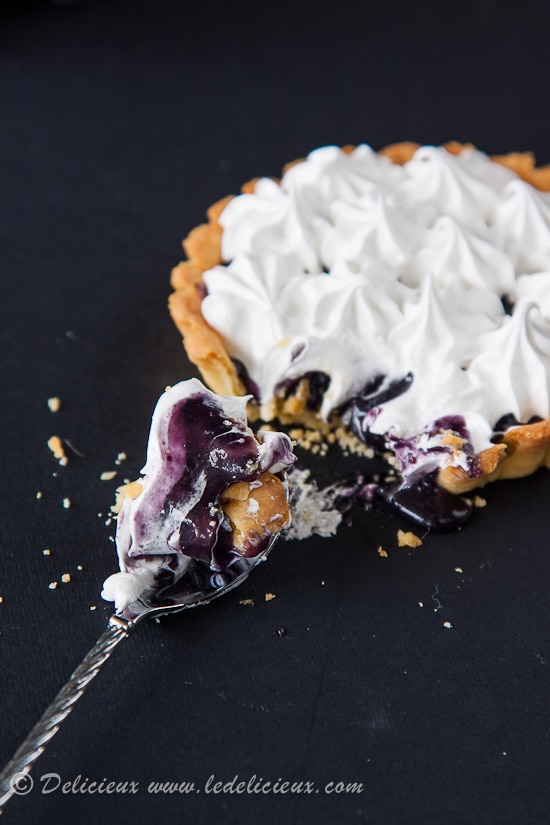 Recipe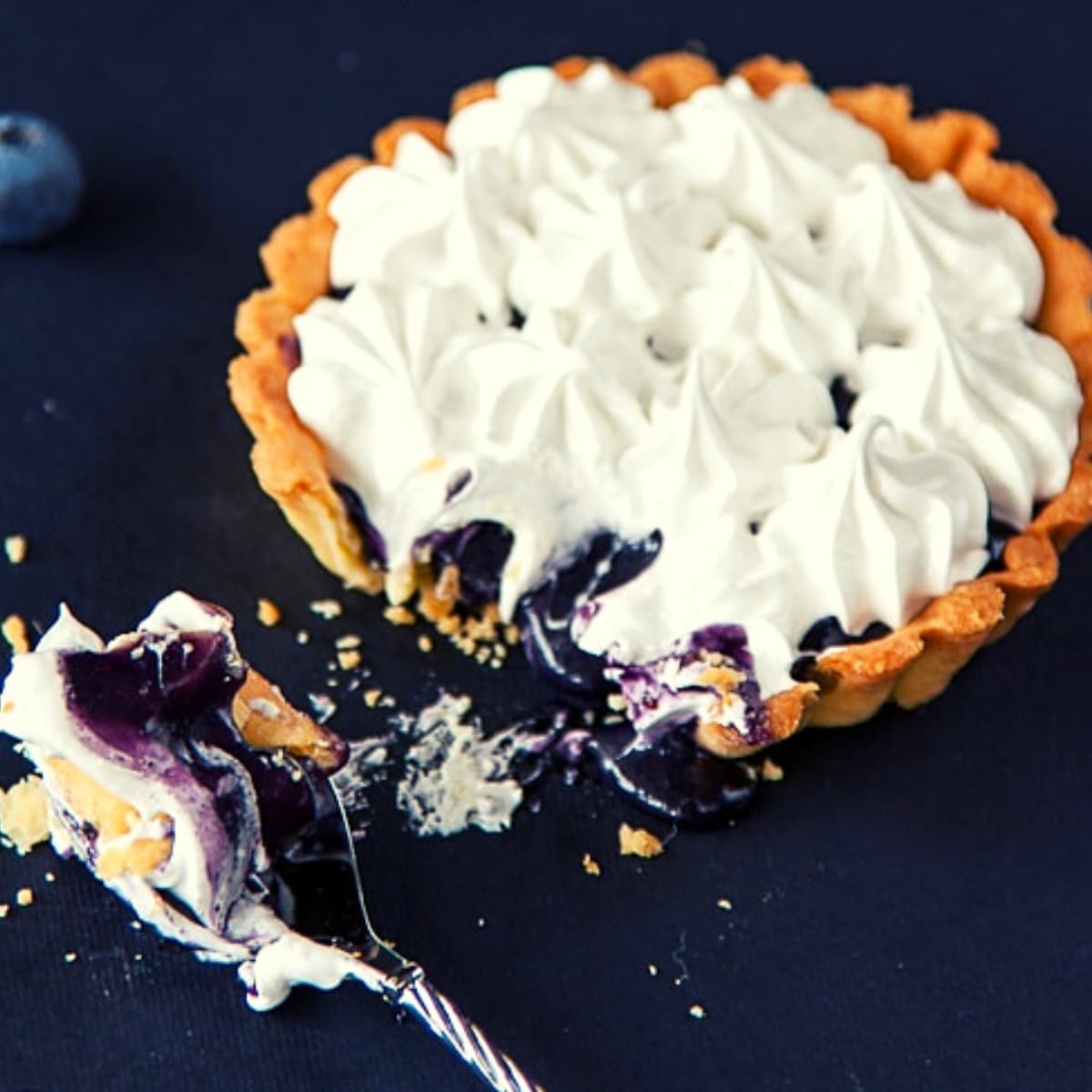 Ingredients
BLUEBERRY CURD:

125

g

of blueberries

5 ounces

1

tbs

of water

1

egg

plus 1 egg yolk

90

g

of caster sugar

3 oz, superfine

40

g

of butter

3 tbs

PASTRY:

200

g

of plain flour

sifted, 1 ⅔ cups, all purpose

30

g

of icing sugar

sifted, ¼ cup, powdered

75

g

of chilled unsalted butter

chopped into cubes, 5 ¼ tbs

1

egg yolk

60

ml

of cold water

¼ cup

ITALIAN MERINGUE:

180

g

of caster sugar

¾ cup, superfine

2

tbs

of water

2

egg whites
Instructions
Begin by making the blueberry curd. Place the blueberries in a small saucepan with the water over a medium low heat and cook until the berries burst and start to break down. Strain them through a fine mesh sieve, pushing down on the berries with a spoon to release all their juice. Discard the skins.

Return the blueberry juice to the saucepan and add the sugar, egg and egg yolk and butter. Whisk to combine and place over a medium low heat. Whisk until thickened, this will take around 10 minutes. Don't be tempted to turn the heat up to cook it quicker as you are likely to curdle the eggs. The mixture will be ready when you can see a slight trail from the whisk in the mixture. It will thicken further when refrigerated. Refrigerate overnight.

In the bowl of a food processor add the flour and icing sugar and process to combine. Add the butter and pulse until the mixture resembles fine breadcrumbs. Add the egg yolk and water and process until the mixture starts to come together in a ball. Remove from the food processor and wrap in plastic wrap and refrigerate for 30 minutes.

Preheat the oven to 180 celsius (355 Fahrenheit) and lightly grease 8 10cm loose bottom mini tart tins. Roll out the pastry until roughly 3mm thick and then cut circles from the pastry that are 2 cm larger in diameter than the tart tin. Line the each tart tin and trim excess (an easy way to do this is to run your rolling pin over the top of the tart tin). Chill for 15 minutes or until firm. Prick the base lightly with a fork in several places and line with baking paper and fill with pastry weights. Bake for 10 minutes before removing the weights and baking for a further 3 to 5 minutes or until dry and lightly golden. Set aside to cool.

To make the Italian Meringue combine the sugar and water in a small saucepan and stir to dissolve the sugar. If any sugar crystals stick to the side of the saucepan take a wet pastry brush and brush the sugar crystals down into the sugar and water mixture. Turn on the heat and bring the sugar mixture to a boil. Add a candy thermometer and cook until it reaches soft ball stage 115 Celsius (240 Fahrenheit). Remove from the heat.

While the sugar mixture is heating place the egg whites in the bowl of an electric mixer and when you remove the sugar syrup from the heat begin whisking the egg whites. Whisk until soft peaks form. Slowly pour the sugar syrup into the egg whites in a thin steady stream, ensuring the syrup doesn't hit the whisk and splatter everywhere and risking burning yourself. Whisk until the mixture begins to cool and is thick and glossy. Around 5 minutes.

To assemble the tarts divide the blueberry curd between the tart bases and spread to cover the tart base evenly. Fill a piping bag fitted with a star tip and pipe over the top of the blueberry curd in whatever pattern you prefer.
Notes
This recipe will make more pastry than is required. In fact it will make enough for 8 tarts. If you wish to make 8 tarts simply double the blueberry curd and Italian meringue recipes, otherwise wrap up remaining pastry in cling film and place in a freezer safe bag and freeze.
Imperial measurements provided in brackets. Need to convert something else? Check my conversion chart.
Nutrition
Calories:
734
kcal
Carbohydrates:
118
g
Protein:
9
g
Fat:
26
g
Saturated Fat:
15
g
Cholesterol:
151
mg
Sodium:
119
mg
Potassium:
117
mg
Fiber:
2
g
Sugar:
78
g
Vitamin A:
860
IU
Vitamin C:
3.1
mg
Calcium:
24
mg
Iron:
2.7
mg
Craving more veg-friendly recipes?
Shop our collection of vegetarian and vegan cookbooks, including our new Vegan Thanksgiving and Vegan Christmas cookbooks!