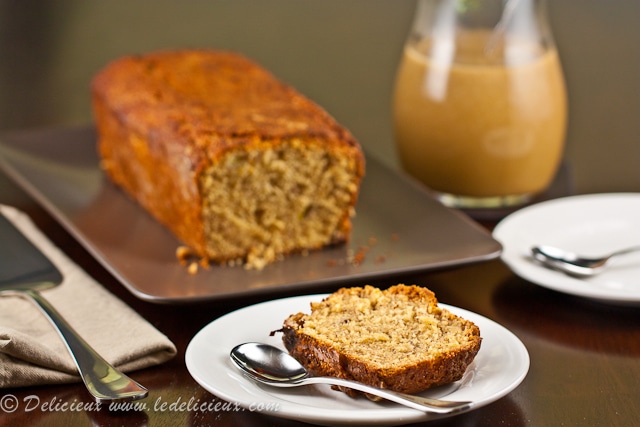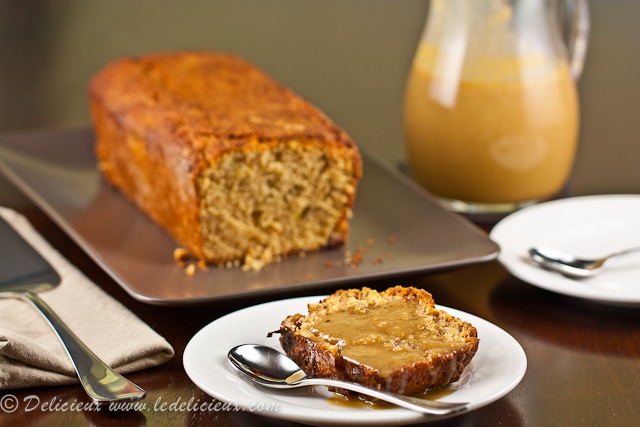 Banana's have been somewhat of a luxury item in many households in Australia this year.  With the Queensland floods, and cyclones banana crops suffered and prices for bananas went through the roof, with $15 or more per kilogram not unheard of.  I even saw them at $19.99 a kilogram at several places.  As much as I felt for the poor farmers who lost their crop I just couldn't purchase bananas at that price.  I also wondered whether there was a bit of profiteering going on, because while the high price of bananas would lead you to assume they were rare, I also noticed that I never failed to see them for sale at supermarkets or grocers.
So I waited, and waited and waited, for the price to drop.  My parents recently travelled overseas, and when they ran into some fellow Australians on holiday in Singapore they both admitted that the first thing they did was buy some bananas as they had been so expensive here in Australia.  My fiance and I also did the same thing when we were overseas recently, even remarking at the ridiculously low prices of bananas, and fruit in general, in of all places the Upper East Side of New York!
Recently we've seen reports in the news that prices of bananas are falling, and while the low prices promised in the news reports haven't materialised, at least in the areas I shop.  While they still weren't what I consider cheap, considering not so long ago they were avaiable for 99 cents per kilogram,  it had been such a long time since we had bananas that I relented.
I've had a banana recipe I'd been wanting to try for some time so now I finally had some bananas I couldn't wait to try it out.  The recipe comes from Donna Hay's beautiful Fast Fresh and Simple cookbook, the accompaniment to her fantastic tv series.  I have all of Donna's books, and so far I haven't run across a bad recipe, and this Caramel Banana Pudding was no exception.
Calling this a pudding is a bit misleading to me, it's more like banana bread topped with caramel sauce, however I can't think of a better way to celebrate banans finally being more affordable than with freshly baked banana cake slathered in a creamy caramel sauce.  Yum!!!
So tell me, is price a factor in your decision to purchase or not purchase fruits and vegetables?  Did you still buy bananas when they were upwards of $15 a kilogram?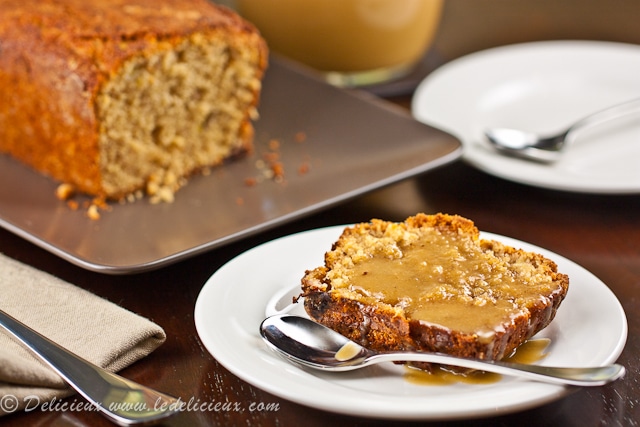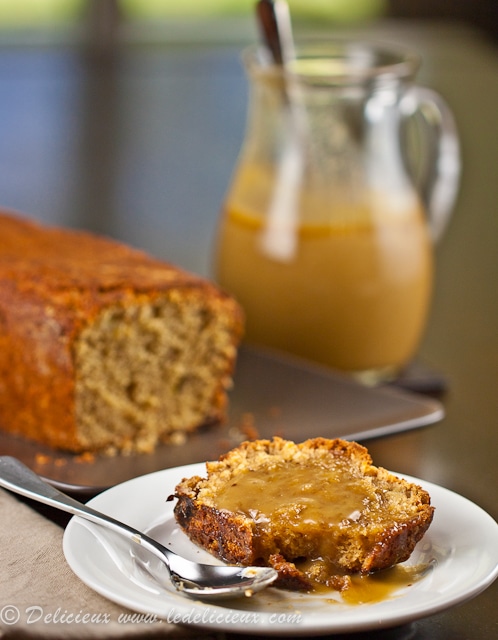 Recipe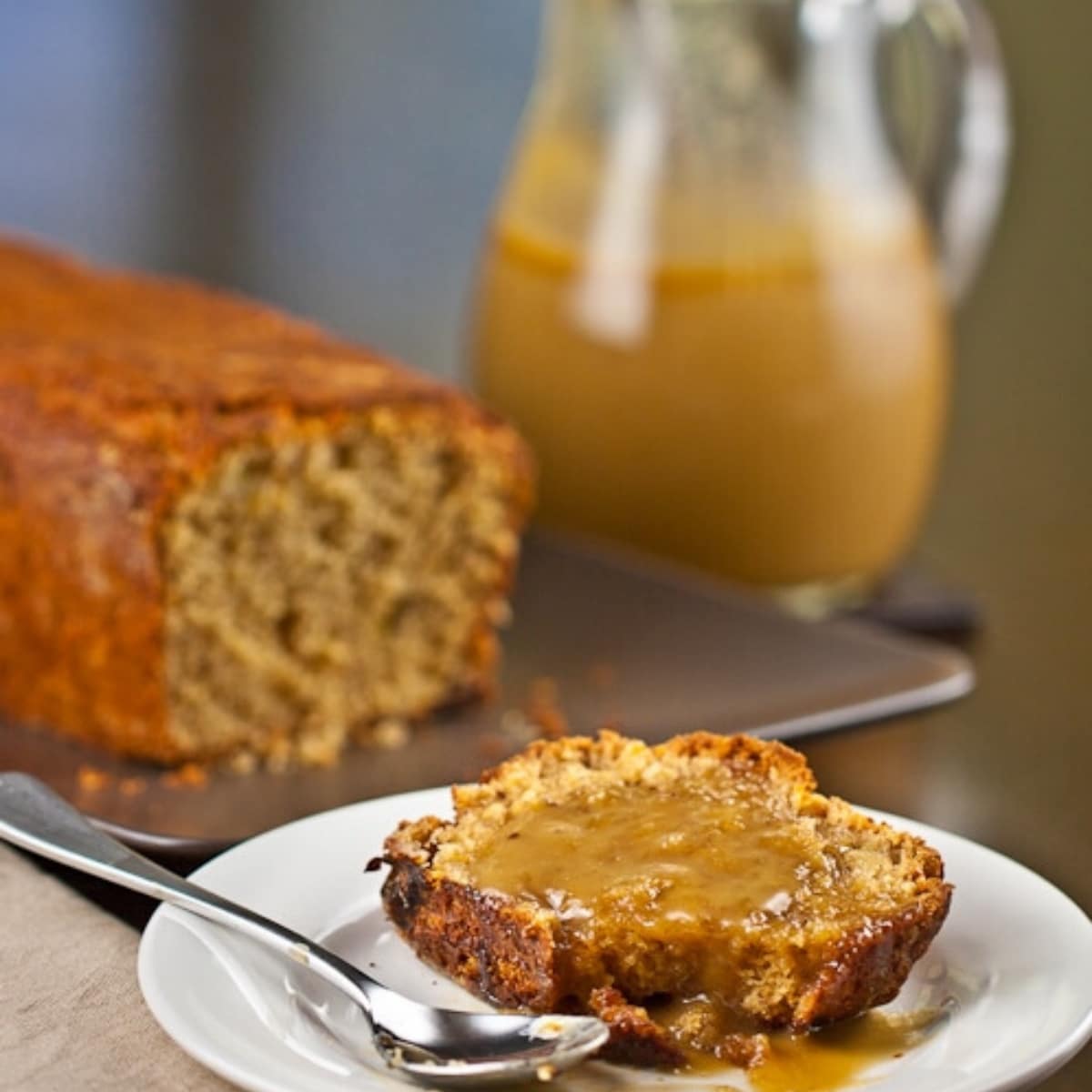 Ingredients
175

g

of butter

at room temperature

175

g

of brown sugar

110

g

of caster sugar

½

teaspoon

of ground cinnamon

½

teaspoon

of ground nutmeg

1

cup

of mashed bananas

about 2 bananas

3

eggs

300

g

of self raising flour

½

tsp

of baking powder
CARAMEL SAUCE
1 ½

cups

of single cream

135

g

of brown sugar
Instructions
Preheat the oven to 170 degrees celsius (325 farenheit) and grease a 28cm loaf tin.

Place the pudding ingredients in a mixer fitted with a paddle attachment and beat until just combined.

Pour the mixture into the greased loaf tin and bake for 50 to 60 minutes, or until cooked through.

To make the caramel sauce, place the cream and brown sugar in a saucepan over a medium heat. Bring to the boil and lower to a simmer and simmer for 10 minutes, or until thickened.

Serve a slice of the pudding with a generous serving of warm caramel sauce.
Nutrition
Calories:
674
kcal
Carbohydrates:
87
g
Protein:
8
g
Fat:
33
g
Saturated Fat:
20
g
Cholesterol:
158
mg
Sodium:
207
mg
Potassium:
297
mg
Fiber:
1
g
Sugar:
55
g
Vitamin A:
1110
IU
Vitamin C:
2.8
mg
Calcium:
98
mg
Iron:
1
mg
Craving more veg-friendly recipes?
Shop our collection of vegetarian and vegan cookbooks, including our new Vegan Thanksgiving and Vegan Christmas cookbooks!