This simple Creamy Avocado Spinach Pasta is not only stunning but also loaded with flavor and nutrients to fuel your body. You'll love this healthy, vegan, and comforting pasta dish down to the very last bite!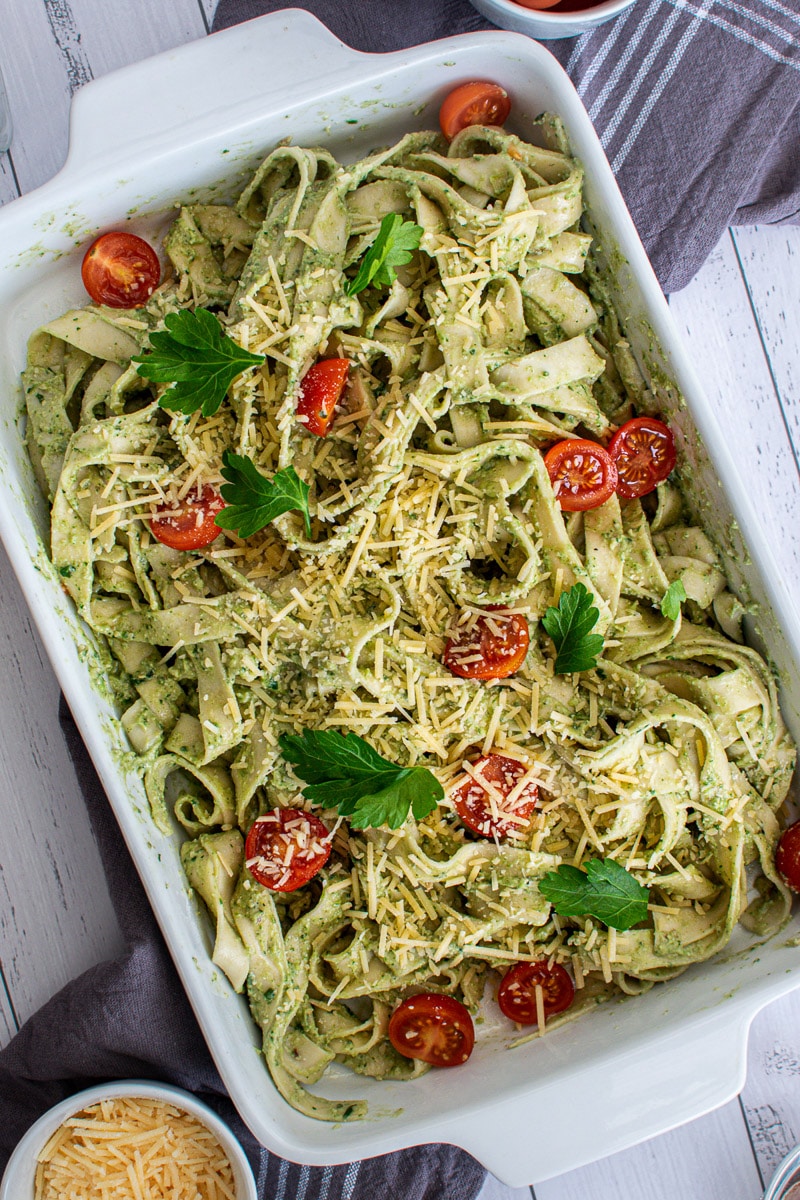 Jump to:
This creamy pasta dish is fresh, vibrant, and ready in under 30 minutes. If you like to meal prep, you can also save leftovers and use them for packing quick lunches or reheating for dinner later in the week.
The avocado and spinach in this dish really compliment each other. Add in some vegan parmesan cheese to add some tang and creaminess to the pasta.
This Creamy Avocado Spinach Pasta Is...
Vegan
Vegetarian
Creamy
Simple main dish or side dish
Loaded with nutrients
Quick
Versatile
While you're here, be sure to grab our FREE 5-Day Meatless Meal Plan. It's packed with tasty recipes to make vegetarian cooking easy and delicious!
How to Make Creamy Avocado Spinach Pasta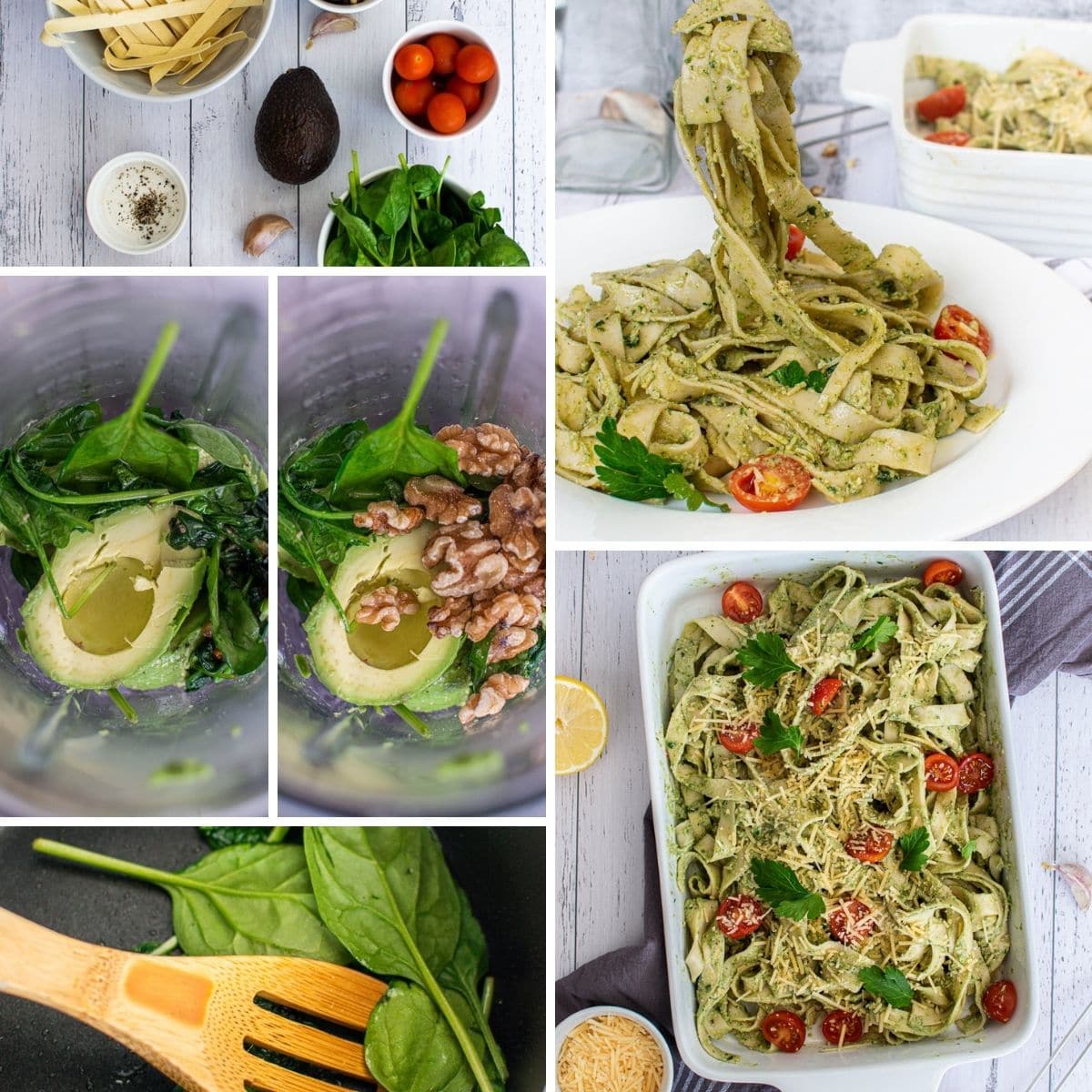 Start by slightly cooking spinach in a saucepan. Cook the spinach until it is softened a bit.
Cook pasta according to the package. Once done, drain.
Mix spinach, parmesan, cherry tomatoes, walnuts, etc. (everything but pasta) in a food processor or blender. Blend until smooth.
Once pasta is done and drained, toss with the sauce and garnish as you like.
Creamy Avocado Spinach Pasta Variations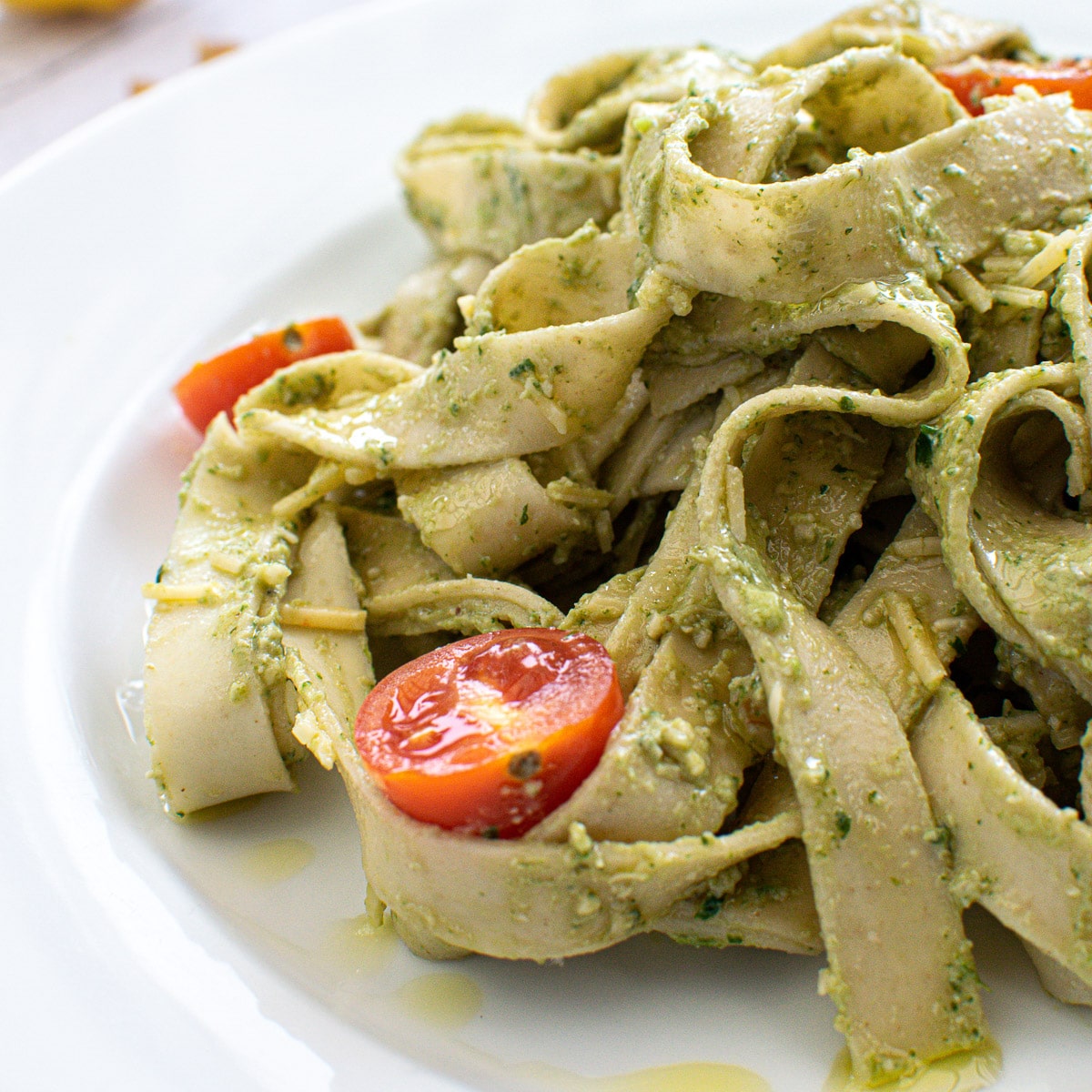 Swap The Nuts
I used for walnuts for this dish, but you could easily use pistachios or even pecans instead. I find the walnuts add a nice flavor to the dish without becoming overpowering.
Sauté Garlic
You can sauté the garlic with a little oil in a pan on the stove if you want. It will help bring out more flavor in the sauce. It is more mellow of flavor than raw garlic in my onion. You sauté it long enough to become fragrant, then remove it from the stove. It should take around 1–2 minutes.
Swap Shape Of Pasta
Get creative and use whatever type of pasta you like—fettuccine pasta, rotini, shells, elbow, etc. The biggest thing is making sure you cook your pasta according to the package. If you are gluten-free, you can reach for your favorite gluten-free pasta to swap in.
Zoodles (zucchini noodles) or spaghetti squash would also be a nice substitute for pasta.
Add in Protein
If you want, you can add in some protein. If you are not vegetarian, you can toss in some cooked shrimp, chicken, etc. This is just optional if you want to make it a bit heartier.
Flavored Olive Oil
Here is one tip I find it fun to experiment with. If you have flavored olive oil—infused with garlic, fresh herbs, etc.—consider using that. A flavored olive oil can help add another layer of depth to the creamy sauce.
Creamy Avocado Spinach Pasta FAQs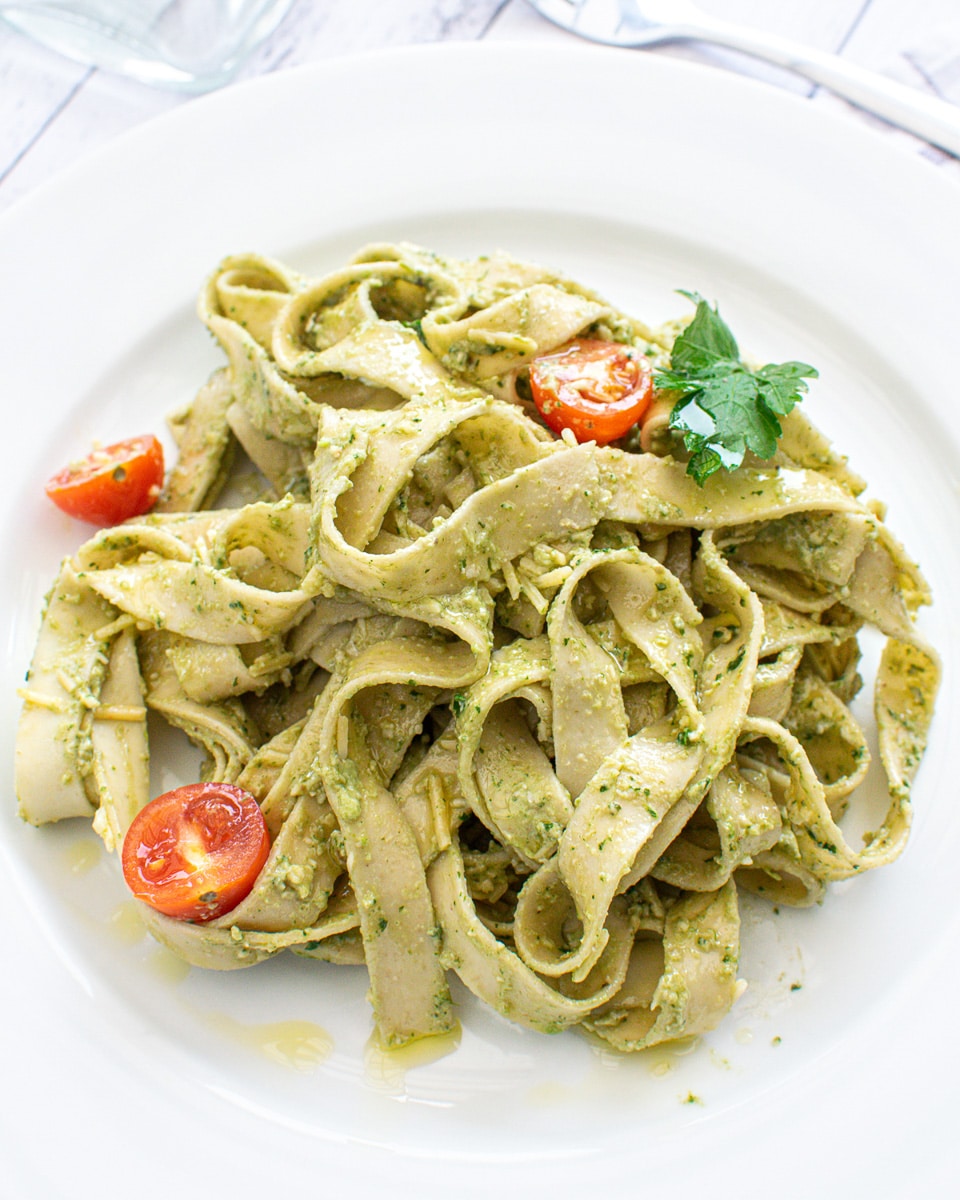 How much water does it take to cook pasta?
A good rule of thumb is to use 4 quarts of water per one pound of pasta. Your pasta needs to be fully submerged under the water as it cooks. Otherwise, the pasta will not become soft as you would like.
Can you eat cooked pasta a week later?
Cooked pasta will last around 3–5 days in the fridge. The ingredients added to the pasta will also affect the shelf life of cooked pasta. You will find this avocado pasta is best served warm, but can be stored for a couple of days in the refrigerator. The avocado shortens the shelf life.
How to pick a ripe avocado?
A ripe avocado will feel slightly soft if you gently squeeze it. Don't squeeze too hard, or you can bruise the avocado. Make sure to look over the avocado to scan for any bruising, soft spots, or imperfections in the skin.
And don't forget to grab a copy of my free vegan cheat sheet too! It's packed with my favorite easy substitutions to help you make just about any recipe vegan!
Recipe
Ingredients
10

oz

spaghetti or fettuccine

1

clove

garlic

2

medium ripe avocados

1

cup

fresh spinach

½

cup

walnuts

1

tbsp

lemon juice

¼

cup

olive oil

½

tsp

salt

½

tsp

pepper

cooking spray
Optional Toppings
¼

cup

vegan parmesan cheese

optional

½

cup

cherry tomatoes

optional

¼

cup

fresh parsley

optional
Instructions
Bring a large pot of water to a boil and cook pasta according to package directions. Set aside.

Spray a pan lightly with cooking spray, and heat over medium heat. Add spinach leaves and cook until slightly softened, 2-3 minutes.

Place the spinach, garlic, avocadoes, walnuts, lemon juice, olive oil, salt, and pepper into a food processor and blend until you have a smooth, creamy sauce. If you'd like it more liquid-y, add a bit more oil or lemon juice. Add additional salt and pepper, to taste.

Toss the creamy avocado spinach sauce with the pasta.

Optional: Garnish with cherry tomatoes, fresh parsley, and parmesan cheese.
Craving more veg-friendly recipes?
Shop our collection of vegetarian and vegan cookbooks, including our new Vegan Thanksgiving and Vegan Christmas cookbooks!