One thing I've discovered as the parent of a 1-year-old is that I end up eating the remnants of most of her meals and snacks. Kids are fickle! What they're gobbling up one second, they'll be throwing on the floor or trying to shove in your mouth the next. So it's important that the foods I feed her are things my husband and I won't find absolutely revolting to eat ourselves—because let's be real, a lot of the things we feed to our babies are pretty gross. (I'm looking at you, pureed prunes.) These are 11 snacks that have made our list of things we'll happily eat after baby girl has had her fill.
Items with an asterisk are ones we received samples of for review.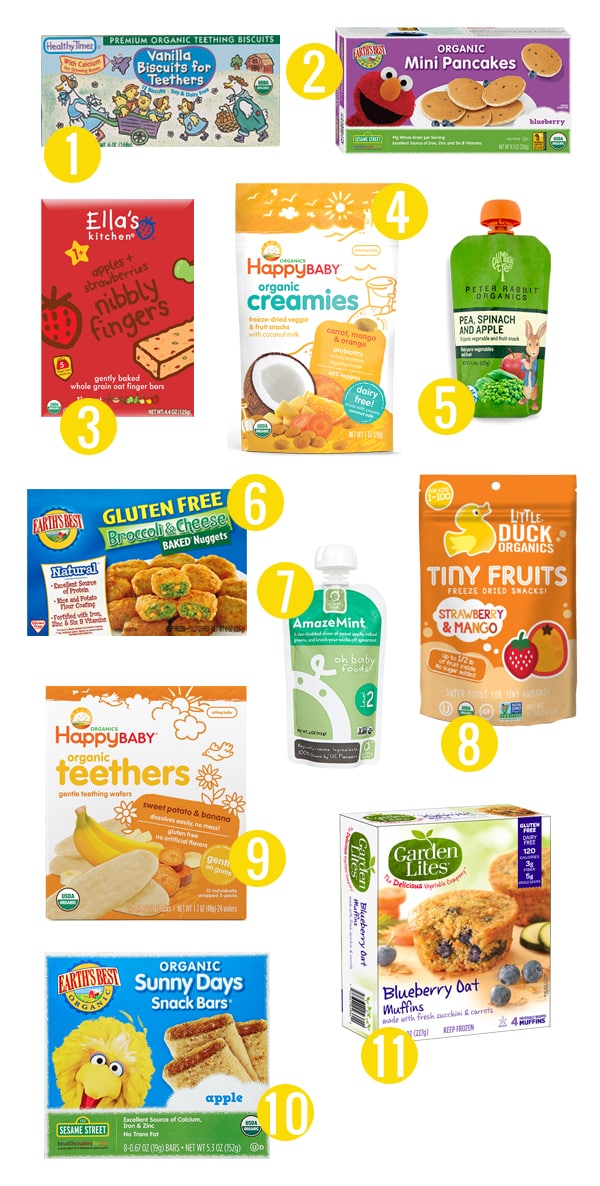 1. Healthy Times Vanilla Teething Biscuits // Teething is rough. These biscuits are a little messy and your baby probably won't eat a whole one by herself, so split it halfsies and spread a little jam on yours for an afternoon snack.
2. Earth's Best Blueberry Mini Pancakes // These are superior to homemade blueberry pancakes because they are far less messy—they're made with little bits of blueberries instead of whole blueberries that your child will inevitably want to pick out and smear all over her face and hair and clothes. And when you don't have the energy to pour yourself a bowl of cereal, you can enjoy a few of these for breakfast with baby.
3. Ella's Kitchen Apple + Strawberry Nibbly Fingers* // These toddler sized granola bars taste like a fruitier version of raisin bran to me. I love that these are made with simple organic ingredients with no refined sugars and baby girl loves that they fit perfectly into her hands and she can eat them without me cutting them into pieces first.
4. Happy Creamies // My daughter likes Creamies and Yogis (Happy Family's yogurt-based freeze-dried snack) equally, but I'm definitely more of a Creamies fan myself. They're made with coconut milk, so while they're crunchy if you chew them, if you let them melt, they're creamy and almost rich—and the Carrot, Mango & Orange flavor is like a tropical party in your mouth. You'll feel like you're on an island somewhere until you hear your toddler cackling as she unrolls the toilet paper in the bathroom.
5. Peter Rabbit Organics Pea, Spinach and Apple Puree // Baby girl insists on feeding these pouches to herself now, so we sometimes have a mess on our hands when she gets a little overzealous with them. When she was eating this one and squeezed it out onto her highchair tray, my husband got paper towels to wipe it up and I told him to eat it instead. His response? "Gross, it has peas. No." But when I told him it was good, he humored me and agreed that it actually was good and tasted like applesauce. Although eating baby food off of a highchair tray may not have been one of his proudest moments.
6. Earth's Best Baked Broccoli Cheese Nuggets // Broccoli. Cheese. Is there anything else to add? When my daughter's finished eating, I like to dip the leftovers in a little sriracha.
7. Oh Baby Foods AmazeMint // I made most of my daughter's baby food myself, but when I did buy it, Oh Baby was my favorite brand and this was baby girl's favorite flavor. It was also my husband's and my favorite flavor because it tastes like mint chutney. One spoonful of this puree and you'll be craving samosas to go with it.
8. Little Duck Organics Strawberry & Mango Tiny Fruits // Your toddler will love that these little freeze-dried fruits are easy to pick up (much easier than slippery fresh fruit—not to mention less messy, so they're ideal for when you're on-the-go) and you'll love sprinkling them onto yogurt, chia pudding, or oatmeal.
9. Happy Baby Gentle Teethers // I didn't have high hopes for these because taking them out of the package, they pretty much look like styrofoam. But they are really good! They're also the perfect delivery device for some almond butter to power you through to nap time.
10. Earth's Best Sunny Days Snack Bars* // These are like a cross between Fig Newtons and Nutri-Grain bars, but for toddlers. I actually like these more than Fig Newtons or Nutri-Grain bars, but unfortunately my daughter likes them so much that I rarely get any leftovers these days. Curses! A lot of toddler snack bars are chewy and a little difficult for younger kids, but these are soft and perfect for toddlers with more gums than teeth.
11. Garden Lites Blueberry Oat Muffins* // We love the whole Garden Lites lineup, but these muffins, which contain zucchini and carrots, are our favorite. The first two ingredients are zucchini and carrots, but these are objectively good, and not just "good for a muffin that has hidden vegetables in it."