There are a lot of snack bars on the market these days, but not all of them are as healthy as they appear to be. We asked our resident nutritionist McKel from Nutrition Stripped to share some of her favorites!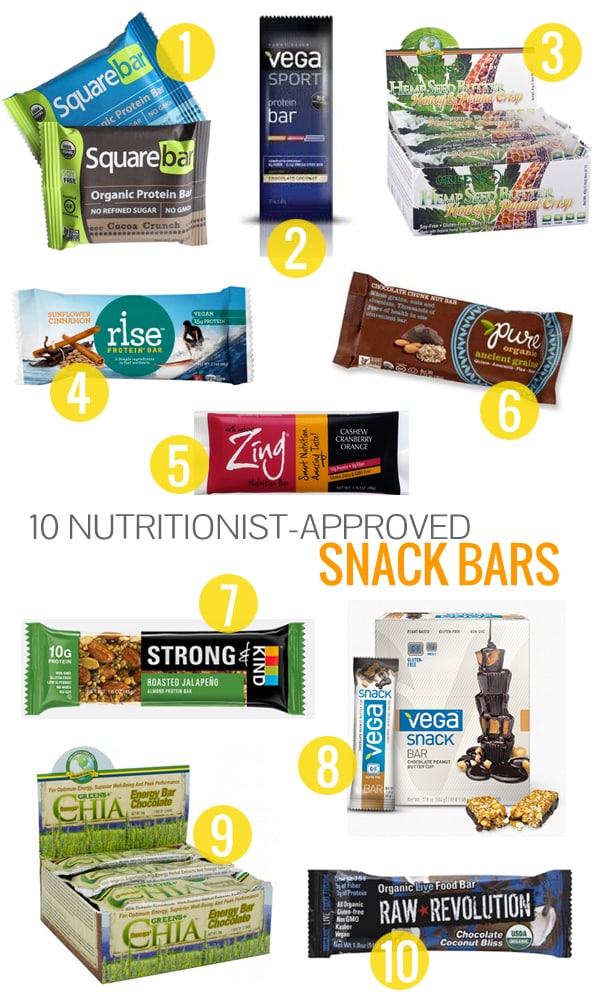 1. Squarebar
// These delicious chocolate-coated bars pack in about 15g of brown rice protein per serving!
2. Vega Sport Protein Bar
// One of the best vegan protein bars I've ever tried -- loaded with 15g of protein, amino acids, omega-3 fats, and carbohydrates for a perfect post-workout refuel.
3. Greens Plus Hemp Seed Butter Honey and Peanut Crisp
// Gluten-free, dairy-free, and delicious! A great combination of nutrition and flavor.
4. RiseBar Protein Bar
// Completely dairy- and gluten-free, this bar packs about 15g of protein, healthy fats, and fiber all in a tasty little package. I love the unique flavors they offer, like Sunflower Cinnamon.
5. Zing Nutrition Bar
// These come in great flavors and are certified gluten-free, vegan-friendly and contain healthy fats to keep you full.
6. Pure Organic Ancient Grains Nut Bar
// Ancient grains like quinoa and amaranth make these bars a standout.
7. Strong & Kind Bars
// Nutrition bars are usually sweet, but this new series from Kind features savory flavors like Roasted Jalapeño. Each bar has 10g of protein too!
8. Vega Snack Bar
// These snack bars come in delicious flavors like Chocolate Peanut Butter Cup and they're loaded with healthy fats from nuts and seeds, protein, and fiber.
9. Omega 3 Chia Energy Bar
// Chia seeds make these bars rich in omega-3 fatty acids and fiber.
10. Raw Revolution Organic Live Food Bars
// These not only are great for healthy snacking, but they have 14 amazing flavors -- all raw, all vegan, all gluten-free!