At the start of the year I made a resolution, I wanted to learn how to make delicious bread at home, and after months of trialing recipes I've finally found the wholemeal bread recipe I'd been looking for.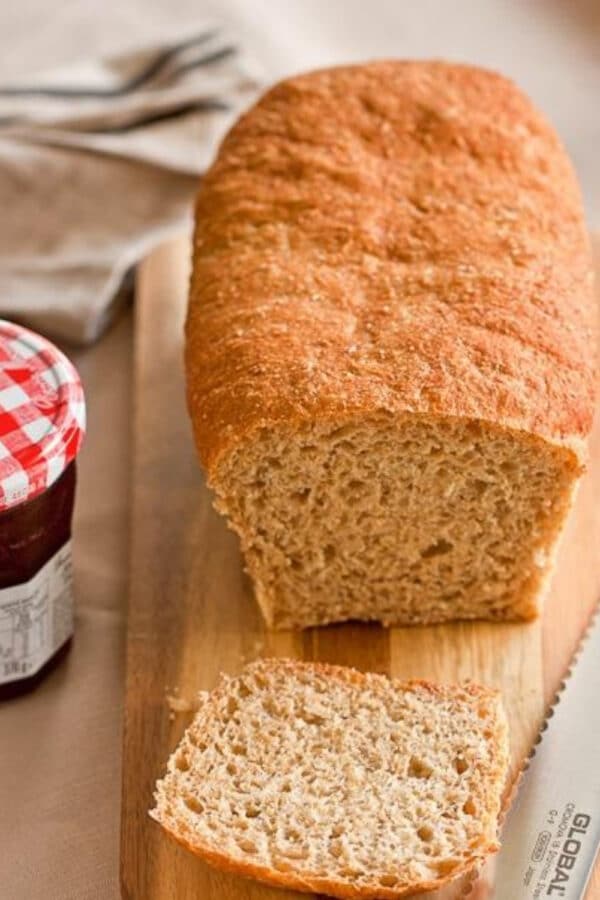 While I like crusty bread as much as the next person, particularly with a steaming hot soup in winter, I don't want crusty bread first thing in the morning because when crusty bread is toasted I almost feel like I am at risk of breaking a tooth when enjoying my morning toast.
So, I set out in search of a wholemeal bread recipe that would produce a bread with a soft crust.
When I made my resolution to make delicious bread at home I downloaded Peter Reinhart's Artisan Breads Every Day to the Kindle App on my iPad and promptly forgot about it.
What a mistake, because inside this book was the recipe to the best bread I've ever made. I won't say it's the best whole wheat bread recipe ever, because bread, like everything in life, is subjective and everyone likes different things.
But to me, this is the best bread we've tasted. In fact, it's so good that the first day I made the bread my fiancé asked if we could just have the loaf of bread for dinner, he was so enamored with it!
The beauty of this whole wheat bread recipe is that it's no knead! You don't need to spend 10 minutes kneading the dough until it's smooth, however there are a few little steps involved, each requiring no more than a minute.
After which time you have enough dough for 2 small loaves of bread or 1 large, which you can refrigerate and bake over the next 4 days.
I have made a couple of minor changes to the original recipe, firstly I replaced the instant yeast with fresh yeast. While instant yeast is perfectly fine, and I have made this bread with instant yeast, I think the taste is slightly better with fresh yeast.
Secondly, the original recipe called for the use of sugar or honey as the sweetener. In place of these I have used Brown Rice Syrup (available from the health food section of your supermarket), however if you don't have Brown Rice Syrup simply use honey.
You could also use sugar too, but I think the honey works well with the whole wheat flour in terms of flavor.
I now make this wholemeal bread twice a week, we love it that much, and I hope you will too.  In fact, I can happily say we no longer buy bread.
So tell me ,what do you look for in a perfect loaf of bread? Is it crusty, soft or somewhere in between?
Recipe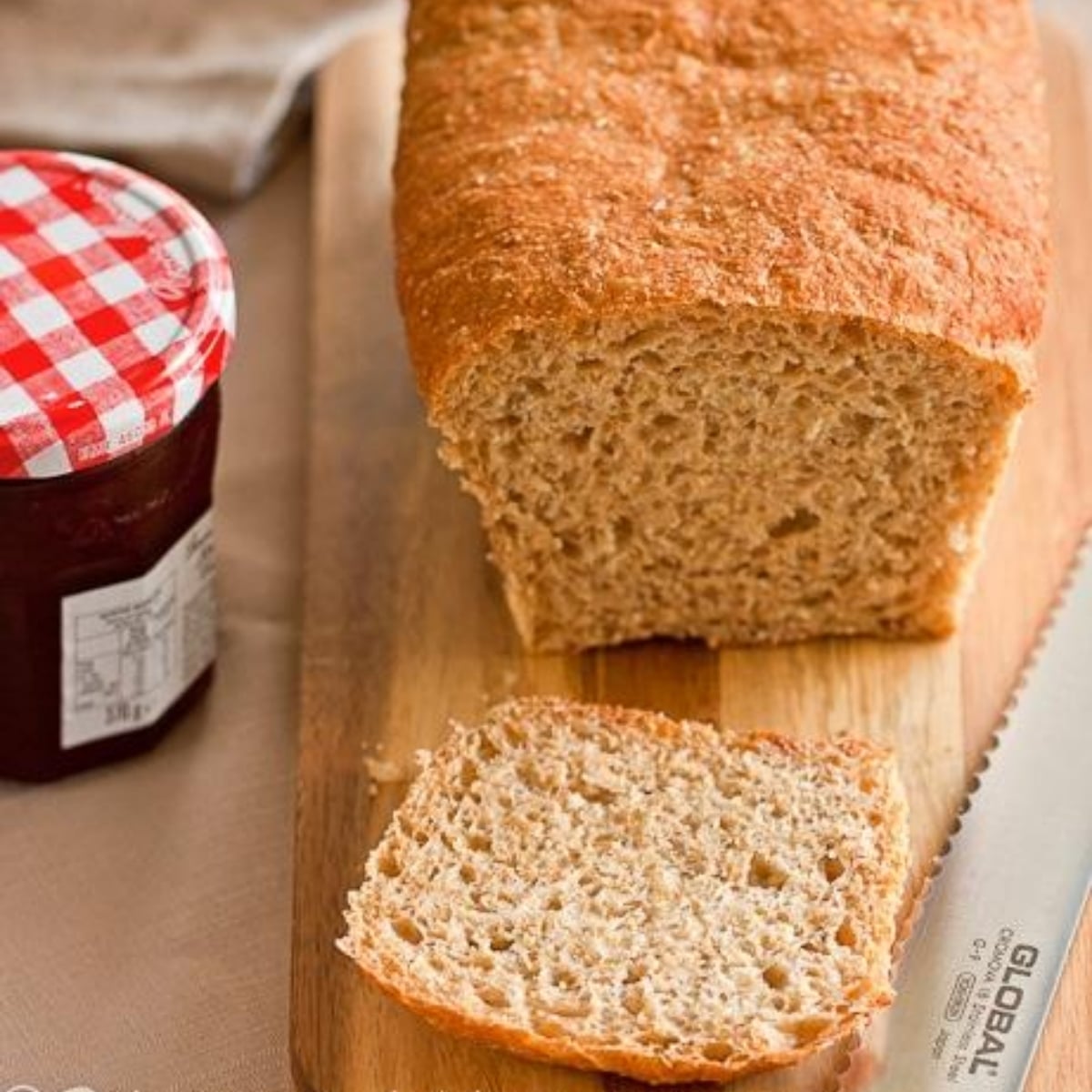 Ingredients
680

g

of whole wheat flour

wholemeal

14

g

of salt

12

g

of fresh yeast

4g of dry instant yeast if using

2 ½

tablespoons

of Brown Rice Syrup

539

g

of room temperature water

43

g

of olive oil
Instructions
Combine the flour and salt in a large bowl, as well as the dry instant yeast, if using, and stir to combine.

If using fresh yeast, crumble into a small bowl and remove 2 tablespoons of the water and mix with the yeast until dissolved. Pour the yeast mixture back into the remaining water and combine with the olive oil and brown rice syrup. Mix to combine before pouring into the flour.

Using a wooden spoon, or an electric mixer fitted with a paddle attachment, mix the dough for 1 minute, until well combined. Then leave to rest for 5 minutes to allow the flour to fully hydrate.

Mix the dough again, for another minute. You will find the dough will still be very sticky, but should be a little less sticky than before. Grab a large bowl and lightly grease with olive oil and place the dough into the bowl. Cover with cling film and leave for 10 minutes.

Wet your hands thoroughly, or cover in a light film of oil (I prefer to wet my hands as it's easier to clean up) and reach into the bowl and grab the middle of the underside of the dough. Pull the dough and stretch it out with your hands and fold the dough on to the top of the dough. Repeat with the opposite side, by spinning the bowl around, and each side, stretching and folding the dough a total of 4 times in total, once on each side. Repeat this process every 10 minutes for the next 30 minutes.

After the final stretch and fold of the dough, cover with cling film and refrigerate overnight, or for up to 4 days.

The next day you will notice the dough has risen substantially. To bake your first loaf, cut the dough in half, being careful not to remove all of the gas. On a lightly floured bench flatten the dough into a 5 inch by 8 inch rectangle, and working from the shorter side, roll up the length of the dough. Pinch the final seam together with your fingertips and gently rock the dough to even it out. Place the loaf in a greased pan, seam side down. Cover and leave for 3 hours, by which time the dough should have doubled in size.

An hour before baking, prepare your oven. Adjust the shelves so that 1 shelf is on the bottom and adjust the second shelf to the next rung above the bottom shelf. If possible, set your oven so that the heat comes from the bottom element only, and preheat your oven by turning it up as high as it will go (my oven only reaches a maximum of 250 celsius so the baking time is for this temperature). Place a baking tray on the bottom shelf that is capable of holding 1 cup of water.

When you're getting ready to bake, boil the kettle and when it's boiled place the bread in the oven, on the second bottom shelf, and pour 1 cup of boiling water into the tray below. Close the oven door and bake for 12 minutes. If you were unable to set your oven to cook from the bottom element you may need to cover the top of the bread with foil to prevent it from browning too much. Turn the loaf and bake for another 15 minutes before removing and cooling on a wire wrack. Don't cut the loaf until it's completely cooled as this will allow the crumb to set properly.
Notes
The remaining dough can be baked any time over the next 4 days.
Nutrition
Calories:
355
kcal
Carbohydrates:
66
g
Protein:
11
g
Fat:
7
g
Saturated Fat:
1
g
Sodium:
688
mg
Potassium:
317
mg
Fiber:
9
g
Sugar:
4
g
Vitamin A:
10
IU
Calcium:
35
mg
Iron:
3.1
mg
Craving more veg-friendly recipes?
Shop our collection of vegetarian and vegan cookbooks, including our new Vegan Thanksgiving and Vegan Christmas cookbooks!