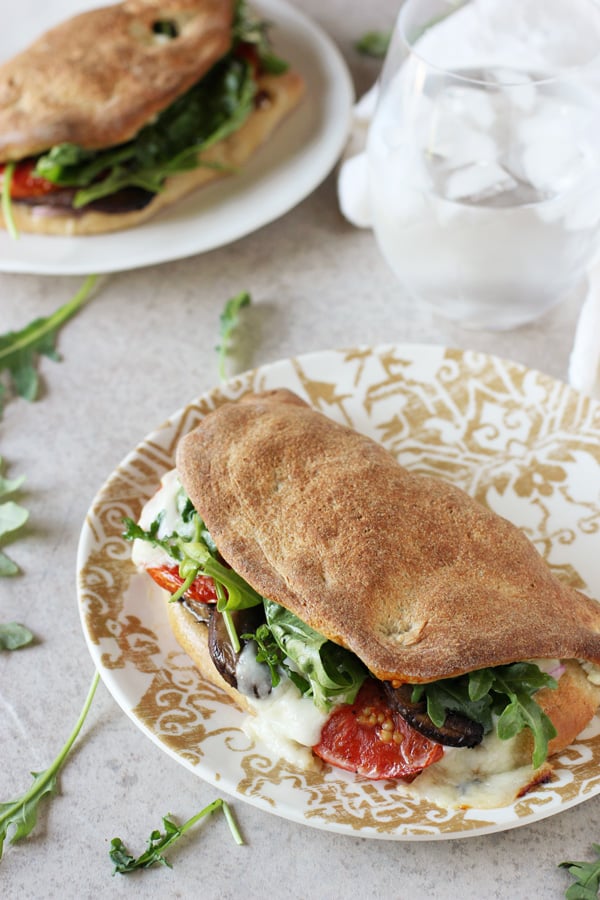 I am completely incapable of resisting roasted tomatoes. Cherry tomatoes, sliced whole tomatoes, I'll happily eat either straight off the baking sheet like candy. This does tend to cause a slight problem when I am making them for use in a recipe. So I am proud to say that all the tomatoes I designated for this dish actually made it onto the sandwiches, which is a very good thing as they are one of the central components!
Roasted tomatoes, sautéed portabella mushrooms, sliced red onion, goat cheese and fresh mozzarella are layered onto rounds of shaped pizza dough. The dough is folded over the filling, like you would a calzone, but not sealed. The sandwiches bake up into golden pockets that make for a fun spin on your average pizza night.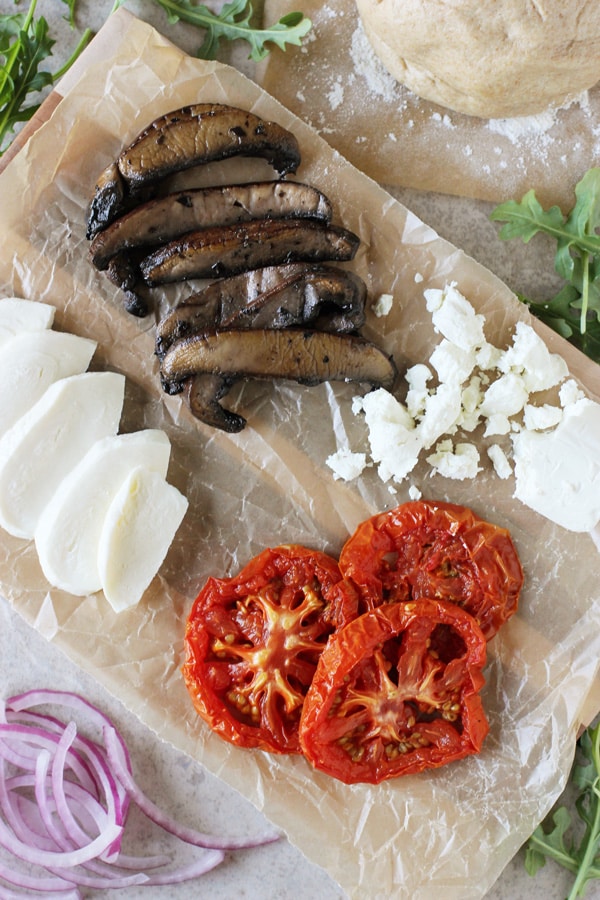 While roasting the tomatoes does take some time, this step can be done in advance so they are ready to go when needed. After the roasted tomatoes have cooled, line the bottom of an airtight container with a paper towel. Place the tomatoes on top in a single layer (repeating as needed based on the size of your container - paper towel, tomatoes, paper towel, tomatoes), cover and then place in the fridge. This process also helps to remove any excess moisture.
The mushrooms can also be sautéed in advance and stored in a separate container in the refrigerator. By doing both these steps ahead of time, the sandwiches come together quite quickly for a weeknight meal.
While I like these plain, I think it would also be fun to serve with some pizza sauce on the side for dipping. And if you like a little kick, you could even add in some red pepper flakes, stirred into the sauce or sprinkled straight on the sandwiches!
Recipe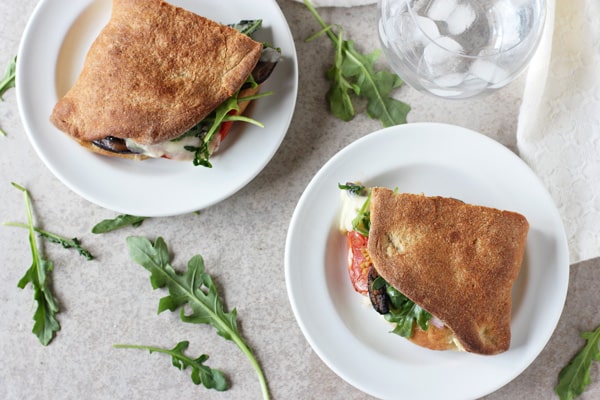 Servings:
3
large sandwiches
Ingredients
Instructions
For the tomatoes:   
Preheat the oven to 325ºF. Line a large baking sheet with parchment paper.

Lay the sliced tomatoes in a single layer on the prepared baking sheet, then mist or drizzle lightly with olive oil and sprinkle with salt and pepper.

Bake for about 50 minutes to 1 hour, gently and carefully flipping the tomato slices once halfway during baking, until slightly shrunken and shriveled. Remove from the oven and let cool for about 5 minutes. Gently blot with paper towels to remove excess moisture, then transfer the tomatoes to a plate and set aside.

Increase the oven temperature to 500ºF. Re-line the large baking sheet with a clean piece of parchment paper and set aside.
For the mushrooms:
Meanwhile, add the olive oil to a large skillet set over medium heat. When hot, add the sliced mushrooms and cook until tender and they have released their juices, about 6 to 8 minutes. Remove from the heat and stir in salt and pepper to taste. Set aside.       
To assemble:       
On a floured surface, split the pizza dough into three equal pieces and shape each into a circle that is about 7 inches in diameter. If the dough keeps springing back, let rest for about 10 minutes and then try again.

On one half of each circle of pizza dough, add some of the sliced red onion, some crumbled goat cheese, the cooked mushrooms, the roasted tomatoes and some mozzarella. Fold the other half of the pizza dough over the top to cover the filling, pinch the two corners, but do not seal the dough all the way around.

Carefully transfer the assembled sandwiches to the prepared baking sheet. Bake until golden brown, about 10 to 12 minutes.

Remove from the oven and let cool for 10 minutes.

Meanwhile, in a small bowl, toss together the arugula, basil, lemon juice and olive oil. Carefully open each cooled sandwich and fill with some of the arugula mixture. Serve.
Nutrition
Calories:
646
kcal
Carbohydrates:
86
g
Protein:
27
g
Fat:
23
g
Saturated Fat:
10
g
Polyunsaturated Fat:
2
g
Monounsaturated Fat:
7
g
Trans Fat:
1
g
Cholesterol:
39
mg
Sodium:
1419
mg
Potassium:
840
mg
Fiber:
6
g
Sugar:
18
g
Vitamin A:
2709
IU
Vitamin C:
35
mg
Calcium:
264
mg
Iron:
6
mg
Craving more veg-friendly recipes?
Shop our collection of vegetarian and vegan cookbooks, including our new Vegan Thanksgiving and Vegan Christmas cookbooks!