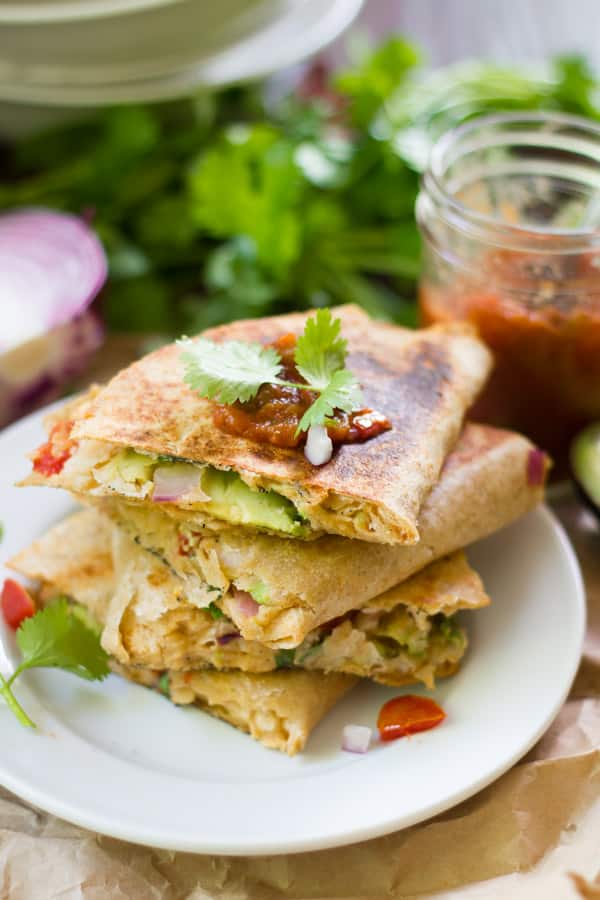 I have a serious attachment to quesadillas. They were my personal favorite comfort food growing up. I went vegetarian pretty young, so realizing that I could make a meal out of stuffing a tortilla with cheese was a big deal, and I got plenty of mileage out of it.
It took a while before it dawned on me that I could make quesadillas without the cheese, but in hindsight, it's kind of a no-brainer. When you've got a couple of layers of crispy grilled tortilla holding everything together, pretty much anything that's both squishy and tasty will do the trick. Beans fit the bill perfectly, so they're my filling of choice for dairy-free quesadillas. I mean, technically, the "queso" in quesadilla is cheese, but let's ignore that for now. Bean-a-dillas doesn't have the quite the same ring to it.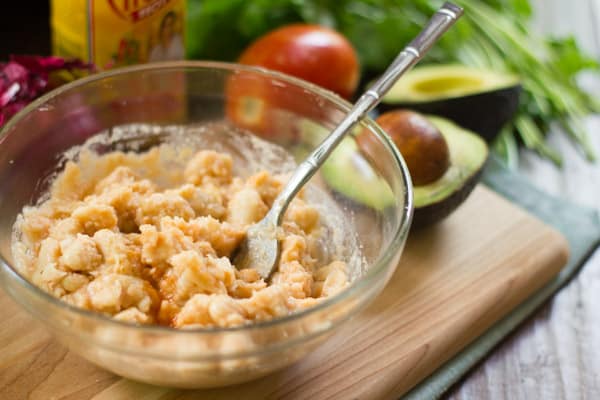 Avocados add an extra layer of squishy satisfaction, along with a nice silky texture. Aside from those two key ingredients, you can really throw in whatever you'd normally include in a cheese-filled quesadilla. I went with some tomatoes, onions and fresh cilantro, all of which add great flavor and texture, but feel free to get creative.
Now, being totally straight here, you're not going to fool anyone into thinking they're eating cheese here, but that's not the point! The point is to make something so tasty that whoever is eating this doesn't notice that lack of cheese until you point it out, which is actually what happened when I fed one of these to my husband. If you really need the stretchiness of cheese, you can throw a few vegan shreds in, but I promise that if you don't, you won't miss them.
Recipe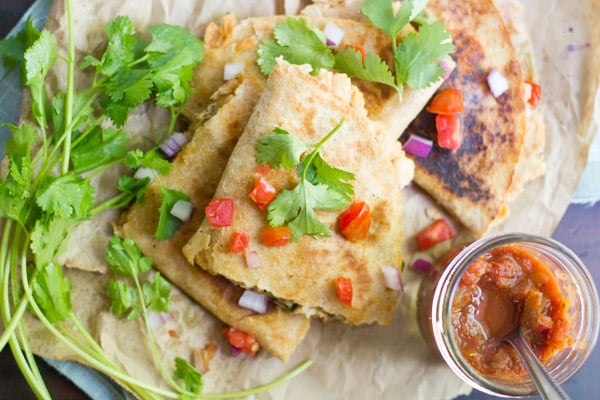 Ingredients
1

15-ounce can cannellini beans, drained and rinsed

1

tablespoon

cayenne pepper hot sauce

or more, for extra heat

½

teaspoon

ground cumin

Salt and pepper to taste

2

medium

8-inch flour tortillas

½

ripe avocado

sliced

¼

cup

diced red onion

about ¼ of a medium onion

¼

cup

diced tomato

about 1 small Roma tomato

2

tablespoons

fresh cilantro

Olive or vegetable oil

for grilling

Salsa or additional hot sauce

for serving
Instructions
Place cannellini beans into a medium bowl and mash with a fork or potato masher, leaving the mixture as chunky as you like. Stir in hot sauce and cumin, then season with salt and pepper to taste.

Divide bean mixture among tortillas, spreading in an even layer over each. Divide avocado slices over half of each tortilla, then sprinkle with tomato, onion, cilantro, and optionally a bit more hot sauce, salt and pepper. Fold tortillas closed.

Lightly oil the bottom of a large skillet and place over medium heat. Arrange quesadillas in the skillet, and if your skillet has a lid, use it to cover them, as this will help the fillings get nice and warm. Cook until crisp and lightly browned on bottoms, about 4 minutes. Gently flip and cook about 4 minutes more, until browned on opposite sides.

Remove quesadillas from the skillet and slice, if desired. Serve with salsa, hot sauce, or your favorite quesadilla toppings.
Notes
These work great as a make-ahead meal. Prep and stuff the quesadillas in advance, wrap in plastic and refrigerate, then grill them right before serving.
Nutrition
Calories:
100
kcal
Carbohydrates:
9
g
Protein:
2
g
Fat:
8
g
Saturated Fat:
1
g
Polyunsaturated Fat:
1
g
Monounsaturated Fat:
5
g
Sodium:
180
mg
Potassium:
353
mg
Fiber:
4
g
Sugar:
2
g
Vitamin A:
153
IU
Vitamin C:
14
mg
Calcium:
26
mg
Iron:
1
mg
Craving more veg-friendly recipes?
Shop our collection of vegetarian and vegan cookbooks, including our new Vegan Thanksgiving and Vegan Christmas cookbooks!