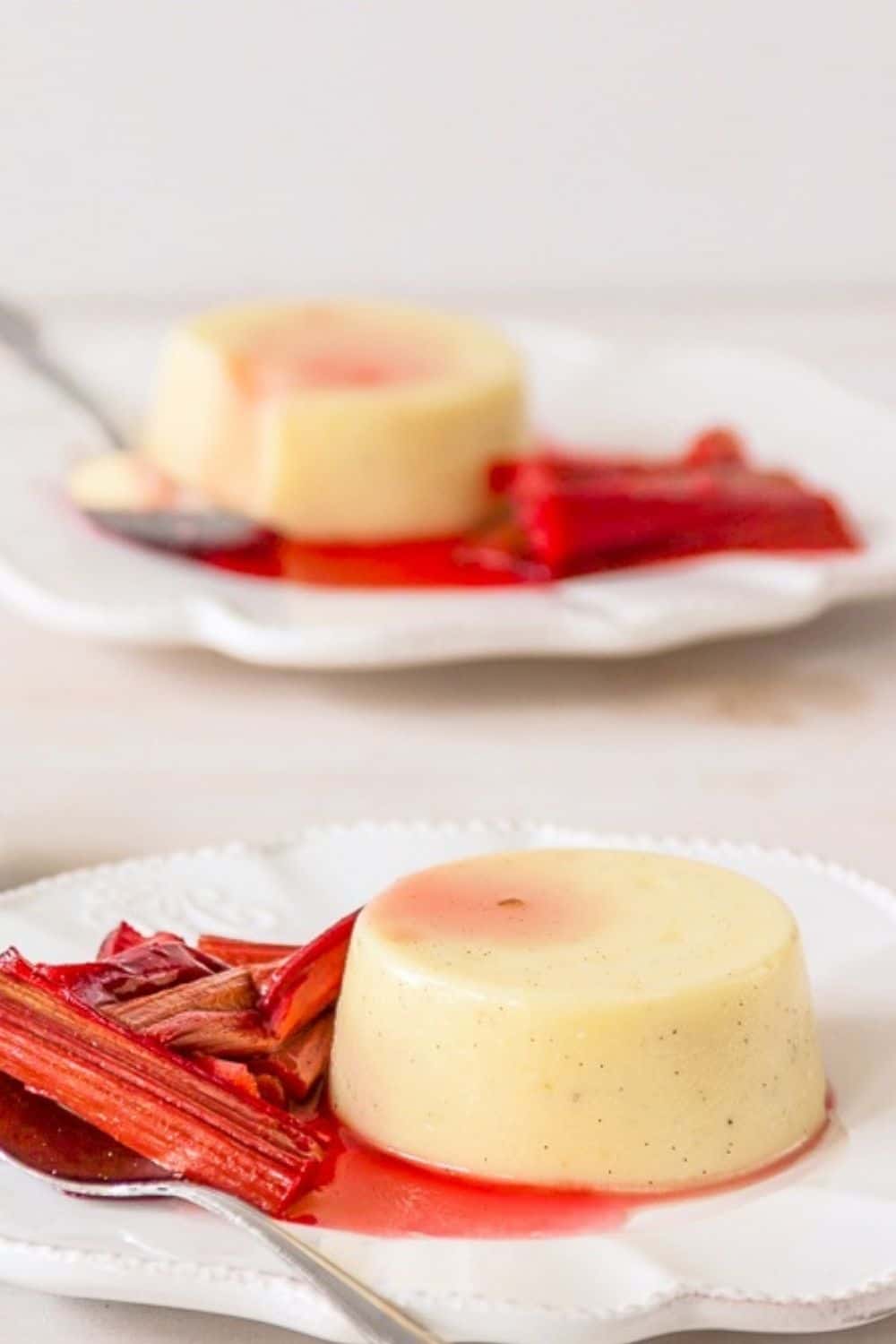 I started blogging 6 years ago today, and when I started Delicious Everyday back then I had no idea as to how big a role it would play in my life. What started as something to keep me occupied while my then boyfriend (now husband) was on deployment with the Australian army in Afghanistan is now a part of my every day life.
Over the 6 years I've been lucky enough to get to know other bloggers, some who have become good friends, even if we've only ever met via email. Some I've enjoyed watching as they've grown over the years as I followed their journey from home cook through to becoming a published cookbook author.
I've also been surprised and delighted by beautiful emails from readers, some who have even sent me little gifts or cards in the mail. That to me is mind boggling, that my humble words and recipes posted from the comfort of my home here in Brisbane Australia can reach readers around the world.
I've had ups and downs, moments where comments or emails from kind hearted readers have brought a smile to my face, and even tears. There have also been moments of "why am I doing this?", along with moments of, I'm ashamed to say, jealousy at the success of other bloggers.
There have been cooking disasters, burns, and other accidents in the kitchen, including a slip on the floor that lead to a knee dislocation. There have also successes. I love that now I feel confident tackling recipes that 6 years ago I would have dismissed as too difficult.
Over the years my photography has changed too. I cringe whenever I look back at old posts, at the photos I once thought were good enough to share in public, but as embarrassing as they are they are evidence that I've grown. In the last 6 years I've practiced and read photography tips, all the while trying to develop my own style. While I am happy with the photos I produce now, most of the time anyway, I also know I'll never have the talent that some food bloggers do who produce absolutely breathtaking and beautifully styled photographs that are better than many I've seen in food magazines or cookbooks.
My life has changed in other ways too. I fell in love with a wonderful man. Got engaged on the beaches of Fiji, well, that is once my husband found the ring that he lost in the sand (I've never seen him look so terrified) with the help of half the resort, before proposing to me on the spot before he lost the ring again. And last year we married, fittingly, beside a beach, however, thankfully no-one lost anything this time!
One thing has remained constant though, and that is my love of food. While I may not be into following the latest food trends, I cook what I enjoy making, and what my not quite as adventurous as I am husband enjoys eating. I also love exploring new foods and discovering new foods, or food that I once upon a time thought I didn't like, such as rhubarb.
I'm not sure whether my tastes have changed, or I just had a bad first experience with rhubarb, but for a long time it was something I refused to eat. Then one day I had a rhubarb dessert at a restaurant and all that changed.
To celebrate 6 years of blogging I decided to tackle making a vegetarian panna cotta. That is, a panna cotta without gelatine. In it's place I've used agar powder.
Agar, sometimes referred to as Agar Agar, comes from seaweed, and can be used in place of gelatine. It is unflavoured, sets much more quickly than gelatine, and will provide a firmer set than gelatine. It comes in two varities, flakes and powder. In this recipe I've used powder, which is relatively easy to come across in health food stores, and is easier to use than the flakes as it dissolves quickly.
To accompany my agar vanilla panna cotta I've roasted some rhubarb with sugar and a touch of elderflower cordial (my latest obsession). Feel free to skip the elderflower cordial, or in its place try adding a couple of cardamom pods.
Thank you for your love and support over the last 6 years. It's meant the world to me.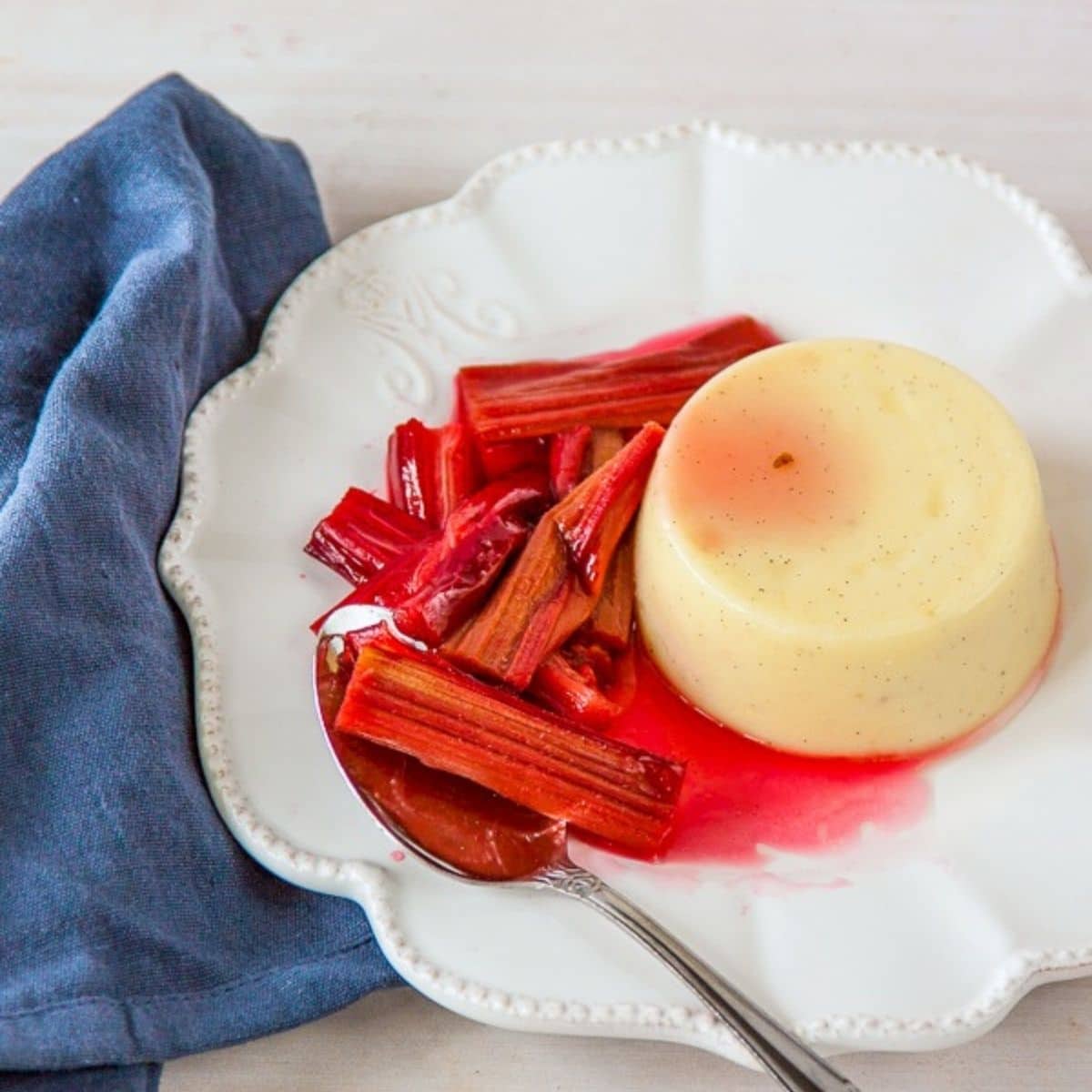 Recipe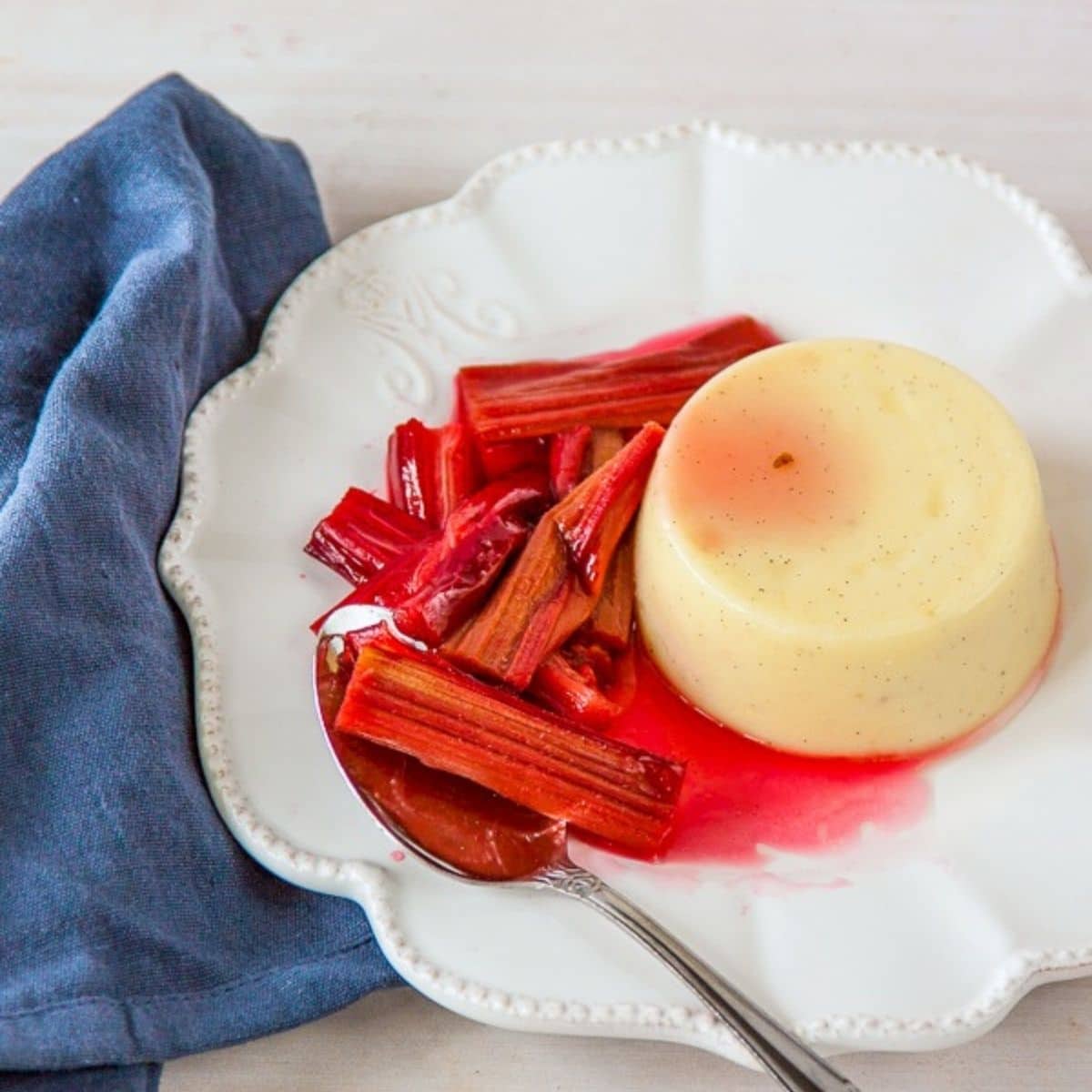 Ingredients
¾

cup

whipping cream

½

cup

milk

½

tsp

agar powder

2

tbs

caster sugar

½

a vanilla pod

seeds scraped

oil for brushing

choose a neutral oil such as sunflower, canola or safflower

ROASTED RHUBARB:

3

sticks

rhubarb

trimmed and cut into 4cm (1 ½ ) lengths

1

tbs

sugar

2

tsp

elderflower cordial

2

tbs

water
Instructions
Place the cream and milk in a small saucepan along with the agar and whisk to combine. Leave for 15 minutes. Lightly brush 2 panna cotta moulds with a little oil.

Add the sugar and vanilla seeds to the mixture and place over medium heat and gently bring to a boil. Simmer for about 3 to 4 minutes, stirring regularly. Remove from the heat and strain through a fine mesh sieve before pouring into the greased moulds. Allow to cool to room temperature before refrigerating for 1 hour.

While the panna cotta is chilling preheat the oven to 180 celsius (350 Fahrenheit) and place the rhubarb, sugar, elderflower cordial and water in a shallow roasting dish. Toss to combine and cover with foil and roast for 15 minutes, or until the rhubarb is tender, but not mushy.

To unmould the panna cotta place the base of the moulds into a dish of hot water for a few seconds before turning out onto a plate or bowl. Serve with the rhubarb and top with the rhubarb roasting liquid.
Nutrition
Calories:
786
kcal
Carbohydrates:
30
g
Protein:
7.9
g
Fat:
74
g
Sodium:
87.3
mg
Vitamin A:
150
IU
Craving more veg-friendly recipes?
Shop our collection of vegetarian and vegan cookbooks, including our new Vegan Thanksgiving and Vegan Christmas cookbooks!