Have we had our fill of asparagus yet this month? No? Good! Because I've got more asparagus for you in this week's meal plan. And if that's not enough for you, I did a round-up of 50 delicious vegetarian asparagus recipes over on Amuse Your Bouche this week. I intend to make every one of them by the end of this spring. Or I'm a liar. One of those things.
Here's this week's meal plan:
Monday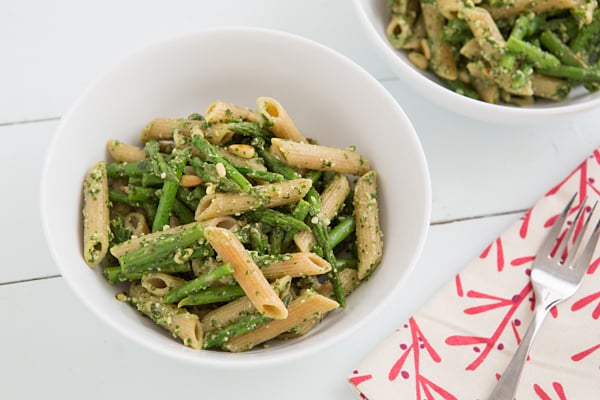 Penne with Asparagus and Lemon Pesto from Green Valley Kitchen // Once again, the photos in this post were taken as I raced against the clock to get food on the plate before sunset. Don't judge the lack of styling. But back on topic: Penne with Asparagus and Lemon Pesto. We absolutely loved this recipe. It was simple, delicious, and the perfect way to use spring asparagus.
Tuesday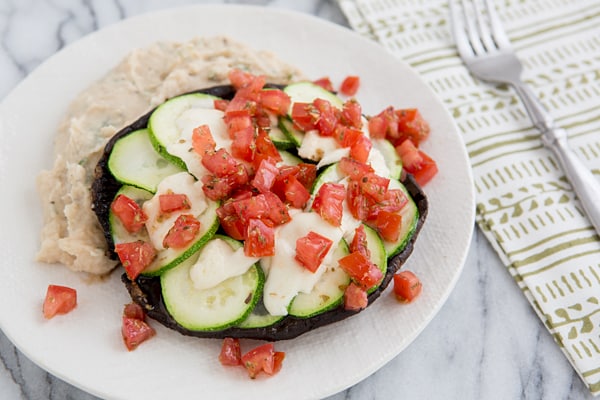 Roasted Mushrooms on White Bean Puree from Cooking Light // I have a tendency to fall into a pasta/sandwich/pizza/soup rut when I'm cooking dinners, so I thought I'd break out of my rut by making something completely different. Different like mushrooms on bean puree! This makes a great light dinner and the best part is that it only takes about 20 minutes to make.
Wednesday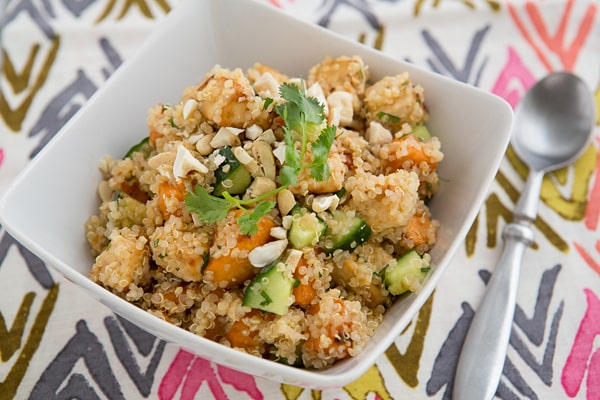 Miso Roasted Veggie Tofu Bowl from Noms for the Poor // Chewy baked tofu and tender roasted sweet potatoes make this quinoa-based dish tasty and satisfying. I added some chopped raw cashews that I had on hand too. We had the leftovers cold for lunch the next day--you could also repurpose it as a filling for lettuce wraps if you have butter lettuce on hand. Ideas! I have them!
Thursday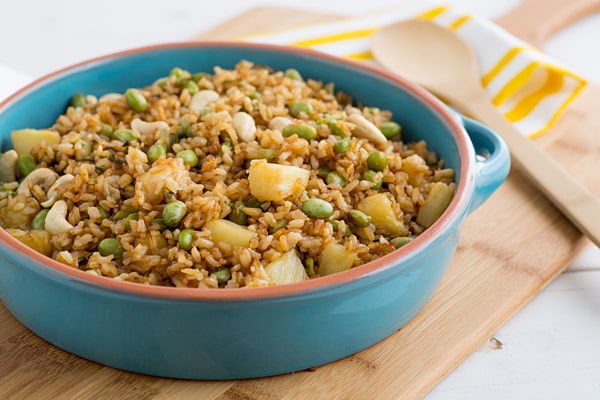 Baked Fried Brown Rice from Oh My Veggies // When you bake rice, you can get it to take on that chewy, crispy texture of fried rice without having to use a ton of oil. This recipe is a reader favorite and it's a favorite of mine too!
Friday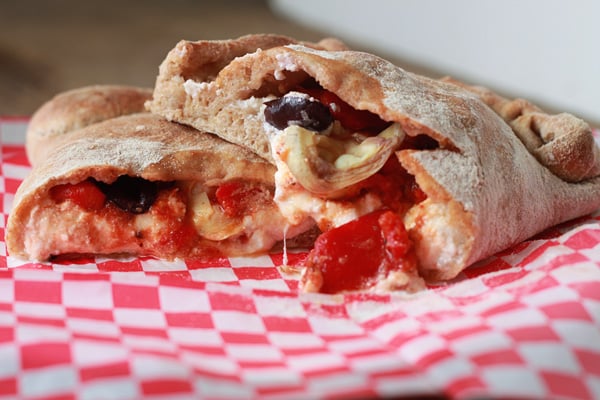 Mediterranean Calzones from Oh My Veggies // These calzones don't require any fresh produce, so they're perfect for ending the week with. Making your own dough for calzones can be a little time-consuming for a weeknight dinner, so we use store-bought instead.
Tips for This Week's Meal Plan
The penne recipe calls for 2 cups of uncooked pasta, but we bumped it up to 8 ounces to make the recipe serve 4. We still had enough sauce even with increasing the amount of penne. So if you're serving a family of 4 or if you'd like to have leftovers for lunches, use 8 ounces of penne!
The Roasted Mushrooms on White Bean Puree recipe calls for small amounts of fresh oregano and thyme. I hate buying fresh herbs when I only need a little bit, so I used dried instead and that's what I put on the menu. Use a scant teaspoon of each.
Wednesday's dinner is a great way to clean out your crisper drawer. Serve the dish over lettuce leaves, throw some broccoli or cauliflower in with the roasted veggies, whatever!
Feel free to substitute canned pineapple for the fresh chunks in the Baked Fried Brown Rice. If you're not a fan of pineapple fried rice, readers have substituted mushrooms, green beans, broccoli, and just about everything else you can imagine.
And speaking of the Baked Fried Brown Rice, you'll need leftover brown rice for it. If it's been sitting for a day or two, the texture will be better! Tuesday's dinner only takes 20 minutes, so make the rice then and let it sit in the fridge until Thursday.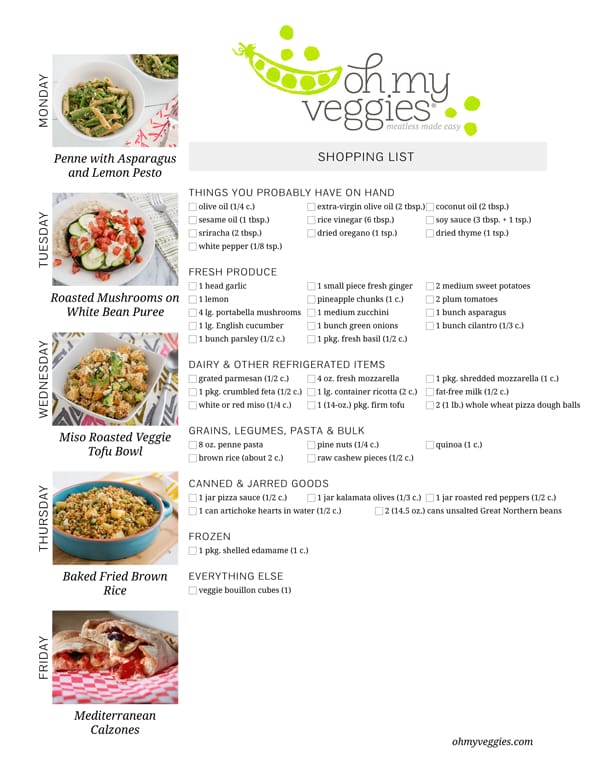 Click here for a printable version of this week's meatless meal plan and shopping list, then click on the links above to print out each recipe. Now you're set for the week!