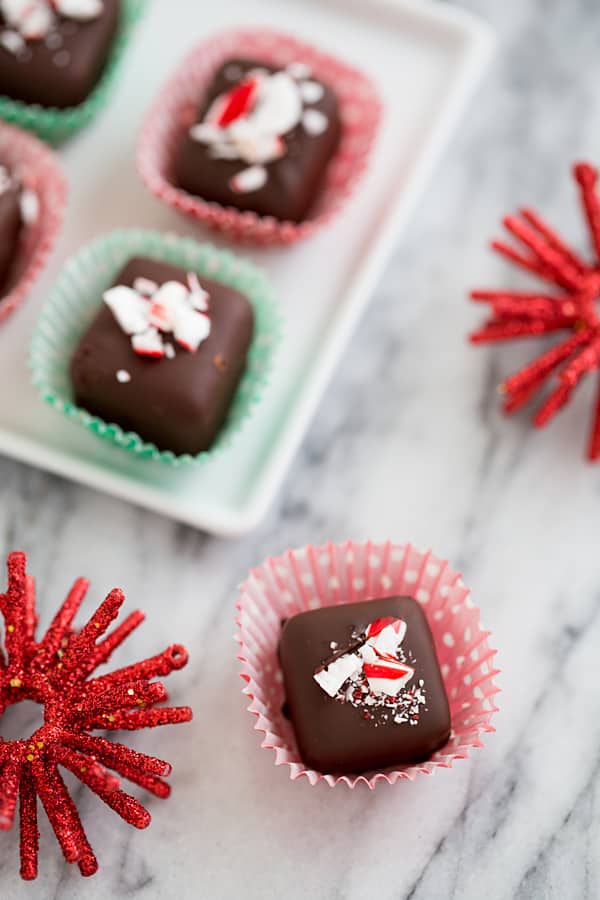 I am originally from Chicago and Frango mints were always a big deal around the holidays. Marshall Field's sold boxes in various sizes, so they always made a good Christmas gift--small boxes for co-workers, big boxes as hostess gifts. I loved those minty little chocolate squares, although, like so many other things, they don't taste quite as good to me now that I'm an adult. I'm pretty sure it's because I'm still embittered about Macy's buying Marshall Field's and changing its name. You can't do that to an icon! It would be like if someone bought the Sears Tower and decided to rename it and expected everyone to call it by its new name when clearly it's the Sears Tower and always will be. Oh wait, that happened too! Now, Macy's sells Frango mints at all of its stores and they make them in eleventy billion different flavors, all shrink-wrapped and precariously stacked next to the cosmetics counter, so they're not our special Chicago thing anymore.
Anyway! All of this is to say: the holidays are a good time to partake in Frango mints and since most of my family is now vegan, I thought I'd make a dairy-free version. Also, there's a hole in my heart the shape of Marshall Field's. (I guess that would be a rectangle?)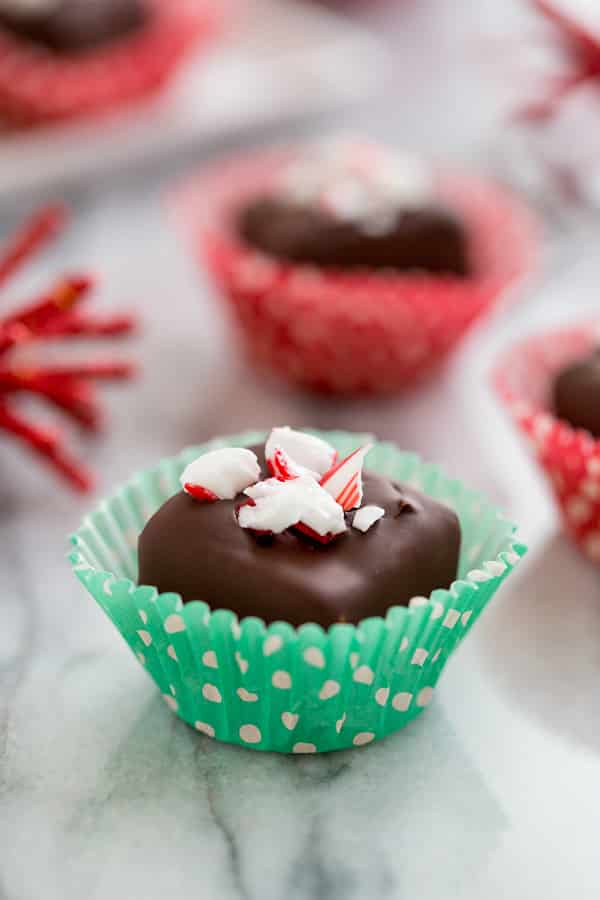 I made vegan fudge back in October and since it was a little soft at room temperature, I realized that enrobing it in chocolate would be a good way to fix that. (By the way, I'm pretty sure "enrobing in chocolate" are the three best words in the English language.) Because coconut oil liquifies when heated, the trick is to make the fudgy centers, freeze them, then quickly dip them in chocolate. You have to act fast because if you don't, the center might start to melt into the coating or the coating might start to harden. Both of these things are bad! I sprinkled crushed candy canes on top to make the mints a little more festive, because you know me, I am all about being festive. (Note: I am not all about being festive.)
When served chilled, the centers of these vegan Frango mints are solid, but if you leave them at room temperature, the centers are smooth and melt-y, like liquid truffles. They're delicious both ways! And if you want to skip the whole chocolate enrobing step, you'll have delicious minty fudge—just keep it in the fridge or freezer and eat it while it's cold.
Recipe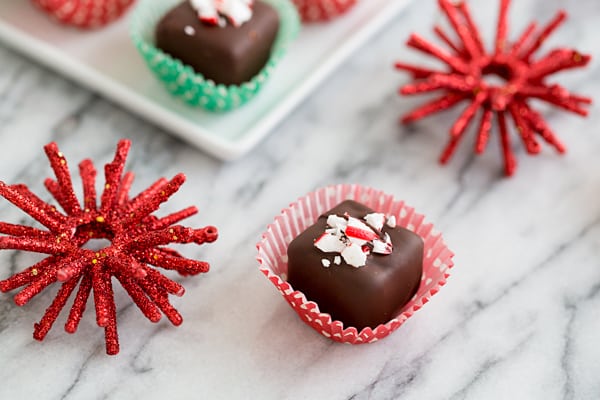 Ingredients
½

cup

coconut oil

solid, not melted

½

cup

raw cacao powder

⅓

cup

raw cashew pieces

soaked in water for at least 2 hours and rinsed

¼

cup

+ 2 tablespoons maple syrup

1

teaspoon

peppermint extract

6

ounces

high quality dark chocolate

chopped

1

candy cane

crushed (optional)
Instructions
Combine the coconut oil, cacao powder, cashews, maple syrup, and peppermint extract in the small bowl of a food processor. Process until completely smooth--this could take some time, so be patient. (For mintier centers, add additional mint extract ¼ teaspoon at a time.)

Line a small baking dish with parchment paper (I use a 7x5-inch dish). Pour the chocolate mixture into the dish and use a spatula to smooth the top. Place the dish in the refrigerator and chill for 2-3 hours, until the chocolate is solid. Remove the parchment and use a knife to trim any uneven edges from the chocolate, then cut it into 24 squares. Place the squares on a large plate that's been lined with parchment paper, cover it with foil or plastic wrap, and freeze for at least 8 hours.

Place the chopped dark chocolate in a small microwave-safe bowl and microwave 30 seconds at a time, stirring after each interval, until it's melted (or use a double-boiler to melt it on the stovetop). Take the chocolate centers out of the freezer; one at a time, place them on a fork and dip them into the melted chocolate to coat, working quickly to make sure the centers don't melt. Let any excess chocolate drip off and carefully transfer each square back to the parchment paper-lined plate. Sprinkle the broken candy cane pieces on top, while the chocolate is still wet (it will solidify quickly!). Once all of the chocolates are dipped, refrigerate them for at least an hour before serving. Store in the refrigerator in a covered container; the mints can be served at room temperature for melty centers or chilled for more solid centers.
Notes
While I tested this recipe with raw cacao powder, I think regular cocoa powder will work too.
Nutrition
Calories:
107
kcal
Carbohydrates:
8
g
Protein:
1
g
Fat:
9
g
Saturated Fat:
6
g
Polyunsaturated Fat:
1
g
Monounsaturated Fat:
2
g
Trans Fat:
1
g
Cholesterol:
1
mg
Sodium:
2
mg
Potassium:
98
mg
Fiber:
1
g
Sugar:
4
g
Vitamin A:
3
IU
Vitamin C:
1
mg
Calcium:
12
mg
Iron:
1
mg
Craving more veg-friendly recipes?
Shop our collection of vegetarian and vegan cookbooks, including our new Vegan Thanksgiving and Vegan Christmas cookbooks!