There are a lot of meal delivery services out there, but Purple Carrot is our favorite—not only are all the recipes plant-based, but they're delicious too! We're sharing one of their kid-friendly sandwich recipes below.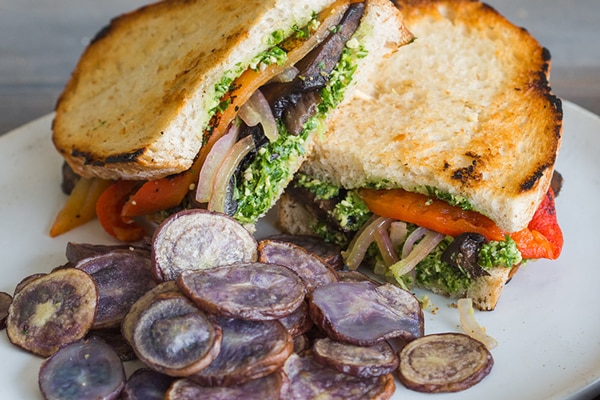 Ingredients
8

oz

purple potatoes

1

onion

6

oz

Portobello mushroom caps

1

oz

arugula

¼

cup

walnuts

Garlic

1

T

nutritional yeast

2

oz

roasted red pepper

4

slices

sourdough bread

3

T

+ 2 t vegetable oil

Salt & pepper
Instructions
Make the Chips
Preheat oven to 400°F. Rinse the potatoes and slice them very thinly — you could use a mandolin if you have one. Put them on a rimmed baking sheet and toss with 2 tsp of oil and a pinch of salt and pepper. Roast until browned and crisp, shaking the pan once in a while to ensure even cooking, about 30 to 35 minutes.
Cook the onions
Put a large skillet over medium-high heat and add 1 tbsp of oil. Peel, halve, and thinly slice the onion. Once hot, add the onion and sprinkle with salt and pepper and cook until lightly browned, about 7 to 10 minutes. Transfer the onion to a plate and reduce the heat to medium.
Prep the mushrooms
Add another tsp of oil to the skillet. Wipe the mushrooms with a damp paper towel and slice them into ¼-inch slices. Add the mushrooms to the skillet and cook, stirring occasionally, until browned in places, about 5 to 8 minutes.
Pulse the pesto
Rinse and dry the arugula. In a food processor, combine the arugula, walnuts, garlic, nutritional yeast, and ⅛ tsp of salt. Pulse to blend. With the machine running, pour 2 tbsp of water and 1 tbsp oil through the food tube in a slow, steady stream. Process until smooth, stopping to scrape down the sides of the bowl as needed. Taste and adjust the seasonings.
Grill the paninis
Slice the roasted red peppers. Brush the slices of bread on 1 side with the remaining 2 tsp of oil and then lay them, oiled side down, on a work surface. Divide the arugula pesto among 2 slices and top with the onions, mushrooms, and roasted red peppers. Put the remaining 2 slices of bread on top and grill the sandwiches until browned on the bottom, about 4 to 6 minutes.
Slice and serve
Once the sandwiches are grilled on both sides, cut them in half and serve with the purple potato chips.
Nutrition
Calories:
532
kcal
Carbohydrates:
70
g
Protein:
16
g
Fat:
22
g
Saturated Fat:
13
g
Polyunsaturated Fat:
6
g
Monounsaturated Fat:
3
g
Trans Fat:
1
g
Sodium:
710
mg
Potassium:
843
mg
Fiber:
7
g
Sugar:
6
g
Vitamin A:
327
IU
Vitamin C:
28
mg
Calcium:
89
mg
Iron:
5
mg