A delicious, quick and easy vegan dinner. This vegan chickpea curry features coconut poached romanesco cauliflower. Serve with your favorite rice, steamed millet, or quinoa - along with a wedge of lime. And it's vegetarian, vegan, and gluten-free!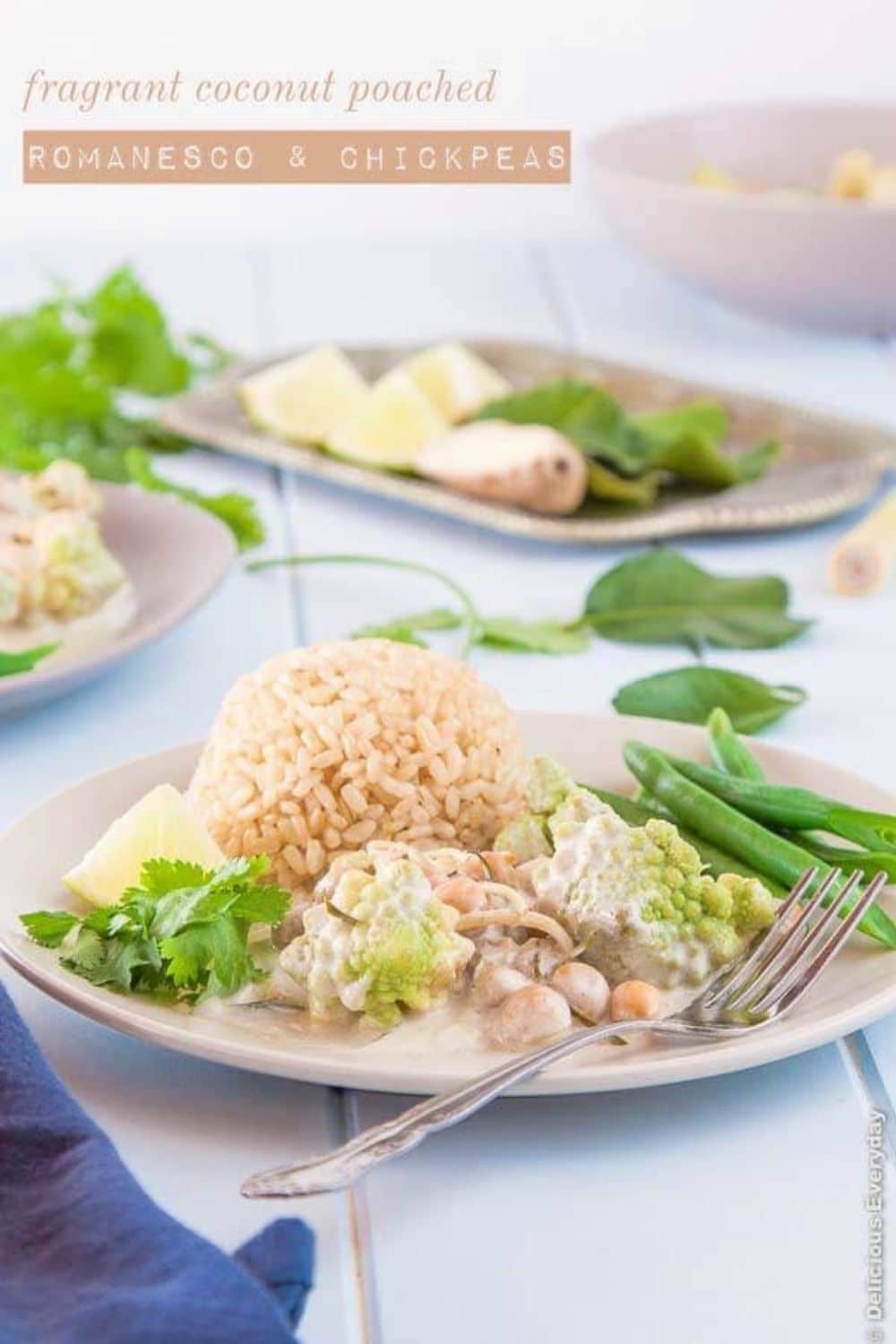 My favorite thing about weekends is not sleeping in. I know that's weird.
In part, it's probably because I am incapable of sleeping past 6 a.m. But it's also because the thing I look forward to most about the weekend is the farmers' market.
I like to get in nice and early and have my pick of the best produce. Last weekend, that included a small box of romanesco.
Romanesco Basics
Romanesco is probably one of the most beautiful vegetables around.
Resembling something from a sci-fi movie, romanesco cauliflower or romanesco broccoli as it is interchangeably called, is a 16th century heirloom variety of cauliflower.
The most striking thing about romanesco, apart from its vibrant green color, is its beautiful exotic fractal form — a complex geometrical shape that looks almost the same at every scale factor.
Yes, I know. Now I'm the weirdo admiring my vegetables.
Flavor-wise, romanesco is somewhere between cauliflower and broccoli. It isn't quite as strong in flavor as broccoli, but also not as mild (nor as smelly) as cauliflower.
So I settled on using the romanesco in one of my favorite dinners. I normally make this recipe with butternut pumpkin (butternut squash), but romanesco works really well too.
This romanesco recipe is absolutely delicious. If you've not had romanesco before - this is great way to try it out!
You could also try cauliflower or a mixture of your favorite vegetables, if you can't find romanesco at your market. I've also added chickpeas to this vegan curry for a bit of protein!
Preparing Vegan Chickpea Curry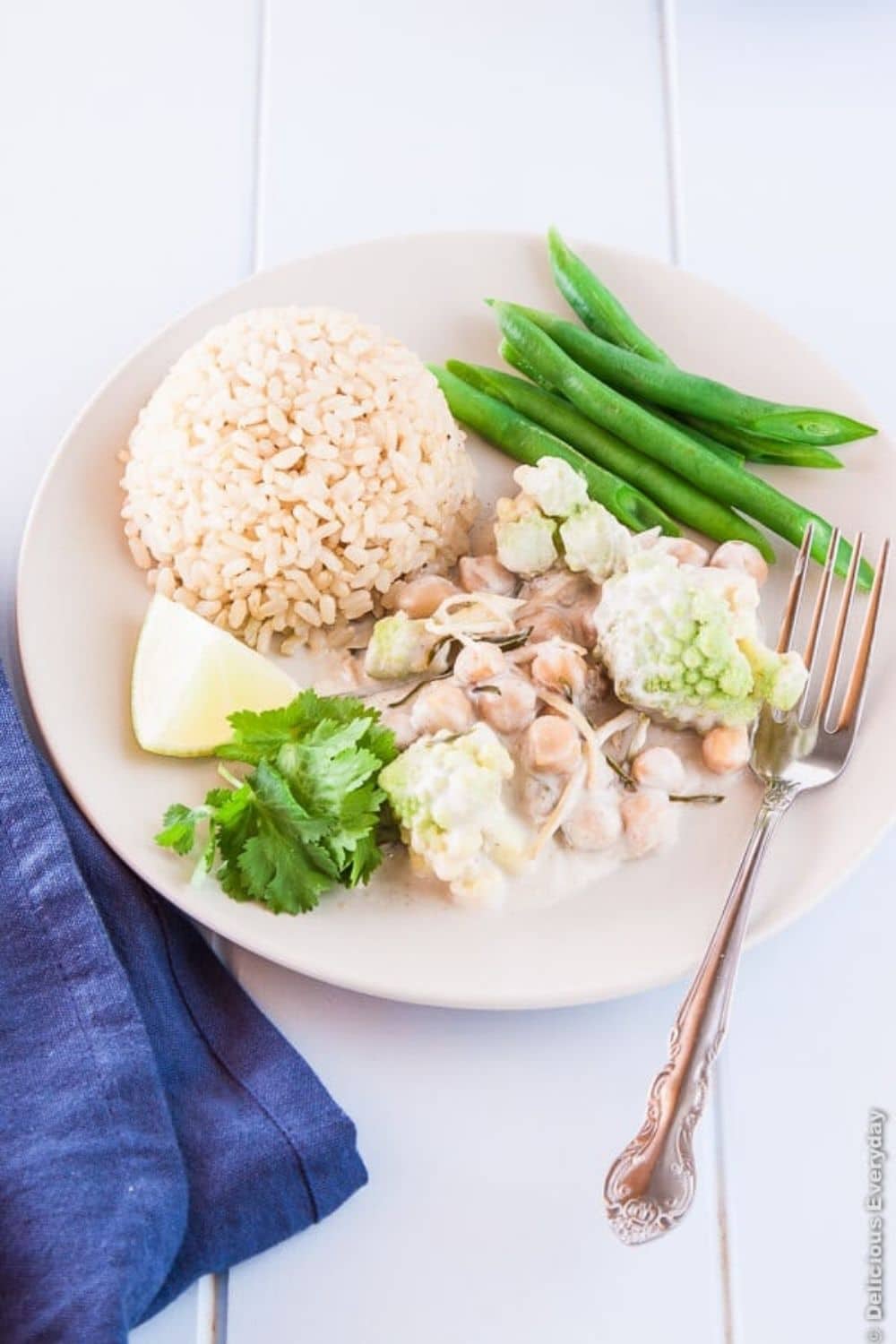 While this recipe has a few more ingredients than others, they're so worth the extra prep time.
Don't leave any of the ingredients out if you can, because each one adds to the rich, savory flavor of the vegan chickpea curry.
Also make sure that your saucepan is large enough to hold all the ingredients. Nothing's worse than having to transfer hot, half-cooked food into another pan so you can finish the recipe.
Put the saucepan on the stove over medium heat, and add the coconut oil (this will melt), ginger (while pre-ground ginger works, try to go with the fresh stuff for even more of a punch of flavor), kaffir lime leaves, and lemongrass.
Cook these ingredients for just one to two minutes. Add the ground cumin and coriander and let it cook for a bit until the aromas are fragrant. Then add the coconut milk, romanesco, soy sauce, and chickpeas.
Bring your vegan chickpea curry to a boil, and then turn the heat down to low. Let the curry cook for 10 to 15 minutes.
Serving Your Vegan Chickpea Curry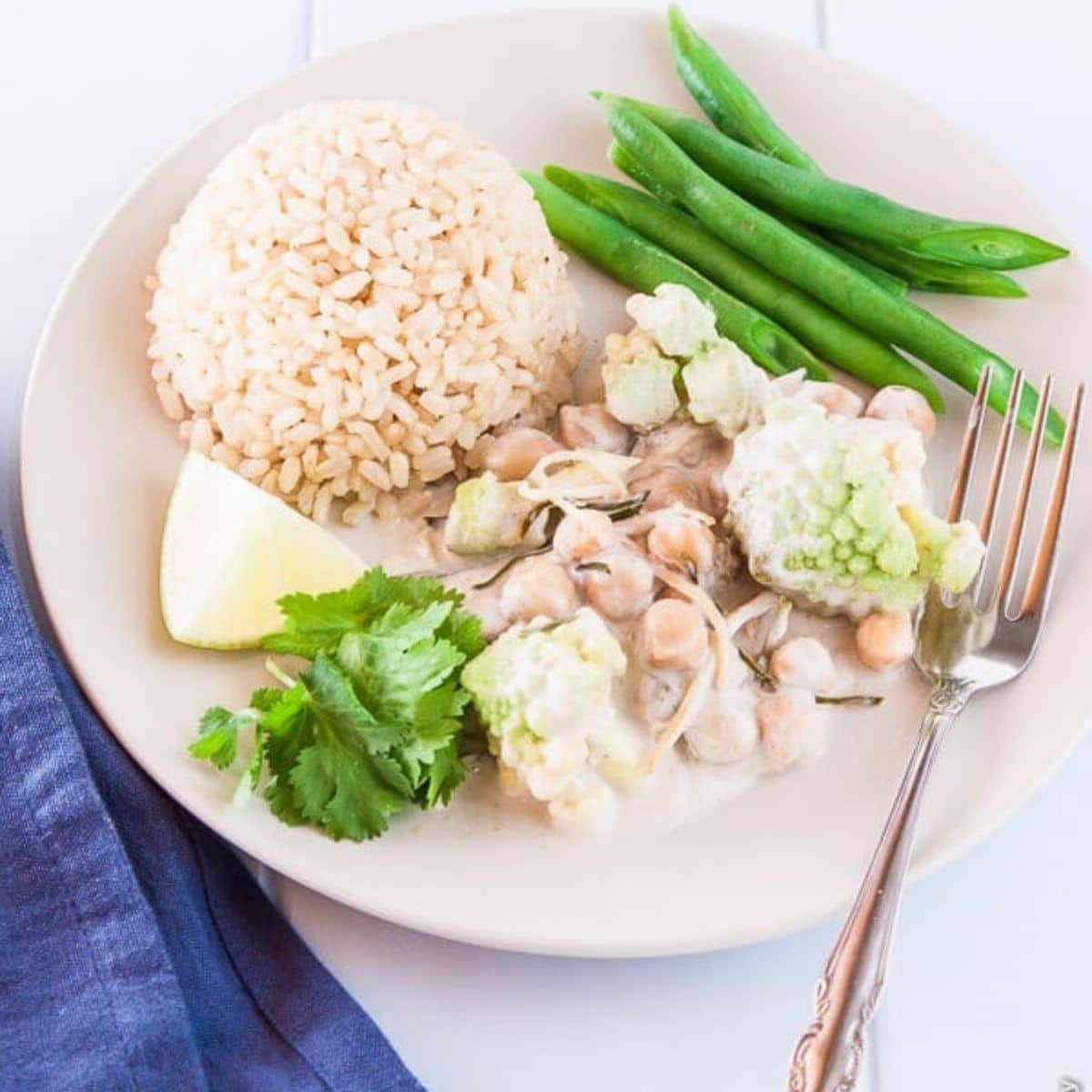 Serve this vegan chickpea curry with your favorite rice. I like brown rice, but jasmine rice works well too (as does millet and quinoa) — along with a wedge of lime and coriander (cilantro) leaves. Dinner will be on the table in under 30 minutes!
In case you were wondering- here's the difference between brown rice, jasmine rice, millet, and quinoa.
Brown rice is whole grain, which means it's higher in fiber and nutrients and can help control blood sugar levels. Jasmine rice is a type of long-grain rice that is very flavorful, though not as healthy as brown rice (but it's still pretty healthy). Millet is a type of seed. It's high in starch and packed with nutrients. Quinoa is a gluten-free grain that is super nutritious, and perhaps slightly healthier than rice. So take your choice - they're all a great match for this vegan chickpea curry!
And make sure you add some lime at the end! Besides brightening up the flavors in your dish, limes have all sorts of health benefits. Lime is known to help lower blood pressure and cholesterol and even help with weight loss because the citric acid in it burns fat! Who knew?
I love to cook my rice with coconut milk. This will give it a subtle taste of coconut and a creamy texture.
If you have any leftover romanesco, try making the Sumac Roaster Cauliflower Salad as a romanesco recipe instead!
Recipe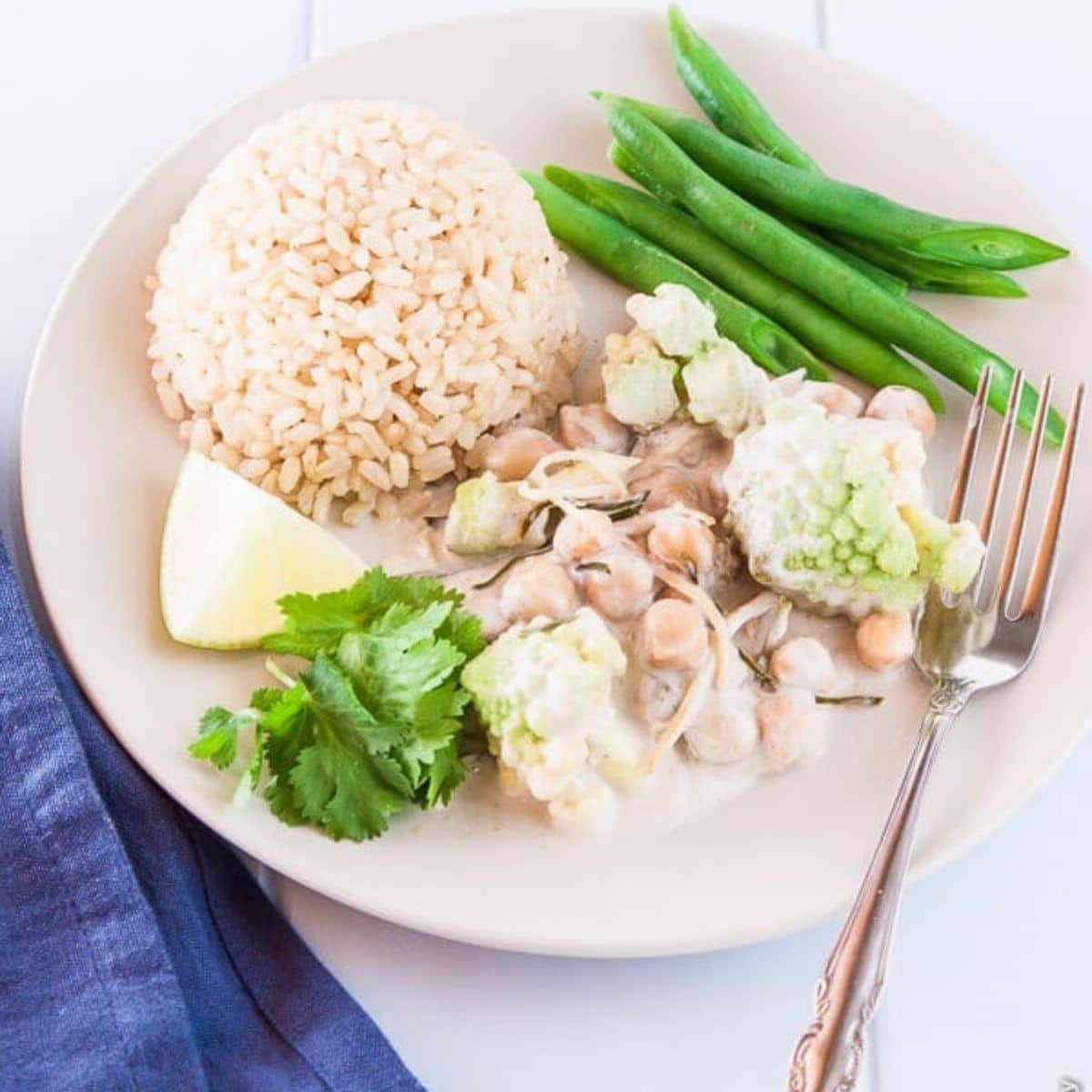 Ingredients
1

tbsp

ginger

peeled and minced

4

leaves

kaffir lime

stem removed and finely chopped

1

stalk of lemongrass

finely chopped, white part only

½

red chili

deseeded and finely chopped

2

tsp

coconut oil

1

tsp

ground cumin

1

tsp

ground coriander

14

oz

coconut milk

(400g)

1

head of romanesco

cleaned and broken down into florets

1

cup

chickpeas

drained and rinsed

2

tsp

soy sauce, gluten-free variety if needed

TO SERVE:

rice

cooked

lime wedges

⅓

cup

cilantro

(coriander leaves)
Instructions
Place a medium saucepan over a medium heat.

Add the coconut oil, ginger, kaffir lime leaves, and lemongrass and cook for a 1-2 minutes.

Add the ground cumin and coriander and cook until fragrant before adding the coconut milk, romanesco, soy sauce and chickpeas.

Bring to a boil and reduce heat to low. Cook for 10 to 15 minutes or until the vegetables are fork tender. Taste and adjust the seasoning as necessary.

Serve with rice, a squeeze of lime and cilantro leaves.
Nutrition
Calories:
587
kcal
Carbohydrates:
31
g
Protein:
12
g
Fat:
49
g
Saturated Fat:
41
g
Sodium:
371
mg
Potassium:
729
mg
Fiber:
6
g
Sugar:
4
g
Vitamin A:
285
IU
Vitamin C:
21.6
mg
Calcium:
85
mg
Iron:
10
mg
Craving more veg-friendly recipes?
Shop our collection of vegetarian and vegan cookbooks, including our new Vegan Thanksgiving and Vegan Christmas cookbooks!