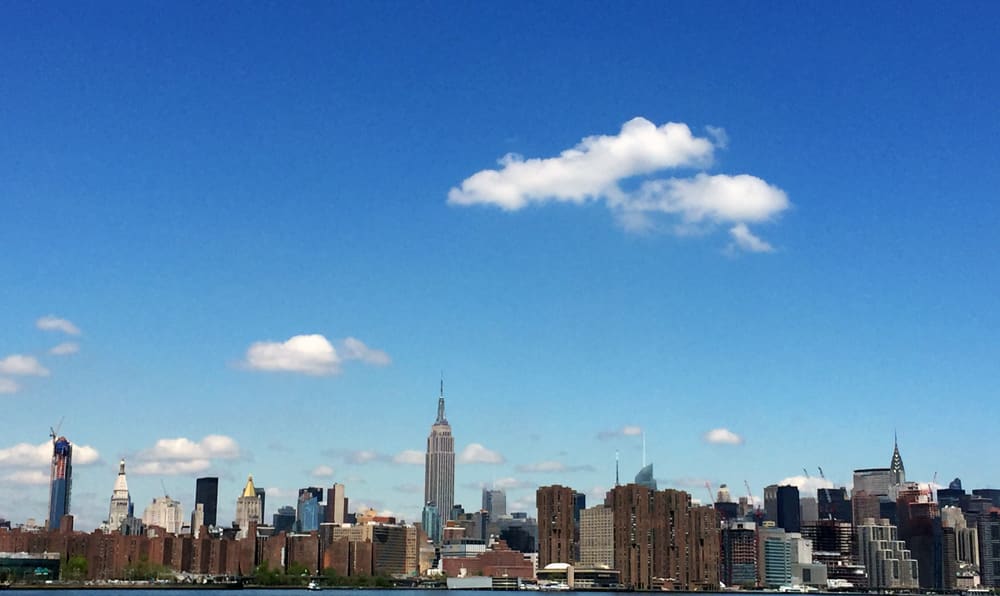 Vegetarians and vegans need not worry about going hungry in the Big Apple! New York City has an abundance of both vegetarian and vegan restaurants all throughout Manhattan and Brooklyn. Whatever it is you're craving, there's somewhere that can satisfy it. From fast food to upscale eateries and every cuisine under the sun — New York has it.
Cinnamon Snail
After winning many awards and gaining an incredible following, Cinnamon Snail has blossomed into two brick and mortar locations in Manhattan. They offer some of the most unique vegan food including burgers, sandwiches, and decadent donuts. The menu changes seasonally and often features daily specialties. Some of their most loved items include the beast mode burger, which is topped with jalapeño mac and cheese, the Thanksgiving sandoo which features sage bread pudding, and kimchi tater tots. With nearly 20 different treats to choose from daily, their donuts and pastries are not to be missed!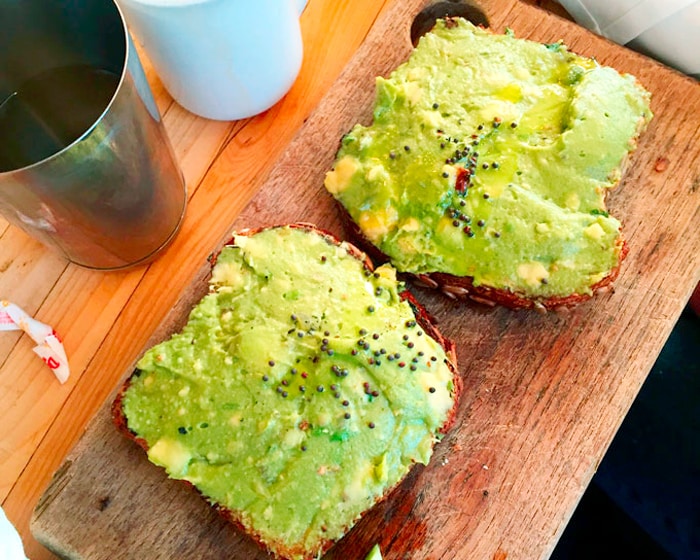 Butcher's Daughter
This "vegetable-slaughterhouse" serves up fresh plant-based breakfast, lunch, and dinner at their two locations. The menu is fully vegetarian, with most of it being vegan and gluten-free as well. They're commitment is to transform fruit and vegetables into something special and focus on featuring local, seasonal produce. They're most known for their incredible smashed avocado toast and the spicy kale Caeser salad with almond Parmesan.
Terri
There's a lot to love about Terri! It's a fully plant-based fast food restaurant with 3 locations scattered through Manhattan. It's perfect for a quick and convenient lunch that'll be sure to fill you up! Their menu includes wraps, sandwiches, salads, fresh fruit smoothies, and all day breakfast. Try the BBQ pulled pork or the portobello sandwich, served on rosemary focaccia or the breakfast slam, which includes french toast sticks, homefries, and tofu scramble. Definitely make sure to save room for one of their decadent butterfinger milkshakes too!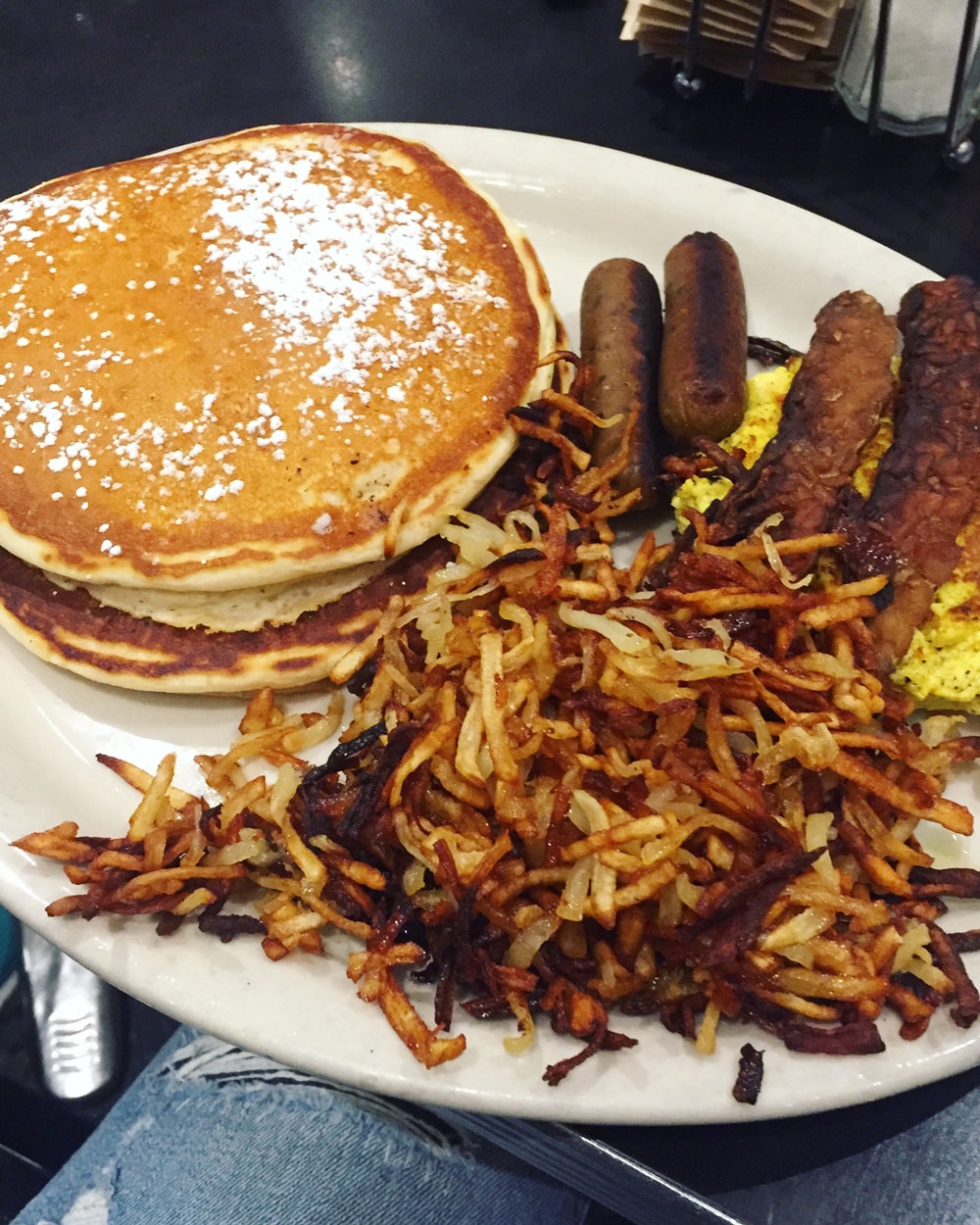 Champ's Diner
If you're craving some late night grub or comfort food - this is the place to get it! This Brooklyn spot is serving up diner food made vegan. It even has the look of an old school diner! They serve everything from birthday cake pancakes to chick'n and waffles to Philly cheesesteaks. They're also well-known for their decadent milkshakes available in 10 flavors including cookie dough and cherry pie.
Peacefood Cafe
Beyond delicious vegan food, Peacefood Cafe strives to nourish the body and the spirit with a focus on mindfulness and gratitude. Peacefood is a restaurant and bakery that offers a wide variety of innovative food, decadent sweet treats, and wholesome raw eats. This is a place that caters to everyone. If you just want a snack, grab a muffin. If you're looking for comfort food, they have vegan fried unchicken and hearty focaccia sandwiches. Or if you're feeling something light and healthy, there's raw sushi or flavor packed salads.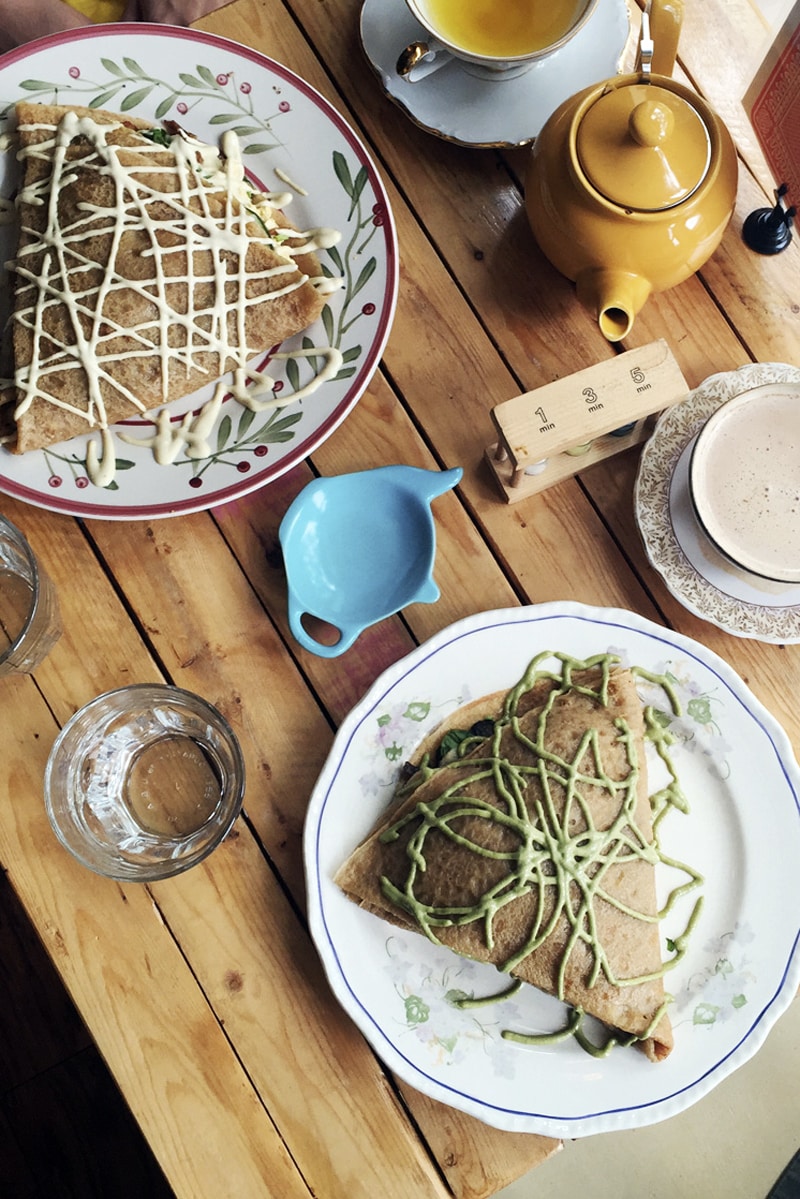 Little Choc Apocethary
This hip Williamsburg spot is serving up incredible gluten-free vegan crepes and specialty teas. Little Choc offers a variety of unique crepes such as the pizza crepe, the burrito crepe, and the khail seitan featuring housemade seitan. If you're feeling sweet, you can customize your own decadent crepe with fruit, vegan "Nutella," caramel, and even local ice cream. Along with beautiful food, Little Choc is a beautiful space with a lovely atmosphere.
Mother of Pearl
This tiki-inspired restaurant offers upscale and creative plant-based dishes and cocktails. The menu focuses on small plates highlighting vegetables and Polynesian fruit. It's a great spot to go with a group for an unforgettable dining experience. Enjoy unique flavors like the togarashi fries, pickled vegetable spring rolls, drunken fried rice, and fried steamed buns for dessert.
Bunna Cafe
Bunna Cafe is a fully vegan Ethiopian restaurant and perfect for a feast! It's best enjoyed with a couple friends so you can share one of their feasts and give all of their classic dishes a try. It's served atop a giant piece of injera (a spongey fermented flatbread), which is used to scoop up bites of the flavorful lentil, split pea, and vegetable dishes. Yes, eating with your hands is encouraged here! Each bite is a flavor explosion of spices and herbs and is incredibly hearty and nourishing.
Coffee is another focus at Bunna Cafe, often hold free coffee ceremonies to commemorate the big part that it plays in Ethiopia.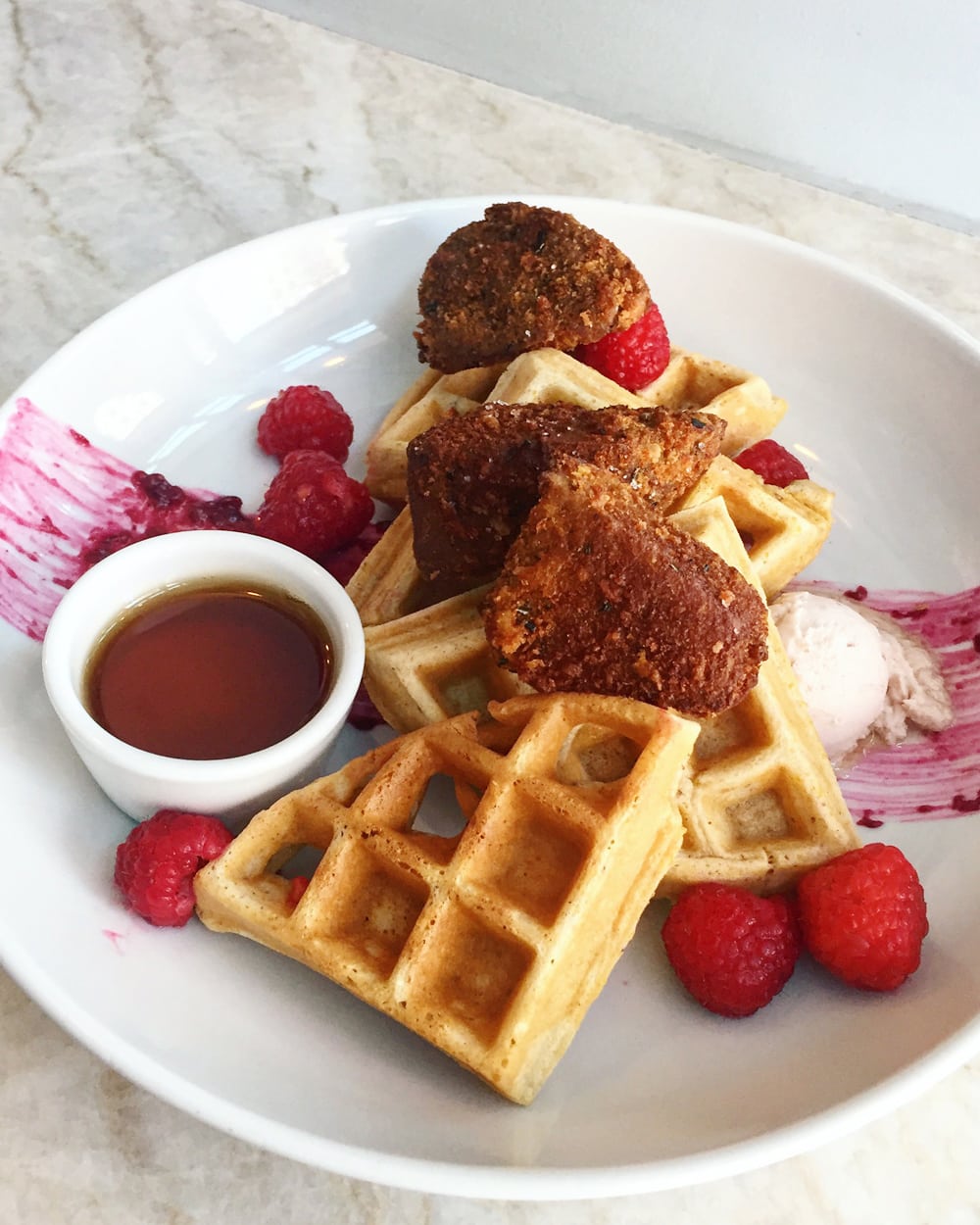 Modern Love
Owned and run by Isa Chandra of Post Punk Kitchen and books such as Isa Does It and Veganomicon, this restaurant is a must when visiting the big apple and worth the trip to Brooklyn! Modern Love is a beautiful restaurant and fantastic spot for a more upscale meal. Their specialty is comfort food made elegant. Stop by for a nice dinner or Sunday brunch and you'll be in for a treat. Definitely give the mac and shews, jerk yuba, or rosemary seitan and waffles a try and be sure to stay for dessert — their house made ice cream is so dreamy!
Hangawi
This upscale Korean restaurant offers a unique dining experience: as you enter, you leave your shoes at the door and take a seat on pillows with curtains separating your table from the next. It has a very calming and laid back vibe and is such a beautiful space. Then comes the incredibly flavorful food. Traditional Korean dishes such as rice stone bowls, rice cakes, and bibimbap made completely vegetarian or vegan! It's a great place for a gourmet meal, unique experience, and bold flavors.
Beyond Sushi
Beyond Sushi takes a unique approach to sushi, making it completely vegetarian and vegan. They celebrate vibrant seasonal vegetables and whole grains to create beautiful rolls, dumplings, noodle bowls, and salads. These sushi rolls are unlike anything you've ever seen! Made with black rice, they have a gorgeous purple hue, and are packed with unique combinations of fruits and vegetables. With three locations throughout Manhattan, this is a great spot to stop for a quick wholesome bite!
Screamer's Pizzeria
Did you even visit New York City if you didn't have a slice of pizza? This little Brooklyn joint is serving up New York pizza made vegan! They offer a wide variety of pizzas featuring vegan cheese, meats, and heaps of vegetables. You can pop in for a quick slice or order in whole pies. Make sure to grab a slice of their buffalo cauliflower, BBQ jackfruit, or the grandma slice!
Buddha Bodai
This casual spot snuggled between shops in Chinatown is a fully kosher vegan dim sum restaurant that offers a traditional take on the cuisine minus the meat. Mock meat is aplenty at Buddha Bodai including faux ribs, chicken, tripe, and even shark fin. Their menu is expansive and features dim sum dishes, full-sized entrees, sushi, and so much more. Dim sum is a fun experience as you can try a whole table full of different dumplings, steamed buns, fried rice, congee, and rolls. The char sui, rice rolls, turnip cakes, BBQ pork, and sweet sticky rice balls are a few of their most popular dishes.
NY Dosa
This little food cart attracts big crowds at Washington Square Park with their fully vegetarian and vegan Indian cuisine. It's family owned and operated, the food is made fresh, and is always full of incredible flavors. The crispy dosas are filled with curried potatoes, crunchy vegetables, and his famous coconut chutney and served with a cup of hearty lentil soup. NY Dosa also offers roti, samosas, and other varying classic appetizers. It's a great stop for an inexpensive and flavorful meal to be enjoyed in the lovely park amongst street performers, a beautiful fountain, and bustling New Yorkers.